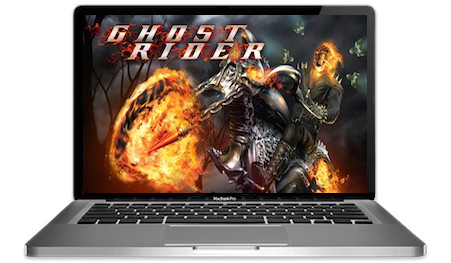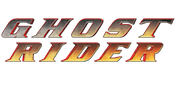 If you're looking for enslaved souls, fiery skulls, and Hell on wheels, Ghost Rider Slots is the demonic machine of your dreams. Join the immortal stuntman as he shoots hellfire at Mephisto and grab cash prizes as you roll.
Violent Content
Crazy Bonus Round
Marvel Mystery Jackpot
---
---
Review of Ghost Rider Slots
Have you ever been playing in an online casino and thought to yourself, "Geez – I wish there was a slot machine that had a demon who would whip me in the face with a bloody chain!"? If the answer to this is "yes", boy do I have a game for you.
Now just because this release falls into the specific niche of "hell on earth", that doesn't mean that it's not great fun. I've been a casual fan of Ghost Rider since the 1980s, so of course I'm going to be a tad bit biased – but come on…who doesn't love a motorbike-riding skeleton in leather who shoots hellfire out of his hands?
Many readers of Marvel comics always found Ghost Rider to be an interesting character but Nicolas Cage's portrayal pushed even the most diehard fans to their limits. So now that you know I have a history of enjoying this antihero, you know that I can focus on what's important: respecting his legacy.
This review of Ghost Rider Slots will layout everything you'll want to know before investing your hard-earned bankroll into it.
Screenshots
Given the subject matter of Ghost Rider many will be expecting a little more action during the regular mode, but that's not to say that it's boring – far from it. However, they definitely could have spiced things up a bit with some extra unique symbols, or crazier animations. The action is "solid" but it could have been better: click on a screenshot below to enlarge them.
Storyline
Johnny Blaze has a funny problem: whenever the sun goes down his flesh is engulfed by the fires of Hell and his head turns into a flaming skull…but everyone has their issues, right? This also happens whenever he is around evil – it's like a "Spidey Sense" for demons.
Regardless of Mr.Blaze's embarrassing condition, he does have a very interesting backstory. As a child Johnny sold his soul to Satan in exchange for him curing his father's cancer, which the devil did, but unfortunately his father was killed in a motorcycle accident the very next day. Johnny didn't take this ironic turn of events too well and obviously feels that he was tricked by Beelzebub.
We won't dive into too many of the details but it then turns out that Satan was really an arch-demon named Mephisto, Johnny had been possessed by the demon Zarathos, and his motorcycle had been injected with the "Spirit of Vengeance". Things got weird from there, so let's just move on.
The plot in this release from Playtech doesn't dive too deep and simply relies on classic imagery from the comic books.
Unique Symbols
The symbols for Ghost Rider are quite horrific and contain graphic images that arrived straight from the bowels of hell. The content won't bother any fans but some might take issue with them from a design perspective.
Playtech easily could have included more imagery from the movie or the original graphic novels but instead chose to use playing cards of 9 to the Ace. As loyal readers of The Queen of Online Slots will already know, as soon as we see a "9" being used on the reels we immediately lose faith and start to search for what else is wrong. Nines are usually indicative of a lack of imagination by the software company and they're basically the work of the devil himself.
Anyway, here are both the ghoulish and the bland images that you will find in this release:
9
10
J (Jack)
Q (Queen)
K (King)
A (Ace)
Blood Stained Parchment
Satanic Bible
Mephisto
Flaming Motorbike
Johnny Blaze
Ghost Rider Logo (Scatter)
Ghost Rider (Wild)
Johnny Blaze awards the most with 10,000 coins for 5 of a Kind but then there's a huge drop in payouts as the next-highest is Mephisto who only gives out 1,000. From there the Satanic Bible and Blood Stained Parchment only give you 250 coins for five in a row.
It should be noted that just like many other comic book themed games from Playtech, the Wild in Ghost Rider only falls on reels #2, #3, and #4.
Jackpots
All Marvel slots on the internet are part of the "Marvel Multi-Level Mystery Progressive Jackpot", so you just knew that Ghost Rider was going to come along for the ride. The famous prize consists of four different levels of "Power", "Extra Power", "Super Power", and "Ultimate Power", with each having different cash amounts.
As many people have already learned, this area can be triggered at any Marvel title at any time, so you really have to be ready. Yes, you'll want to be on your toes because there is a time limit in which you have to complete the round or it will flip the tiles itself and determine the result for you.
It is a Pick Em' style board with 20 images that you select one at a time, with the first three jackpots matched determining the size of your prize. If you're auto-spinning and away from the computer it will just select them on your behalf. Good luck!
Bonus Rounds
Ghost Rider has a crazy bonus round that is taken straight from the pages of the graphic novels called the "Ghost Hunt Bonus" that gives you a minimum of 7 cash awards that you'll receive by shooting the ghosts that are flying over your roaring motorbike. You can choose to let the ghosts fly by you as you speed along the highway if you would like to wait for a particular ghost due to superstitious reasons.
Sometimes when you shoot your hellfire at a ghost it misses and you don't win anything, and that shot is removed from your total amount of attempts. Missing a ghost is the most frustrating aspect of this feature because you have no idea if the misses are predetermined or if they depend on the timing of shooting your hellfire, (we would guess that it's predetermined, though). After you have shot at a total of 10 ghosts your winnings are tallied and you return to the regular mode.
Some players might find this a little hard as it does require timing to click the mouse and shoot a fireball at a flying ghoul. Even if you used to play tons of video games as a youth you might still find yourself misfiring. This is an important point because if you play an online gambling game the goal is usually to get into the bonus round so if you don't like what you find there, what's the point in opening it in the first place? In addition, if you are on a slower internet connection you will find it all quite frustrating because it'll be hard for you to time your shots.
This area takes a while to trigger because you have to hit a bonus symbol in the middle row of all 5 reels over multiple results as you go. This can obviously take some time depending on how your luck is going. The reel will light up with fire once it has been "activated" each time but make sure that you don't change your wager amount once it happens because that will deactivate any ones that were already flaming and you will have to start all over again. Welcome to hell!
Free Spins
Three or more Ghost Rider Logo Scatters anywhere on the board gets you 10 free spins with a 3x multiplier on all winnings. During the mode Ghost Rider becomes an Expanding Wild and his flaming skull increases your chances to grab cash prizes. You can also re-trigger the action if you hit three or more Scatters while freerolling and you will be given 10 additional spins which are simply added to your remaining total.
Some may complain that there's not enough excitement with this feature because the number of free spins and the amount of the multiplier is always the same, so it can get kind of boring after a while. Also, it does feel like it's a little hard to trigger them in this machine for some reason.
Graphics
Many slots from Marvel Comics have cool animated introductions which are basically like a mini movie. This one is no different and has Ghost Rider himself rolling on his chopper and swinging his chain at his foes. The theme of "whippings by chain" is prevalent throughout the action and is definitely this antihero's go-to move.
The graphic for the Expanding Wild that arrives during free spins is quite good, with the chain dancing around in his hands like a snake. Other cool animations are Johnny Blaze morphing into a flaming skull when involved in a payline win and Ghost Rider pulling donuts on his motorbike. In general, all of the rolling fire and burning brimstone add to the rock n' roll feel of this release.
Finally, there's one other small feature that's not really found in other machines. Whenever you activate a payline you can immediately click on the "Info" button and the win will be highlighted and flashing in the paytable. It's a great way to quickly get up to speed and learn what the different combinations and prizes are.
Audio & Soundtrack
The main soundtrack in Info Mode is extremely creepy and is exactly what you would expect for something that's based on a hellacious bad boy like Ghost Rider. It mainly consists of a slightly erratic beat, eerie synthesizers, and an evil guitar being plucked for a few notes every 16 bars.
The song that pumps out during the free spins is pretty funny because it's the total opposite of the regular soundtrack. This jam is upbeat and is dominated by heavy guitar and a happy organ riff that will have you tapping your toes. Playtech was probably going for a rollicking, highway cruising anthem, but the end result turned out more like a song that would be heard during a bar fight in a Chevy Chase comedy. The song in the bonus round is much better and will thankfully have you thinking more of Metallica and less of Winger.
The sound effects of your extra winnings being added to your bankroll is surprisingly upbeat and happy as well – even the creepiest of creations needs a few bright spots.
Conclusion
Obviously Ghost Rider isn't going to be for everyone, with many players getting immediately turned off by the demons, violence, and irresponsible driving of a motorcycle without a helmet. However, fans of the graphic novel or movie, and/or those obsessed with the Devil and satanic imagery will all be quite pleased with this game.
This release has a lot going for it: the animations are fun without being distracting, the symbols stay true to the dark theme of the character, and the bonus round is packed with action. Most fans of Marvel Comics will want to spend at least a little bit of time in Hell with Ghost Rider Slots, if for nothing else, just to see all of the violent images and get whipped in the face with a virtual chain.
For the rest of the people out there who are super fans of Ghost Rider…go put on your leather jacket, crank up the heavy metal, and get ready for the ride of your life.
Random Video of Ghost Rider
There's only one proper way to end a review of this gambling game and that's with the official theme song from the movie, "Ghost Riders in the Sky". Although this song has been recorded by tons of different artists over the years, this version by Spiderbait is one of the best ever.
And if you don't know who Spiderbait are, please check them out immediately on your streaming service of choice – you won't be disappointed. Yippie yi yay!