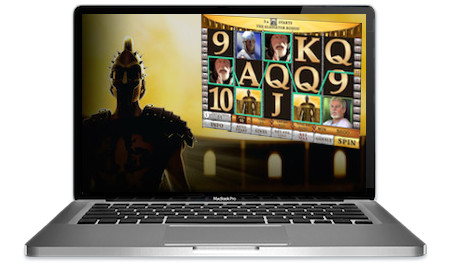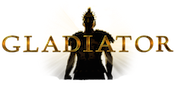 The man they call "Spaniard" once said that, What we do in life echoes in eternity, and vowed to have his vengeance in this life or the next. Now the epic battle will finally be settled on the reels of an online slot machine.
Interesting Free Spins Mode
Clips from the Movie
Original Cast Members
---
---
Review of Gladiator Slots
Whether or not you like Russel Crowe, you have to admit that Gladiator was one helluva movie. Based loosely on the "Augustan History" of Roman biographies, director Ridley Scott made a powerhouse of a film that had fans cheering in the aisles of theaters around the world.
The intriguing story was a simple one, The general who became a slave. The slave who became a gladiator. The gladiator who defied an emperor. At its heart it was a classic underdog tale with a twist of well-deserved revenge, so how could this movie fail? Well, it turned out that it couldn't: it took in almost half a billion dollars at the box office, was widely praised by critics, and won "Best Picture" at the Academy Awards that year. Russel Crowe even snagged the "Best Actor" award for his efforts, as well.
Although this game was a stronger movie-themed slot when it was first released, today it simply doesn't do the original film justice. Sadly, even Jean-Léon Gérôme would have to give it 2 thumbs down at this point because it's not aging too well. Oh, there's also a glaring omission that's going to upset both the girls and the boys.
This expert review of Gladiator Slots will break everything down and give it the most accurate rating possible.
Screenshots
As you can see in the screenshots below, this game is starting to look quite dated, but given that the film was released in the year 2000 and the game itself was released in 2008, we should give it a bit of a break. However, it would certainly benefit from an update if Playtech was inclined to re-release it in the future.
Storyline
The year is 180 AD and the Roman army has never looked better. Fresh off of a crushing defeat of the Germanic armies, General Maximus Decimus Meridius just wants to kick back and enjoy retirement, however, the Emperor Marcus Aurelius has decided that his heir, Commodus, is a whiny, spoiled brat who should not be in charge of an empire. Therefore, Marcus wants to put Maximus in line to rule and push his son to the side.
Unfortunately, Marcus decides to tell Commodus how he really feels, which sends his son into a rage so violent that he ends up killing him. With no one now standing in his way, Commodus declares that he is the new ruler of Rome and when Maximus refuses to bow down to him he is sentenced to death. After many twists and turns, Maximus finds himself battling for his life in the gladiator pits of the Roman Colosseum where he wins over the huge crowds and warns Commodus that he shall have his revenge.
This slot from Playtech attempts to relive the harrowing tale of bravery and vengeance through character symbols, a free spins mode, and a small bonus feature. Sadly, this isn't enough to capture the spirit or plot of the movie and the storyline of this release turned out to be pretty weak, which is definitely sad considering how amazing the original source material was.
Unique Symbols
Playtech should be thrown to the lions for including a "9" in this game, or at least sent to the gladiator pit to fight to regain some respect. With all of the cool items that a gladiator has to wear during his fights, they probably could have come up with something a little more interesting.
Shockingly, that's not their worst crime when it comes to the unique symbols. As teased above, this game is lacking one very important part of the movie – yup, you guessed it…the Gladiator! The namesake of the film, the star of the show, the Academy Award winning role, Mr. Short Fuse himself, Russel Crowe is not in this game. Take a moment to digest that information.
Ok, ready to continue? Here are the symbols that they did decide to include:
9
10
J (Jack)
Q (Queen)
K (King)
A (Ace)
Juba (Djimon Hounsou)
Gracchus (Derek Jacobi)
Proximo (Oliver Reed)
Lucilla (Connie Nielsen)
Commodus (Joaquin Phoenix)
Spiked Maximus Gladiator Helmet (Wild)
Coliseum (Scatter)
The evil Commodus is the most powerful symbol in the game, dishing out 5,000 coins for 5 of a Kind. The beautiful Lucilla is next with 1,000 coins for five on the board, followed by Gracchus with 350 for the same. Proximo and Juba finish off the character symbols by paying 250 each for five in one spin.
It should be noted that Wild symbols will only appear on reels #2, #3, and #4, and again, the title character will not appear at all. Ridiculous!
Jackpots
There are actually two versions of Gladiator Slots, one with a jackpot and one without. If you want to contribute to the pot and be eligible to win the network prize make sure that you are playing Gladiator Jackpot and not the regular version.
The jackpot is an extension of the Gladiator Bonus Round that is explained below and it's awarded if you trigger the helmet bonus in the regular game and 9 of them are "golden". You will then win the total cash amount of whatever is in the network jackpot at that time, but not the cash prizes that were under the helmets. It's not the greatest prize ever offered but it's certainly better than a spear in the foot.
Bonus Rounds
If you hit Wild symbols on reels #2, #3, and #4 in the same spin it will trigger the Gladiator Bonus Round which will give you a mix of 9 helmets over the reels that will be bronze, silver, or gold, and they'll have prizes of 1x, 3x, or 5x of the wager amount. Once all of the prizes have been added together you'll get the total amount of free cash that was hidden.
There is also a Gamble Feature in this game that allows you to wager your winnings after every spin in the hopes of boosting up your bankroll. Pick the right color of the next card to be flipped and you'll get twice the amount that you wagered, but pick the wrong color and you'll get nothing but a boot back to the regular game without a dime. You are able to hit "Collect" and leave with your winnings at any time but you aren't able to gamble during free games, or if you have the machine set to auto-spin.
Free Spins
You will win Gladiator Slots free spins by triggering the Coliseum Bonus, which tries to bill itself as a "bonus round" but really only serves to determine what's going to happen while you freeroll. You are taken to a weapons room underneath the Coliseum and given a 4×5 grid of stones for you to select from and you'd better choose your weapons wisely because each one has a different prize hidden underneath it.
1st Row: The number of free spins.
2nd Row: The amount of the multiplier during the free spins.
3rd Row: The extra Scatter symbol during the free spins.
4th Row: The extra Wild symbol during the free spins, (Character Symbol).
However, getting these prizes isn't just as easy as picking random stones on a grid and like anything else in those days, you're going to have to work to earn them. Each time you choose a stone, any of these things can happen:
You move on to the next row.
You get an extra stone to select. (Only on rows #1 and #2).
The entire column is revealed.
You hit "Collect" and you're sent into the free spins round without another selection.
When the free games start the reels will auto-spin so you can sit back and concentrate on stacking up bonus cash and you can even trigger the Gladiator Bonus Round while you're freerolling.
Graphics
Let's be clear, you will not be playing Gladiator Slots for its cutting edge graphics and animations because this game is starting to look very old. That said, there are tons of clips from the movie that play throughout the bonus rounds and on the unique symbols so it does have some interesting visuals going on. It probably doesn't need to be mentioned, but the clips are not in HD.
There are basic animations on some of the character symbols when they're used in a payline win, mostly cycling through random still images of the actors throughout the movie, or zooming in and out of an image. Some have choppy video clips as they say dramatic lines like Lucilla's, "Today I saw a slave become more powerful than the Emperor of Rome."
All of the other graphics are what you'd expect to find in a movie-themed slot game… that was made in 2008.
Audio & Soundtrack
There is a stern and foreboding soundtrack that plays throughout the regular game that is basically different notes being struck on an eerie synthesizer. This score could have been taken directly from the movie but it's hard to place.
This game is so old, (How old is it?), it has the old school casino noise for payline wins, with the "do dee dee dee dee do dee do do". The main problem with this audio is that it repeats for every payline win in a spin so if you have 5 winning lines you're going to have to listen to it 5 different times. This definitely gets annoying so it's recommended to turn it off immediately in the audio settings.
As mentioned above, you hear lines of dialogue from the movie when certain character symbols are used in a payline win, but they didn't put that many in the game, so the ones that were included get boring after time. Of course, it's certainly better than nothing, and they do add a little bit to the overall mood.
The other game audios are mostly unobtrusive and you shouldn't find yourself clambering to turn down the volume button.
Conclusion
Gladiator Slots is mostly going to appeal to diehard fans of the original movie while players who are only somewhat fond of the film are going to want to prepare themselves for a pretty short gambling session. There are just too many other movie-themed releases out there today that have better graphics and more bonus features – it's hard to take it seriously.
It's perplexing that they chose to release this title without Maximus and it's really not clear what they were thinking. The name of the movie is "Gladiator", the movie centers around the Gladiator, and the thousands of fans in the Coliseum chant the Gladiator's name throughout. If Russel Crowe was holding out for big bucks for the rights to use his likeness in the game, Playtech should have cut the check because even those who absolutely loved the film will have trouble staying interested without Maximus.
In addition to hardcore fans of the movie, Gladiator Slots could technically also appeal to those who like ancient Roman civilization and/or bloody arena battles, but there can't be too many players out there craving this kind of action. Right?
Do you have anything to say before we go, Maximus? Are you not entertained? Is this not why you are here? Sorry dude, most of us were not entertained by this release and we were actually here to see you kicking some ancient Roman butt. You should have listened to Gracchus' advice, Don't die. They'll feed you to the lions.
Time to ring the dinner bell.
Bonus Video of Gladiator
Let's hop into the time machine and travel back to the year 2000 to watch Russel Crowe upset the competition with his win for "Best Actor" at the Academy Awards. This was basically the last time he received any kind of critical praise for his work and it was a shocking win since he beat Tom Hanks and his amazing performance in Cast Away. Enjoy!