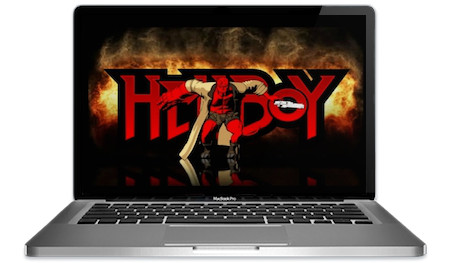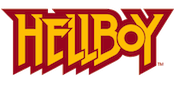 He made a career out of protecting people from evil, and now you can join him in Hellboy Slots to battle the paranormal and deranged. So file down your horns, light a cigar, and hop into this flaming roller coaster to hell.
Awesome Bonus Round
Quadruple Up Feature
Excellent Game Design
---
---
Review of Hellboy Slots
I never really knew much about Hellboy until a few years ago when the movie first came out. This is mostly because the graphic novels were launched in the mid 1990s when I was still in university, and there simply wasn't any time for comic books between classes and going to the campus pub studying.
Of course I enjoy any movie or comic book that has a good story and Hellboy definitely qualifies, so I wanted to give this game an honest try. I've gone back and read some of the original graphic novels online, which I'm sure helped me to enjoy this slot even more. After getting more familiar with the character, I can see why he has legions of diehard fans.
So this review is mostly fueled by the game itself, and not by any nostalgia that I may hold in my heart for the character. Although I do happen to think that Hellboy is pretty damn cool.
Screenshots
In the below screenshots you will see what a good job Microgaming did with the colors, symbol design, and the game board overall. Hellboy Slots actually has one of my favorite color schemes of all time – I'm not sure that I've ever seen another game that uses maroon as its primary color. There's just something about the way the whole thing comes together that is really visually appealing.
Storyline
Anung Un Rama, otherwise known as "Hellboy", has one of the most interesting backstories in the comic book universe. Born in the 1600s to a witch and a "Duke of Hell", he spent hundreds of years in limbo until he was finally summoned to earth during World War II to help the Nazis win the war. Unfortunately Grigori Rasputin, the evil super villain that called upon him, messed up and put the creature into the hands of the allies instead.
Raised by a professor in the U.S. Army, Hellboy eventually becomes a valuable member of the Bureau for Paranormal Research and Defense and devotes his life to investigating the paranormal and the occult. He was basically the original star of The X Files.
Oh – and if you're wondering why Hellboy has stumps on his head instead of horns, it's because he files them down himself since he views himself as more human than beast. What a sweetheart!
Now Microgaming has released this twisted slots game that enables you to join the unlikely hero in his dark underworld surrounded by friends and foes – and if you are successful in bringing light to the world, you will also be successful in stacking up cash prizes.
It should be noted that Hellboy is unique because he is not a character from DC or Marvel, but is in fact a member of Dark Horse Comics. This makes this game one of only a few comic book-themed slots that aren't linked to one of the two major comic companies.
Unique Symbols
The symbols for Hellboy Slots stay true to the original graphic novel, and are therefore creepier than most of the symbols that you would find in other slots games. That said, they're actually not as unnerving as the symbols in Ghost Rider Slots because the imagery in this game is more similar to a cartoon, and the vibrant colors actually make the mood a lot more cheerful.
10
J (Jack)
Q (Queen)
K (King)
A (Ace)
Professor Trevor Bruttenholm
Abe Sapien
Johann Krause
Liz Sherman
Karl Ruprecht Kroenen
Hellboy
Right Hand of Doom (Scatter)
Hellboy Logo (Wild)
You'll want to see lots of Hellboy Logo Wild symbols because five of those in one spin will give you a hefty 10,000 coins. The Hellboy himself is the next highest paying symbol with 5,000 coins for 5, and Liz Sherman backs him up with a respectable 2,000 coins for the same result. The payouts then drop off quickly with Abe Sapien, Johann Krause, and Professor Trevor Bruttenholm paying 1,000, 750, and 500 coins respectively for five of a kind.
The other symbol facts you need to know are that The Hellboy logo can explode to reveal extra payline multipliers, and if you use a Wild symbol in a payline win you will receive double the normal payout.
Jackpots
There aren't any good people in Hell, and there aren't any jackpots in Hellboy Slots. However, the more positive among us might claim that if you make it through all of the stages of the Bonus Round you win so much free cash that it's basically like a mini-jackpot.
Bonus Rounds
Hitting 3 Right Hand of Doom symbols anywhere on the reels takes you into the Hellboy Bonus Round called the "Underworld Bonus", which hides the Relic of Power. You will run around in the sewers opening doors that will reveal different prize amounts that are guarded by your allies.
If you're very lucky you will unearth someone with a prize amount as well as the words "Win All" which will give you all of the cash prizes that were on offer for that particular round. If you select a blocked door at any time your bonus round immediately ends, and you only get one pick per round so choose wisely.
The bonus prize amounts are hidden randomly and are based off of your original wager, with all wins being tallied at the end of the round. If you are able to navigate your way through the sewer and correctly choose 4 doors in a row you will enter the Chamber of Fire, which will give you an extra cash bonus once you've shot the crystal and claimed the Relic of Power.
Hellboy Slots also has a Double Up Feature which can give you double or quadruple your winnings. After any payline win in the regular game simply click the "Double" button and choose either a card color, or a card suit. If you get the color right you get double your winnings, or if you get the suit right you get quadruple your winnings. Of course, if you pick wrong you lose whatever amount you had just won in the regular game, so think hard before making a bet. You can continue to gamble your winnings in this feature until you reach the win limit or make a wrong choice.
Free Spins
One of the frustrating things about Hellboy Slots is that the Free Spins are awarded randomly so you can't really cheer for particular symbols to fall as the reels stop spinning, or specific combinations during the regular game. In any event, if you do hit the free games feature you get 10 free spins with 3 Wild symbols that appear on the board randomly and then lock into place for the entirety of the round.
Hellboy Slots refers to their Free Games Mode as the "Supermode" and features Hellboy jumping into the screen and shooting symbols to turn them into Frozen Wilds. Its actually quite a cool graphic and definitely a highlight of the game.
Unfortunately, you can't win more free spins while in free spins mode.
Graphics
As mentioned above, the graphics of the regular game are quite good – they aren't in your face, but they still do enough to keep you entertained. Whether it's Hellboy jumping through the sky, Hellboy Logos exploding into multipliers, or the Right Hand of Doom smashing the reels, I found that Microgaming struck a perfect chord in the visual effects department.
However, where this game really shines is during the Underworld Bonus Round. The graphics of advancing through each level are like an animated movie and it totally gets you engrossed in the game. Whether it's selecting which sewer pipe to open or reaching the Relic of Power, the visuals are sharp at every turn.
Audio & Soundtrack
As you would imagine, the soundtrack for Hellboy Slots is somewhat menacing and depressing, but it of course fits perfectly with the game. The audios in the Underworld Bonus are pretty funny, and things like Hellboy's deep laugh every time you win a cash prize eases the tension of the unholy sewer.
The best song in this game occurs during the Supermode and it will remind you of a chase scene in Miami Vice, or a movie clip of Steven Segal kicking in the door of a warehouse full of Russian arms dealers. Needless to say, I really like it and it always gets me jacked up every time I hear it.
My only main criticisms of the audios used in the game would be the sound effects of the reels spinning – it kind of sounds like old elevator gears grinding, and it does get a bit annoying after time. Also, when the reels stop without yielding a payline win there is a solemn gong-like sound which gets tiring both because of the actual audio, and the fact that it is punctuating another losing spin.
Lastly, when multipliers smash out of the Hellboy Logo symbols it sounds like a bomb going off…it's a little too loud, in my opinion. But for those of you who like a crashing and banging slot game, feel free to crank it up and turn it out.
Conclusion
This slot is straight from the depths of hell and will therefore give all fans of Hellboy exactly what they're looking for. All of the most important characters are included, the free games and bonus round are fun, and ultimately the game stays true to the look and feel of the original graphic novels.
In fact, I'm going to go as far as saying that even players who have never heard of Hellboy before will still enjoy this game due to its vibrant colors, cool game design, and unique storyline. Surely there will be a few who don't identify with the "World's Greatest Paranormal Investigator", but many will enjoy the gruff, cigar-smoking half-demon and his dark sense of humor.
So I say that we go ahead and "upon his brow set a crown of flame", and give Hellboy Slots a chance to drag us into the abyss of eternal slots damnation…
…and be sure to bring some sunscreen!
Bonus Video of Hellboy
I was going through some other reviews and noticed that my mom keeps posting these CinemaSins videos from Youtube. I watched a few and they're actually pretty funny, so here's their take on "Everything Wrong with Hellboy".
Warning: they're pretty tough on the film, so if you're a super fan you probably want to give this video a pass. Everyone else will chuckle…