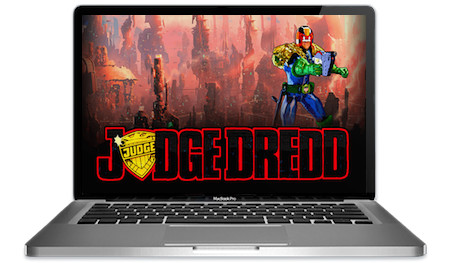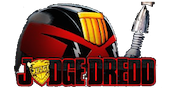 Judge Dredd is the law. He is also the judge, jury, and executioner so watch your step. Now you can team up with this renegade crime fighter and help him enforce the laws of Mega-City One, and win a few bucks along the way.
Random Cash Bonuses
Extra Wild Symbols
Violent Imagery
---
---
Review of Judge Dredd Slots
One of the main things I knew about Judge Dredd growing up was that a lot of fans of the comic book were horrified when they found out that Sylvester Stallone was playing the legendary lawman in the 1995 film adaptation of the story. I've still never seen that movie, and the only comics featuring him that I've read were a few random ones that my friends left at my house during the '90s. The story seemed interesting to me, but as a big fan of RoboCop, I felt like it would be cheating if I started regularly reading Dredd.
Fast-forward 20 years and there I was playing Judge Dredd Slots online and actually having a bit of fun for a while. I don't think that being unfamiliar with the comic took away from the game too much because there doesn't seem to be much of a storyline to this slot. Therefore, I did find myself getting bored rather quickly, and I imagine that many casual fans will feel the same way. Don't worry super fans, I explain why this game gets old quickly in the sections below.
Finally, I should warn anyone who does not like violence that this game is quite graphic and has shooting guns in it. So if that's not your cup of tea, I think you'd best stop reading this review now and move on to another game – but with a name like "Judge Dredd", what were you expecting?
Screenshots
Judge Dredd Slots will probably seem a little dated to most players, but I personally think that's ultimately part of the game's charm. It doesn't do a good job of "transporting you to another universe", but I don't think that the game's designers really attempted to do that. It does take me back to playing old Sega Genesis games, so if you're over 35 and used to play video games in the '90s you should get a kick out of these old school graphics.
Storyline
Judge Dredd is one of the first and last names in the legal system of Mega-City One, North America's crime-ridden, post-apocalyptic city of the future. He is a "Street Judge" who can actually convict someone on the spot and then immediately execute them. Annnnd I hear that he's single, ladies!!
Dredd was actually cloned from the DNA of an ancient judge, so technically law enforcement runs in his family. For over 50 years Dredd has been patrolling the streets protecting innocent citizens from criminals, politicians, and aliens, and he isn't showing any signs of slowing down in his old age. His biggest battles throughout the years have been when he directly challenges the character, morality, or decisions of the chief judges of the city and they then attempt to silence him.
This slot game loosely follows Judge Dredd's patrols through Mega-City One, and has all of the imagery that you will be familiar with from the graphic novels. Unfortunately, the game's storyline pretty much ends there.
Unique Symbols
NextGen made the unfortunate decision to include the most useless symbol in slots – the 9. Why they couldn't have added another character from the comic book instead is beyond me. They also relied quite heavily on Judge Dredd's wardrobe for some reason, so in terms of variety, the unique symbols in Judge Dredd Slots should be sentenced to 50 years of hard labor.
9
10
J (Jack)
Q (Queen)
K (King)
A (Ace)
Judge Death
Judge Dredd's Glove
Lawmaster Motorcycle
Lawgiver Pistol
Judge Dredd's Badge (Scatter)
Judge Dredd (Wild)
The highest paying symbol in the game is Judge Dredd's badge, which gives you a very impressive 2,500 coins for hitting five in one spin. This is followed by the Judge Death symbol which pays 1,000 coins for 5 of a kind, Judge Dredd's Motorcycle which pays 500 coins, and then his Gun and Glove which each pay 250.
This slot game is actually somewhat unique because you can physically add Wild symbols to the board by increasing the Super Bet amount, which is displayed in the form of Judge Dredd's gun on the right of the screen. If you play cautiously and bet 25 coins you will only have Wilds on reel 3, (Yellow Level). If you get frisky and play 35 coins you get Wilds on reels 2, 3, and 4, (Orange Level). And if you want to go for the Full Monty and play 50 extra coins per spin you will have Wilds on all 5 reels, (Red Level).
Increasing the Super Bet also improves the average return to player with normal mode paying 95.22%, 10 Credit Super Bet paying 95.33%, and 25 Credit Super Bet paying 95.61%. I only mention this for those who are interested in Return to Player (RTP) statistics because as we state numerous times throughout this website, me and my mom only really care about how much fun a game is and don't get bogged down in the numbers. What's the point of playing a game that gives you an extra 3% RTP if you're not having fun while you're playing?
Jackpots
Judge Dredd does not have a jackpot, progressive or otherwise, which is a shame because it would have definitely pumped up the rank of this game when compared to other comic-themed titles. I think that we can safely add this to the list of reasons why this game might only be for the diehard fans.
Bonus Rounds
As explained above, activating the Super Bet button will enable the Free Games Mode, which is the closest thing that Judge Dredd Slots has to a bonus round. The omission of a proper bonus round does the game a huge disservice and only helps to bring on the boredom quicker due to the repetitive game play.
For those of you who like to be shot in the face by your slot machines, Judge Dredd also appears from the side of the screen and shoots at you as he awards random cash prizes that are based on your wager amount. Don't question why this happens – I guess he just has to be cruel to be kind. The game refers to this bizarre prize as the "I AM THE LAW" special feature.
You can also choose to gamble your winnings after any spin by pressing the "Gamble" button at the bottom of the screen. You can guess the color of the next card flipped and win double your wager amount, or you can guess the exact suit of the next card flipped and win quadruple. You can only double up a maximum of five times in total, but if you successfully win 5 double ups in a row, you should want to cash out anyway!
Free Spins
The Free Spins in Judge Dredd Slots are pretty much the game's only highlight. You get 10 free spins and your cash prizes are doubled for each spin, also you can win more free games if the feature is re-triggered while you are freerolling.
In addition, the game adds more Wild symbols to the reels during your free spins, the amount of which is of course dependent on what level of the Super Bet you are wagering on. The game calls this an "enhanced" set of reels with the higher bets on the Super Bet leading to more Wilds, and therefore bigger cash payouts.
Graphics
During the normal game there isn't an abundance of moving graphics or animated features, except for the Wild Judge Dredd symbol. When he is used in a payline win he shoots open the symbol and then re-emerges in it slapping his baton in his hand menacingly. Also, the Badge symbols spin and shine when they land on the reels.
Although it is violent and somewhat offensive, the graphics when Judge Dredd shoots you in the face during the I AM THE LAW special feature really do look good. He saunters in front of the reels and bullets start flying until they break your screen – it's actually one of the better visuals that I've seen in an action style slot game.
Audio & Soundtrack
The audio for Dredd Slots is very cheesy, and in my opinion, also quite excellent. It's that classic synthesizer and heavy '80s rock guitar combination that usually makes the soundtracks for comic book slots by NextGen so enjoyable. Their series of DC slot games all have these types of crazy songs that play throughout.
Personally, I find the sound effect for wins being added to your balance pretty annoying – it kind of sounds like a robotic turkey gobbling. And it goes on and on and on, so you'll probably want to familiarize yourself with the mute buttons before starting to play for real money.
In fairness, I do have to mention that the music when you enter the Free Games Mode is absolutely fantastic, and kind of indescribable. You'll just have to hear it for yourself, and let me know if you have any suggestions for a proper description and I will add it to this review, (and of course give you credit if you want it).
Conclusion
When I first started playing I was kind of torn on whether or not I liked this game, as I did find myself enjoying it for a short while. However the lack of interesting symbols, the annoying  payline audios, and the absence of a fun and proper bonus round ultimately made me close the game and look elsewhere for a fun comic-themed slot.
The graphics are dated, and the soundtrack will only be for freaks like me who enjoy reliving the worst of the '90s at every opportunity. Also, having to activate the Super Bet to the maximum setting to access the cool features of the game can quickly eat through your bankroll if you go on a prolonged cold streak. Therefore, I'd have to say that Judge Dredd Slots will only appeal to the select few of you who are diehard fans of the original graphic novels.
Who would have thought that a dystopian future could be so bleak?
Bonus Video of Judge Dredd
There's really only one video that I feel comfortable ending this review with, and that of course is Anthrax performing "I Am The Law" – their thrash metal tribute to their favorite comic book executioner, Judge Dredd. The video is a live performance in London from their 1987 tour and it's fantastic. Crank it up!