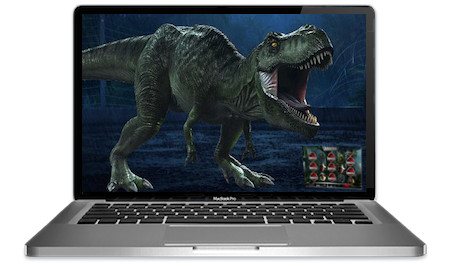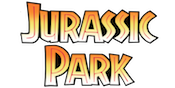 The biggest blockbuster of the 1990s is back with a massive online slot game that'll rock you out of your seat. Watch your step as we head back into the jungle for cash and prizes because there's danger at every turn.
Tons of Free Spins
243 Paylines
Original Cast
---
---
Review of Jurassic Park Slots
The world was shaken awake in the summer of 1993 by the rumbling footsteps of creatures long thought to be extinct and what could have been a cute and groundbreaking scientific event turned into a blood-soaked ride of terror. What a shame!
Anyone over 30 years old remembers just how big a deal this movie was but if you were too young at the time, all you need to know is that the film grossed close to a billion dollars during its original run in the theaters. Not to mention, director Steven Spielberg was in his prime, as were actors Jeff Goldblum, Laura Dern, and Samuel L. Jackson…it was just destined to be a blockbuster.
They claimed that this movie was an adventure 65 million years in the making so the same could be said about the online slot that bares its name. Although unfortunately for me, I waited all of that time for a 243 payline machine, which is my most disliked type in the entire gambling universe. Many people find it very hard to keep track of how to win and the vast majority of them don't have a proper bonus round, which is something that most players obviously love.
That said, this honest review of Jurassic Park Slots will in fact explain why it's one of the few 243 payline titles that has been able to hold our attention for more than a few minutes and it's actually quite enjoyable. There are a ton of things going on as you spin and this review will breakdown everything you need to know, so let's head through the gates and step into the jungle.
Screenshots
Although the screenshots below are quite visually impressive, they still don't do this release proper justice. You really have to play it to appreciate the level of detail and effort that went into the design. All of the visual elements of the backgrounds, reels, and user controls come together to create a fantastic experience that really does lead to sensory overload.
Storyline
The story of Jurassic Park is very similar to that of "Frankenstein" since it tells the tale of what can happen when mere mortals try to play God. And based on what we can gather after watching the movies of the last 100 years, it doesn't end too well for anyone.
It all sounded great on paper: lets open a wildlife park but have real dinosaurs instead of animals. Well, technically they would be "cloned" dinosaurs from original DNA, but the fact that they weren't "real" certainly didn't make a difference in the end – they were just as unpredictable and destructive.
It was pure insanity when bioengineering firm InGen and their leader John Hammond decided to push the limits of science and create a dinosaur park off of the coast of Costa Rica. How nobody at their company foresaw any problems with this idea and put a stop to the project is baffling. Did they not mention what they were planning on doing to their lawyers or HR department?
After the predictable death of a park employee at the the claws of a Velociraptor, the financial investors want to make sure that this won't happen to paying visitors so they send a team to Isla Nublar to investigate the situation. When the group arrives they are shocked to see incredible sights like prehistoric eggs hatching and full grown dinosaurs wandering around. Slowly the security in the park deteriorates allowing the dinosaurs to run amuck and hunt humans, and everyone on the island must now fight for their lives.
Microgaming has attempted to recreate the terror and scientific misconduct of the film by ensuring that the dinosaurs are once again the stars of the show and they focus on both the beasts and the main characters from the movie. Unfortunately, since there's not a proper bonus round we don't get to dive too deep into the actual plot of the film, which is of course a downright shame.
Unique Symbols
First off, what the heck ever happened to Sam Neill? Can someone please check up on him? Never mind…it looks like he's been busy…but just not in anything that's popular – sorry, Sam!
It's shocking that Samuel L. Jackson didn't petition the creators to include his character of Ray Arnold, the stressed-out engineer. Also, most people would have happily traded the Triceratops symbol for Wayne Knight's snivelling character of Dennis Nedry but Microgaming felt that they knew best…
Dilophosaurus
Triceratops
Brachiosaurus
Velociraptor
Tyrannosaurus Rex
Dr. Ian Malcolm (Jeff Goldblum)
John Hammond (Richard Attenborough)
Dr. Ellie Sattler (Laura Dern)
Dr. Alan Grant (Sam Neill)
Jurassic Park Logo (Wild)
Amber Fossil (Scatter)
Developers had to respect the film that it's named after and as a result, the highest-paying image is the Jurassic Park Logo Wild which gives you approximately 26.6x your wager for five in a row. Why is this number so weird? Because it's a 243 payline slot so all of the combinations are going to be both small and strange.
The next best are Dr. Alan Grant, Dr. Ellie Sattler, and John Hammond who award 13.3x, 11.6x, and 10x your wager respectively for five at a time. In the biggest insult of the game, Dr. Ian Malcolm is the worst-paying character and only dishes out 8.3x your wager for 5 of a Kind.
Also make sure to remember that because this is a 243 line release, you cannot adjust the number of lines that you're playing since it has to be 243 every spin. However, you can increase your coin size which will increase your overall wager, with 1 coin equaling 30 total coins, 2 coins = a 60 coin bet, 3 coins = a 90 coin bet, etc.
Jackpots
We technically waited 65 million years for Jurassic Park Slots so the least Microgaming could have done was include a jackpot of some kind, right? Actually, we can't be too mad since 243 payline machines never have a jackpot, so we should have seen it coming.
Bonus Rounds
No one should have their hopes set too high for a special feature in this one because you know going in that it has 243 ways to win and these never seem to have one. It really is a shame this time though when you consider the subject matter and all of the cool scenes that they could have used from the original film. To be fair, there is tons of action throughout, it's just that all of it takes place in the regular mode, which does get a little boring for players who like to mix things up.
The only thing on offer is a small nugget called the T-Rex Alert which is triggered randomly at anytime and gives you extra Stacked Wilds for 6 spins. It's not a huge deal but it is extra money so we won't complain.
Free Spins
This machine has tons of free spin features and they're always triggered by 3 or more Amber Fossils anywhere on the board. The one you trigger is random until you have entered the mode 25 times and then you get to select whichever one you want from that point on.
First off, there's the Tyrannosaurus Rex Bonus Game which will give you 12 spins and up to 5 reels that are totally Wild. The T-Rex becomes stacked but unfortunately you cannot re-trigger more while freerolling.
Next is the Velociraptor Bonus Game which also gives you 12 spins but has the Velociraptor stack instead of the T-Rex. This one takes things up a notch by giving you a Multiplier Wild which is a 1x to 6x multiplier, or a Split Wild symbol that can give you a "6 of a Kind" that will basically just put a 2x multiplier on the payout of a normal 5 of a Kind. Just like the first one, this cannot be re-triggered.
From there we have the Brachiosaurus Bonus Game which dishes out 12 spins, has the Brachiosaurus stack on all reels, and gives you a Mystery Multiplier for each spin of 1x to 6x on all of your winnings. The major difference here is that this one can be re-triggered during a freeroll so it's a great chance to boost your bankroll if you hit it.
Yet another area is the Triceratops Bonus Game which gives you 12 spins, has the Triceratops stack on all reels, and allows you to access the "Running Wilds" feature. This will give you a stack of Wilds starting with 3, but then gives you an extra Wild per reel each time. Not only are they stacked, they also nudge if you have a losing turn and will then freeze into place and re-spin till you win. Sadly, you aren't able to re-trigger this one.
Finally, we have the Dilophosaurus Bonus Game that of course gives you 12 spins, has the Dilophosaurus stacked on all reels, but also changes random symbols into Wilds. If any Wild is involved in a payline win it becomes a "Winning Wild" which will lock into position for numerous spins until they are no longer used. As is customary, this cannot be re-triggered while freerolling.
Graphics
The graphics in this release are simply amazing, with every single symbol in a winning combination having some kind of animation to it and all of the characters morphing into clips from the original movie. There are tons of videos from the film jammed into this game and heartthrob Jeff Goldbloom seems to get an awful lot of screen time. You will of course get to watch scenes with John Hammond or Dr. Alan Grant, as well.
When you get awarded extra Wilds and hear "We've clocked a T-Rex at 32 miles per hour", your screen starts shaking as the angry dinosaur rushes towards you. The visual effects of the T-Rex lumbering around in the background are some of the best to be found and when his head finally looks in from the side of the screen and covers the reels, no detail is spared…including his breath fogging up your computer screen from behind.
There are beautiful backgrounds throughout this adventure, with each depending on which area you're in and what's going on at the time. These are further enhanced by the fact that the reels are transparent and allow you to see past the symbols into the distance. The background of the park at night in a rainstorm during one of the free spins modes is amazingly lifelike and absolutely stunning. Basically, there are many sweeping images of Isla Nublar, all of which take you right back to that movie theater in 1993.
Audio & Soundtrack
The soundtrack is a soft symphonic number that plays throughout the regular mode. It's slightly haunting and it sets the mood perfectly for trekking out on a dinosaur-watching safari and it sounds like it could have been written by John Williams himself.
The jungle audios will take you right back to the creepiness of the movie as branches rustle, birds chirp with fright, and heavy booming footsteps echo through the trees. Also, each dinosaur has a special roar or noise every time their symbols are involved in a payline win, with some of them being cute and some of them being downright scary. The worst is when you hit a "T-Rex Alert" and hear a blood-curdling roar from the most vicious dinosaur in the jungle. Yikes!
When auto-spinning on "quick spin" the music and sound effects are cut off quickly so it gives the action a "hurried" feeling, which many won't enjoy. Even if you love the automatic function it's recommended that you lay off the option because the whole experience becomes too darn frantic – at the very least enjoy it for a few minutes without it.
Conclusion
As we constantly mention throughout the pages of Queen of Online Slots, we don't really like 243 payline games because there's always too much going on with each spin, there are never any jackpots available, and they rarely have proper bonus rounds. That's why it's so shocking that we liked Jurassic Park as much as we did and really enjoying playing it for long stretches of time, which was pretty much a first for a 243 Way machine.
Of course it's going to appeal the most to hardcore fans of the movies and rightfully so: Microgaming stuck to the script and packed this release with lots of original characters and tons of dinosaurs, which is sure to please everyone who's looking for a legitimate blast from the past. Also, those who have a love of prehistoric beasts or have established a successful career in palaeontology will probably want to give it a try as well.
However, if you are someone who likes variety in the action or are easily bored, you'll probably want to skip Jurassic Park in favor of another movie-themed title that has more special features. You don't need to be as accommodating as the West African bullfrog who has the ability to change its gender when confronted with extinction, but you do need to be comfortable with the fact that you're never going to get a break from spinning reels.
That all said, it's not like Microgaming was trying to do something extremely complicated like open up a theme park with cloned dinosaurs or anything so let's get the opinion of a true professional. What do you think about this, Dr. Grant? After careful consideration, I've decided, not to endorse.
Well that's a little harsh – perhaps you have something to add, Dr. Malcolm? Life finds a way.
Um ok…it looks like it's a split decision: lovers of the original film will enjoy this one but non-fans will probably want to plan for a quick gambling session. Of course, you just never know what will happen when you're exposed to too much amphibian DNA…
Random Video of Jurassic Park
These videos from CinemaSins on Youtube are usually pretty funny and also very accurate. Here they shred Jurassic Park like a T-Rex attacking its dinner in only 3 minutes. You have to be able to laugh at the things you love. Enjoy!