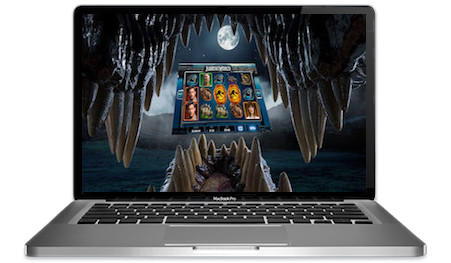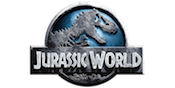 The beautiful tranquility of Isla Nublar has once again been shattered by incompetent park owners and this time the genetically-created dinosaurs are very upset. Sadly, this game doesn't have nearly as much action as the movie, with both the creatures and the features being hugely disappointing.
243 Paylines
3 Unique Free Spins Modes
Surpisingly Boring
---
---
Review of Jurassic World Slots
Many fans of the Jurassic Park franchise questioned if a reboot of the movie was necessary and I certainly wondered the same thing myself. I was also curious to see if a casino software company would try to improve on the original Jurassic Park online slot game in some way.
Of course, they didn't have to release a new version but there's no money to be made from a game that doesn't exist, and considering that this film is the fourth highest-grossing movie of all time at the box office there are surely plenty of people who would be interested in trying out something new.
However, we're very sad to report that most players are going to find Jurassic World Slots to be a "total yawner" and will quickly grow bored of this beautiful but unimaginative game. It's interesting to consider that Microgaming actually won an award for their last Jurassic Park slot in 2014 because we didn't find that one too interesting either. (Who the heck gets to vote on these things anyway?!)
We have nothing but love for the Jurassic movies so you can believe us when we tell you that this slot review won't be beating up on the game for no reason – we really wanted to enjoy it. Honestly, it's just not that much fun to play and even the biggest fans of the movie will have their patience tested. Allow us to explain in full.
Screenshots
This release certainly got a full design makeover since the last installment, with the backgrounds being some of the best-looking that you'll find out there today. The attention to detail in the images is definitely its main strength and all of the reels and game controls beautifully pop off of the screen.
Click on an image to pop it out and make it bigger.
Storyline
That pesky Masrani Global Corporation is at it again. When are they going to learn to properly control their genetics lab InGen and stop it from unleashing havoc on innocent park visitors? People come to Isla Nublar to relax and have fun, not to fight for their lives against scientifically-created dinosaurs who are tired of performing like circus animals.
This time the story centers around park manager Claire Dearing, her two nephews Gray and Zach, as well as Owen Grady, who is a special ex-Navy consultant advising InGen on the weaponization of their mutant dinosaurs. Predictably, things go wrong at the park and some of the dinosaurs break free from their cages and begin to smash up the island and attack the staff and visitors. There are then tons of fights and chases as the team battles the ferocious Indominus rex and other random dinosaurs as they battle to stay alive.
This title from Microgaming attempts to revive the story of the film through symbols, free spins, and backgrounds, however, these items don't give Jurassic World Slots any semblance of a story. It's simply a bunch of stuff from the movie that will conjure up a few memories, but it will mostly leave you bored and wondering what the hell is going on.
Unique Symbols
Shockingly, pretty much everybody that you're going to want to see made it into the game, including the best of the prehistoric troublemakers. Super-fans of the reboot are of course going to take exception that a few of the smaller characters such as Omar Sy as Barry, B.D. Wong as Dr. Henry Wu, or Katie McGrath as Zara didn't make it into the game, but that's just nitpicking. With so many dinosaurs needing to be included on the reels it's no surprise that not every character could make it into the game.
Actually, now that we think about it, there was no reason that these role players couldn't have at least made a small cameo in the free spins modes or someplace else. Oh well, the game's creators probably didn't want to get too imaginative. Here's what we got:
Ankylosaurus
Pteranodon
Stegosaurus
Velociraptor
Tyrannosaurus
Indominus Rex
Vincent D'Onofrio (Vic Hoskins)
Simon Masrani (Irrfan Khan)
Claire Dearing (Bryce Dallas Howard)
Owen Grady (Chris Pratt)
Jurassic World Logo (Wild)
Amber Fossil (Scatter)
You'll want to unearth as many Amber Fossils as possible because 5 or more in a spin will dish out 1,000x your wager, (and they pay in any position on the game board). The next best symbol is the Jurassic World Logo which pays 8.33x your bet for five on a payline. Following that we have the character symbols of Owen, Claire, and Simon paying 6.06x, 5.83x, and 5x respectively for 5 of a Kind.
Please note that these crazy payout numbers are a result of this being a 243 payline slot game. You should also remember that there is a wager multiplier of 30x each spin for every coin denomination increase that you enter, (so 2 coins x 30 = 60 coins total, 3 coins x 30 = 90 coins total, etc.).
In addition, as is the norm with the 243 Ways games, all wins must go from left to right.
Jackpots
Grab the tissues because many of you are going to be disappointed to learn that there isn't a Jurassic World Jackpot included in this slot and the only way to win big is to hit a hot streak in free spins mode. Before you blow your top and go all prehistoric, try to remember that 243 payline slots never seem to have jackpot prizes, so you shouldn't get too upset.
It just seems to be an unwritten rule that casino software companies have come up with and us players have to (unfortunately) accept it. Yet another reason why we're not fans of the 243 Way machines.
Bonus Rounds
Loyal readers of this website will already know that 243 payline games never have a unique bonus round so you feel like you're drowning in an abyss of constantly spinning reels. You don't get a break from the spinning and this can be very tiring, if not downright boring.
So you can probably guess that there isn't a Jurassic World Slots bonus round and it couldn't be a bigger shame. Just imagine what the team at Microgaming could have done, even if they only put a small amount of effort into it. It's actually pretty sad.
There is a decent reel feature where the Indominus rex crashes onto the screen and he can dish out up to a 1,000x multiplier on your total wager amount, which is of course a nice boost to the ol' bankroll. He can pop in to randomly roar at the reels after any winning spin in the regular game so stay on your toes.
This machine also brags that its Wilds can stack, but this is not exactly a "jurassic" feature. Although it's cool that 2 Wilds in a spin can morph together and pump up your balance, it's just not enough to quench the thirst of those looking for special features and different types of action.
Free Spins
This game isn't all bad and Jurassic World actually rewards you for your loyalty by giving you the power to choose which free spins mode you go to – after you've triggered the bonus a total of 15 times, that is. Until then, the game will randomly assign you an area and don't worry – it remembers how many times you've triggered it even if you close the game and come back later.
You are awarded a straight 10 games each time, with all three areas having their own unique rules and details. There aren't a ton of differences between the modes and the one you like the best will simply come down to personal preference.
In Gyrosphere Valley you get increasing win multipliers throughout the round, with every losing spin pumping up the multiplier by 1x , up to a maximum of 7x, (which the game refers to as a "multiplier trail"). Don't get too excited though because once you get a winning spin the multiplier is returned to the base amount of 2x. What a tease! And of course, this bonus can't be re-triggered. Lame!
Next we have the Creation Lab free spins mode which has "Rolling Reels", sometimes referred to in other games as "collapsing reels", and these can lead to some serious free cash. For those unfamiliar with the feature, it's when the symbols in a winning combination disappear after your balance has been credited with the win amount and then the symbols above them fall into their places and award you with any new wins that they create. This can happen indefinitely with symbols continuing to "collapse" and replace winning ones until you've received a losing combination.
This free spins mode also has the "Amber Fossil Scatter" act as a "Cryo Wild" which will lock into place for 3 winning spins and then disappear back to the earth from which it came. Unfortunately, it will not appear as one of the falling symbols in the Rolling Reels feature and you guessed it – this feature can't be re-triggered.
The final free games mode in Jurassic World is the Raptor Den, which you could argue is the best one of them all for a couple of reasons. First of all, unlike the other 2 modes it actually has a Scatter symbol and it will pay you out for scatter wins in addition to normal wins.
Secondly, the Scatters will even lock into place as you freeroll until you get 3 or more of them on the game board, which will give you an extra 5 free games every time. This is obviously a huge deal since the other 2 features don't allow you to re-trigger free spins. Thank goodness for small miracles.
Graphics
The graphics in Jurassic World Slots are pretty much how you would expect them to be, with the symbols appearing extremely detailed and the character images looking like high resolution promotional photos. However, because they didn't put in the effort to create any crazy animations or "jurassic" battle scenes, they have to get a low grade for their overall graphics. With a blockbuster movie like this as source material and cutting edge technology at their fingertips, Microgaming definitely should have tried harder to impress us.
That said, the graphics that were included are nice, like the glowing light effects around the symbols in winning paylines and the animations on the Frozen Wild symbols in the free spins mode. But again, players are going to expect "nice graphics" from any slot released after 2016, especially one that's based on a Hollywood Blockbuster, so the disappointment in the air is palpable.
The best example of the designers' laziness is during big payline wins since the game only shows you images from the movie and doesn't play any video clips. Not showing exciting scenes from the blockbuster film that the slot is based on is a real head-scratcher and totally preposterous to say the least.
The only saving grace for the graphics team is that there are numerous backgrounds in this game and all of them are absolutely gorgeous. The details in the distance are spectacular and your computer screen seems more like a portal into another universe than an $80 monitor you bought at Walmart. Seriously, these settings definitely had a lot of time invested in them and the digital artists involved should be proud of their efforts.
Audio & Soundtrack
As has been the trend with branded slot games of late, Microgaming composed all of the songs for the soundtrack themselves and recorded them in their private studios. It's therefore hard to be too critical of the soundtrack because creating music is a very difficult and personal thing to do. However, it's the job of this website to provide honest reviews and critiquing is a necessary part of the process…
The song in the Gyrosphere free games mode is a hopeful melody that sounds triumphant in nature, but at its core it's simply uninspired. The Creation Lab free games area is also tainted by another vanilla-sounding score hammered out by a skilled symphony, (or one dude in a sweatshirt on a Casio keyboard), but again it just blends in with the rest of the game. Not even deep, rumbling drum rolls could save it from the purgatory of absolute blandness – next time get more aggressive with that gong, son!
The highlight of the game's soundtrack is during the Raptor Den free spins mode where you get a fast-paced song driven by a competent symphony with an anxious pan flute blasting ominously. Of course the skill and technique is nowhere near that of a pan flute Master like Zamfir, but it still does the job that it's supposed to do within the confines of the song and the short amount of time in which it has to play. It's the only track in the game where the music composers stepped slightly out of their comfort zone to try something unique, leaving us to wonder what could have been created if they would have been more adventurous throughout the entire process.
Finally, when it comes to the win audios in the game, they're pretty loud and unnecessarily obnoxious. They're trying to sound important and dramatic, but in reality it's just a lot of noise in your face – please tone these down next time, Microgaming audio engineers.
Conclusion
If you liked the last game that was based on the original movie from 1993, you're probably going to love Jurassic World Slots because it's basically a straight-up skin of that. Of course, the characters are updated and the images of the dinosaurs are a little sharper, but with them both being 243 payline games with no bonus areas or jackpots, they absolutely have the same general look and feel. And maybe that's not a bad thing – it's hard to imagine that a casino software company would intentionally copy the format of an earlier game that didn't do well, right? Right?!?
The main problem with this title is that there isn't a proper bonus round, which is usually the most exciting part of a game for most people. In Jurassic World Slots it just feels like you're constantly spinning with no time to catch your breath. Sure there are lots of free spins to be had, but in this machine it's like a giving a glass of water to a drowning man.
It's unfortunate that this review had to be so scathing, but with a blockbuster like Jurassic World and a budget the size of what Microgaming surely had at their disposal, the end result should have been much better. In fact, there are little annoyances that make it seem as if the user experience actually regressed since last time, with the bet sizes and turbo buttons now buried deep in the menu and not in the main controls. Everything just adds up to equal a frustrating and unenjoyable experience.
Hardcore fans and practicing palaeontologists might enjoy themselves for a little while, but the initial roars will quickly turn into yawns. This game is all sizzle and no steak.
Next time bring Steven Spielberg in to produce the slot as well as the film – then we'll have more than just a big steaming pile of dino doo doo.
Bonus Video of Jurassic World
Well I wasn't going to do it, but I think we need a laugh after such a harsh review. Here are the funny guys from CinemaSins with "Everything Wrong with Jurassic World". Enjoy!