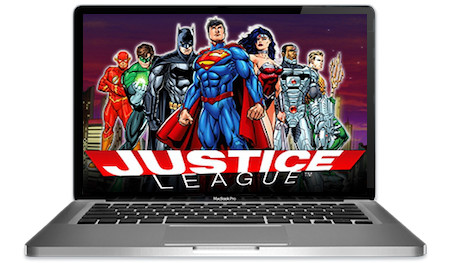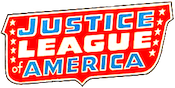 In a world filled with violent criminals, sometimes one superhero just isn't enough to get the job done. This is why the best characters in the DC Universe gathered to form the Justice League and now you can harness their powers to win cash prizes in this intricate slot game from NextGen.
Seven DC Superheroes
Unique Reel Features
Super Stacked Wilds
---
---
Review of Justice League Slots
I grew up loving the original cartoon starring the "Super Friends" of the Justice League so I was very excited when I heard that NextGen was releasing this one. Sadly, it doesn't look anything like those classic shows because this particular game is based on the modern version and although I've watched a bunch of episodes, I definitely prefer the original.
Many will be surprised to see that they dropped the "America" from the title of their organization. Growing up it was always the "Justice League of America" but the cartoons in the early 2000s rebranded, perhaps in an attempt to reach a more global audience. In any event, the team is still comprised of some of the best superheroes that DC Comics has to offer and thankfully they chose to use the real Aquaman and not the terrible 1990s version.
Even though some will be disappointed to find out that this is based on the reboot, they should still want to give it a try. Unfortunately, it's nowhere near as good as it could have been, especially when you consider that it only has six of the league's superheroes.
This exclusive review of Justice League Slots will clearly demonstrate why it's so disappointing and the reasons that many fans will want to take a hard pass.
Screenshots
There is a ton of action in this machine as you can see from the screenshots below, with superheroes soaring, symbols flashing, and power meters getting pumped up. There always seems to be something flying onto the screen or buzzing around in the background so there is certainly a lot to look at.
Storyline
The only thing better than one superhero saving the day is an entire league of superheroes joining together to battle evil throughout the universe and protect Mankind from destruction. This time it's the evil Darkseid who's come to terrorize Metropolis along with his evil Parademons and the Justice League is the only thing that can stop them. As a result, Batman, Superman, Aquaman, Flash, Green Lantern, Cyborg, and Wonder Woman have all joined together to defend the city and save the day.
Unfortunately, due to the fact that there aren't any proper bonus rounds or an abundance of special features, we never get to dive into any semblance of a storyline: it's simply a lot of whirling reels with superheroes flying all over the screen. Sure this is great for a while but NextGen could have easily included some cool battles or something to keep people interested.
As mentioned, most older fans will also be disappointed that this Justice League is based on the newer graphic novels that have been released since 2011 and the animated series from the early 2000s. There are surely more than a few players out there who are waiting for a real money online slot game based on the original show from the 1960s to come out.
Unique Symbols
You should find most of your favorites here but pickier fans may argue that more of the Justice League members should have been included. Of course it would have been amazing to see niche characters like Hawkman, Shazam, Green Arrow, Atom, or Black Canary be included but we all know that NextGen wanted to play it safe and appeal to a wide audience by only having DC's most popular superheroes. In fairness, due to the style of the animations the board looks pretty full as it is so additional characters might not have been good.
Many will be happy to see that Cyborg made it onto the reels and he'll probably be the least-known character of the bunch since he doesn't have his own movie yet. That said, he did make an appearance in Batman v Superman: Dawn of Justice so maybe he's starting to gain a bit of a following. Some will argue that only having 6 of the original 7 members of the Justice League is silly and Martian Manhunter should have been included, which is a totally valid complaint to make.
Some will probably be surprised to find that there's only a total of 9 symbols in this game, which is definitely on the low side. Here's what we have:
Cyborg (Victor Stone)
Aquaman (Arthur Curry)
Green Lantern (Kyle Rayner)
Flash (Barry Allen)
Wonder Woman (Diana Prince)
Batman (Bruce Wayne)
Superman (Clark Kent)
Superhero Silhouettes (Wild)
Daily Planet (Bonus)
Superman is the strongest character available awarding 300x your line bet for 5 of a Kind. He's followed by Batman, Wonder Woman, Flash, and Green Lantern who dish out 120x, 90x, 30x, and 30x your wager respectively for five across the board. Aquaman and Cyborg round things out with 20x each for 5.
You should note that this is a fixed payline machine so you'll have to activate all 25 lines every time and you'll be charged 30 coins for the pleasure. Calibrate your bet levels accordingly.
Jackpots
In keeping with all of the other newer slot games made by NextGen for DC, there isn't a Justice League Jackpot available. It's a shame that this collection of superheroes wasn't honored with a big cash prize but we'll just have to accept it and move on. (Most likely straight to some other title.)
Bonus Rounds
The biggest injustice of Justice League is that there isn't a real bonus round and as a result there isn't a break from the constant whirling of the reels. The majority of new DC creations don't seem to have many special features these days so maybe players aren't interested in them? If true, this would be quite surprising but you have to assume that casino software companies research this kind of thing in order to make releases that people actually want to play.
Thankfully, there are a couple of small nuggets to be found, with the Super Hero Power-Up being one of the only ways to really boost your bankroll. This is triggered when a character falls in all 3 sections of reel #1 and at least one of them creates a payline win. From there, #5 will mirror #1 and also transform into one big stacked symbol of the character, with both stacks and every other symbol of that character locking into place while the reels are re-spun.
During the action Wilds will also be locked into place as they drop. You will keep piling up winnings and re-spins as long as you get at least one of the character or a Wild, or until the maximum of all 15 positions on the reels are full.
Another little booster is the Team Rescue that will randomly turn a symbol on reels #2, #3, and/or #4 into a Wild, which of course gives you a few extra ways to win. This is absolutely nothing to write home about but it does add a few bucks onto your balance.
Watch out for the Gamble Feature because some of you will be tempted to risk all of your winnings on the flip of a card. You can get 2x for picking the right color of the next card and 4x if you pick the right suit, up until a maximum of five times. It's fun to try to double up for a while since it certainly spices things up but of course you have to be careful not to take things too far.
Free Spins
The main thing you'll be chasing in Justice League is called "Attack on Metropolis" and it's triggered by 3 Bonus logos across the board and it'll give you 10 free spins each time. Once the round starts you'll be blasting Parademons and the evil Darkseid with a devastated Metropolis smoldering in the background.
The Super Hero Spin Meter and Super Hero Spin Counter will appear on the right of the reels to display the status and details of what's going on, with the meter starting at empty and the counter only set to 1. From there, Wilds that drop will charge the meter, with 3 of them pumping it up to its maximum level which will make the counter increase by 1 before it resets back to empty.
This continues until the freeroll is over and you'll then be awarded your Super Hero Spins which will transform reels #1 and #5 into the same random character. All of the payline wins that have a Wild involved will be assigned a random multiplier of anywhere between 2x and 10x, with the amount you receive being displayed in the "Wild Wins" box under the Spin Meter once each individual Hero Spin has finished.
The Super Hero Meter will keep charging throughout and give you more free games as you earn them and the machine might even throw you an extra one after a losing one if it feels like it, just to be charitable.
Finally, you'll want to zap as many Parademons as you can along the way since they explode to reveal random extra free spins that will be added to your total.
As you can probably tell by this description, the whole thing is extremely intricate and some of you are really going to geek-out on it, while others may not see the attraction at all.
Graphics
This release was definitely designed to resemble the modern comic books so fans of that particular era will be very happy with its look and feel. The style of the regular mode is a little bland but it's all part of the general theme of what they were going for.
That said, the best graphics all occur in the Attack on Metropolis feature, with the background looking fantastic with the burning buildings and swarms of Parademons flying around in the distance. Then when Darkseid pops up to challenge you it's one of the coolest visuals in the game.
All of the user controls like the Super Hero meter and Wild Wins box on the righthand side of the reels look very sharp and the other normal user controls are all pretty futuristic and blend in nicely with the other graphics.
Finally, the "JL" logo on the gold coins that shoot out for a big win are a nice touch.
Audio & Soundtrack
The main soundtrack is a classical style of song driven by a regal trumpet and string section, that sounds like the background music in every superhero movie you've ever seen in your life. It fits just fine and we can't blame the creators for not wanting to deviate from the norm.
The audios of your balance increasing aren't too overwhelming, although some of you will probably want to turn down the volume so you're not blown out of your chair with the musical blasts that accompany larger wins. There's something about these types of audios that software companies just can't seem to get right no matter how hard they try.
The freeroll brings an ominous soundtrack that will have you sitting up straight and getting ready to defend Metropolis with all your might. The synthesizer work on this one is pretty retro so older players will probably crack a smile when it breaks into the funky part of the song – it definitely conjures up memories of old '80s cartoons.
In general, the music goes from very soft to extremely loud so make sure you know where that volume button is at all times and adjust it accordingly.
Finally, there's zero dialogue in this game and as a result, the character development really suffers. Everyone would have liked to have heard Batman hiss threats at his enemies – why not include it?
Conclusion
Justice League Slots is primarily going to be for fans of DC Comics who are just happy to have a release that showcases a bunch of members of the League and don't care too much about an actual plot. Others will be disappointed that there's no bonus rounds, no jackpots, and not a whole heck of a lot to keep easily-distracted players interested.
Some of you are going to absolutely love the speed and action here since there are definitely a few exciting things going on. Also, there does seem to be a constant stream of larger wins in the regular mode, which is probably due to the fact that there's a small amount of symbols on the reels and there's no special features or jackpot to syphon off the funds.
Ultimately, after the novelty of having 7 heroes in one machine wears off most of you will be moving on to more exciting titles. This online slot based on a comic book would have been amazing in 2013 but today it just feels like it's lacking in some important categories.
You're either going to love this game or hate it and there's only way to find out. The good news is you should know within 2 minutes which side of the fence you're on.
Random Video of Justice League
Here's the amazing trailer for the 2017 Justice League film which has all of the best DC superheroes starring in it. It does look pretty good…