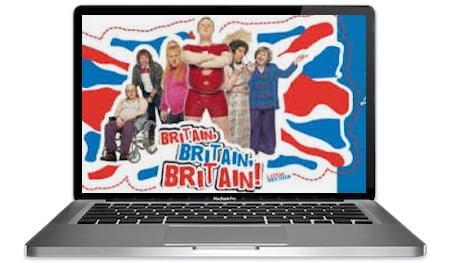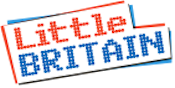 Britain, Britain, Britain. Land of technological achievement…and a few other things. They invented the cat and now their best and brightest are here to hand out free spins and cash prizes in Little Britain Slots by Playtech.
Five Unique Bonus Rounds
Tons of Characters
Crazy Graphics
---
---
Review of Little Britain Slots
Out of all the online slots that we've reviewed on this website, none fall into the category of "acquired taste" more than Little Britain. Our readers from the United Kingdom will already be quite familiar with the edgy brand of humour that catapulted the sketch comedy television show into popularity in the early 2000s, but as we all know, comedies sometimes don't travel that well across the pond. Especially when the humour in question is so entrenched in the eccentricities and quirks of a country's people – there were definitely a lot of "inside jokes".
I used to watch this show every time I visited my family members who live in England and at first I didn't understand any of the comedy. However, after socializing with a few Brits at the local pub it all started to make sense…except for a few of the show's stranger characters who still confuse me to this day.
This machine is loaded with clips from the original program that will have fans giggling throughout and Playtech did an excellent job of recreating the whacky atmosphere of the classic series. Also, there are some special features in this one that will have your jaw on the floor with shock.
To be clear, this review of Little Britain Slots will probably only be for those of you who are familiar with the show because if you've never seen it you're not going to have any clue what's going on and you'll find yourself sounding like Andy Pipkin, "I don't like it!" 
That said, if you're into crazy mayhem and jumping in feet first, you might just want to continue reading.
Screenshots
There is constant action throughout as you can see from the screenshots below. Vibrant colors, characters bouncing onto the reels screaming, and tons of video clips from the show: it's a full on comedic assault to your eyes and ears. Click on the images to enlarge them and take a good look at what you can expect.
Storyline
There had been nothing like Little Britain before it aired in 2003 and the strange humour immediately struck a chord with viewers. They watched in droves and propelled it to the top of the ratings each year during its wildly successful 3 season run on the BBC. The comedy sketch show spawned numerous beloved characters, all of whom parodied stereotypical Brits in one way or the other and each of them tumbled from the twisted minds of comedians Matt Lucas and David Walliams.
Each week we were treated to the ridiculously over-the-top antics of favourites such as Kenny Craig, Ellie-Grace Day, Desiree & Roman DeVere, and tons of other shocking Brits who made you laugh hysterically, roll your eyes, or a combination of the two. Newer viewers should be warned that they covered a lot of controversial subjects back then and many involved with the show have since apologized for the "cruel comedy" that they admit wouldn't fly today.
That aside, millions of viewers still tuned in to follow the crazy lives of some of the country's best stereotypes and the comedic legacy of Little Britain will live on far into the future…at least in jolly old England.
Unique Symbols
We knew going in that a Little Britain gambling game would just have be stuffed with all of our favourite characters and Playtech did not disappoint in the slightest. Everyone from "Daffyd the only gay in the village" to Carol Beer has shown up to make an appearance and that's only the tip of the iceberg.
Of course, there was simply no way to fit everyone into this release and there were some tough omissions like Mr. Cleaves, Denver Mills, Ray Cooney, and Sebastian Love. Not to worry though, pretty much everyone else you would want to see was included and is at their comedic best.
10
J (Jack)
Q (Queen)
K (King)
A (Ace)
Vicky Pollard
Lou Todd & Andy Pipkin
Emily Howard
Marjorie Dawes
Daffyd Thomas
Star Pointer (Bonus)
Little Britain Logo (Wild)
LB Crest (Free Spins)
This game is about Britain, Britain, Britain, so it's only fitting that the Little Britain Wild is the highest-paying with 1,000 coins for 5 of a Kind. However Lou & Andy refuse to take second place to anyone and five of them in a result will also get you 1,000. These two are followed by Vicky, Dafydd, Marjorie, and Emily who award 500, 300, 250, and 200 coins respectively for five across the reels.
Jackpots
We all love a bit of cake and we certainly love a big cash prize but unfortunately there isn't a Little Britain Slots Jackpot anywhere to be found in this virtual slimmers' club. They're basically making us live off of dust! "Ok, moving on!"
Bonus Rounds
Sometimes the British just have to make things a little more complicated and the special features here are no exception. Like other fussy games it's only triggered if you hit the Star Pointer on reels #1, #3, and #5, even though most players would love it if 3 Scatters anywhere on the reels would do the trick.
Things then become simpler as you're taken to a Little Britain bonus area with a no-nonsense wheel that has 5 spaces stuffed with 6 of your favourite characters, all of whom star in their own unique adventure. You then "spin the wheel like a true Brit" to find out exactly where on the map you're going to.
In the silly Vicky Pollard's ASBO feature you have a choice of 6 things for her to do with her life, all of which are hiding cash prizes underneath them. However, the longer she takes to make a decision on your suggestion, the bigger your prize for that pick will grow. Vicky herself tells you when things end as her "yes" to your suggestions keeps the extra loot coming and allows you to select again, while a "no" will end it and send you back to the regular mode with your winnings. If you're a good life coach this one can really pay off because it has a maximum win amount of 750x your triggering wager.
Next we find ourselves hanging out with two of our favourite people in Herby City in Lou and Andy's Love It area which of course ends up being quite the spectacle as the two argue with each other (as per normal). Here you will pick objects for Lou to give to Andy and if he likes it your win multiplier will increase. Once Andy has decided that he doesn't like 3 of the objects you've selected and tosses them in the garbage can your round is concluded. All of the objects hide different monetary amounts so you're guaranteed to get a little something no matter how finicky Andy is feeling that day, with the maximum win being 1,000x your wager.
Occasionally you'll be sent to the slimmers' club to enjoy the Marjorie Dawes' Fat Fighters area where you will have to pick from serving trays hiding different foods like seeds, pizza, and half a cake. Selecting fatty items will crank up your calorie meter and when you reach your limit for the day the snacks will sadly end. Watch out for dust because not only is it extremely nutritious, it will also drop down the level in your calorie counter and keep the action rolling. Once the binge-eating is over you'll find that the trimmings are a little light in this one as the maximum amount that you can grab is 500x your wager.
Another section of the wheel is Emily Howard's Lady Things which has you helping her find objects for the fairer sex. Emily is of course only interested in the feminine products that are scattered throughout her room so each one that you select will boost up the win multiplier. If you pick perfectly and reveal nothing but "lady things" you'll get 500x your original wager for your troubles.
In Wales, gays are almost as rare as money (so the game tells us) and it's left up to you to generate a little moolah in Dafydd's Big Gay Bonus. For this one you need to travel to Llanddewi Brefi to help Dafydd pick a style that will attract more gays to the village. Mix up his wardrobe by pressing "shuffle" to try to come up with a matching outfit that will boost your balance if you can successfully match a complete ensemble. Shoot for the all-blue outfit since that will dish out a hefty 20x multiplier on your triggering wager. You can also get extra chances to win if you hit "+1 Extra Shuffle" to extend the action, giving you better odds of hitting the max amount of 500x your bet.
As if all of this wasn't enough, there's even a little extra called Anne's Wild Bonus that can arrive at random during anytime in the regular mode, and she'll throw objects at the board to transform anywhere between 1 to 5 losing symbols into Wilds. "Eh eh…ehhhhhh!"
Free Spins
Keeping things unnecessarily complicated, the Little Britain free spins mode is triggered if you hit LB Scatters on reels #2, #4, and #5 together and it will then award you with a straight up 10 spins each time. Not only is this awkward, it's sure to drive everyone's OCD crazy!
As you go you'll be given Stacked Wilds of character symbols and receive extra cash if a full stack covers an entire reel. Prizes go up to 100x on your wager for one full stack that displays the entire person so hopefully you'll see many Brits dropping by for a cuppa tea while you freeroll.
The reels automatically activate during all of this so you can sit back and watch all of the action unfold – with or without a pint of lager in your hand.
Graphics
Visually, this is a very bright creation with the Union Jack prominently displayed in the background and tons of colourful symbols on the board, particularly the playing card ones of 10, J, Q, K, and A. It's a virtual rainbow of colours at all times so it's pretty hard not to be in a good mood, even when you hit a losing streak.
There are very few animations whenever paylines are activated which is quite refreshing because it serves to keep the proceedings clean and uncluttered – although the confetti that explodes behind the board for bigger wins is a nice touch. Also, there is a different background for every special feature so you have a nice change of scenery to keep things fresh.
Lastly, this machine has a cool little addition: when you hover over any of the symbols with your pointer the pay table for that specific one will appear and tell you exactly what you will receive for 3, 4, or 5 of them in a result. Obviously, you won't find yourself using this a lot once you've gotten used to the game but it's great for players who are just coming on board. "Computer says, no!"
Audio & Soundtrack
The audio of the reels whirling in the regular mode will probably start to annoy you after a while since it's just 4 notes being played quickly on a synthesizer. It actually sounds very similar to the fruit machines that you'd find in pubs around the island of Britain so perhaps those living in the U.K. will enjoy this. Some may even grow slightly nostalgic as they listen to the classic 1990s-inspired sound effect.
The main theme song from the original show blasts throughout the info mode on an unobtrusive loop, which definitely adds to the general ambiance. However, Playtech saved most of the music for the unique areas, like Pomp and Circumstance during the free spins mode which blasts proudly and makes one immediately think of tea, crumpets, and British bulldogs.
The best audio to be heard comes courtesy of Ray McCooney's beautiful flute as he only arrives to celebrate really big wins in the regular mode. His playing is just as magical as you remember it from the show and you'll always be happy to hear the glorious refrains as the cash is being stacked onto your balance.
Thankfully, narrator Tom Baker's majestic voice is heard throughout this title from beginning to end. It adds some much needed class and gravitas as he speaks directly to you every step of the way, commenting on such things as big wins and when it's your last free spin. Baker's voice provides a very personal element to the proceedings and it draws you deep into the story – it really is like watching the real show. "We must have the wrong house!"
Conclusion
Fans are definitely going to be happy with what Little Britain Slots has to offer since all of our favourite characters are on hand, dishing out their famous catch-phrases along with generous prizes. However, those who have never seen the television show will be shocked with the high-energy ridiculousness of the whole thing and probably never fully understand what the heck is going on, (which could be fun in itself). Especially throughout the bizarre special features like when Anne pops up on the reels and starts throwing Wilds like a madwoman.
This machine is constantly in your face in a very deliberate, funny, and colourful way, and you'll be able to play it for hours without getting bored. There's tons of action, free spins, and unique bonus rounds that keep the pace uptempo and the smiles coming.
Don't be confused like Vicky, "ya but no but ya but no but ya!" – you'll definitely want to take Little Britain out for a pint and relive all of the best moments from one of BBC's most beloved programs.
Ahhhh Britain!
Branded Video of Little Britain
During the original run of Little Britain fans fell in love with the character of Vicky Pollard and rightfully so. She sadly reminds us of many children that we went to school with who were always in the principal's office for acting up. Here are her best moments from the show. Enjoy!