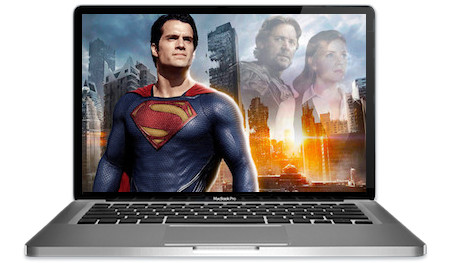 It's time to hop in that phone booth, put on your cape, and protect the Earth from the evil General Zod and his sick followers who are trying to wipe out humanity. Oh – you can also win some money along the way.
Tons of Unique Symbols
Two Different Free Spins Modes
DC Comics Jackpot
---
---
Review of Man of Steel Slots
Normally I despise films that are remakes of earlier classics – why can't Hollywood find new stories to tell? Whether it's Psycho, Tron, or The Karate Kid, it just feels like screenwriters are all out of ideas and simply looking backwards to see what movies they can re-write and re-release.
Enter Man of Steel, an ambitious reboot of the origin story of Superman from the time he is born until the time he is working at the Daily Planet. At first it was hard to understand the need to re-make this film (other than a cash grab) since the original still holds up today and even inspired its own game, Superman The Movie Slots which came out shortly before this one. Fans weren't exactly begging for this story to be retold.
That said, I watched the movie when it was added on Netflix a little while ago and I have to admit that it was surprisingly good, which of course gave me high hopes going into this review. Sadly, it's very disappointing and it will have most fans of the new Superman film running for the exits faster than a speeding bullet.
This expert review of Man of Steel Slots will break down all of it's failures to illustrate why it's only a 3 Star release at best.
Screenshots
Just like every other superhero title that's been put onto the market over the last couple of years, this one has Super HD quality images and fluid animations, but they're still not enough to draw you into this corner of the DC Universe. It's really only giving you nice visuals from the movie to look at while you spin and there's absolutely no new ground being broken here. Click on each image to enlarge it and see for yourself.
Storyline
Most of you are already going to know the story by now but here's a quick recap for anyone who's just becoming acquainted with the Man of Steel. Superman was born as Kal-El on the planet Krypton to parents Jor-El and Lara Lor-Van but unfortunately this was at exactly the same time as the planet was about to explode due to aggressive mineral extraction. Jor-El decided to rescue his infant son by putting him in an emergency shuttle, with his only travelling companion being the genetic codes that the evil General Zod was trying to steal during his army's failed uprising.
Zod and his goons are banished to the Phantom Zone right before Krypton blows up, strangely saving their lives while everyone else on the planet is left to suffer a horrible death. Kal-El lands on Earth and is adopted by loving foster parents Jonathan and Martha, and given the name "Clark Kent". While growing up, Clark realizes that he is different from everyone else around him and possesses superhuman powers, and he eventually moves to the big city of Metropolis to protect its citizens and work at the Daily Planet newspaper as a reporter.
The world is then threatened as Zod arrives with his band of miscreants and they start to reveal their plans to turn Earth into a new Krypton. Battles ensue as Superman struggles to save the planet from tyranny.
This release from Playtech only focuses on the main battle between Superman and Zod, and unfortunately doesn't touch on any of the other plot lines. There's not even a proper bonus round in which to tell more of the story and remind people of the original movie. The only thing we have to help with a storyline are the tons of images from the film, which could technically jog your memory as to what happened, but whatever. They get a 1 out of 10 for plot.
Unique Symbols
Before we go any further, please ask yourself a question: do you really like an abundance of different symbols in an online slot machine? If your answer was "yes", prepare to be very happy. This title probably breaks the record for "most unique symbols in a game" and you won't believe the number of big Hollywood stars from the movie who showed up. In short, every major character is here.
The two sets of symbols are actually quite different: the Krytpon ones are super cool while the earth ones are lame. A school bus? Really? Oh well, there are 26 here so we can't be too hard on them.
Kal-El's Starcraft
Kelex
Silver Superman S
Krypton Moons
Codex Skull
H'Raka
General Zod in Armor (Side View)
Lara Lor-Van (Ayelet Zurer)
Gold Superman S
Jor-El Wild (Russel Crowe)
Kent Mailbox
Clark Kent's Glasses
Camera
Daily Planet Newspaper
Yellow Smallville School Bus
F-35 Joint Strike Fighter
Superman S
Perry White (Laurence Fishburne)
Jonathan Kent (Kevin Costner)
Martha Kent (Diane Lane)
Black Globe Wild
Faora Wild (Antje Traue)
General Zod in Armor Wild
General Zod Wild (Michael Shannon)
Superman Wild (Henry Cavill)
World Engine (Bonus)
Whether you're on Earth or on Krypton, Wilds will be your strongest ally as they all award 1,000 coins each for 5 of a Kind. When on Earth you'll want to bump into Martha Kent, Jonathan Kent, or Perry White because they dish out 250, 200, and 150 coins respectively for five on the board.
As you fight your way through Krypton keep an eye open for the Gold S Logo, Lara Lor-Van, and General Zod in Armor since they give you 500, 200, and 150 coins for 5 in a row.
Jackpots
Playtech decided to include the Man of Steel in the DC Comics jackpot network that offers four unique cash prizes. It's triggered randomly and can be awarded even on a losing spin and it will guarantee that you win 1 of the 4 amounts available. They begin with "Mini" and move up to "Minor", "Major", and "Grand".
Once in the area you will be presented with 20 tiles that you will flip over one at a time to reveal 1 of the 4 prizes and when you fill all of the sections underneath a certain one you will win the corresponding amount.
This is available on all of the newer DC Comics releases made by Playtech and as per usual it claims that the more you wager, the better your chances of triggering it are. Show us the math, please!
Bonus Rounds
Online gambling games that don't have bonus rounds are always leaving a lot of fun on the table but in the case of Man of Steel, the lack of a special feature really hurts it badly. There's never a break from the spinning reels and as a result things get boring after a while.
However, there is a cool little feature called the "World Engine Bonus" that will blow anywhere from 1 to 7 Wilds onto the board when it lands on reel #5. This usually results in a nice payday so it's always a welcome sight.
There is another small nugget of "Shifting Wilds" that sees the Superman Wild sticking around and shifting to the right on each subsequent spin until he's flown off of the board. In addition, The General Zod Wild will do the same, except he moves to the left each time.
Free Spins
Since there aren't any proper bonus rounds in this machine you'd better believe that there are tons of free spins. There are actually two unique areas that are crammed with action and they do seem to bump up the bankroll quite a lot a lot when you trigger them.
First we have the Krypton Free Games which only awards you with 7 spins but this is balanced out by it having unique symbols that pay out more than the ones in the regular mode. There's also extra payline combinations added to the board which pump up the total number to 50 and the Jor-El Wilds will lock into place for the duration of the round so there is definitely an opportunity to do some damage and pad your balance. This feature is triggered by a Krypton Bonus landing on reel #5 and you can even re-trigger it during your freeroll.
Next we have the Battle for Earth Free Games where Superman will battle General Zod and his minions and you'd better believe that you're backing the Man of Steel in this fight. That's because this one will continue indefinitely until Superman is defeated and you are returned to the regular mode. This is absolutely one of the best parts of the machine and it's always a nail-bitter as you watch to see how long you can freeroll for.
This gets even crazier because whenever a Superman Wild lands on the same row as a General Zod Wild, a General Zod in Armor Wild, or a Faora Wild, the two symbols will battle for supremacy of the game board. You'll want to see as many confrontations as possible because each one will blast extra Wilds across the board.
This free spins mode is triggered by the "Big Blue Boy Scout" and Zod landing on the same row together during the regular mode. Buckle up!
Graphics
The graphics are only "good" by today's standards and if you've played a comic book themed slot in the last few years there's nothing here that's going to blow you away. In fact, some might even argue that the graphics are actually "underwhelming" because expectations are probably going to be pretty high for this title.
That said, there's certainly nothing clunky about the visual effects: everything runs fluidly, the Roaming Wilds crawl across the screen just fine and all of the images of the actors from the movie look great. The best animations occur when the Wilds are battling for supremacy during the freeroll but everything else tops out as  "pretty basic".
Audio & Soundtrack
The main soundtrack is quite aggressive and dramatic, and it does tire you out after a while. It's always intense and never gives you a break from the foreboding string sections playing wildly. The ferocity is driven even higher with the "bah bah bah" audio that hammers every payline win, not to mention when the two Wilds collide and smash together obnoxiously, the sparks really fly and you can hear the electric currents pulsate.
There just always seems to be loud booms or unwanted crashes coming out of the computer speakers while you're playing and most of you will find the audios really annoying. It's just too loud.
Conclusion
There's definitely enough going on in Man of Steel Slots for fans of the movie to enjoy themselves for a little while but eventually they'll lose interest and start looking for a phone booth to change in. Unless you are a free spins junkie that hates bonus rounds, this game won't be one that you come back to often.
The Battling Wilds were a solid addition but it feels like Playtech spent a long time creating this one thing and then thought that they were done…and this couldn't have been farther from the truth. Superman fans want action (and plenty of it) but with this release you feel like you're just twirling in a circle chasing your cape.
The film was really good but this machine doesn't do it justice – terrible soundtrack, annoying audios, and a crippling lack of reel features all add up to make this title a sub-par effort. Everyone involved needs to take a good long look in the mirror.
Random Video of Man of Steel
Well we had to dig for it, but here's a video on the Man of Steel that's kind of worth watching. It's a full two hours of coverage of the red carpet from the official world premier in 2013. Pour a drink and get comfortable…