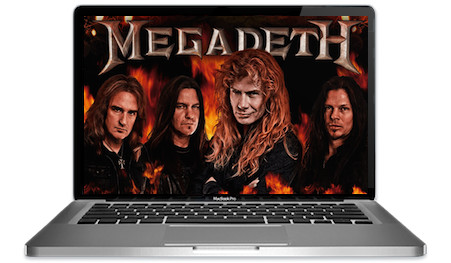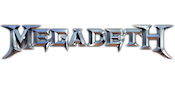 One of the heaviest metal bands in the world is here to blow out your speakers and dish out cash prizes. After 50 million records sold worldwide, Megadeth Slots is here to rock out hard with Dave and the boys. Get ready.
A Heavy Metal Dream
Crazy Bonus Rounds
Tons of Free Games
---
---
Review of Megadeth Slots
Allow me to state for the record that I was a huge Megadeth fan in the 1980s and used to play Peace Sells…But Who's Buying everyday after school for the entire year of grade 8. Of course my parents hated the band, which only made me play it more often…and with more volume. Fast forward a few decades and there I was, shocked to learn that a software company had released a gambling game that featured the band. I mean, come on: these were the guys that had all of the prime real estate on my old jean jacket, will all due respect to Maiden and Priest, of course.
Clearly I am coming into this with some deep biases that will surely bubble up, but why would someone who doesn't like the band even be reading this? I don't think anyone will mind if I heap tons of praise on Dave and the boys, so let's get started.
This expert review of Megadeth Slots will break down every one of its elements to explain while you'll want to do a little head-banging with your bankroll.
Screenshots
As you can see from the screenshots below, this release is a full-on heavy metal-inspired masterpiece. It comes complete with guitars, drums, and band members Dave Mustaine, Kido Loureiro, David Ellefson, and Dirk Verbeuren. Software developer Leander Games did a beautiful job on the design with the glistening guitars, detailed hair, and dancing flames during Big Wins.
Also, the work that went into the details of each band member is absolutely insane…just check out that smirk on the face of the Mustaine Expanding Wild by clicking on them to enlarge.
Storyline
Megadeth was founded in Los Angeles in 1983 by "Thrash Metal Guitar God" Dave Mustaine after he was given the boot from Metallica. During the early days Mustaine and other band members were young and reckless, and were of course battling numerous drug and alcohol problems. The band kept it together through long enough stretches in the late '80s to release three amazing albums. After Mustaine crashed into a parked, unmarked police car in 1989 he cleaned himself up and never looked back, releasing 12 popular albums over the next 25 years: and he even made up with the boys in Metallica.
There really isn't a storyline in Megadeth Slots, however, the imagery and bonus rounds are based on their 2009 single, "Head Crusher". The official video depicts prisoners getting beaten up by MMA fighters in front of a television audience in a scene that resembles the dystopian action film, Running Man. This is of course the ultimate price to pay for their crimes – getting a butt-whupping and having it shown to millions of people at home. The final touch is a rabid crowd cheering on the beatings from behind the octagon fences of the ring.
Dave and the boys bang out the song on a platform suspended above the rocking crowd while prisoners are picked one at a time to enter the ring with their black hoods ripped off of their heads once ready. Eventually a prisoner's hood is yanked off to reveal a beautiful young woman who takes off her orange jumpsuit to reveal MMA fighting gear underneath. She then proceeds to pummel the main fighter to the mat, raises a championship belt, and then the word "Pardoned" flashes on the screen.
She has clearly won her freedom and the crowd is delighted at the ironic turn of events. It's the classic heavy metal video story of the underdog triumphing against all odds. Bitchin'.
Unique Symbols
Leander Games made the fantastic decision not to use any of the traditional card symbols like 10, Jack or King in Megadeth Slots, instead opting for all original symbols. Fans who are also musicians will be happy to know that they incorporated the exact instruments that each band member uses like Tama drums and Ibanez guitars – no detail was spared in their creation.
Many of the symbols have flames burning brightly in the background which is actually a bit confusing at first since the band members look very similar when the reels are spinning quickly. However, you do get used to it after a bit and you're able to tell David from Shawn from Chris. Regardless of any mild confusion, Megadeth Slots gets an A+ for its unique symbols and details. Here's what we got:
Megadeth Logo
Dave Mustane Autographed Pick
Megadeth Branded Guitar Amplifier
White Dean VMNT Signature Model Guitar
Black Ibanez Kiko 100
White Jackson Bass
White Tama Drum
David Ellefson
Shawn Drover
Chris Broderick
Vic Rattlehead (Scatter / Bonus)
Dave Mustane (Sticky & Expanding Wild)
You have to wonder how the game's developers decided on the values of each of the band member symbols. Did they draw straws? Have them arm wrestle each other in a back room of Leander's offices? Regardless of how it was done, David Ellefson pays the highest for 5 of a Kind with 300 coins, followed by Shawn Drover at 200, and Chris Broderick at 150 coins.
The only symbol that is worth more for five in a spin is the Megadeth Logo which gives you a respectable payout of 500 coins.
Jackpots
There aren't any Megadeth Slots jackpots so unfortunately there aren't any super big prizes to be won. This shouldn't offend players too much because Leander machines don't usually have them so they shouldn't be expected in the first place.
There's tons of fun to be had in all of the other areas so most of you will be too busy head-banging to notice anyway.
Bonus Rounds
The bonus round is triggered when you hit Vic Rattlehead Scatter symbols on reels #1, #3 and #5. You are brought to what appears to be a motor engine of some kind which has seven different prizes laid out in the shape of a wheel. You then press the ignition button and the selector arrow spins around the wheel until it finally stops on what you'll receive. The velocity of the spin is determined by the strength meter that goes up and down beside the ignition button, with green indicating a soft spin and red being a hard one.
The prizes on offer in the Megadeth special feature increase as you enter it multiple times, with the amount of free spins and prize multipliers going up each time you level-up. Some prizes have a green arrow which means that you continue in the bonus round after claiming the prize, while others have a red stop sign which forces you to collect your winnings and exit back to the regular mode.
The base prizes at Level 1 are already pretty decent and they only get better from there. Here are the 12 different extras that you can win when you trigger it at the basic level:
5, 6, 7, or 8 Free Spins
Win 3x, 4x, 5x, or 7x your bet
Head Crusher Bonus Round with a Max of 18x, 20x, 23x, or 25x
If you win free spins during the feature all of the Dave Mustaine Wild symbols become sticky, instead of expanding. This can really lead to a huge pay day if you get the Sticky Wilds early and are able to use them for a bunch of the spins.
The other feature that's available in this game is the "Head Crusher Bonus" which is a "pick em' style" area that presents you with 16 prisoners wearing orange jump suits and black bags on their heads. You then reenact the music video for Head Crusher by removing the bags from their heads one at a time.
If you pull off the bag and reveal a male prisoner it decreases the prize so the object of the game is to select a female as quickly as possible because she will award you with whatever prize amount is left on the cash meter. So just like the actual music video for the song, it's the female prisoner who will save the day.
Free Spins
You'll freeroll courtesy of The Hanger 18 Free Spins Mode that will give you extra spins with Sticky Wild symbols that remain for the duration of the round. If you're playing in Level 1 you get 5 to 8 spins, Level 2 gives you 8 to 11 spins, and Level 3 dishes out 12 to 15 free spins.
A cool little extra in Megadeth Slots that could be considered a variation of a free spin is the "Mega Nudge Feature" that results in players having more winning spins and higher payouts throughout the game. When triggered, the Mega Nudge automatically moves reels #2 and #4 to give you the symbols that will result in the best possible winning combinations, (based on the symbols that have already dropped onto the paylines).
Activating this costs you double your wager amount though so you can really burn through your bankroll quickly if you hit a cold streak. However, when you consider that the Return to Player percentage (RTP) is increased from 94.95% to 96.99%, it all balances out in the end…at least that's what we always tell ourselves as we're activating it each time.
Graphics
As mentioned, the graphics in this machine are absolutely killer and no one should have any complaints whatsoever about the visual effects. The Expanding Wilds, flames, and spinning instruments are all really well done and the designs on each are perfect. Some may argue that there could have been a few more animated symbols in the regular mode but most will be more than happy with what's there. Sometimes less is more.
A cool attribute of this release that's hard to find elsewhere is that it lets you control the speed of the spins in the settings, so for those of you who want to kick back and play in a chilled-out way, they've got you covered. Well, until the bonus round that is…then it's head-banging madness at a break-neck speed. Oh ya!!
Audio & Soundtrack
This release is definitely for the Heaviest of Metalers out there who love loud, aggressive music and raging sound effects. Each spin is accompanied by a very heavy guitar riff and when the reels stop spinning it's capped off with a loud electric slide.
Of course, all wins are punched up with a different heavy guitar solo so it really is a full-on assault to your eardrums at all times. Thankfully, there are audio controls that let you adjust the levels of the volume and let you mute the sound effects for music, spin, and everything else. Although, it would probably be pretty damn hard to find a Megadeth fan who's asked that the music be turned down.
The ultimate disappointment in this machine is that actual Megadeth songs don't play throughout the regular mode, since Leander could have easily added a mini-jukebox that allowed players to select from a few of their greatest hits. Many fans would expect that the band demanded that their best tunes be included in their namesake machine, but maybe not.
They finally give players a little taste of their catalog with the song "Head Crusher" during the feature of the same name and if they hadn't of included it fans would have been disgusted for sure.
Conclusion
Speaking as a fan of Megadeth for over 30 years, I can say with 100% confidence that if you love the band, you'll love this release. Just dive right in, crank up the sound, and start spinning with your buddy Vic Rattlehead.
However, if you're a fan who's expecting there to be a wide range of songs available, you're going to be a little disappointed due to the shocking lack of a lengthy playlist of the band's greatest hits. Technically, you can always opt to crank up the Megadeth tunes while playing it on mute if you're that offended with the situation but that might be a little over the top.
So as much as we want to slam it and deduct points for it being a "music-themed gambling game that's way too light on music", the fact that a company even released an online slot machine based on Megadeth is so shocking that we're going to let it slide. There's enough cool graphics, detailed symbols, and heavy metal action to keep most players more than interested.
If you're in doubt, just bet a few bucks from your bankroll to try it out. It's the least you could do considering what Mustaine puts on the line…
My life's on time but again my sense is late.
Feel a might unsteady but I still have to play.
Six to one's the odds and we have the highest stakes.
And once again I gamble with my very life today.
Bonus Video of Megadeth
Diehard fans will know that Megadeth got their name from a flyer that Mustaine found on the floor of a bus warning citizens of the dangers of nuclear war, "The arsenal of megadeath can't be rid no matter what the peace treaties come to." When the band played Woodstock '99 it wasn't exactly a nuclear war but it certainly wasn't a "love-in" either.
Check out this full concert video of Megadeth's performance at Woodstock and take notice of the fires raging in the distant crowd – you can actually see the fires getting bigger and bigger throughout the show. Thankfully the festival's organizers have never tried to put on another event since this one…the greed, crime, and destruction were an absolute disgrace.