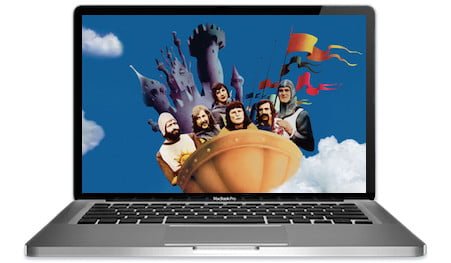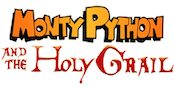 Monty Python and the Holy Grail Slots
One of the most ridiculous movies ever is back with Monty Python and the Holy Grail Slots and it's absolutely amazing. You can ride with the Knights of the Round Table and stack up cash as you go, so get your coconuts ready!
3 Unique Free Spins Modes
Ridiculous Graphics
Tons of Original Characters
---
---
Review of Monty Python and the Holy Grail Slots
Not everyone agrees with how funny Monty Python's Flying Circus was but experts do agree that it's one of the most influential comedy programs of all time. After debuting in 1969 it developed a huge following that spawned movies, reunions, books, and broadway productions – they were true innovators in their field who inspired thousands of future comedians.
The first film that they released after their run on BBC television was Holy Grail, which was even more controversial than their tv series due to the sensitive subject matter and the fact that they poked fun at religion. This didn't stop the film from being on every "Top 10 Comedy Movie" list that matters and it's widely accepted as a modern classic.
It's rare to find a game that perfectly captures the essence of its source material but somehow Monty Python and the Holy Grail Slots is exactly what you'd expect – absolute chaos. The graphics and animations are wonderfully "Pythonian" and the original characters will immediately transport you back to the story.
This exclusive review will break down why this release is an instant classic just like the film and explain it's many different fun features.
Screenshots
The screenshots below clearly show you what you're getting in this title: a hodgepodge of crazy symbols and characters from the movie and multiple unique backgrounds that honour the settings of the original film. At first glance the design might seem "dated" but the longer you play the more you realize how intricate and detailed it is: it actually feels ultramodern.
Click on the screenshots below to take a sneak peek at what you'll find.
Storyline
It's nearly impossible to explain the storyline of anything ever released by Monty Python to someone who hasn't seen it. That said, here's a brief recap to jog the memories of those who haven't watched the film in a while.
King Arthur has added a few good Sirs to the Knights of the Round Table after searching the British countryside for brave individuals and the group makes their way to Camelot where they are spoken to by God. He wants them to find the Holy Grail and sets them on a quest where they encounter the most bizarre creatures imaginable. A three-headed giant, the Rabbit of Caerbannog, and the Knights Who Say "Ni" are just a few that stick out from the twisted tale.
There is a timeline cross-over with a modern day documentary film crew that interrupts scenes throughout the movie, adding to the general chaos and silly plot. After making it through Castle Anthrax and Castle Aarrgh, the movie climaxes in drama on the Bridge of Death before the movie ends in an abrupt and ridiculous fashion.
This release from Playtech doesn't refer to the actual plot of the film and instead relies on the crazy imagery and characters, and thankfully there's lots of them to go around. The memories of the movie will come flooding back as you play but the actual storyline is nonexistent, which is usually a bone of contention for us, but due to the chaotic nature of the game it somehow all comes together perfectly.
Unique Symbols
It's hard to say for sure which symbols fans would want to see included because there were so many characters in the movie, everyone's going to have an opinion. At the very least we can all agree that the ones that needed to be included, were included.
The nerdiest of the nerdy will argue that Carol Cleveland as Zoot, Connie Booth as Miss Islington, or John Young as Frank could have made an appearance, but that's asking way too much. Although they certainly would have been welcome to come along for the ride if they had wanted.
Anyway, the Pythons may have disbanded back in 1983 but thankfully all 6 of the boys have reunited for this one.
J (Jack)
Q (Queen)
K (King)
A (Ace)
Patsy (Terry Gilliam)
Sir Robin the Not-Quite-So-Brave (Eric Idle)
Sir Bedevere the Wise (Terry Jones)
Sir Galahad the Pure (Michael Palin)
Sir Lancelot the Brave (John Cleese)
King Arthur (Graham Chapman)
Holy Grail Logo (Wild)
Holy Grail (Wild)
Free Games (Scatter)
Everything ever put out by Monty Python can be considered "wild" so it's no surprise that the two Wilds in this machine are the highest-paying and will each give you 5000x your line bet if you get five at once. The payouts then drop with King Arthur, Sir Lancelot, Sir Galahad, Sir Bedevere, Sir Robin, and Patsy awarding 1,000x, 800x, 600x, 500x, 400x, and 300x respectively for 5 of a Kind.
We would have thought that Terry Gilliam deserved more respect than that!
Jackpots
You can search through this kingdom for as long as you like but you won't find a Monty Python and the Holy Grail Slots Jackpot anywhere – not even in the dreamy Castle Anthrax. This doesn't come as a surprise though since it wouldn't have made sense to link it to any of Playtech's existing network of jackpot games due to the ridiculous content: the Pythons are simply one-of-a-kind.
Bonus Rounds
The main weakness of this machine is that there isn't a true bonus round that gives you a break from the spinning reels. It truly is a shame in this case because they could have added some ridiculous video clips from the movie or extra characters that didn't make it into the regular mode with their own symbol.
There is a small feature that sees The Holy Grail Wild only falling on reel #5 as a "Shuffling Wild" that will move left along the board to change lower-paying symbols or sometimes even clone itself. You'll be cheering the chalice on as it slides over the board because if it goes "clone crazy" and 5 of them end up on the board, you'll get the biggest payout to be found which is documented above.
Free Spins
Since there isn't a jackpot nor a true bonus round, this machine relies on it's free spins to keep players entertained and it's clear that they put a lot of effort into designing them. In fact, they didn't stop at one free spins mode, they went on to create three insane areas that all have a unique background and theme.
Three Scatters will trigger the Quest of Camelot Free Games which will give you a Pick Em' style board of 12 shields to choose from, with each hiding an amount of spins and modifiers that will determine what will transpire during the feature. The 3 unique modes that you can access are:
The Castle of the Britons
The Forest of Bravery
The Cave of Caerbannog
As you select shields they will be either red, blue, or green, and they'll fill up the empty spaces of the unique area that they are assigned to. Each time the spaces to fill will be different and it will take either 2, 3, or 4 shields to trigger a specific mode. No matter which one it is, it'll be packed with unique bells and whistles thanks to the tons of modifiers that are available.
Don't try to memorize this list of goodies because it would take way too long to do.
The Castle of Britons could have:
3 Random Wilds (French Invaders)
Stacked Wild (Trojan Rabbit)
Random Wild (French Catapult)
Locked Wild (Nuns of Castle Anthrax)
The Cave of Caerbannog could have:
Locked Wilds (Tim the Enchanter)
Sticky Wilds (Killer Rabbit)
Clustered Wilds (Holy Hand Grenade)
Stacked Wilds (Black Beast of ARRGH!)
The Forrest of Bravery could have:
Stacked Wild on Reel #3 (Black Knight)
Random Wilds (Knights Who Say "Ni")
Stacked Wild (Brave Sir Robin)
3 "T" Wilds (Three-Headed Knight)
Each modifier will be executed in order and remain for the number of spins that was associated with it when you revealed the shield, creating a fun and chaotic bonus feature that never gives you the same thing twice. The above modifiers all have a long list of the things that they can do but we won't ruin the surprises for you so you can find out for yourself.
Graphics
There are tons of different backgrounds in Holy Grail Slots thanks to the 3 unique areas described above and each one will transport you right back to the particular scenes in the movie. The details are perfectly Pythonian and fans of the original show and animation will be very happy with the end result. For example, the crazy graphics of cows being shot onto the reels by a catapult, or the nuns being bent over and getting spanked with a huge wooden paddle.
The Black Knight Expanding Wild in the Forest of Bravery Free Games has a hilariously grotesque graphic when he lands on the board and if you remember the original movie you'll know exactly what we're referencing. Not only is the blood squirting out of the symbol shocking, it will also add another Wild to your freeroll every time it appears.
Thankfully, the creators stayed true to Terry Gilliam's "cut out animations" from the original show that every fan will immediately recognize and love. The imagery in this machine kind of casts a spell on you: it seems both "old" and "new", "cheap" and "expensive", "basic" and "elaborate", all at the same time. They did a great job with the graphics and anyone who's watched the original series should wholeheartedly agree.
It's almost like the visual artists at Playtech designed this game in 1976 and waited until now to release it. Bravo!
Audio & Soundtrack
There's a fun medieval soundtrack in the regular mode that keeps the mood light, however, it will turn off automatically if you switch over to Turbo Mode. The other tunes in the free spins modes are quaint and unobtrusive.
To reiterate, this one isn't going to be for anyone who's easily offended as there are some "colourful" sound effects. For example, the cheeky nuns who get bent over in the special feature let out a bit of a moan when they're hit with the paddle and it always shocks and delights the ears whenever it arrives.
Any other noticeable audios are quite pleasant and soft, with nice touches like the reels stopping sounding like gentle horse gallops. It really is nice to play a game that isn't constantly blowing you out of your chair with obnoxious sound effects.
The main criticism that most will have with the audios is that there sadly aren't any lines of original dialogue from the movie included, which really would have pushed this machine up to another level of fun and excitement. This was a huge omission.
Conclusion
This release from Playtech falls into a category that we like to refer to as "Palette-Cleansing Games" that are fun when you want to take a break from the over-complicated titles that have way too much going on, (and it sadly seems like most new creations are going in the direction of "overly-complicated"). It honestly doesn't matter if you've never seen the movie, Monty Python and the Holy Grail Slots is a ridiculously fun time that most people will love right from the word, "Ni!".
For those of you old enough to know that you don't like the whacky frivolity of Monty Python's Flying Circus, you'll probably want to skip this one for something that's more "traditional" but you should still take a peek just to see it. In fairness to those who don't have the patience for the insanity, this is one of the crazier games out there today and it would take 2,000 words to explain the French catapult alone.
However, if you enjoyed the movie you'll definitely want to take a romp through this classic fairytale. There are tons of great graphics, silly audios, and enough images from the original film to transport you back to 1975. You will be happy with what you find here.
Now go away or I will taunt you a second time.
Random Video of the Holy Grail
Here's a great old video of John Cleese chatting with the iconic Dave Letterman about the tendency of the British to apologize, toast, and fish. It's from the late 1980s when both of them were still in the prime of their careers. Enjoy!