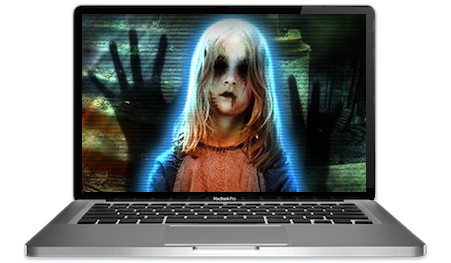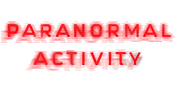 Paranormal Activity Slots
There are things that go bump in the night but sometimes there are also horrifying occurrences that make you question everything that you thought you knew about this world. Now Paranormal Activity Slots is here to creep you out as you chase cash prizes and search for answers about the afterlife.
243 Paylines
Occult Imagery
3 Unique Free Games Modes
---
---
Review of Paranormal Activity Slots
I don't go to see horror movies in the theater anymore so I hadn't watched any of the Paranormal Activity films until they were playing on TV a few years ago. I watched the first one and was surprised at how creeped out it made me feel – I really enjoyed it. However, after the chills of the first movie wore off I found that the sequels never lived up to the original. I'm obviously in the minority though since there were a whopping five sequels released in subsequent years that attracted legions of rabid fans.
No matter how strong your feelings are for the movies, you have to respect the fact that the first instalment in 2007 grossed almost $200 million worldwide at the box office…on a budget of just $15,000! This feat is absolutely remarkable and it obviously holds the title of "most profitable film ever made"- it's hard to imagine that any film in the future will ever come close to this massive return on investment.
As we've stated in other movie-themed slot reviews, it's always hard for casino software companies to recreate a scary experience in a game so we always go in with lots of doubts, and this time we were sadly proven right. Although it does a decent job of creeping you out while you play, Paranormal Activity Slots might have been rushed to market so quickly that even diehard supporters of the movie franchise will find that it becomes boring pretty quickly. Once you've seen everything that the software is going to throw at you, it just starts to get repetitive.
This expert slot review will break down everything you need to know about the release and assign it with an official QOOS rating.
Screenshots
This game certainly looks good thanks to its design that's primarily based on creepy glowing objects and possessed little girls. It's a very dark slot in regards to color and tint, which was obviously done to add to the scary mood and it does do an excellent job of sucking you into the paranormal universe.
Storyline
Some things just can't be explained by science or reasonable deduction and many believe that these occurrences are supernatural and a direct result of ghosts, ghouls, or even deceased individuals crying out from the dead. This is where the Paranormal Activity movie franchise attempts to explain the unexplainable and of course frighten the bejesus out of its viewers in the process.
The films mostly consist of amateur camera footage capturing hauntings and paranormal events that befall on unsuspecting families in California and Nevada, and the shocking terror that ensues. The formula for all six movies are the same: a family encounters strange phenomena and then things get progressively more terrifying as they search for answers and fight for their souls.
This slot from iSoftBet does not go into any of the specific plots from the movies and instead attempts to simply be "generally scary" through creepy images and horrific sounds. There simply isn't a storyline in this game and it's more of a celebration of the paranormal universe and angry demons, so many players will probably be disappointed with their lack of effort.
Unique Symbols
The unique symbols in Paranormal Activity Slots are fairly basic and they didn't include any of the characters from the various films. Although the reels look nice and balanced it still feels like the game's designers could have put a little more thought into the symbols…we can probably all agree that a chandelier just isn't that scary or meaningful. Here's what was included:
10
J (Jack)
Q (Queen)
K (King)
A (Ace)
Ghost Under a Sheet
Video Camera
Chandelier
All Seeing Triangle
Ouija Board
Evil Girl (Wild)
Bloody Hand (Scatter)
Evil Girl and Demon (Bonus)
The Bloody Hand Scatter is the highest paying in the game with 750 coins for five in a spin. This is followed by the Ouija Board, All Seeing Triangle, and Chandelier which will pay 500, 400, and 300 coins respectively for 5 of a Kind.
You will notice in the game information at the side of this review that the maximum number of coins per line in this slot is 0.12. This is because you must wager all 243 paylines each spin, with the minimum bet amount being $0.30. The general rule with these types of games is that the coin value that you've selected will be multiplied by 30 each spin so ensure that when you're starting to play that you're actually wagering the amount that you intended to.
Jackpots
Don't bother searching in the attic or looking under the bed because there isn't a Paranormal Activity Slots Jackpot to be found anywhere in this haunted house of horrors. This isn't too shocking though, since it's a 243 line game and those never have big cash prizes on offer.
Bonus Rounds
A jackpot won't be the only thing you're missing in this game because there also isn't a Paranormal Activity bonus round either. Again, since it has 243 paylines you shouldn't have expected one in the first place.
However, there is a small cash prize available when you trigger the creepy Bonus Wheel with 3 Bonus symbols anywhere on reels #1, #3, and #5 in a single spin. It's an instant win that will be multiplied by whatever coin value you're wagering, with the prize amount being added to your total before you return to the regular game. It's about as interesting as it sounds but it does give your balance a nice little bump so let's not be too dismissive of it.
In addition, there is a reel feature called a "Paranormal Event" that is triggered randomly during the regular game and will result in anywhere from 1 to 5 extra Wilds being added to the reels for that single spin. Again – free bonus cash is always welcome, so let's happily take it.
Free Spins
Since there aren't any real bonus rounds in this release you'd better believe that they're going to be bringing some free spin modes to the table, and they've obliged with three of them. They're all unique but they're fairly basic with what they offer so don't expect to be blown away by interesting twists or surprises.
In Paranormal Free Spins you get unlimited free games until you've won five times, with increasing multipliers on each win, maxing out at a top level of 5x. In Possessed Free Spins you get 10 free games with Stacked Wilds that will cover random reels to boost your winnings as you freeroll. Finally, with Demon Free Spins you get 15 free games with a Demon Wild symbol that will appear and change regular symbols into Wilds that will add to your free cash total.
The different free spins modes are all pretty fun and they're definitely the highlight of the game since they're the only real break from the regular action.
Graphics
There is only one primary graphical change in the machine and that's when the background color changes from black to either red or green, which will depend on the free games mode that you've entered. It certainly isn't anything to write home about because the effects are so dark in design that you barely even notice it.
Other than that, there's a scary image of a white face and a set of hands flashing on the screen when a "Paranormal Event" is triggered and it's probably the scariest thing in the game when it catches you off guard.
In fairness, the graphics that are here look great but there aren't really any moving pieces in the game to "wow" players. Sure all of the images are of an HD quality and glow eerily, but there's just not enough action to really be able to give this game high grades for visual effects – and in a horror-themed slot game graphics should have been a very high priority.
Audio & Soundtrack
It's impossible to complain too much about the audios in this game since you can easily adjust the effects volume or what they refer to as "music" volume. Music is in quotes because it doesn't sound like any music that you'll have ever heard before, and it's really just creepy notes and sounds wailing in the background.
When you get to the bonus round and spin the wheel it blasts you with a new "song" consisting of horrific bangs on metal drums, creaking metal, and aggressive blasts from an unforgiving synthesizer. These are highlighted with strange tones that are definitely not musical in any way. A frantic, desperate beat bangs over larger payline wins, but it's more annoying and jarring than funky or scary.
Sometimes you'll hear the insane cackling of a possessed child, a television shorting out, or a blood-curdling scream off in the distance. Strangely, iSoftBet considers these sounds as "music" and not "effects" in their user controls, and most will agree that this was a strange decision to say the least.
Payline wins are accentuated with a buzzing pulse and a little synth jingle, which is the closest thing this game has to a real "song". Also, the music speeding up and the heavy breathing for larger wins is simply too much for my nerves and my ears.
In short, the game relies on "frightening" sound effects to build the suspense rather than a proper storyline or creepy images. Unfortunately, audios alone don't make something scary – unless you're a 5 year old trick-or-treating and a neighbor is playing a cassette of a creaking door and a witch's laugh outside their house.
Conclusion
As is the case with most 243 payline slot games, it's all going to come down to whether you usually like them or not. If you do like them, you'll definitely want to check out Paranormal Activity Slots to see how it stacks up to the competition to maybe add it into your gambling rotation.
However, at this website we prefer intricate bonus areas to more ways to win, so you know where we stand. Not to mention, it's so hard to keep track of all the different paylines you usually end up getting confused and bored, and move on to another game. That said, since companies keep making them we assume that people must be playing them.
Ultimately, those who like horrific games will be satisfied enough to play for a little while but there's not really any true gratification to be found. It builds and builds with no payoff or explosion of excitement.
You won't be looking under your bed for demons after playing this, you'll just be looking for a different game to spin on. The only thing scary about this slot is that it can really waste your time…and your bankroll. Watch out!
Bonus Video of Paranormal Activity
Well we haven't had anything from the funny fools over at CinemaSins in a while, so lets check in with them again for "Everything Wrong with Paranormal Activity" to see what they think. Be warned: there's strong (and funny) language throughout…