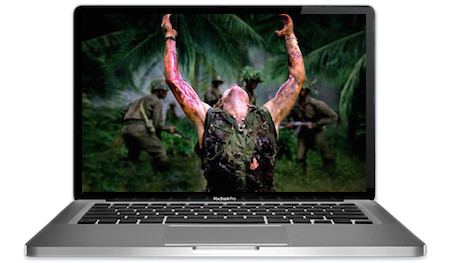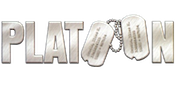 One of the most powerful movies ever made about the Vietnam War has now been immortalized in Platoon Slots, allowing you to win cash and prizes while you run through the jungle fighting the Viet Cong.
Violent Imagery
Wild Multiplier Feature
Original Cast Members
---
---
Review of Platoon Slots
The movie Platoon has always haunted me. I've actually re-watched it a few times over the years in the hopes of making sense of it all but I still have many questions and it's just as disturbing as the first time I saw it in the '80s…and Oliver Stone would probably be happy to know that.
Most people will be pretty shocked when they first see that they have released a machine based on Platoon because it's a horrific movie with deep themes and lots of violence that's set in an unpopular war that destroyed the lives of countless people. It just doesn't seem like the film was begging to be made into a fun gambling game.
That said, a casino software company decided to put it out, so we had to review it. Unfortunately, our initial hunch was correct and there's not a lot of fun to be found in this title and it's actually quite depressing to play. Also, it's probably obvious from the beginning, but if you're uncomfortable with images of war or violent weapons you'll definitely want to skip this one and try out something a little lighter.
The exclusive review of Platoon Slots will cover every intricate detail in order to give it a fair grade and explain why it's not worth a penny of your bankroll.
Screenshots
As you can see in the screenshots below, there is a hardcore military vibe going on in this release and camouflage and weaponry are everywhere. There is a dark green theme which is accentuated not only by the fatigues, but also by the dark jungle in the distance.
The playing card symbols were created in a bright neon so the 9 through to the Ace jump off of the black background in a strange explosion of colors. The hot pink "10" will be most people's favorite of the bunch.
Storyline
Instead of going into the intricate geopolitical reasons for the Vietnam War, let's just stick to the plot of the original film: We follow rookie recruit Chris Taylor as he arrives at his new platoon and begins to go out on missions to battle the North Vietnamese Army. He learns more and more about the soldiers he's fighting alongside with and soon discovers that the platoon is clearly divided.
One of the major themes of this movie is "the strong vs. the weak" with straight-laced Staff Sergeant Barnes and his crew who are in smug opposition to the more laid-back soldiers in their platoon and their spiritual leader, Sergeant Elias. The film shows how there can be devastating infighting between soldiers who are supposedly on the same side, calling into question the very essence of right and wrong.
The movie takes us along for the platoon's horrific journey through the never-ending jungles of Vietnam as they torch villages and execute civilians. We sympathize with the soldiers as they cry out in agony watching their friends die in bloody firefights with an unseen enemy. Ultimately, we witness how the weight of war crushes the spirits of young men who experience a savagery that most people couldn't imagine existing, even in the deepest pits of Hell. We watch them as they leave their souls in the battlefield and then march back to their temporary homes made of canvas and string.
This release from iSoftBet attempts to recreate the fear and confusion of Platoon through its military-themed symbols, violent images, and interesting free spins mode. However, other than a few graphic reminders, there (thankfully) isn't any storyline from the film. And given the subject matter, it's not clear which scenes iSoftBet could have tastefully incorporated into the action.
Unique Symbols
Sadly the creators of this title felt that they had no other choice than to include a "9" as a symbol when they could have easily just added more characters from the movie instead. Most fans will be looking for Kevin Dillon's maniacal character of "Bunny", while others will feel that John C. McGinley's role of Sergeant Red O'Neill should have made it onto the reels somewhere.
Anyway, here's what's on offer:
9
10
J (Jack)
Q (Queen)
K (King)
A (Ace)
King (Keith David)
Big Harold (Forest Whitaker)
Staff Sergeant Robert Barnes (Tom Berenger)
Sergeant Gordon Elias (Willem Dafoe)
Private First Class Chris Taylor (Charlie Sheen)
Tank (Wild)
Helicopter (Bonus)
Obviously Chris Taylor is going to give out the most and boy does he come through with a massive 10,000 coins for five at a time. This is followed by Sergeant Elias with 5,000 coins and Staff Sergeant Barnes with 1,500 for 5 of Kind. Big Harold is next in line with 1,000 coins for five on the reels and King is the lowest-paying character with 800 for the same.
Jackpots
There aren't any jackpots available in Platoon Slots, which is the case with most titles from iSoftBet. Not to mention, it would have been quite hard to create a fun prize area based on the themes of war and destruction.
Bonus Rounds
Those looking for gambling action will be disappointed to find that there's no proper bonus round in Platoon. As discussed above, it's unknown how they could have included an "exciting" special feature in a game that's about a devastating war, so it was definitely the right decision not to include one.
Platoon does have a fun little nugget called "Wild Multipliers" which entails Tank Wilds slowly making their way off of the reels with each spin whenever they land on the board. Therefore, you get lots of ways to win from one Wild and you even get re-spins to go along with it since you'll freeroll until it has completely left your screen. The Tank Wilds slowly lumber to the left of the screen, stopping on each reel along the way, and if that wasn't enough you'll also get a 3x multiplier on any wins that involve them.
Obviously you're unable to increase your wager amount until everything is over which is why two chains appear over your bet amount and lock it up for the duration.
Free Spins
You'll want to see choppers flying onto your screen with their machine guns blazing because that whirlybird Bonus is bringing free spins with it. You can re-trigger additional turns while freerolling and the same number of symbols gives you the same number each time:
3 Symbols = 8 Spins (5x multiplier)
4 Symbols = 10 Spins (10x multiplier)
5 Symbols = 12 Spins (12x multiplier)
Be aware that when you re-trigger it and have the extras added to your total, the payline wins during those spins will not have the original multiplier added to them.
A nice little nugget of the action is that it will pay both ways and will always give you the largest amount possible for each line.
Graphics
The animations for the Tank Wilds chugging across the reels are pretty good and the visual effects of images burning when used in paylines are decent too. Also, the background in free spins mode changes from the jungle to a flaming sky with choppers flying through it and it's quite the dramatic image.
There are slight animations on the characters that are taken directly from the original movie whenever they're triggered, however, it's always a little strange to see Charlie Sheen saluting your prize total from a helicopter. That was quite an emotional scene in the movie and it's weird to see it repurposed as an acknowledgement for a successful bonus round. In fairness, if you decide to play a game based on the movie Platoon, that's pretty much what you're signing on for.
The character symbols are kind of confusing because all of the images are close-up shots of their faces and they're obviously all wearing the same dark green army fatigues: you really have to pay attention to see what's going on. For some reason the image of Willem Dafoe looks a lot like Charlie Sheen so maybe they should have done something to differentiate them a little more.
The best graphic by far is when the chopper flies out to machine gun your "Current Win" total and blast gold coins out of it, cranking up the amount as the bullets fly. This particular visual is definitely where the graphics team at iSoftBet spent most of their time.
Audio & Soundtrack
Throughout the action there are beautiful sounds of the breeze blowing through the trees and birds singing, mixed with the crunching of boots on the ground, the cocking of rifles, and the rumbling of tanks. All of the audios come together to illustrate the confusing contrasts of jungle warfare.
The song that arrives when free spins are triggered is an ominous orchestral-style track that is very dramatic and bombastic. It wasn't in the original film but it builds the intensity of the mood nevertheless.
The only main objection people will have with the audios is that the soundtrack stops when there is a Wild Tank symbol making it's way across the board. So if it starts on reel #5 the song cuts out at the end of each of the next 4 spins as it makes its stop on each one. The software developers should have layered the audios so the sounds of the grinding tank gears are simply heard over the soundtrack as it continues to play.
Conclusion
It's pretty remarkable that a game was made from a movie that was so violent and disturbing. By definition, online slots are supposed to be "fun" and it's really hard to have fun when playing Platoon due to the disturbing memories that it conjures up. All of the images and themes of war just fly in the face of what gambling should be about.
Of course, those who loved the movie might enjoy themselves for a while, but even the most rabid fans will probably get quickly bored due to the lack of a bonus round and jackpot. There simply isn't enough going on in this machine to keep you entertained for long stretches of time. So if you enjoyed the film you should give it a few spins to check it out but if you just want to play fun and exciting titles, you'll want to pass on Platoon in favor of a better movie-themed release.
Actually, perhaps this game is a secret commentary from Oliver Stone himself – the pointlessness of war being pointed out by a pointless slot game about war. Or maybe that's giving it too much credit?
Feel free to try it out and decide for yourself – just be sure that you believe in the mission.
Looking back, we did not fight the enemy; we fought ourselves…
Random Video of Platoon
Even though we're not particularly happy with the machine that shares its name, it doesn't mean that we don't love the movie and Platoon is definitely a classic. So here's an in-depth mini documentary about the making of the film, complete with interviews from cast members and seldom-heard nuggets of information. Fans will definitely want to watch this…