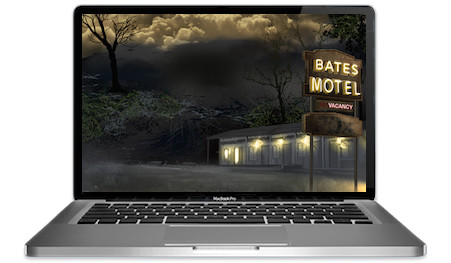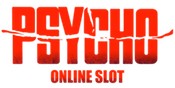 "A boy's best friend is his mother," are words to live and die by. However, they mean something completely different when uttered by the deranged psychopath, Norman Bates in Psycho Slots from NextGen Gaming.
Classic Horror Film
Good Graphics
Disappointing Game Features
---
---
Review of Psycho Slots
As a child I was never a huge fan of the movie Psycho – my friends and I made the mistake of sneaking into the local theater to watch it and I was completely scared to death. There was something about the character of Norman Bates that struck absolute terror into my impressionable, young mind. Looking back, I think that we saw that movie at way too young of an age.
With the explosion of home cinema in the 1980s thanks to VHS players, (and the short lived BETA format), of course my children picked up Psycho at the local rental place one day. Most of my kids were slightly older than I was when I first saw it so I thought that the whole family could safely watch it. Not to mention that television was so violent in the '80s I figured that it couldn't possibly be any worse.
Re-watching it in our family room with the children laughing at how corny it was to them, I realized that the film simply caught me at the perfect age to terrify me. I now appreciated the story, and Alfred Hitchcock's amazing direction and ability to build suspense and fright – it's a classic movie that any budding filmmaker should watch and steal from. Unfortunately, the slot game that bears this movie's name is nowhere near the same caliber.
I wrote the above history so you would know that I really did want to like this game and be able to sing its praises, however I was left feeling very disappointed. This review isn't tainted by my childhood fright of the original film, it's tainted by the boring game itself.
Screenshots
This slot should obviously be quite dark in tone and mood, and the creepy graphics that surround the game help to accomplish this and raise the level of terror. The screenshots below give you a taste of exactly what to expect with this knife-slashing, thunder-cracking online slot machine.
Storyline
There is always something unsettling about a grown man arguing with his mother – especially if his mother is dead. However, this is an everyday occurrence for motel manager, Norman Bates.
After Marion Crane steals $40,000 from her employer and tries to escape to another state to elope with her lame boyfriend, she is forced to pull over for the night at the Bates Motel due to a thunderstorm. After checking in, she has dinner with Norman and her life ends tragically in her motel room shower a short time later.
Marion's sister Lila arrives at the motel, with Detective Arbogast coming on the scene shortly after. Both are looking for Marion and are determined to find out exactly what's going on. Horrific twists and turns befall them both as Norman looks on innocently from afar…and you'll just have to watch the movie for yourself to find out the rest.
In regards to this slot game, it gets extremely low marks for storyline because there isn't one. It relies solely on imagery from the movie to set the tone, but it doesn't give players any of the original movie plot to build the suspense. This is a downright shame because there is so much content that could have been drawn upon.
The only two game elements that add to any semblance of a story is the knife-slashing Wild symbols, and the blood running down the drain at the end of the free games mode. It baffles me that they didn't incorporate scenes such as the ice machine or Norman's mother into the game. With a little more effort NextGen could have built a truly suspenseful game that would have had players on the edge of their seats.
Unique Symbols
Let's get the most obvious question out of the way: where in the heck is the Norman Bates symbol? Did Anthony Perkins' family not want him to be immortalized in a slot game? Was it even discussed with them?
The absence of a Norman symbol doesn't make any sense whatsoever. How do we have a story about a psycho, with no actual psycho featured in the game? This omission is absolutely indefensible, so let's just move on and look at what we did get.
10
J (Jack)
Q (Queen)
K with a Crow (King)
A with an Owl (Ace)
Room Key #1
Envelope with Cash
Eye Looking Through Keyhole
Detective Milton Arbogast (Martin Balsam)
Marion Crane (Janet Leigh)
Knife Slashing (Wild)
Bates House (Scatter)
The Marion Crane symbol pays out the most for five of a kind with 1,000 coins, followed by Detective Arbogast with 250, and the Eye Looking Through a Keyhole and Envelope of Cash symbol each paying 200 coins.
Also, you'll want to pay extra attention to any Wild symbols that are involved in payline wins in this game because they can randomly multiply the win amounts by anywhere from 2x to 20x.
Jackpots
Sadly this game comes up short on many features so it's not surprise that there's not a Psycho Slots jackpot at this creepy hotel. As you'll read below, this is the least of this title's problems, though.
Bonus Rounds
Of course this game is going to frighten many players, but the most shocking thing about it is the absence of a proper bonus round. Yikes! Again, how did this even happen?
At least there is a Gamble Feature in Psycho that allows you to wager your win amounts after a spin. You can choose to wager on red or black to receive a 2 to 1 payout, or you can choose to pick a specific suit to potentially win a 4 to 1 return.
Free Spins
Normally you should be scared as heck at the sight of the ominous Bates House on the hill, however as this game's Scatter symbol, you will want to see it again and again. Three of them wins you 10 free spins, 4 wins you 15, and 5 Bates House symbols will award you with a whopping 20 free games.
The free spins mode in Psycho gets a little crazier than most online slots due to the game adding more Wild symbols to the reels for the duration of the round. This leads to bigger balances and is definitely one of the only highlights of the game.
Graphics
Although the overall graphics are basically on par with other movie-themed slot games that have been released over the last few years, it does have one of the best in-game visuals that I've seen in a while. When you get a big win, hundred dollar bills shoot from the bottom of the screen and explode all over the reels. My son said that this reminds him of when people in a discotheque "make it rain" by throwing bills up into the air – but I really don't understand any of what he's saying. People throw money into the air? Whatever!
Also, when in regular game mode the Wild symbols are placed on the board by a slashing knife in front of a shower curtain. It's quite the violent imagery and always gives me a little jump when it happens – it really does come out of nowhere and successfully gives you a fright. Those who are interested in being scared like that will be happy to know that the visual runs perfectly, and the slash of the knife is basically of movie quality. And yes – that silhouette you see is of Norman Bates in a wig and dress…finally a cool reference to the original film!
Audio & Soundtrack
I find the regular game soundtrack in Psycho quite intense, and it sounds pretty much like you would expect it to. It has a wind blowing sound effect throughout, and is sometimes accentuated by a scary score performed by string and percussion instruments, as well as crashes of thunder.
The audio of wins being added to your balance sounds like a fire alarm, so you'll want to turn down the volume if you don't want to get blasted out of your chair. Actually, most wins involving any symbol combination come with a whole array of sound effects that are offensive to the ear. They're trying to be frightening, but it's just annoying. I would find the mute button as soon as possible, if I was you.
Conclusion
This game is not for the faint of heart or anyone who is easily scared…because both the actual content of Psycho, and its lack of game features are truly frightening. Yes the visuals and soundtrack help to make it somewhat of a creepy slot game, but the violent imagery alone does not create a storyline or build any kind of suspense. When this is added to the shocking lack of a bonus round, jackpot, and reel features, it makes you wonder why you're playing the game in the first place.
For the small number of players who are simply super fans of the movie searching for a slot that bears the "Psycho" name, you will probably be happy for at least a little while. For the rest of the casual fans who were hoping for a scary game that pushed the boundaries of comfort and provided a good gambling experience, you will definitely want to look elsewhere.
"We all go a little mad sometimes. Haven't you?" Well now that you mention it Norman, yes I have. Most recently was when I played Psycho Slots for the first time. So if you feel like practicing that taxidermy hobby of yours, feel free to stuff this game and put it on a shelf. Hard pass!
Bonus Video of Psycho
Now here is a very cool video – it's of the old Arsenio Hall Show from 1989, and it's his interview with Anthony Perkins. Is it just me or is there a lot of Norman Bates in the real Anthony Perkins? I can't separate the two! And what's up with that outfit?! Finally something really scary!