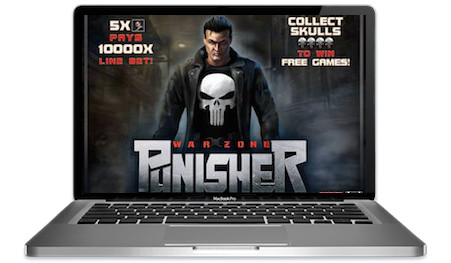 It's time to get creepy with Punisher Slots and bust open your bankroll while Frank Castle busts heads, in this dark game based on the major motion picture. Just make sure you don't make him angry as you spin.
Violent Imagery
No Bonus Round
Marvel Mystery Jackpot
---
---
Review of Punisher: War Zone Slots
The only comics I read as a kid in the '80s that involved the Punisher was when he was teaming up with Spider-Man in one of his issues. Like most people I found Frank Castle to be quite violent and ruthless, which was of course kind of cool to a young boy of my age, but I could never shake the feeling that it was weird to like him. The character is definitely unique because he doesn't have any superpowers whatsoever – he's a just an angry ex-marine who is highly skilled in using firearms.
I should admit that I looked up the Punisher War Zone movie online to see what kind of reviews it got, (I was thinking of watching it before writing this review), and it seems as though most people thought that it was terrible. So this review will be focused solely on the game itself, and won't be tainted by the "allegedly terrible" 2008 movie that bears its name…although it does seem as if both have people running for the exits.
To the people who write movie reviews online I say "thank you" for saving me two hours of my life, and perhaps they just saved you two hours of your life too. Now let's see if I can be a Slots Hero and save you a few dollars of your bankroll.
Screenshots
Fans will know exactly what the mood of this game will be and I'm sure that the rest of you can assume that with a name like "Punisher", it's going to be a bit on the violent side. Below are some screenshots that will confirm these suspicions, and spoiler alert, this game is quite creepy and dark.
I tried hard to find something better, but these are the most interesting images I came across in the game. There really wasn't a lot to draw from because it doesn't have any unique game features besides free spins mode. As Gordon Ramsay would say after tasting a disappointing risotto, what a shame.
Storyline
Thugs in the Marvel Universe fear many superheroes, but it is The Punisher who terrifies them the most. He is the only one who doesn't care about the morality of his methods and will resort to anything to stop bad guys. Frank Castle is a man who only cares about one thing – dishing out justice and making criminals pay a hefty price for their actions. Everyone knows that he is indifferent to how that justice is achieved, and he will kidnap, torture, and murder to combat the evildoers of the world.
The Punisher wasn't always this way, but after the death of his wife and two children who were caught in the crossfire of a mob shootout, he was ready to resort to anything that criminals do in order to extract revenge. He originally wanted to battle Spiderman in the mid 1970s to bring him to justice for the murder of Norman Osborn, but he ends up taking Spidey's side when his partner the Jackal revealed himself as being an immoral psychopath. Since that time, Punisher has teamed up with Daredevil, Nightcrawler, and Captain America to help them fight evil throughout the land.
The movie that the game is based on centers around a plot involving the Punisher spraying a mob boss' party with bullets and killing everyone there. The one person who wasn't turned into swiss cheese escapes to a recycling plant where he is found by Castle, and is then involved in a hideous accident with a glass crushing machine. Ooops. Billy "The Beaut" Russotti had now been transformed into super-villain "Jigsaw".
This Marvel Slot game from Playtech focuses on the characters from the War Zone movie, but unfortunately there's nothing tangible regarding an actual storyline. It's just constant spinning reels with characters and creepy images, so you'll have to have quite the active imagination if you want to experience anything resembling a "story" in this game.
Unique Symbols
It should come as no surprise that all of the symbols in this game involve weaponry and violence, with a heavy emphasis on firearms. The entire feel of the game is quite bleak and depressing with dark colors accentuated by blood-soaked numbers on the reels.
One of the first disappointments that you will experience with this game is that Punisher uses the 9 to the Ace to fill in for truly unique symbols. This is especially frustrating since there were a ton of cool characters from the movie that Playtech could have added like Microchip, Maginty, or Arm Candy.
9
10
J (Jack)
Q (Queen)
K (King)
A (Ace)
9mm Handguns
Uzi
James Russoti (Loony Bin Jim)
Billy Russoti (Jigsaw)
Punisher Skull Symbol (Bonus)
Punisher Logo (Scatter)
Frank Castle The Punisher (Wild)
The game's best symbol is the Punisher Wild which gives you 10,000 coins for 5 of a Kind. However the payouts then free-fall with Jigsaw only paying you 1,000 coins, and Loony Bin Jim giving you 500 for five in a spin. These are some pretty bad returns to the player, which of course means that there's not a lot of easy money to be made on this game.
Jackpots
As is the case with all Marvel Slot games, there is a Punisher War Zone Jackpot which is linked to the Marvel Mystery Jackpot Network. All of their games offer four progressive jackpots that can be triggered at any time, on any game. The size of the various jackpots is always different, with the largest one starting at the equivalent of €100,000 each time after it has been won.
Bonus Rounds
In what is ultimately this game's worst crime, Punisher Slots does not have a proper bonus round, and they rely on their Free Games Mode to satisfy players' thirst for bonus action. This is terrible news for those of us who like a bit of variety in our games, and can easily get bored just staring at reels spinning without a break.
This omission is even more offensive when you consider that an earlier version of Punisher Slots that was released a few years before this one had a proper bonus round, and was actually quite fun to play. Although it really doesn't matter because that old game is looking and playing like an antique these days.
A small bonus nugget in War Zone is that if you hit two or more Scatter symbols anywhere on the reels you are guaranteed a winning spin. Obviously this feature does not make up for the omission of a bonus round, and the win amounts can be very small in size.
Free Spins
At the bottom of each reel are four skull outlines and every time a "Collective Bonus" Skull symbol lands on that reel, one of the outlines fills up with a skull. Once all four outlines have been filled at the bottom of a specific reel you win 4x whatever your wager amount was, plus you get 5 free spins with a 2x multiplier on all of your bonus winnings.
Don't worry, if you're lucky enough to fill the bonus symbols on more than one reel during a spin you will be awarded all of the prizes that you're owed. So 2 full reels gives you 10 free spins, 3 full reels gives you 15, etc. However, the bonus multiplier doesn't increase so you are unfortunately stuck with a 2x multiplier no matter what you hit on the reels.
Players who like to constantly switch up their bets will probably find Punisher Slots very frustrating because every time you change your wager you have to start collecting Skull Bonus symbols from scratch all over again. The good news is that the game will remember how many symbols you had for each reel, and for every different wager amount that you've gambled. So if you do want to alter your bet size, whenever you return to a specific bet amount your bonus symbols will still be there. Although, obviously it could take you forever and a day to win any free spins betting this way.
Lastly, if you are in free games mode and the Skull Bonus symbol falls on the reels again you will be awarded with an additional 5 free spins. It's not the greatest bonus I've ever seen, but in a game that has as little features as the Punisher, I'll take it.
Graphics
Super cool graphics in this game are almost nonexistent, but the few animations it does have are fairly decent. They mostly involve the character symbols used in payline wins during the Free Games Mode, and they will become animated and shoot at you, or swing an axe at your screen and "break the glass". In fairness, these visual effects are pretty cool, it's just that the game doesn't have enough of them to keep casual fans interested.
And if you haven't figured it out by now, Punisher is an extremely violent game. So if you don't like fake guns pointed at you, or digital axes swung at your face, you will definitely want to skip this game in favor of something a little more tame.
Audio & Soundtrack
The soundtrack for Punisher Slots sounds like it was made sometime during the 1980's by dudes with big hair and jean jackets. Just think of any action show on television between 1983 and 1988 and you'll have a good idea of what this game is going to give you.
The main song comes complete with screeching metal guitars and pounding drums, with the whole production becoming even more intense during the Free Games Mode. The music is so out of place that it had me wondering for a moment if this game was actually based on the 1989 Punisher film staring Dolph Lundgren and Louis Gossett, JR., and not the 2008 remake. Don't believe me? Play the promotional video at the top of the column on the right side of this page and you'll hear exactly what I'm talking about.
Other sound effects in the game including the shooting of guns…lots of shooting guns. Also, when the reels stop spinning on the game board I swear that it sounds like a car door slamming, but maybe it's just me.
All of the other sounds like spinning reels and payline wins have an electro-retro flare that complete the '80s vibe. Make sure to play this game wearing your acid wash jeans and high top sneakers to achieve the full effect.
Conclusion
Frank Castle's world is dark, and this game certainly reflects that with its grim images and bleak game design. I find that it's actually kind of depressing to play it for long stretches of time because it's just a constant barrage of bullets and pounding music with no storyline, and no pay off.
Most players will want to pass on Punisher: War Zone due its omission of a bonus round, sparse unique symbols, and the general lack of fun or interesting reel features. At best, there's barely enough in this game to keep hardcore fans of Punisher entertained for any longer than five minutes, so if you doubt your commitment to the Marvel bad boy you'll want to play it for free first to try it out.
Don't be another victim of the Punisher. Run away now or your bankroll could end up looking as disfigured as Jigsaw when he fell out of the glass-cutting machine. And that's one heck of a punishment.
Bonus Video of Punisher
For those of you who haven't seen Punisher War Zone yet and don't want to waste the time to do so, here's a quick five minute recap that tells you everything you need to know about the film. Rabid Punisher fans will want to pass on watching this since these guys don't have a lot of nice things to say…