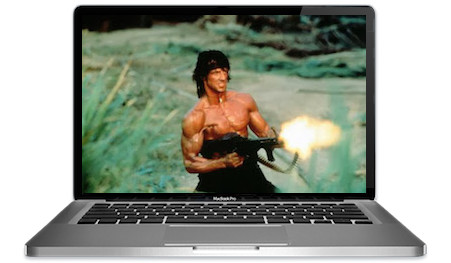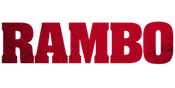 Rambo: First Blood 2 Slots
"God didn't make Rambo. I made him." – Col. Samuel Trautman. And with that, the tone for Rambo: First Blood 2 Slots is locked and loaded. Bring on the bloodshed…and the cash prizes.
Toughest Action Hero of the '80s
720 Paylines
Clips from the Movie
---
---
Review of Rambo Slots
What teenage boy in the early 1980s didn't love Rambo? The films were basically their wildest fantasies come to life: rebellion, shooting cool guns, blowing things up, and everything tied together with witty one-liners. John Rambo was the human embodiment of teen testosterone, so of course I loved him and his movies back then. Truth be told, I still have a major soft spot for them today.
Normally my biases for the pop culture items of my youth affect every slot review that I write. If the game is about something I idolized as a child, I will absolutely find something to love in that game. I will always look for the positives and sing their praises to the mountain. Unfortunately with Rambo: First Blood Part II Slots there's not a lot to sing about, and things are going to get rough. But as we learned years ago…
"To survive a war, you gotta become war." – John Rambo, 1985.
Screenshots
The problems with First Blood II Slots begin with the lazy design and boring symbols; there just isn't much going on in this game. Believe it or not, the screenshots below show some of the more "exciting" parts of the title, and this isn't an exaggeration.
Storyline
After video stores had to reorder "First Blood" numerous times due to tapes wearing out, it was obvious that movie execs would demand a sequel to the film. But what to call it? The imaginative title of "First Blood Part II" was finally chosen for the highly anticipated follow up.
The movie of course centers around John Rambo, who has been sprung from prison and dispatched to Vietnam to investigate the rumor of POWs still being held in captivity by the Viet Cong. He agrees to the mission on the condition of receiving a pardon for all of the crimes that he committed during the first film.
The people in charge make it clear to Rambo that this is strictly a reconnaissance mission and not an extraction mission, however John Rambo is a man that makes his own rules. After discovering a camp with POWs deep in the jungle, you can guess what Rambo did next.
This version of Rambo Slots is based entirely on this second installment of the movie franchise and vaguely conveys partial storylines from the film in the form of movie clips and images.
Unique Symbols
The unique symbols in Rambo are downright disappointing, but at the same time they're kind of what you'd expect to find. Unfortunately iSoftBet made the terrible decision of using playing card symbols from the Ace all the way down to the 9, and as you've read on these pages before, any game that has a 9 as a symbol is probably going to be a little boring.
They could have chosen to add a ton of great symbols like Richard Crenna as Col. Samuel Trautman, Steven Berkoff as Lt. Col. Podovsky, Charles Napier as Marshall Murdock, or even Julia Nickson as Co-Bao. There you go…4 more unique symbols for this game and it took me less than 30 seconds to come up with them.
Here are the symbols that they decided on:
9
10
J (Jack)
Q (Queen)
K (King)
A (Ace)
Bullets
Machete
Cobra
Jeep
Golden Grenade (Bonus)
Rambo Arrow (Wild)
Rambo (Scatter)
First Blood II is a 720 payline slot game, so obviously the individual payouts aren't going to be that great. The Jeep is the highest paying symbol in the game and gives you 500 coins for five of a kind, with the Cobra next at 100. These are followed by the machete and the bullets at 50 coins each for five in a row.
Jackpots
Rambo Slots has an astounding four different jackpots, with one of them getting triggered by 5 or more Golden Grenade Progressive symbols falling anywhere on the reels during a spin.
5 Progressive symbols triggers the Stealth Jackpot
6 Progressive symbols triggers the Bravery Jackpot
7 Progressive symbols triggers the Honor Jackpot
8 Progressive symbols triggers the Explosive Jackpot
You can check the current jackpot prize amounts at any time by going into the Info section of the game. All four will be updated based on how much money has been contributed from across the casino network and it will display the total dollar amount on offer in each of the jackpot prize pools.
One of the few nice features of this slot is that any of these jackpots can be won during Free Spins Mode as well as in the regular game.
Bonus Rounds
In a plot twist that would have Rambo himself exploding in rage and unleashing hell, this game does not have a bonus round of any kind. Given that the subject matter is all about shooting things, you would think that there would at least be a Pick Em' style bonus game where you blew up enemies who were hiding cash prizes.
This is definitely the game's biggest problem, and one that is pretty much a deal breaker for me.
Free Spins
The free games mode in Rambo Slots has three different options, depending on how many Rambo Scatter symbols you get when triggering the freeroll.
3 Scatter symbols awards 5 free spins with a 5x multiplier
4 Scatter symbols awards 10 free spins with a 10x multiplier
5 Scatter symbols awards 15 free spins with a 15x multiplier
The free games begin with 10 unique symbols rotating on the screen until the game stops on one, and then that will act as the Expanding Wild for the bonus feature. It will then stretch out over the reel giving you more winning paylines in each spin.
If you hit another three Scatter symbols while free-rolling you will win more free spins, and keep the same Expanding Wild symbol that was chosen in the beginning of the round.
Graphics
There are tons of crazy movie clips from First Blood Part II in this game, like red hot metal being hammered by Rambo, people being shot by a handgun fired by Rambo, a cobra getting twirled in the air by Rambo, and heavy machine guns in a jeep getting manhandled by Rambo. They're clearly not the most imaginative video clips, but they're very entertaining all the same.
The animations of the symbols in winning paylines are pretty weak, with the one most often used being exploding fireballs. It feels like the game's designers ran out of ideas very early on in the process when making this online slot game.
Audio & Soundtrack
The soundtrack for Rambo Slots is both extremely aggressive and whimsically uplifting at the same time. I definitely remember this song being in the original movie, but I can't place the exact spot. Anyway, it's the best song that they could have included, so I will give them full marks for the soundtrack.
Also, the sound effects of the reels spinning and payline wins during the normal game are heavily accentuated in a military way, and totally fit the mood of the game. In the background you will hear all of the noises of battle: sirens, choppers, machine gun fire, planes, and explosions, to name a few.
The other sounds of note are those of the unique symbols when used in a payline win: snake tails rattling, hot metal being hammered, and of course, guns of all shapes and sizes being fired.
Conclusion
Most of the fans of the original movie are going to be sadly disappointed with Rambo: First Blood II Slots for many reasons. First and foremost, there just isn't any storyline or fun action whatsoever in this game, which basically kills the novelty of it 10 minutes after first starting to play.
That said, of course the most extreme Rambo fans will just be happy to be playing a Rambo-branded slot game. And to those people, I wish you a good time.
It's just a shame that iSoftBet didn't try harder to entertain casual fans of the films, or the players like me who demand quality slot games. This is actually the second Rambo-branded slot that's been released, so perhaps they'll get it right with Rambo III if they ever decide to make it.
Until then, this game is basically expendable…and we all know what John Rambo's definition of expendable is…
"It's like someone invites you to a party and you don't show up. It doesn't really matter."
Bonus Video of Rambo: First Blood II
Well, there's only one way to end a review based on Rambo: First Blood Part II Slots, and that's with Frank Stallone's heart-wrenching song from the soundtrack, "Peace in Our Life". By the time this film was released Sly had become a huge action star and a cash cow at the box office, and if you thought that his brother Frank wasn't going to cash in as well, you were sadly mistaken.
Frank Stallone might be remembered best for his fantastic acting job as Eddie in "Barfly", but I think we all know that his personal career highlight was getting to perform the theme song for Rambo II. Try to refrain from weeping…