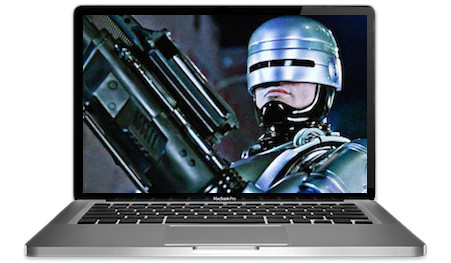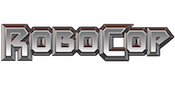 New Detroit has a cancer and this cancer is crime. Thankfully, Omni Consumer Products has come up with the perfect solution – robotic police officers. Now you can join the fight in RoboCop Slots and battle crooked politicians and evil enforcement droids of Delta City. Your move, Creep.
Extremely Violent Game
Retro Style Graphics
Fantastic Bonus Round
---
---
Review of RoboCop Slots
Like every other red-blooded American boy in the 1980s, I loved action films. Thankfully this decade produced hit after hit and was a golden age for violent Hollywood blockbusters. Schwarzenegger and Stallone ruled the big screen, while young up-and-comers like Dolph Lundgrin and Steven Seagal fought for respect. Then all of sudden things changed in the summer of 1987 with the release of RoboCop and everyone was asking, "Who in the heck is Peter Weller?"…and then eventually asking, "Where in the heck did Peter Weller go?".
Well we soon found out what all the buzz was about after some of the taller kids in my group snuck into the theater to see the film but the shorter members of the gang had to wait for the film to come out on VHS. I still remember that weekend like it was yesterday: we gathered in my friend's basement, popped the tape in the VCR, and were immediately shocked at the high level of violence.
The hot rumor was that the first version of RoboCop was X Rated due to the graphic violence and this would eventually be confirmed with the arrival of the internet some years later. The future seemed so cold and ruthless compared to the other action films of the day – this movie was definitely different.
So do I have some lingering childhood admiration for RoboCop? You better believe it. And anyone reading this review who's between the ages of 35 and 55 will too. This should absolutely be considered as one of the classics right up there with Terminator and Predator, and this review will reflect those sentiments.
For those of you who have just stumbled onto this webpage by accident, you should know that this title is extremely violent and has constant gunfire throughout, culminating in RoboCop himself shooting you in the face. Most of you are probably not only expecting this, you're excited for this, so the warning is only for those who've never heard of OCP or Dick Jones.
Now for all the other diehard fans of RoboCop, let's go ahead and dive into one of the bloodiest gambling games ever created.
Screenshots
As you can see from the screenshots below, this machine looks a little dated but you shouldn't let that worry you because it looked dated from the moment that it was released. It actually looks a lot like the RoboCop Sega Genesis video game from the late '80s that was hugely popular so maybe this was intentional. Click on the images below and try to tell if it was released in 2010 or 1990.
We chose not include any of the bloodier screenshots in this review because we didn't want to offend anyone who didn't know what they were getting into. Not to mention, we didn't want to ruin the gory surprises for the true fans.
Storyline
The city of Detroit has always been a little rough around the edges but just wait till you see what it looks like in the not-too-distant future. Crime is out of control, the police are underfunded and corrupt, and corporations are buying up public property to exploit and abuse.
This is why Omni Consumer Products (OCP) are trying to corner the market on robot policemen and have a few different prototypes in the works. At their disposal is one of the deadliest machines ever built, the ED-209, but just wait until he meets RoboCop.
Officer Alex Murphy was just a normal policeman doing his job when Clarence Boddicker and his thugs shot him full of bullets and killed him for trying to arrest them. After being declared legally dead, Murphy's body was then taken by the vile and corrupt Bob Morton and used as a spare part in their Frankenstein-like design for a new police cyborg. Once powered up, RoboCop was ready for duty…but would his memories and consciousness ever come back to him or was Alex Murphy truly dead?
This release does an excellent job of following the main plot of the movie through it's symbols and imagery, and the bonus round will give you vivid flashbacks to the original film. This is definitely one of the stronger storylines we've ever seen in a movie-themed slot game so if you're a RoboCop purist you will not be disappointed.
Unique Symbols
Fans will be quite happy with the unique symbols that made it in, although there's always room for improvement. It could be argued that there should have been a few more characters from the movie included like Dan O'Herlihy as The Old Man, Kurtwood Smith as Clarence J. Boddicker, or Ronny Cox as Dick Jones. It's not a massive deal but it would have made things a little more interesting.
That said, there's certainly enough on tap here:
J (Jack)
Q (Queen)
K (King)
A (Ace)
Police Cruiser (1986 Ford Taurus)
RoboCop Logo
Auto 9 (Modified Beretta M93R Handgun)
ED-209
Officer Anne Lewis (Nancy Allen)
RoboCop (Peter Weller)
Shooting Target (Wild)
Prime Directive Wild
OCP Logo (Bonus)
Delta City Logo (Jackpot)
Justice is served with RoboCop being the highest-paying with 750 coins for 5 across the reels. This is then followed by ED-209, the RoboCop Logo, and Officer Lewis, which give 500, 200, and 150 coins respectively for 5 of a Kind.
It should be noted that any payline win that involves the Prime Directive Wild will have it's amount automatically doubled. I'd buy that for a dollar!
Jackpots
In an amazing plot twist, there is a RoboCop Slots Jackpot, but just like most things in New Detroit, there's a pretty big catch.
Every time you have a Delta City Jackpot symbol fall on the reels it increases the amount of the cash prize and then 5 of them in one spin will trigger it. However, since this is only an in-game jackpot and it's not linked to a network of any kind, the amount you win is definitely going to be much lower than what you might be expecting to find. Although, it will of course be won much more frequently and always by you.
Here's how the Delta City pumps up the prize amount:
1 symbol = 0.2x bet amount
2 symbols = 0.5x bet amount
3 symbols = 1.2x bet amount
4 symbols = 10x bet amount
5 symbols = 50x bet amount
The current progressive jackpot total is always displayed at the top of the screen above the reels so you can keep an eye on it as it grows. It may not the be biggest prize around but it's certainly fun to hit it whenever you do. And don't expect the machine to make a big deal when you trigger the bonus cash because it just confirms that you've won it and displays the total on the screen.
Slight criticisms aside, it was very nice of Fremantle to put this in and it's definitely appreciated.
Bonus Rounds
If you have a thirst for blood you'll want to see 3 or more OCP symbols anywhere across the board since this will send you to the "Assault on OCP" bonus round that has 4 distinct areas for you to blast your way through. You'd better be ready because these areas are insanely violent.
Area 1: Warehouse District – shoot at lawbreakers
Area 2: Hostage Situation – shoot at hostage taker
Area 3: OCP Headquarters – shoot at ED-209
Area 4: Executive Office – shoot at Dick Jones, VP of OCP
Hopefully you've been practicing at the firing range because in each area you will have to shoot at your targets by clicking the left button on your mouse. Don't worry, it's impossible to miss the bad guys because the software won't let you shoot if you're not directly on target.
If you take enemy fire you will lose points off of your energy meter and if you lose all of your health you die and the bonus feature is over. Also, there are no time limitations between shots so if you're slow to shoot at the targets you won't take any extra hits or damage. If you protect your neck and make it through all of the areas you are victorious and will claim the maximum amount of bonus cash available.
This machine also has a "Prime Directive" bonus feature that is triggered by the Prime Directive Wild falling in any position on reel #3, which is the only one that it appears on. Once activated, RoboCop shoots you in the face with his Auto 9 handgun, which in turn blows up random symbols on the board to turn them into Wilds also. This is a great way to stack up some extra cash and get even more immersed into the story.
Free Spins
In what has to be one of the most shocking things we've ever come across in an online slot game, RoboCop does not have a free spins mode. You read that correctly: it's impossible to win any free spins whatsoever. We honestly can't remember another title that doesn't have some form of re-spins…especially a branded, movie-themed release that clearly had a big production budget.
So instead of walking you through how to win nonexistent free spins, why don't we take this opportunity to remind you of RoboCop's prime directives?
Serve The Public Trust
Protect The Innocent
Uphold The Law
(Classified)
Alright, good to know.
Again – an online slot without free spins…who would have thunk it?
Graphics
The graphics in this release have the right amount of flash mixed with the right amount of cheese. It has a retro feel, but the visual effects seem strangely futuristic and suit the action perfectly.
Also, we're happy to report that this machine has one of the coolest looking bonus features you'll ever find out there. You actually shoot criminals in the face and their blood spurts everywhere, but if they finish you off, you'll be the one at the end of the round blood-soaked and short-circuiting. The battle with ED-209 is of an HD cartoon quality and the backgrounds and graphics constantly change as you battle your way through each bonus area. There aren't enough words to praise the visual effects in this feature – just wait till you see them for yourself.
All of the graphics shine in the regular mode and there are a few strange visuals that add to the cyberpunk mood. For example, when the Shooting Target Wild is used in a payline win there are explosions around the heads of the targets and then holes get blown into them. It's hard not to laugh at how crazy this release is – it really is dripping with "cartoon violence".
Unfortunately, there aren't any proper video clips from the original movie but to be honest they wouldn't have fit in with the rest of the action anyway. It has too much of an animated feel and if you saw actual human beings it might take away from the fun of the fantasy violence.
Audio & Soundtrack
The original film score by Basil Poledouris is played over the intro video and it instantly takes your mind back to 1987. The best usage of the song is when you successfully clear all of the four bonus areas and the main string arrangement kicks in – it makes you feel extra good about beating all of the bad guys. This part of the soundtrack was performed by the Sinfonia of London, who of course did an excellent job with the task.
In the regular mode there are constant sirens and gunshots going off in the background which adds to the dark mood of the dystopian future. The chaotic sounds immediately conjure up lines like, You're dead. We killed you.
All of the other audios like the reels whirling and stopping, or when you adjust your bet amount, are of a futuristic nature and work perfectly with everything else.
Conclusion
When I first realized that this game didn't offer free spins I thought that it was going to be an absolute bust. However, after playing it for a while I realized that it totally didn't matter because it has a ton of other things going for it. Don't get me wrong, I would have loved for it to have freerolls, but in the end it just doesn't feel like it's that big of a deal…although I'm sure there will be those who disagree.
Another thing that some of you might find annoying is that the reels spin very quickly and the maximum amount of auto spins that you can set is 10. Therefore, people who like to auto-spin may get a little frustrated because you have to go back and push buttons non-stop, although the fun you'll have is definitely worth fighting through it.
With a progressive jackpot, cool graphics, and one of the most detailed, fun, and bloody bonus rounds ever made, RoboCop Slots hits a home run and gives fans exactly what we're looking for. There's action and plenty of it, and you're going to be quite pleased with what you find.
So if you're looking to take a trip to the crumbling ruins of New Detroit and violently shoot it out with criminals, this game is definitely for you. Just remember – your prime directive is to obey.
Random Video of RoboCop
Here's a great mini-documentary on the making of RoboCop that every fan should see. Click the play button and maximize the screen size for full effect – there are some very interesting facts in here that you've probably never heard before.