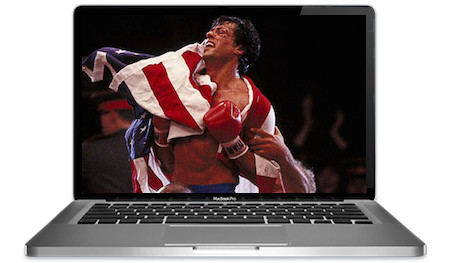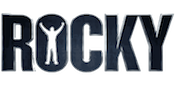 It's time to put on those boxing gloves and step into the ring one more time. So what if you never had a prime? Neither did Rocky. Now you can battle all of his toughest opponents in this online slot slugfest. Yo Adrian! Get Ready!
All of Your Favorite Characters
Awesome Bonus Round
Non-Stop Action
---
---
Review of Rocky Slots
I think it's safe to say that any man, woman, or child alive in the 1970s and '80s watched at least two Rocky movies in their lives, and rightfully so. I'm one of the more serious fans who has actually watched them all – including the terrible Rocky V in 1990.
It's impossible not to love Rocky's story and the "average joe" that Sylvester Stallone plays so perfectly. And if you don't know how the original movie was made, you really need to listen to the video at the bottom right column of this page to hear Tony Robbins tell Sly's story – it's absolutely amazing and thoroughly inspiring.
So as you can see, I'm a huge fan of the Rocky franchise and was probably going to write a glowing review of any slot that was released with his name on it. Thankfully, this game outperforms even my high level of expectations and totally knocks it out of the park. Here's why Rocky Slots is one of the best movie-themed slots I've ever played…
Screenshots
The screenshots below show you just how sleek this game is and how well the symbols for each character were designed. The American Flag theme on the letter symbols is great and a perfect patriotic accompaniment to the reels. I haven't included any images from the bonus round because I didn't want to ruin it for you, but if you want to sneak a peek, just play the promo video in the right column of this page.
Storyline
When Rocky's girlfriend Adrian asked him why he wanted to fight he responded with, "Because I can't sing or dance." And with that statement, the greatest boxer in the history of film perfectly explained himself and his outlook on life.
Rocky Balboa grew up in a rough Italian section of Philadelphia and never got an education or learned any skills – other than debt collection and fighting. His luck changed after Apollo Creed, the World Heavyweight Boxing Champion at the time, lost his opponent to an injury and offered to fight someone local instead. He eventually decided on Rocky "The Italian Stallion" Balboa as an opponent and the story of the ultimate underdog had begun – Rocky Balboa was soon to become a household name.
Rocky goes on to give Creed the fight of his life, which leads to epic matches with numerous other opponents over the many sequels of the movie. Every movie eventually paints Rocky as the long shot, and details the hurdles he has to get over on his way to glory. The story unfolds to reveal more about his girlfriend Adrian, trainer Mickey, and the friends and foes he meets along the way. Over his illustrious career Rocky fights for pride, he fights for revenge, and he fights for his country. It really is one of the most beautiful stories to ever come out of Hollywood.
This game is all over the road in regards to storyline, and trust me when I say that that's a good thing. It takes the best parts of each of the first four movies and sprinkles them throughout the game. For example, from Rocky IV we get the gray and red boxing gloves from the movie poster and of course, the Russian beast Ivan Drago.
Anyway, if this has all been too much for you to keep track of, the main thing you need to remember about this story is that "Rocky ain't no bum".
Unique Symbols
I am a huge fan of the unique symbols that Playtech chose for this slot because they're totally different to what you would find in most games. This is primarily due to the letters for Rocky's name being used as reel-filler instead of the old Jack/Queen/King/Ace, and this totally makes the game his. It's probably one of the best symbol ideas I've ever seen in an online slot.
When it comes to symbols of characters from the movies, the game's designers went all out and brought you the best of the best, regardless of which Rocky film they were actually in. This was another fantastic decision by the crew at Playtech, and I honestly think that that they outdid themselves with this game.
The only thing that the crabbiest of reviewers could criticize is that there's no Burgess Meredith as Mickey Goldmill, but I'm choosing to ignore that due to the excellence of every other symbol. And I don't think anyone will notice that there's no Hulk Hogan as "Thunderlips".
R
O
C
K
Y
Adrianna "Adrian" Pennino (Talia Shire)
Paulie Pennino (Burt Young)
Clubber "Southside Slugger" Lang (Mr. T)
Ivan "The Siberian Bull" Drago (Dolph Lundgren)
Apollo "The Master of Disaster" Creed (Carl Weathers)
Robert "Rocky The Italian Stallion" Balboa (Sylvester Stallone) (Wild)
Italian Stallion Logo (Scatter)
Gray Boxing Glove (Bonus)
Red Boxing Glove (Bonus)
It should come as no surprise that the highest paying symbol in the game is Rocky himself with a whopping 10,000 coins for 5 of a Kind. Next is Apollo Creed with 1,000 coins, and Ivan Drago with 800 for five across the reels. Clubber Lang weighs in next with 500 coins for five in a row, and Adrianna Pennino, and Paulie Pennino finish off the top symbols with 300 each.
Jackpots
There isn't a Rocky Slots Jackpot, so if you're searching for one you might as well throw in the towel now. You'll have to fight your way to fame and fortune the old fashioned way – just like The Italian Stallion himself.
Bonus Rounds
If you get the Gray Boxing Glove symbol on reel 1 and the Red Boxing Glove on reel 5 in the same spin it will trigger the "Boxing Match Bonus", which is one of the best bonus rounds in the history of online slots. You first get to choose your opponent between Clubber Lang, Apollo Creed, or Ivan Drago, and then you're sent into the ring.
This fight is scheduled for 10 rounds of non-stop action so you'd better be ready. Each round consists of short video clips from one of the movies showing Rocky fighting it out with the opponent that you chose. If Rocky wins the round you get a cash bonus of 3x your original wager, but if your opponent comes out strong and wins the round you don't get any prizes added to your total. Every Boxing Match Bonus has a "movie script ending", and Rocky always comes out on top with a devastating knockout to end the feature.
If you're lucky enough to beat your opponent by knocking them out early you will get a cash prize for each round that you didn't have to fight, and you'll be considered as the winner of that round. So if you knock them out in the 6th round you will get a bonus for not having to go to round 7, 8, 9, or 10, and that will count as four winning rounds for you, which again is 3x your total wager each time.
Another little bonus feature in Rocky Slots is that if you spell out his name with the R, O, C, K, and Y symbols in a row on every reel from left to right you will win 5 times your total wager. This can happen in both the regular game and in the free spins mode.
Hardcore gamblers will be happy to know that there's a Double Up Feature in the game that allows you to choose between red and black, and if you're right you double whatever winnings you just won in the previous spin. If you choose incorrectly you lose your winnings and get booted back to the regular game. You can keep doubling up until you reach the maximum amount of $/£/€ 1,000, or you can cash out your winnings at any time and add them to your balance by clicking the "Collect" button.
Free Spins
The Italian Stallion Scatter is a symbol that you will want to see as much as possible because if you nail 3, 4, or 5 of them in a spin you'll get 15, 20, or 25 free games with a 2x multiplier. While freerolling the game adds extra Rocky Wild symbols to the reels so you really have a good chance of stacking up some nice bonus wins.
Rocky never quit in the ring and neither do his free games – if you hit 3 or more Scatters again while free spinning you will win another 15 free games that will be added on to your total. The game says that this can be done "infinitely" but I think that it's more reasonable to say that "there's no maximum". However, if you ever do find yourself caught in an infinite Rocky Slots Free Games continuum that has been going on for 12 hours or more, please contact me… or your family physician.
Graphics
With video clips such as Rocky telling Adrian, Wish me luck – I'm gonna need it, this game takes you to places that you never even knew you wanted to go. Clubber Lang pointing and screaming, Hey Fool! You ready for another beating? You should have never came back! is another example of this, and there are tons of other movie clips throughout the game that add to the extremely fun experience.
Win, lose or draw, every spin of Rocky Slots looks fantastic with all of the symbols designed beautifully, and all of the graphics for the reels being immaculate. And when you do hit winning paylines all of the game animations are awesome, with Playtech including the perfect amount of visual effects on each symbol.
Audio & Soundtrack
The game's creators continue to impress with the audios they chose to include. The sound of the reels spinning is a speed bag getting worked over at a boxing gym, and I think I have to say that this is one of the most imaginative reel audios I've ever heard in a slot.
The song in Info Mode is taken straight from one of the original movies and has a strong '80s feel to it. My only criticism with it is that the sample loop is too short and it only plays a small portion of the song, which can obviously get quite annoying after a while. However, the song that plays during Free Spins Mode is a sassy little jam that will have you bouncing in your chair and flashing back to the early '90s.
Lastly, super fans of the films don't need to worry…yes, if you play long enough you will eventually hear Drago say, "I must break you."
Conclusion
Everybody loves you when you're the champ, and this outstanding game from Playtech is the undisputed Heavyweight Champion of movie-themed slots. They really set a high bar for quality with Rocky, and this is even more shocking when you consider that the game is already a few years old now.
Whether you're a fan of Rocky himself, the original movies, or just enjoy boxing in general, you will definitely want to spar a few rounds with this game. And with one of the best bonus rounds ever, fantastically unique symbols, and tons of free spins, this is a slot that even casual players will want to check out.
I think a quote from Mickey explains it best, if you end up giving this slot game a chance you're gonna eat lightnin' and you're gonna crap thunder! Well, maybe you won't feel that good, but you know what I mean.
So don't trade your passion for glory – give Rocky Slots a spin and rise up to the challenge of your rivals.
Bonus Video of Rocky
There's only one video that can end a review of a Rocky Slot game that features Drago, and that's the official song for Rocky IV, "Living in America", by the Godfather of Soul, James Brown. This is hands-down one of the best made-for-movie songs ever released. In fact, you could say that it's a "knockout"…sorry, I couldn't resist…