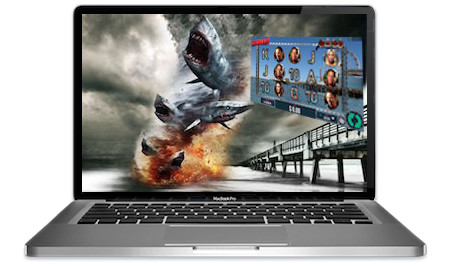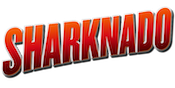 Look up in the sky! It's a bird, it's a plane…it's a Sharknado? You'd better grab your chainsaw and get ready to defend the drylands because enraged sharks have arrived and they're hungry for human flesh…and your bankroll.
Great Graphics
Original Cast Members
Fun Bonus Features
---
---
Review of Sharknado Slots
I think we an agree on two things: 1) we can't be too judgmental when it comes to an online gambling game that's based on a B movie about tornados full of sharks and 2) it's great to see Ian Ziering working in film again. That last one definitely makes us Beverly Hills 90210 fans very happy, so for these reasons I kept an open mind going into this one and what I found was quite surprising.
Many people are still confused on exactly how the movie Sharknado came to be. Who the heck thought of it? Who funded it? How many studio execs agreed that it was a good idea? However, none of those questions really matter: the only thing that does matter is that it's created a rabid cult following and has set the bar so high for "ridiculous disaster movies" that it's hard to imagine that it will ever be topped in our lifetimes.
Since people either love or hate this movie, I'm going to assume that if you're reading this review you're one of the people who loves it and you don't need the science explained to you about how it is very possible that a Sharknado could actually happen in any costal city in the United States. Sure there were lots of eye-rolling scenes but I actually like those types of movies and I was giggling the whole way through so I'm all in on this strange tale of the world's craziest natural disaster.
This exclusive review of Sharknado Slots will examine every detail of it to explain why it deserves a bite of your bankroll and why we gave it such a high rating.
Screenshots
This release was beautifully designed by the creative team over at Pariplay as you can clearly see from the screenshots below. They chose to use transparent reels so you could fully appreciate the intricate backgrounds, which was definitely the right decision since there's so much going on behind the scenes at all times.
Everything is extremely detailed so don't be surprised if you catch yourself gazing off into the distance more than once. Click to enlarge the images and really drink up the beauty.
Storyline
Some may say that the plot of this film is ridiculous but who really cares what other people say? There have been tons of movies released with crazier plots than this one, (like the time they made a robotic policeman out of a dead human and some scrap metal), so there's no way that this particular story can be labelled as "too farfetched".
It's simple: a large cyclone touches down on Los Angeles and sends water spouts all across the city filled with hungry and (understandably) angry sharks. The recently displaced sea creatures feel like most new arrivals to Los Angeles and are furious with what they find there so they attack any human that's close enough to sink their teeth into.
The movie follows unlikely hero Fin Shepard and his friends Nova, George, and Baz as they navigate the shark-infested streets in search of family members and other survivors of the deadly waterspouts. They are primarily in pursuit of Fin's wife who has left him for another man and their two children but they run into countless finned obstacles along the way. Finally the group concocts a plan to save the day and rid the city of its unwanted guests and the vehicles by which they arrive: the Sharknados.
This release from Pariplay recounts the horrific tale through symbols of the original characters, bloody carnage, and of course, deadly waterspouts. Although they never go deep into the original storyline of the film, everything comes together to do a great job of reenacting the confusion and terror of being attacked by sharks on dry land.
Unique Symbols
This machine would have certainly benefited from one or two more characters but perhaps that's being too fussy. The only other person that diehard fans would have really wanted to see would be Jaason Simmons' character of Baz, so we can probably agree that Pariplay gave us enough to work with: yes Jaason spells his name with 2 "A"s, it's not a typo.
The reels look nice and balanced with these images scattered over them:
10
J (Jack)
Q (Queen)
K (King)
A (Ace)
Nova Clarke (Cassie Scerbo)
George (John Heard)
Fin Shepard (Ian Ziering)
April Wexler (Tara Reid)
Bloody Orange Chainsaw (Free Spins)
"Wild" (Wild)
Hammerhead Shark (Wild)
Great White Shark (Wild)
Beauty wins over brawn and April awards the most with 1,500 coins for five across the board. Fin then swims in with 1,000 for 5 of a Kind, with George and Nova following with 600 and 400 coins respectively for the same. Some might find having 3 different Wild symbols confusing but there's no difference between them and they all do the same thing.
Jackpots
You're not really looking for a Sharknado Slots Jackpot, are you? You should just be happy that you haven't ended up in the belly of a Great White yet. However, unfortunately Pariplay decided not to offer a big cash prize.
Bonus Rounds
Most people will be very excited to see what Pariplay has come up with for a bonus round but sadly there wasn't a proper special feature included. It's a damn shame because if there was one it really would have elevated it to the top of the list of horror movie slot games that have been launched over the last decade.
Thankfully, there are a couple of cool reel extras, with the most explosive being "Fin's Random Wilds". This is when a normal Wild triggers a Sharknado that spurts up from the ocean and a helicopter zooms in to defend the coast by dropping a bomb on it. If the chopper misses its target an angry shark will jump up and swallow the bomb, but if it's a direct hit it will blow it up and scatter Wilds randomly across the board that will stick around for one turn.
Another great reel feature is the "Sharknado Mode Mini Bonus Game" which will give you a 2x, 3x, 4x, or 5x multiplier on all of your wins for a random number of spins between 5 and 12. It of course arrives courtesy of a violent waterspout that sweeps across the reels, changing all of the normal characters into screaming versions of themselves with blood splattered behind them. Both the multiplier amount and the number of gratis games is totally random, just like the locations of real-life Sharknado attacks.
Free Spins
There is a fantastic freeroll area called "The Free Spins Dessert" that comes with a unique background, hilarious animations, and a hard-rocking punk tune. The Bloody Orange Chainsaw is what triggers the action and you will get more spins the more of them you hit.
3 Chainsaws: 5 to 10 Spins
4 Chainsaws: 11 to 15 Spins
5 Chainsaws: 16 to 20 Spins
You will be rocking out in the action-packed badlands until your freebies run out and unfortunately you can't re-trigger them while you're rolling. Oh the humanity!
Graphics
The graphics are definitely one of the strong points here and it's obvious that the software developers spent a very long time designing the special features and the backgrounds. The creative team at Pariplay really deserve some recognition because this machine is extremely detailed, right down to the chilling eyes of the hungry Great Whites.
There are tons of small effects that all add up to deliver a visually-appealing experience, like the nice blood-spattering effect on the symbols, and when the blade on the Chainsaw rotates whenever it lands on the reels. Also, when certain things are triggered a Sharknado blows all of the symbols off of the reels, scattering them whimsically all over the screen. As mentioned above, the strong winds can also change all of the characters into frightened images with blood behind them, with their faces going from "worried" to "terrified" in an instant.
The animations really get cranked up a notch when you see the helicopter flying in from the side of your screen to finally drop a bomb on the sharks that have been creepily swimming around in the waters behind the reels. You will have a perfect view of the action since Pariplay made the wise decision of making the reels transparent, which both allows you to see the awesome backgrounds and gives the symbols a nice "floating effect". There are a total of three unique ones, all of which are extremely detailed and do a great job of defining the different areas you'll visit throughout the action.
However, out of all of the amazing graphics here here's none better than the chainsaw opening the shark belly to reveal bundles of cash for a Big Win. It's both ridiculous and profitable, and it will have your eyes rolling with delight.
Audio & Soundtrack
The main soundtrack is a slow electronic tune that will creep you out and conjure up memories of Freddy Krueger and Jason Voorhees. With dramatic drum blasts and spooky synths that creek and moan, it does a fantastic job of setting a horrific mood while you play. Also, the music gets very loud and intense when the bonus spins are triggered and a chainsaw revs every time you hit the button.
Regarding the other audios, there's an electric guitar that squeals for big wins that will either pump you up or scare the bejesus out of you. It cuts through the soundtrack like a chainsaw through butter and it sounds just as aggressive as the sharks that you're trying to kill. Smaller payline wins are highlighted with the slicing sound of opening a shark's belly with a machete.
The absolute highlight of the soundtrack is the Ramones-inspired punk song about Sharknados that plays during the free spins mode. It will have you tapping your toes and flashing back to CBGBs with its simple guitar riffs and uptempo beat. The jam was recorded by a band named "Quint" that hasn't really done much before or since.
Side note: since there probably won't be a unique release specifically for Sharknado 4 for us to review, let's take the time now to state how shocked many Gen Xers will be that The Offspring actually recorded the theme song for that instalment of the movie series. We were wondering what those guys were up to…
Conclusion
I'm the first one to admit that I had serious doubts about how good this machine was going to be – it seemed like it would probably just be a quick cash grab by a software company trying to take advantage of the hype. The whole thing just smelled fishy, (pun intended), but I really couldn't have been more wrong.
This game is a ton of fun thanks to its many bonus features, fantastic graphics, and silly splatter-house comedy. When you add in the awesome regular mode soundtrack and Sharknado-inspired punk jam, it's easy to say that this is one of the better movie-themed titles to come out over the last few years…and again, yes it's shocking to be saying that. Who knew that Pariplay and Ian Zeiring had it in them? Clearly we didn't.
For those of you who've never seen the movie, you just have to believe that cute, shark-filled waterspouts that can actually kill an entire city are totally awesome…so this has to get two thumbs up on principle. It's as fun as it is ridiculous.
So don't just sit there waiting for sharks to rain down on you – go give Sharknado Slots a little nibble of your bankroll and get them before they get you. You'll be happy that you did. Enough said!
Random Video of Sharknado
Here's a super cool behind the scenes look at the making of the first Sharknado movie featuring interviews with all of the stars and detailed explanations of how they did some of the special effects. It's actually quite impressive…