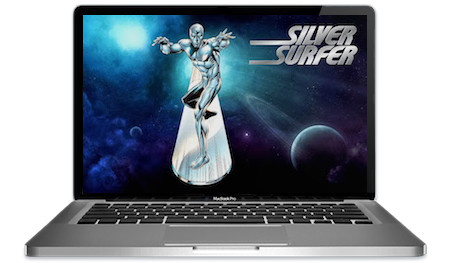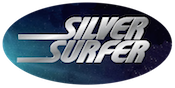 Now you can team up with the alien who came to destroy Earth in Silver Surfer Slots and grab cash prizes as you help him defeat his enemies. It's time to travel through space and boost your bankroll in this Marvel classic.
Super Cool Character
Campy Graphics
Low Betting Max
---
---
Review of Silver Surfer Slots
For many comic book fans Silver Surfer has always been one of the coolest characters in Marvel, even though it seems like there were always at least 10 superheroes ahead of him getting more attention. Sure it's hard to compete with the likes of Spider-Man and Wolverine but a faceless dude from space who rides a surfboard? Come on, that's pretty tough to beat!
However, in the attempt to possibly save you some of your bankroll, please let me say right from the beginning that I really don't think that this game will appeal to anyone who is not already a huge fan of the Silver Surfer comic books. Yes, the colors and images are beautiful but there are other real money slot machines that look great and will have a story that is much more interesting. This release just doesn't have enough to keep non-fans entertained for longer than a few minutes.
So now you know that this expert review of Silver Surfer Slots is being written with the assumption that you are already a big fan of him. Unfortunately, it might be these same fans that the game upsets the most. Lets look at why…
Screenshots
As this title was released many years ago, it's definitely starting to show it's age as you can see from the screenshots below. That said, the images also prove how cool it looks in regards to the colors and backgrounds. It really is strange how a machine can look "clunky" while also looking "crisp", however, that's what the Surfer is bringing to this party.
Storyline
Throughout the years Earth has been invaded by many different aliens but none have been as cool as the Silver Surfer. Most casual fans don't realize that he originally came to Earth to help destroy us when he was working for Galactus, the evil embodiment of a cosmos who feeds on planets with sustainable life. Originally arriving to help kill the planet, he eventually took pity on us humans and ended up defending our world instead.
Formally known as Norrin Radd from the planet Zenn-La, the junior astronomer was able to spare his home planet from Galactus on the condition that he worked for him and traveled the universe looking for other planets for him to devour. In order to aid him on his searches, Galactus gave the Surfer a small bit of his "Power Cosmic" which gave him his metallic skin and the ability to travel through space faster than the speed of light…on top of his sweet surfboard, of course.
When Silver Surfer stumbled upon Earth he "pulled a 180°" on that board and totally changed his ways and rediscovered his character and sense of decency. This was all due to the intervention of the Fantastic Four, thanks, Mister Fantastic! After learning of the epiphany, Galactus was so enraged that he banished the Surfer to Earth forever, where he remains to this day.
This title from Cryptologic draws upon some general images from the Silver Surfer comics, as well as a few of the villains to get you in the mood for the space action. Then the Surfer glides across the reels pulling tricks and handing out payline wins, presumably in an effort to distract you from the fact that this is as far as the story goes, which is obviously a huge disappointment.
Unique Symbols
Any machine that does not use the old 10, Jack, Queen, King, or Ace for symbols is off to a great start. The game developers made the wise decision to scrap those tired ones in favor of some images from the comics and true fans will definitely appreciate the effort. Here's what they added:
Galactus
Thanos
Silver Surfer's Surfboard (Toomie)
The Infinity Gauntlet
Blue Super Nova
Orange Super Nova
Asteroid
Sakaar
Earth
Zenn-Laa
Silver Surfer Logo (Scatter)
Silver Surfer (Wild)
It's only fitting that the biggest villain in the cosmos gets the biggest payout in the game, so Galactus dishes out 3,000 coins for five on the board. This is followed by Thanos who awards out 1,000 coins for 5 of a Kind, and then Toomie and The Infinity Gauntlet give you 100 coins for the same.
Jackpots
Like all Marvel online slots, Silver Surfer is linked to the Marvel Jackpot Network. This means that it can go off at any time while you are playing without warning. There is a time limit to flip the squares that will determine your prize amount in this Pick Em' style round, so pay attention to your computer if you have it on auto-spin. There would be nothing worse than triggering it and not being able to choose your own fate! (Well, if you lost, of course.)
Bonus Rounds
There isn't a legitimate bonus round in this machine and the only action comes from the Re-spin Feature that is outlined below: this is definitely where Silver Surfer Slots loses the most points. How in the world could they not come up with a cool special feature considering the characters and storylines that they had to work with? As the kids all say today, this was an "epic fail".
Free Spins
Getting into free spins mode in this game occurs in kind of a weird way. You have to hit Silver Surfer on reels #2 and #4 but without Galactus falling on #3. Once triggered, the Surfer Wild will expand to cover all three spots on reels #2 and #4 to give you extra cash winnings.
One of the criticisms you could have about the Re-spin Feature would be that you never know how many free spins you are going to get in that round. This is because you only get re-spins until Glactus shows up anywhere on reel #3, which could obviously happen at any time. Some players will probably find this mystery an exciting element but others will definitely prefer that they know the amount going in.
Graphics
It can easily be agreed that the graphics and animations in this title are somewhat "basic", however, most would have considered them pretty cool at the time it was released. That compliment aside, there is still no ignoring the game's age when you're playing it.
The visual effects when the Surfer landing on a payline win and throwing an energy ball is alright, as is when Galactus charges up with energy before paying on a win. Perhaps this is just some "Pro Surfer Bias" seeping into the review and leading to forced compliments, though.
Audio & Soundtrack
The audios are about as basic as you can get and sound like an old Intellivision video game. To be honest, they do get annoying after a while so you should make sure you know where your mute buttons are located or just take lots of breaks to ensure that you don't get burnt out on it.
There's really nothing outstanding either way with any of the other sound effects.
Conclusion
Well guys, we tried to stay positive – sorry it didn't work out. Like we said in the beginning of this review, it's probably the true Silver Surfer fans that this game will disappoint the most. And boy does it really disappoint.
With no bonus rounds, zero special features, and an unknown amount of free spins awarded, this title is a huge letdown. Rabid fans of the comic will of course find enough to like to justify playing it for a while but even they will end up abandoning it and flying to another cosmos.
So to quote the Surfer himself, "Let my board and me again become as one! For I must leave this place of madness!"
Yup, on to the next game…
Random Video of Silver Surfer
Well you probably know by now how much we love these Youtube videos by CinemaSins. They breakdown everything that was wrong in a particular movie, with a focus on films that are adapted from comic books.
So here's their hilarious take on everything wrong with Fantastic Four: Rise of the Silver Surfer. There's going to be a little light cursing so make sure the kids aren't around when you play this. Enjoy!