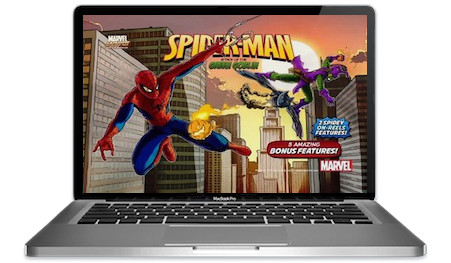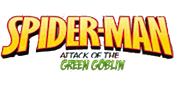 Spider-Man Attack of the Green Goblin Slots
The sickest super villain in the Marvel Universe is back to shower NYC with pumpkin bombs, and now you can help Spidey battle him in Spider-Man Attack of the Green Goblin Slots and collect cash prizes along the way.
Five Different Bonus Rounds
Non-Stop Action
Marvel Mystery Jackpot
---
---
Review of Spider-Man Attack of the Green Goblin Slots
Out of all of the villains in the Marvel Universe, the creepiest, craziest one of them all has to be the Green Goblin. His level of insanity and willingness to blow up anything and everything must push him to the top of the list of people you just don't want to mess with. He is an enemy that can't be reasoned with.
As a child I was actually quite scared of the Green Goblin and didn't want to read any of the Spider-Man comics that he was featured in. Just his creepy face alone was enough to give me fits. Of course as soon as my brothers found out they made sure to terrorize me with his picture and chase me around the house with comics as often as they could.
So I will try to keep any horrific childhood flashbacks from tainting my review and present my findings objectively. After all, I'm an adult now. I'm over it. I think…
Screenshots
The designers of Green Goblin did a great job giving this game a "comic book feel" with its graphics and animations. The colors are really sharp as the reels spin over the beautiful city at night, and the whole scene does a great job of transporting you straight into the Marvel Universe.
As you can see from the screenshots below, this is visually one of the best Spider-Man slot games ever released.
Storyline
As with many comic book characters, the Green Goblin has in fact been a few different people throughout the years. Originally it was Norman Osborn, the sinister head of Oscorp, which was the chemical company that created the spiders that bit Peter Parker and originally turned him into Spider-Man. Unfortunately, Norman drank an experimental formula that gave him fantastic mental and physical skills, but turned him criminally insane in the process. What a pity!
In the 2002 movie starring Toby Maguire, the story takes a sad turn: after battling Spider-Man and killing his girlfriend, the Green Goblin is then killed by a rage-filled Spidey. However, this only serves to spawn a new Green Goblin – Norman's son Harry Osborn, who just happens to be good friends with Peter Parker. Talk about awkward.
This slot ignores the deeper relationships between Spider-Man and the Green Goblin, and focuses on their battles and hatred for one another. This plays out over different bonus areas and game features that you will visit throughout the course of the game.
Unique Symbols
I was shocked to see that Attack of the Green Goblin Slots utilizes the worst symbol in the world – the dreaded 9. They could have used the Goblin Glider, a web, Norman Osborn, or any of the tons of other images that are synonymous with the Spider-Man Universe.
It's really too bad because the symbol design in this game is amazing – why not go all out? Using a 9 has to be one of the most unnecessary mistakes that casino software companies still make to this day.
9
10
J (Jack)
Q (Queen)
K (King)
A (Ace)
Camera
New York City Skyline
Daily Bugle
Green Goblin
Mary Jane Watson
Spider-Man Symbol (Wild)
Spider-Man (Bonus)
You will want to be on the hunt for Spider-Man Wild symbols because 5 of Kind pays 10,000 times your line bet. The payouts then drop off significantly with Green Goblin giving you 1,000 coins for 5 in a spin, and Mary Jane Watson giving you 300 for the same. This really isn't a big deal because you make most of your money in this game during the bonus rounds.
Jackpots
As with all newer Marvel Slot Games, Spider-Man Attack of the Green Goblin is a part of the Marvel Mystery Jackpot network. This means that at any time during the regular game you can be whisked away to their jackpot area where you will be asked to flip over squares until you have matched three of the same. You will then win the corresponding jackpot prize of "Power", "Super Power", "Extra Power", or "Ultimate Power", with this last one sometimes being more than 6 figures when it goes off.
Marvel and Playtech say that the more money you wager on each spin, the better your odds become to hit their progressive jackpot. At this time, I don't have anymore information on this so I cannot confirm or deny the claim.
Bonus Rounds
The action really is non-stop in this title due to the whopping five different bonus rounds in Attack of the Green Goblin Slots. Where you go each time is decided by the "Spider-Man Collection" feature which displays five comic books that spin quickly until you hit the "stop" button. You will then go into whichever bonus feature that corresponds with the comic book that the arrow stops on.
The five different bonus rounds are totally unique, with three of them technically being free games modes:
Radioactive Free Games
Hot Zone Free Games
Rivaling Free Games
Spider-Man: City Chase
Spider-Man: Ultimate Fight
The City Chase Bonus Feature has Spider-Man chasing the Green Goblin around New York City, swinging from building to building, and each time he catches up to the villain he has the opportunity to shoot a web at a bag of cash. You choose which one Spidey shoots and you then win the cash prize that was hidden in the bag. The game then reveals all of the other prize amounts being before you move on to the next stage so you can kick yourself if you didn't choose the biggest amount.
During this particular bonus round you can pick up "Spidey Sense" coins that will allow you to see the prize amounts in each bag before you make your selection, or you could get the "Hazard Spidey Sense" that will help you steer clear of the dreaded "Collect" bag that would end your round. Only the Collect bag or hitting the maximum amount of 10 rooftops will end the bonus action and take you back to the regular game.
The Ultimate Fight bonus round sees Spider-Man battle the Green Goblin in an ancient Greek-style ruin on top of one of the city's skyscrapers. Before each attack you must choose one of the five Web symbols which will decide who attacks, what the damage points will be if the attack succeeds, and the prize amount for that specific attack. Spider-Man racks up bonus cash every time he gets to attack Green Goblin, with the round ending once one of the characters runs out of bars on their health meter.
You each start with 20 bars of health and if you choose the Web symbol that recharges Spider-Man he gets 6 bars of health back. If you're lucky enough during the Ultimate Fight to choose 3 Web symbols that give you three Spidey attacks in a row, he'll deliver a Super Combo Strike to Green Goblin that will give you 3x your wager for every health bar you take away from him. And if Spider-Man wins with his energy bars full, all of your bonus cash winnings will be multiplied by 5. But watch out because if you choose poorly and Spidey gets whooped, you might not receive any prizes whatsoever.
The Spidey Snapshot Feature can come at anytime during the regular game and will result in you winning anywhere between 3x and 10x your total wager. Spider-Man simply drops from the top of the screen in front of the reels where a camera takes a picture of him. The photo is then published on the front page of the Daily Bugle, who gives you a cash bonus as a payment for the scoop.
Lastly, there is a "Spider-Man Wild Feature" that also arrives at random anytime during the normal game thanks to Spider-Man Bonus symbols falling on reels 1, 3, and 5 in the same spin. Spidey then appears and shoots cobwebs at the reels to turn either two, three, or four symbols into Wilds for the next spin, which will of course increase the amount of cash that you will win. This bonus can still be triggered even if a Wild symbol happens to cover a Bonus symbol during the process.
Free Spins
As mentioned above, Green Goblin Slots only allows you to win free spins through its bonus rounds, with three of the five different features awarding you with free games: Hot Zone Free Games, Rivaling Free Games, and Radioactive Free Games.
In Radioactive Free Games a radiation-filled spider will become the Wild symbol and every time it lands on the reels it will crawl off to "infect" another symbol on reels 2 and/or 4, and turn it into a Radioactive Spider Wild too. Unfortunately it only appears on Reel 3, but at least you get 15 free spins to play with.
The Rivaling Free Games feature can be as exciting as it is profitable. You start off with 10 free spins and then if a Spider-Man symbol falls on Reel 3 he slides down and shoots the free games counter with his web, freezing it and giving you unlimited free spins. That is until you hit a Pumpkin Bomb symbol on Reel 3 because that will bring out the Green Goblin who will slap your multiplier back down to 1x and resume the free spins counter so it starts to count down again. What a heartless beast!
The Hot Zone feature is exactly what the title suggests: you get a "hot zone" of a square consisting of 4 symbols and if a Goblin or Wild symbol lands there in the next 3 spins they'll lock into place until the feature ends…courtesy of Spider-Man shooting his web over the symbols to make them sticky. During this feature Green Goblin simply acts as a second Wild which gives you a 2x multiplier on all of your winning paylines. You get a generous 20 free spins from this feature, which makes it one of my favorite parts of the game.
Oh, and if the counter is already frozen and you hit more Spider-Man symbols on Reel 3, Spidey will simply slide down and shoot the multiplier number in the top left corner of the screen to increase it each time, so he's dishing out prizes at every turn. Of course you can't get too excited because that multiplier gets whacked right back down to 1x as soon as a dreaded pumpkin bomb arrives on Reel 3.
Graphics
This Marvel slot has a fantastic intro sequence that quickly outlines the background between Spider-Man and Green Goblin using nothing but still images to tell the story. This sequence really does a good job of setting the tone and building your excitement to play the game. Another great set of graphics that helps to pump you up are the ones before every bonus round, which are done in the style of moving comic book pages.
The visuals in this game really excel during the bonus rounds, with the City Chase Bonus being my particular favorite. This is the feature where you swing from building to building chasing the Green Goblin, stacking up bonus cash as you go. The imagery as you swing through the city is totally fluid and basically the whole scene looks like an animated movie. It's hands-down one of the best visuals I've ever seen in a slot game.
There's also a crazy Turbo Mode feature on offer that spins the reels at an insanely quick pace, and even then the symbols flying by look great. All of these facts add up to why I gave Green Goblin Slots almost perfect marks for graphics.
Audio & Soundtrack
The game's introduction song gives you goosebumps of anticipation for the action that's about to unfold. It's slightly creepy and then it breaks into a profound build up with strings and a steady beat – it's just like the beginning of an action movie. The same song is played whenever you're in Info Mode, as well.
In addition to the soundtracks there are spoken audios in this game as well. For example, in the beginning of the game an authoritative voice says, "Spider-Man VS. the Green Goblin!". Later he shouts, "Spin to win!" every 20 seconds if you're not spinning the reels. This obviously gets annoying if you've taken a break from the game and walked away from your computer for a minute.
Speaking of annoying audios, if you choose to play this game with the Turbo Mode engaged, I would highly suggest turning off the game sounds. They really get annoying because they're dropping very fast and the sound effects don't change to accommodate the speed, so the noise could easily give you a headache. It certainly gave me one.
All of the other audios are just fine, such as Spider-Man dropping down from the top of the screen, webs shooting, pumpkin bombs exploding, etc. It's just those darn Turbo Mode sounds that will probably bother you.
Conclusion
Without question, Spider-Man is one of the best superheroes to ever grace the pages of a Marvel comic book. He's young, he's cute, he has cool powers, and he's never left without a funny wisecrack when he's busting the bad guys. This slot from Playtech did a great job of capturing the spirit of Spider-Man, and every fan of the web-singer who plays this game will see exactly what I mean.
The bonus rounds and free games are insanely cool and tons of fun, and it's one of those extremely rare slots that's hard to get bored of playing. There's just too darn much going on, and the crazy game features will keep even the most distracted players engaged and excited.
So if you love Marvel Comics, Spider-Man, Green Goblin, or just fun slot games in general, you'll definitely want to swing over and give this game a try. You won't be disappointed.
Bonus Video of Green Goblin
In my opinion, it's all about the original cartoon from the 1960s that set Spider-Man apart from the rest of the superheroes out there. Lets take a quick stroll down memory lane to see one of the first on-screen appearances of the Green Goblin. Enjoy!