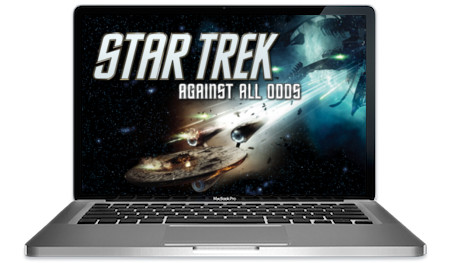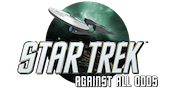 Star Trek: Against All Odds Slots
One of the greatest franchise reboots in history is here with Star Trek: Against All Odds Slots and this is an adventure you don't want to miss. With wild bonus features and all your favorite characters, you'll want to engage.
A whopping 720 Paylines
Interactive Bonus Round
Excellent Graphics
---
---
Review of Star Trek: Against All Odds Slots
Space…the final frontier…you know the rest. The original Star Trek was one of the greatest science fiction television shows ever produced, with the amazing characters of Captain Kirk, Scotty, Chekov, and the Vulcan Mr. Spock. Fans of this franchise are diehards so it's not at all surprising that there was a reboot a few years ago and that a movie-themed gambling game was quick to follow. What is surprising however, is that it's almost as cool as the film.
Let me admit that I was a huge fan of the original Star Trek television show in the late 1960s and the subsequent movies in the 1980s. I don't care how many times the joke was made, James T. Kirk's acting was not that bad! Yes he had a certain cadence to his delivery but that just made the character more interesting.
Now that that's out of the way I'll go ahead and admit that I begrudgingly gave this reboot a try and surprisingly I wasn't disappointed. They succeeded in making their own mark on the franchise while staying true to the original characters so if you haven't seen the movie yet you should probably wait to play this because you won't understand the plot or the film clips. However, if you're the type of person that doesn't care about that stuff, fill your boots!
This expert review of Star Trek: Against All Odds Slots will be critical of every aspect of it in order to conclude on an honest rating.
Screenshots
There's really no way to describe how cool this release is without visual aids so here are some screenshots that will show you what's going on. These images are only the tip of the iceberg of what it has to offer and the special effects are literally out of this world. (Pun intended.)
Storyline
The story of Against All Odds follows Spock and Captain Kirk as they search for "Red Matter" which appears to be on board the captured Vulcan ship, Jellyfish, as well as the Romulan ship, Narada. Red Matter is a substance that can create black holes anywhere in the universe so it is of vital importance that it's in the hands of the Starfleet and not their enemies.
Upon finding the Red Matter on the captured Vulcan ship, Spock and Captain Kirk seize it and attempt to escape via warp speed, however, it fails and the Romulans therefore have an opportunity to catch up to their ship. Luckily, the Starship Enterprise appears just in the nick of time and destroys Narada, allowing Spock and Kirk to escape with the Red Matter and save the day.
This release from IGT sticks to the story and provides lots of escalating action that follows the plot from the film. You're giving us all we can handle, captain!
Unique Symbols
All of the symbols for Against All Odds are taken directly from the new Star Trek Universe and all of the important aspects of the film are represented nicely. The paylines offer bidirectional wins so you can make money going backwards or forwards.
Phaser
Romulan Disruptor
Vulcan Ship
Enterprise Defender
Montgomery "Scotty" Scott (Simon Pegg)
Pavel Chekov (Anton Yelchin)
Spock (Zachary Quinto)
Captain Jams T. Kirk (Chris Pine)
United Federation of Planets Logo
The Transporter (Wild)
Red Matter (Scatter Symbol)
The Wilds are the Transporter, which will substitute for any other symbol except for The Enterprise and Red Matter since those two are the Scatters. Two or more of them become Wild thanks to the "Energizing Wilds Feature" which certainly helps you to stack up wins and collect cash as you go.
Also, if you hit the Stacked Wilds you have a great chance to grab huge payouts but that's to be expected when you're playing 720 lines! The fact that covering all those lines only costs 60 coins a spin is the sweetest plum of them all. Also, it should be noted that Stacked Wilds only appear on the middle 3 reels of the machine.
It's all about the Federation, so it's no surprise that it awards the most with 1,000 coins for five in a row. This is followed by Kirk, Spock, Chekov, and Scotty who give 500, 300, 125 and 100 coins respectively for 5 of Kind.
Jackpot
Unfortunately, there aren't any jackpots in this particular Star Trek game but to be honest, with 720 paylines, the amount of free spins that seem to come, and the craziness of the bonus rounds, most people shouldn't miss it. This has more than enough ways to win already.
Bonus Rounds
There is a pretty intense special feature included called, "The Enterprise Defender Bonus Round" that will have you banging on your keyboard like a Tribble in trouble. It is triggered when you hit five Enterprises in a straight line and you are then brought to a video game screen similar to an Xbox or Nintendo. Here you are under attack from Romulans so you must fire lasers from the Starship Enterprise to defend Spock's ship against the attack that lasts for a little under a minute.
The mother ship is barraging the Enterprise with bombs which take the shield's power down a notch each time they hit it. You run your score up with every enemy artillery shell that you blow up, with missiles being worth 500 points and mini-bombs worth 100 points. All of this frantic action occurs as the clock is ticking down. Once it hits zero your final score will dictate whether or not you rise up through the ranks of the Starfleet Academy.
During Defender the more missiles you shoot down, the higher your score goes. This then increases your rank in the Starfleet and leads to higher rewards. After the battle your points are tallied to determine your rank, with a higher rank resulting in larger wins.
If you languish as a lieutenant you are taken to a spinning wheel where you can only win up to 6,500x your bet. However, if you make it to rank of commander you are taken to a wheel that can yield up to 15,000x your bet. For those who are "true of aim" and destroy tons of missiles, they will be elevated to the rank of captain and be taken to a wheel that can give out a whopping 25,000x the bets.
0 to 11,999 points = Lieutenant
12,000 to 13,999 points = Commander
14,000+ points = Captain
Don't worry if you don't have a lot of experience playing video games because the lasers that destroy the missiles fire automatically so you only have to aim the cross-hairs. This might actually be quite challenging for some so it's recommend that you have a mouse plugged into your desktop computer to make it as easy as possible.
You are then taken to the prize wheel in the engine room that is full of different bet multipliers and there is a marker on the wheel that shows you which tab is going to determine your win amount. You can be awarded with a second spot on the wheel and then you have two selections that will be added together to give you a total, which is the numbers added together multiplied by your coin value. There are a whopping 9 unique wheels in all that you can access throughout the action.
There's also a cool little extra to be had by way of the "MultiWay Xtra Feature" which gives you the chance to get bonus payouts on every spin. These are awarded when 3 matching symbols appear in any location on three reels that are adjacent to one another. These do not need to be perfectly lined up next to each other on the same row – they simply have to appear in three reels that are touching.
In addition, if you hit multiple matching ones in a single column and in three adjacent columns as well, the amounts are multiplied to give you even larger winnings.
Free Spins
Your score from the Enterprise Defender area also decides how many free spins you get on the bonus wheel, (picture the wheel from Wheel of Fortune but with Starfleet logos on it), which is actually not a wheel at all but the Enterprise's warp drive engine. You can also win extra goodies while Scotty screams at you, "I'm giving it all I've got, Captain!" With all of the noises and special effects, it's quite possibly the most intense special feature ever put into an online slot game and it will totally blow you away.
You then get a total score which is multiplied by your coin value, which in turn gives you your total prize. If you score high enough a scene from the movie plays showing a relieved crew on the bridge smiling in astonishment.
Graphics
As you can see from the screenshots in this exclusive review, the graphics are absolutely amazing. It's safe to say that IGT knew that if they released a Star Trek title based on the modern version of the film and didn't deliver high-quality visuals, fans of the movie would have been outraged.
Whether it is someone or something from the Starfleet Academy, or even Romulan or Vulcan, the image was created with all of the finest details. In addition, the footage from the movie looks to be in High Definition and appears just like it did on the big screen.
It should be noted that every time film footage is unlocked it always plays smoothly with no freezing, which sometimes happens on video clips in older gambling releases. These days it has nothing to do with internet connection speed because everyone has enough bandwidth to stream videos properly so it all comes down to the quality of the software.
Audio & Soundtrack
The music for this machine is taken directly from the soundtrack for the movie so it's very intense. It is composed by Michael Giacchino and was performed by a full symphony in Los Angeles in 2009.
However, the audios that accompany the Wilds are absolutely outrageous: they're loud, jarring, and really have no place at all. There is someone shouting, "Hold on! Hold on! Good!", followed by Chekov saying, "May I have your attention, please?!" Um – you just had it and lost it, pal.
There are also some lasers firing as well and tons of explosions and chaos – you'll probably want to turn the volume down so you don't get too disoriented or annoyed.
Conclusion
As you've read above, this release isn't for the faint of heart. Between the characters screaming, the intense sound effects, and the constant action, Against All Odds Slots is a very aggressive game. It can actually be mentally tiring after playing it for only 45 minutes or less but this will depend on what you personally find exciting.
That said, fans of the new Star Trek movies should definitely enjoy this one and they'll probably be youthful enough to withstand the constant assault on the eyes and ears. If you're looking for an action-packed science fiction slot that gets you totally immersed in the story, Against All Odds is definitely for you.
However, if you don't like continuous explosions in your face skip this one and find something else. Of course, it's worth a quick look till you at least see the special feature once.
Beam me up, Scotty – I'm ready to give it a spin!
Random Video of Star Trek
Here's a nice interview of Zachary Quinto on The Late Show with David Letterman in 2009 when the Star Trek reboot was first in theaters. Enjoy!