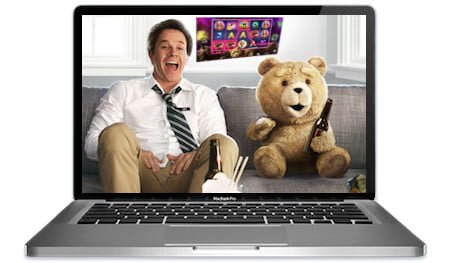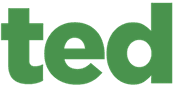 Boston's rudest stuffed animal is back to star in Ted Slots and he's drunker, funnier, and surlier than ever. Now you can join him on one of his epic benders and win cash prizes while you both go out and get blotto.
Loads of Bonus Rounds
Amazing Graphics
Tons of Reel Features
---
---
Review of Ted Slots
Audiences in 2012 were shocked by the cuddly, potty-mouthed stuffed animal named Ted who waddled onto movie screens across America making wisecracks and drinking beer with hookers. The bizarre, offensive character wowed critics and attracted people in droves, becoming the 12th highest-grossing movie of the year.
By the time I saw Ted on Netflix I had already heard about how crazy it was so I thought that I was ready for it, but it still had me shaking my head in disbelief as I watched. This teddy bear was so surly and crass…and drop-dead funny. It's obvious that a film this great deserves to have a damn good game based on it and Playtech did not disappoint: Ted Slots is very high on the list of nominees for "Best Games of the Year" and after trying it, most players will have to agree.
This absolutely goes without saying but if you're easily offended by foul language, sexist remarks, or drug usage, you should leave this page immediate and select a different machine to read about. This game is definitely Rated R.
Our exclusive review of Ted Slots will highlight all of its groundbreaking features to explain why this release is rated so high on our website and why you should try it out immediately: it literally feels like it's from the future.
Screenshots
This title is "stuffed" with action as you can see from the nutty screenshots below. Ted's either bouncing around the reels partying his brains out or taking a disco nap on the floor – there really isn't any in-between with this guy! Click on the images to enlarge them and see exactly what's going on in this depraved cocktail lounge.
Storyline
Scared children will do anything to survive a thunderstorm and John Bennett is no different. During one particularly bad spell of weather John wished that his teddy bear would come to life and a shooting star above their home made the wish come true. The animated Ted became a celebrity for a short while but then his popularity fizzled out and he finally ended up living with John in Boston.
Now the two friends don't do much besides drink beer, smoke weed, and watch TV, so it's understandable that John's girlfriend Lori doesn't like the situation and wants Ted to move out and get his own life. Then she'll finally be free to marry John and they can begin their lives together as a proper couple without the annoying teddy bear.
After receiving an ultimatum from Lori, Ted is thrown out of the apartment to work a new job and become independent, which he does, even finding a hot girlfriend along the way. Things then get chaotic with kidnappings, baseball park shenanigans, and a terrible rendition of All Time High by Rita Coolidge.
The storyline in this release is 100% Ted-focused and sadly there are no direct references to the original films or any other characters except his girlfriend Tami-Lynn. It almost feels like we're getting a glimpse into Ted's private life away from the two movies that he's starred in. We only get to hang out with him and party…so perhaps this is actually one of the best in-game storylines we've ever seen in an online slot? Well, it's certainly not the worst!
Unique Symbols
It's time to break the sad news to all of the diehard Ted fans out there: Mark Wahlberg didn't make it into the game and there are zero references to John Bennett. Yes, this is an omission of epic proportions so it's understandable if you want to just bounce right off of this page in disgust. For Christ's sakes…it's a buddy film about two buddies – shouldn't both buddies be included in the game? How can you even have a "Thunder Buddies Bonus" with only one buddy?
Sometimes online slots just don't make any sense at all. The whole thing is even more confusing when you consider that Wahlberg was in the version of Ted Slots that was released on the gaming floors of brick and mortar casinos all around the world.
Usually we would just guess that Wahlberg is opposed to gambling or something but considering the fact that he's in the other version and we've seen him sitting at ringside for numerous high profile boxing matches in Las Vegas, it's highly dubious that he's walking by those blackjack tables afterwards without laying down a few bets. The whole thing is odd to say the least.
There are a few other sad omissions to report as Mila Kunis' character of Lori Collins and Giovanni Ribisi as Donny failed to make the cut. It's too bad because they certainly would have rounded out the game nicely. Ribisi's better than a Jack, right?
J (Jack)
Q (Queen)
K (King)
A (Ace)
6 Pack of Ted Light
Smoking Bong
Tami-Lynn McCafferty (Jessica Barth)
Angry Duck
Ted Logo Super Stacked
Ted (Wild)
Thunder Buddies Bonus (Scatter)
The film's namesake is the star of this game so it's no surprise that Ted's symbol pays the most with 500 coins for 5 of a Kind, as does his Super Stacked Logo. This is then followed by Angry Duck, Tami-Lynn, and Ted Light which pay 300, 300, and 200 coins respectively for five in a spin.
You should note that you must play a minimum of $0.01 on every line each spin so the smallest bet is $0.20 to cover the 20 paylines. This is totally understandable because there are tons of bonus features that need to be paid for and Ted is one of the rare games that has select symbols that will pay you for only 2 in a payline, (Ted Super Stacked and Ted Wild).
You'll also find 2 other Wild symbols of Grocery Spin Wilds and Colossal Wilds sprinkled throughout the free games modes, which strangely have double the amount of paylines as the regular game with 40.
Jackpots
What are you, some kind of wise guy? There's no Ted Slots jackpot and you should just be happy that he's even let you into his house for a beer. Not to mention, you're going to be shocked at how many special features he's crammed into this game so a jackpot would have just been overkill.
Bonus Rounds
Ok, get ready because Ted Slots has one of the largest assortment of special features that have ever been crammed into a gambling machine. When you reach the main bonus area called the "Thunder Buddies Bonus" it will display a prize wheel in the background of the screen that's covered with five fun options: 2 sections are the free spin modes, 2 are traditional bonus rounds, and 1 is the grand prize area. This is triggered in the traditional manner of 3 or more Bonus symbols falling onto the reels in a single spin of the regular mode.
First we have the "Wheel of Fortune" which takes you straight into a public washroom with the potty-mouthed bear and a unique prize wheel. While Ted relieves himself you choose which sections of the wheel feel the luckiest and one of the following will be unveiled:
Multiplier Boost: elevates the amount of at least one multiplier on the wheel.
Spin: activates the wheel and starts the game.
Arrow: places another arrow on the wheel.
You should really be cheering for arrows because if a spin stops on one you will advance to the next section of the wheel which has larger prizes, with the outer ring of the wheel disappearing and the next section expanding outwards. Hitting a prize or a multiplier amount will end the round but if you can make your way into the middle of the Fortune Wheel you'll access the Big Money Bonus which can give you the largest prizes in the game.
It's another unique area that has Ted surrounded by a ring of multiplier amounts and rows of Sale tags hanging down from each side. The amounts then spin and stop to award you a multiple of your triggering wager. Once the free cash is added to your balance you choose 1 of the 10 Sale tags to reveal either "respin" to get another cash prize or "collect" which will end the round.
Next we have the amazing Bar Crawl Bonus which is basically just a booze-soaked Candy Land that has you out and carousing with the Tedster. To determine your path you pick 1 of the 4 beer bottles at the bottom of the screen that will reveal the number of squares that you are to move forward. As you stumble around the city-themed board most of the positions that you can land on are simply multiplier increasers but a few are squares that can either help or hurt you:
Ming's Takeaway: Reveals a random cash prize.
Girls: Increases a random number of multiplier amounts around the board.
Big Money: Issues a Big Money Chip, 5 of them triggers the Big Money Bonus.
Pizza House: Triggers a big romp around the board stacking up prizes.
Arrested: In the drunk tank you go, ending your round.
As if all this wasn't enough, you even get a redemption feature at the end once you've been arrested and you're presented with 3 Teds to pick from and one hides a "Wrongfully Arrested" plaque that will bail you out and allow you to go back to the board and keep collecting prizes as you continue your night out on the town.
Now it's time to talk about the game's impressive six unique reel features which can be triggered whenever Ted is conscious. Usually he's sleeping one off under the reels but when he randomly wakes up and comes alive a bonus bump is sure to follow and always in an entertaining way.
It's no secret that Ted has a bit of a drug problem so it's not surprising that three of the modifiers are based on him getting high and hallucinating. Some people enjoy being offered drugs by strangers and in this game you'll want to hear Ted ask, "So are we going to smoke that pot?" because that's the indication that you're about to get a little something sprinkled on your bankroll.
First we have the "Psychedelic Bonus Boost" that has Ted hitting a bong and giving a super-toke to the reels that gets them so stoned that they add a bunch of extra Bonus symbols to the spin, giving you a better chance of triggering a lucrative feature. Groovy, man.
Sometimes Ted likes to mix up what he's inhaling and will therefore opt to hit the hookah pipe, triggering a "Psychedelic Super Spin" that can pump up the prizes. The smoke he blows out carries unique Ted symbols surrounded by rainbows onto the reels which will then all change into the same symbol once the reels have stopped, usually causing multiple line wins with either 3, 4, or 5 of a Kind.
Another drug-induced feature is the "Psychedelic Colossal Spin" which is again triggered when Ted starts hauling off of his beloved hookah pipe. The special smoke again confuses the reels and this time 3 of them will completely turn into one gigantic symbol that will obviously guarantee a huge payday. This is one of the best features ever placed in a game and it's always a pulse-pounder when it's activated.
Ted also likes to over-indulge on alcohol so it's only fitting that there's a "Beer Shuffle" feature which has him violently shaking a beer bottle and spraying the reels with suds. The reels themselves then become intoxicated and start shifting symbols around on the board until they end up in some sort of a winning combination. They then drunkenly hand out free cash for multiple spins until the beer finally drips away and the last bubble pops.
It just wouldn't be a Seth MacFarlane creation without a laser gun of some type and Ted obliges every so often when he gets his butt up off of the couch to fire his space pistol in "Laser Gun Infectious Wilds". The laser beam bounces around the board turning random symbols into Wilds which of course boosts your balance as they go.
MacFarlane's productions usually critique the medium that made him rich so it's no surprise that there's also a "TV Remote Streak" that has Ted violently pummelling a television remote that makes the reels re-spin while freezing winning symbols in place. The mini freeroll continues until the win amount of the spin doesn't increase from the spin before it.
So for those of you keeping score at home, Ted Slots has an astounding total of 11 bonus features – it's a new record!
Still not satisfied? Well, there's also a Gamble Feature in this game that allows you to risk whatever bonus round you've accessed on the Wheel of Fortune in the hopes of getting a different one that has a higher average payout. As you level up, the features with lower average payouts than the one you currently have will disappear from the list. So if you continue gambling you'll finally end up with either the best-paying feature on the board or a "Mystery Win" that will give you a quick cash prize that's based on the amount of your triggering wager.
Whew! I'm ready for a drink.
Free Spins
The Thunder Buddies Bonus area can give you free spins in addition to special features and there are two unique modes on offer. First we have "Super Mart Free Spins" when Ted goes to work and straps on a red apron, supervising the entire game board that's rolling through the store on a conveyer belt surrounded by Wilds with more getting added to your reels each spin. You only start off with 5 free spins but you can add more as you make your way along the conveyor belt if you're lucky.
The second freeroll opportunity is "Flash Free Spins" which will give you a unique game board that's 5×4 with tons of bonus prizes above it such as additional Wilds, extra re-spins, and more bundles of cash. There's a unique song with a theatrical guitar that will remind you of Tenacious D, which is an homage to the Flash film, (or maybe taken directly from it).
You will go back and forth between the reels and another bonus screen that has a pyramid of prizes. There are 5 rows of items with a selector stopping randomly each time to give you one of the bonus extras and if you make it to the top of the pyramid without running out of free spins you'll trigger the "Ted Big Money Bonus" and give yourself a shot at the massive payday.
Graphics
There are lots of beautiful pastel colors used in the design of this game, which doesn't really seem like Ted's style but the glowing neon certainly reinforces the theme of "single's lounge". There really is a rainbow of color on every screen with each special area feeling warm and cheery.
The main graphical strength in this title are the animations of Ted because they're absolutely amazing. Sometimes he'll sleep under the game board like the lazy bastard that he is but then all of a sudden he'll come alive and jump around dishing out reel features while he gets messed up on intoxicants. Usually he likes to wake and bake and hit the bong as soon as his eyes are open, which of course triggers one of the psychedelic prizes that were detailed above. The whole thing is really just beyond absurd.
Whether it's the Bar Crawl Bonus, Flash Free Spins, or the Beer Shuffle feature, every bonus round was beautifully designed and the team over at Blueprint Gaming should be very proud with their creation. It's shocking that they included eleven bonus features and they didn't cut corners on any of them. Frickin' sweet!
The background in the regular game is absolutely ridiculous with its marijuana-covered couch cushions and empty beer cans strewn everywhere. However, it is strange that the top part of the image looks like a night club with silhouettes of girls getting drunk on Jägerbombs. It all comes together to reinforce the sleazy lounge vibe so it's good to know what we're getting ourselves into right off of the bat.
The designers also included lots of nice little nuggets throughout the game, like the gold coins that spew out for big wins having Ted's adorable face engraved on them, as well as other surprises that you should find on your own.
Audio & Soundtrack
Fans of Family Guy will have the same main criticism of Ted Slots as they do of the movie: Ted sounds way too much like Peter Griffin. That said, it is what it is at this point. Lines such as "That was a tough night for all of us," and "That car just came out of nowhere," are lifted straight from the film and "They're hookers so it's fine" always catches you off guard when it pumps out of the computer speakers. There are so many audio clips it's hard to know if we've even heard them all at this point: it seems like every time we play we hear something new.
However, thinner-skinned players might get tired of hearing Seth MacFarlane say, "you gotta lotta problems, don't ya?" over and over again. You know what, Ted? I really don't need to be questioning my existence when I'm playing an online slot machine starring a drunk teddy bear at 2am in the morning, pal. Save those comments for Ted 3.
The main soundtrack is a swanky Frank Sinatraesque beat led by a very competent horn section, which is one of Seth MacFarlane's favorite genres. Sadly, this song stops at the end of each spin and then restarts again on the following one which breaks up the flow of the game to the point of annoyance. It's not that big a deal when you are manually starting each spin, however, on Auto Spin with no pauses the game is super annoying and is basically unplayable with the volume up. The starting and stopping each spin will drive you crazy and it's the only thing players could "hate" about this title.
Oh – sometimes Ted farts really loud while he's sleeping but it doesn't wake him up. Strange.
Conclusion
With amazing graphics and tons of references to the original film, fans will be ecstatic with Ted Slots and everything that's on offer. Even if you've never seen the movie, the fact that it boasts a whopping eleven bonus features should be more than enough reason to check it out – assuming adult content doesn't offend you.
Ultimately, there's tons of free cash, prizes, bonuses, extra spins, and added Wild symbols constantly thrown at you during every turn, which explains the game's higher than normal 95.8% Return to Player. So if you like non-stop action and value for your gambling dollar, you'll be in for a huge treat.
This is definitely one of the best games of 2017.
Bring it in, you bastard!
Bonus Video of Ted
Here's a funny interview with Ted on Jimmy Kimmel Live. The special effects here are awesome and the whole thing is kind of surreal. Take a minute and check it out – it's pretty frickin' funny.