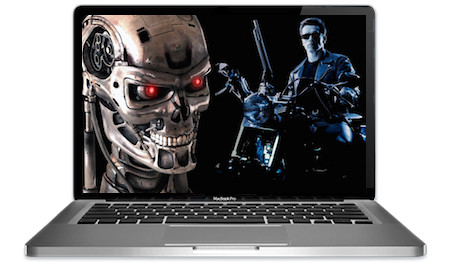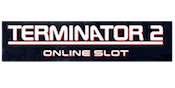 Arnold told us in 1984 that he'd be back and a few years later he made good on that promise and returned to protect John Connor from Skynet. Now you can join him and the future leader of the Human Resistance in their battle for freedom in Terminator Slots and pad your wallet in the process.
Hollywood Blockbuster
Cool Video Clips
Awesome Graphics
---
---
Review of Terminator 2 Slots
This is going to be a very hard game to stay objective for due to the age I was when I originally saw it. Not to mention that Terminator 2 was the summer blockbuster to end all summer blockbusters. With a huge special effects budget, super director James Cameron behind the scenes, everyone from the original Terminator coming back to reprise their roles, and Guns N' Roses dropping an insanely cool song and video for the movie, the stars were perfectly aligned for this flick to become one of the best action films of the 1990s.
If you were between the ages of 10 and 17 in the summer of 1991 and hadn't seen this movie by the first day of school that year, you were immediately uncool, unhip, and labelled as a freak. It's just the way things worked back in those days – I won't even get into what happened to you if you couldn't sing every word on Use Your Illusion I and II. Kids can be so cruel.
An interesting historical footnote is that one of the greatest movie sequels of all time almost didn't happen due to legal fighting between the production company and the company that owned the Terminator franchise. Good thing they were going bankrupt so Carolco Pictures could scoop up the rights and make the film…before eventually going bankrupt themselves.
Truth be told, I've watched Terminator 2 around 100 times in my life and this is one of the few that I'll always stop and watch if I see it on TV. So ya – I'm definitely biased. That said, this title is pretty amazing but it's severely limited in it's special features because it has 243 paylines and these types of machines almost never have any fun bonus rounds.
Therefore, this one can get a little boring after a while and it's not the "Five Star Release" that it absolutely should have been. I really do have mixed emotions…I'm happy and sad all at the same time. However, this honest review of Terminator 2 Slots will remain objective in order to assign it an appropriate rating…and put Microgaming on notice.
Screenshots
The screenshots below show you exactly what you'll get – there are board changes, tons of unique symbols, and video clips from the movie to enjoy. Every pixel looks fantastic and the designers really went over the top with their efforts. Click an image to make it bigger and see for yourself.
Storyline
Most readers will already know this story but here's a quick recap for those who would like a refresher. Since successfully evading the T-800 Terminator in 1984, Sarah Connor has been locked up in a maximum security mental hospital to help her deal with her "delusions" of a robotic killing machine. In the meantime, her son John is being raised by foster parents and enjoys dirt biking and going to arcades with his friends. It is John who is ultimately destined to be the future leader of the Human Resistance and lead the war against Skynet.
The concept of Skynet is quite creepy indeed: it's an artificial intelligence that spreads across the world's computers and eventually becomes self-aware and in the not-too-distant future controls the entire planet by enslaving the human race. Oh – they also have tons of cyborg killing machines named "Terminators" that do their bidding.
This was all a result of the Cyberdyne computer company pushing for the automation of U.S. defense systems through their "perfect" weaponry and AI. Who would have ever thought that this could turn ugly?
Skynet has now sent a T-1000 Terminator back to 1995 to kill John Connor, which would therefore crush the Human Resistance before it was even created. However, future John has reprogrammed a T-800 Terminator and sent him back in time as well to protect the younger version of himself. There are then many chases and fights to determine which Terminator wins and what version of the future will come to pass.
This release loosely follows the story of the movie through images and video clips but as mentioned above, this is a 243 payline machine so there are no real bonus areas that build a strong plot. The lack of a proper storyline is definitely its major weaknesses.
Unique Symbols
There's not much to complain about when it comes to the character symbols because anyone who should have been included, was included. Sure you could make a case for Joe Morton's character of Miles Bennett Dyson making it into the game, and who wouldn't have been happy to see Earl Boen as the slimy Dr. Silberman, but let's admit it – we got everything we really needed.
Microgaming also gets extra points since they didn't use a 10, Jack, or Queen, and instead opted for card suits. This gives everything a pretty unique look and feel.
Club
Diamond
Heart
Spade
T-800
Sarah Connor (Linda Hamilton)
T-1000 (Robert Patrick)
John Connor (Edward Furlong)
Terminator (Arnold Schwarzenegger)
T2 Logo (Wild)
Time Displacement Sphere (Scatter)
The Time Displacement Scatter gives you 3,000 coins for 5 of a Kind, with the T2 Logo giving you 1,500 for the same. The Terminator is the top of the characters with 800 coins for five together and John Connor follows closely with 500. T-1000, Sarah Connor, and T-800 finish things off with 400, 300, and 200 coins respectively for 5 across the board.
Jackpots
There aren't any Terminator 2 Slots jackpots available which is a pretty sad thing. Well, it's not as sad as when billions of humans die as a result of a nuclear fire on Judgement Day, but you know what I mean.
Bonus Rounds
We now come to the biggest disappointment of Terminator 2 as it does not have a proper bonus round. Most players love special areas that take you to a specific scene in a movie or bring in extra characters that don't have their own symbols so this is a huge disappointment. It would have been awesome to relieve the mall scene or the motorbike and 18 wheeler chase but this online slot game doesn't have any of that. It's such a missed opportunity.
However, there is a random special feature called T-800 Vision that can be triggered after any losing spin. The reels will go red and the visual effects become just like in the movies when we see things from the Terminator's perspective. It will then target one of the five characters and pay out a random cash amount on it.
There's also a "Paytable Achievements Feature" which keeps track of the different winning combinations that you've hit, broken down by each individual symbol. It's unclear as to why a player would want this information but either way it's available to you if you want it.
Free Spins
Get ready for some intense time travel because 3 or more Time Displacement Sphere Scatters will get you into the free spins mode and allow you to change your future. However, if you're already seeing red and in the T-800 Vision mode, you will only need 1 Scatter to trigger the action.
The freeroll in Terminator 2 is pretty crazy because it adds an entire extra row of symbols to the board. This means that you then have 1,024 ways to win, which is pretty damn insane. Also, the T-1000 can morph into any other character to give you the largest payline win possible while you roll. During all this you can change your life and snag up to 880,000 coins but that's basically if you hit a perfect spin on a maximum bet.
Sadly, you only get 10 spins every time regardless of whether you hit 3, 4, or 5 Scatters on the reels and the Skynet overlords do not allow them to be re-triggered while freerolling.
Graphics
Microgaming made the wise choice of including lots of video clips from the movie, with one of the best being Arnold putting on his shades and peeling out on his motorbike. There are tons of other clips from various parts of the film too and the one of the T-1000 walking out of the huge fire reminds us of how intimidating he was when when we first saw him back in the early '90s.
The animations on the symbols are pretty well done, for example, the Time Displacement Sphere sizzles and glows with lightning bolts when it lands. However, Microgaming could have done a lot more with the lower value ones of the Ace, Club, Heart, and Diamond since they just blink whenever they're used in a payline win instead of doing something cool.
The best visual effect is when you enter free spins mode and the entire board transforms from 3 rows to 4, and the metallic machine background begins to shine and glisten. This awesome transformation definitely gets you pumped up and ready for the action.
Audio & Soundtrack
Can you think of a song that fans will be hoping to hear in this game's soundtrack that wasn't included? Anyone have a guess? Yup – they didn't secure the rights to "You Could Be Mine" – the seething anthem from Guns N' Roses who were the biggest band in the world at the time. Sure Microgaming would have had to break out the check book to include it but it definitely would have been worth it…but then again, we're not the ones signing the checks.
In any event, the original music from the movie composed by Brad Fiedel plays throughout, with the soundtrack getting more intense for the free spins mode. You will immediately recognize the song as soon as you hear it kick in with its pounding drums and signature riff.
The quotes that were lifted from the script are quite funny and they'll immediately take you back to the movie. For example, "I need your clothes, boots, and your motorcycle," is always good for a laugh knowing what comes right after that line in the film.
All of the other audios are fine with nothing standing out as overly good or bad.
Conclusion
Whether or not you like this release is going to come down to whether or not you like 243 payline machines, as well as your opinion on sacrificing special features in exchange for extra ways to win. Many won't feel that it's worth it and every time they play Terminator 2 Slots they'll be left wanting more.
Microgaming could have included tons of cool stuff if they wanted to but they chose to go in the opposite direction. How is there not a bonus round involving a huge bubbling vat of liquid metal!? That literally could have ended up being the best thing ever in the history of online slots – it's such a shame.
However, for those of you who love Arnold and the Terminator franchise there's more than enough here to geek out on and you should be entertained for quite a while. In fairness, the free spins mode does have tons of nice extras that add to the overall enjoyment of things so it's always fun to go back and give it some of your bankroll.
Ultimately, many diehard Terminator fans will argue that, The future's not set. There's no fate but what we make for ourselves.
While players like me who easily get bored will be saying, Hasta la vista, baby.
Awww just kidding, Arnie…I'll be back…
Random Video of Terminator 2
Well there's only one song on this planet that could finish a review of a Terminator 2 gambling game and that's "You Could Be Mine". Here's a live version from a Guns N' Roses concert in Tokyo in 1991 during their epic Use Your Illusion World Tour. This one should be played LOUD…