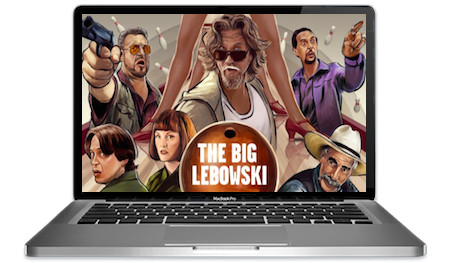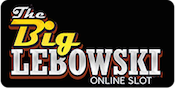 The Dude is back with a White Russian and a new rug to go along with his righteous slot game. Even German Nihilists will want to spin with the laziest man in Los Angeles to win cash prizes and help him with his bowling score.
Original Characters
Great Soundtrack
Free Re-Spins
---
---
Review of The Big Lebowski Slots
Since it came out in 1998, The Big Lebowski has had a cult-like following among fans who see the film not only as a great story but also as a religious way of life: "Dudeism". There's just something about the simple wisdoms of Jeff Bridges' character that appeals to everyone's sense of spirituality, or at the very least makes them laugh. The Dude and his philosophies are truly larger than life.
My buddies and I first saw Lebowski in college and we immediately knew that it was going to be a classic for the ages. We probably watched it around 10 times over the weekend when it was first issued on DVD… in various states of inebriation and amazement. I've tried to watch it at least once a year since graduating because it always gets better with age and there's always something new that pops out that I hadn't noticed before.
So yes – you can bet that I'm bringing some heavy biases into this review: after being a fan of the Dude for over 20 years those feelings only get stronger over time. Most people who read this are also going to be in love with the movie and know exactly what I'm talking about.
Warning: there is a serious bad language alert for this game so anyone with sensitive ears will want to keep on trucking: but let's be honest – why in the heck are you reading a review of a slot based on one of the most hilarious curse-filled movies of the '90s if you have a problem with strong language? You must abide or go for a ride.
So crank up the Creedence, put on your bathrobe, and grab your favorite hard beverage and let's get started…and don't forget to throw that Eagles cassette directly in the garbage.
Screenshots
As these screenshots clearly show, everything is crisp and clean, and drenched in color – which definitely isn't what many would have expected a Big Lebowski gambling game to look like. Most people would have thought that it would be a little darker in tone but the bright and happy mood is a pleasant surprise from 888 Holdings.
If you click the screenshots below to enlarge them you will also see that the user controls were well designed, with little touches like the Spin button being a bowling ball and all of the fonts in a classic Southern Californian style.
Storyline
All The Dude wanted was to enjoy some White Russians, smoke a doobie or two, and live in peace with the universe. Unfortunately, that tranquility was violently shattered as two hooligans kicked in his door and promptly urinated on his rug. It eventually comes to light that the meatheads were looking for a different Jeffrey Lebowski so The Dude goes directly to his house to demand reparations for his ruined rug – after all, it really brought the room together. The "Big" Lebowski is an old cranky millionaire confined to a wheelchair who tells The Dude the rug situation isn't his fault and he can go climb a tree.
A short time later the young trophy wife of the Big Lebowski is kidnapped so he then enlists The Dude to help him facilitate the ransom exchange and get her back. Numerous plot twists then unfold as he and his best friend Walter try to balance the volatile situation with their important bowling tournament, as they meet up with tons of hilarious characters and ridiculous pitfalls along the way. In short, it's an absolute masterpiece.
This release from 888 Holdings unfortunately doesn't dive into any of the crazy plot lines from the movie and instead concentrates on the group's love of bowling and select scenes from the original film. What a bummer, Man! Although, most of you will probably just be happy to see Donny and the boys in an internet gambling machine. Don't worry though, there is definitely enough content to bring back the joyful memories of the movie and keep you entertained.
Unique Symbols
Since it's still hard to believe that a casino software company actually created something based on The Big Lebowski, we really shouldn't complain too much about it. However, we can agree that most fans would have thrown out some of the card symbols in favor of more unique ones like a White Russian, a rug, or a severed toe. These would have been easy to include and wouldn't have required any licensing or legal approvals, so it's a little confusing as to why these didn't come to pass.
Anyway, all of the main characters are included so let's be thankful for what we have, although it would have been nice to see the Big Lebowski, David Huddleston in this game somewhere. Not to mention that many people would have enjoyed Philip Seymour Hoffman as Brandt, Tara Reid as Bunny, and Sam Elliott as The Stranger.
Oh – Flea as Nihilist #2: Kieffer, would have obviously propelled this title onto another level of awesomeness but it is what it is…
10 (Green Bowling Ball)
J (Jack – Blue Bowling Ball)
Q (Queen – Purple Bowling Ball)
K (King – Yellow Bowling Ball)
A (Ace – Orange Bowling Ball)
Maude Lebowski (Julianne Moore)
Theodore "Donnie" Kerabatsos (Steve Buscemi)
Walter Sobchak (John Goodman)
Jesus Quintana (John Turturro)
Jeffrey "The Dude" Lebowski (Jeff Bridges)
1973 Ford Gran Torino (Wild)
Coffee Can with Ashes (Bonus)
The Dude knows that this aggression will not stand so he is of course the highest-paying with 1,000 coins for 5 of a Kind. It's a little surprising that The Jesus is the second-best with 700 coins for the same considering his amount of screen time, but we'll just have to "roll" with it.
Walter finally gets some respect in the 3rd position awarding 400 coins for five across the reels, with Donny and Maude following up with 300 and 200 respectively for 5 of them together.
Jackpots
You won't have to trade your pinky toe for a big cash prize here because the Dude's gambling game abides with a progressive jackpot that can be won at random on any combination of symbols in a result. Like other boastful releases it alleges that you have a better chance of winning The Big Lebowski Slots Jackpot if you are wagering larger amounts and covering more paylines – even though you can only play a fixed 25 each spin. Confusing, right? If you try to dig deeper into how the math on this claim works you will enter a world of pain so don't even bother.
The prize is re-seeded after it's won and then begins to build all over again. The largest amount that's ever been won to date was in April of 2017 when it went off at over $1.2 million: now that would be a religious experience.
Bonus Rounds
The "Goodnight Sweet Prince" special feature is a bit of a tear-jerker since it presents you with five cans of ashes with "Bonus" written on them, set against a beautiful background of the Pacific Ocean, (those who have seen the movie will immediately know the scene that it's referencing).
You select one of the cans and a prize is revealed, which will be a random multiplier that's applied to the triggering wager amount. Thankfully, it shows you the multipliers that were in the other cans that you didn't choose, but you have to read them quickly because they disappear fast.
This is triggered by the Coffee Can symbol falling on reels #1 and #5 at the same time and has a maximum payout of 33x on the triggering wager. All of the multipliers will always range somewhere from 3x to 10x so you have the opportunity to really boost your bankroll while you're visiting the beach.
There's also a small nugget of fun thanks to the Gran Torino Wild expanding when it lands on a winning payline on reel #3 and it extends to cover all three positions. This usually gives you a few extra wins when it hits so it's nothing to sneeze at.
Free Spins
The free spins are handed out as "spares" in keeping with the bowling theme, but you're not going to believe how you get them: You get free spins in exchange for losing ones. Yup, you read that correctly. Every losing result triggers one re-spin to try to give you a win, but obviously it's not unlimited. If your re-spin is also a losing one it doesn't trigger another, so basically any cold streaks are pretty much cut in half: losing result, re-spin, losing result, re-spin, etc.
Of course these re-spins come with a price and some may consider it a steep price. First of all, you must wager a minimum of 25 coins each time so you'll want to choose your bet size carefully. You should also note that there are many jumps in coin sizes: $0.01, $0.03, $0.05, etc. so keep your eye on your "total bet" to make sure that you're staying within your gambling budget.
Also, this machine has a much lower Return to Player (RTP) than many other online slots and some of you may find the 94.5% not high enough for your liking. However, most fans will agree that the low RTP is totally worth it in order to enjoy a Dude-themed release.
Graphics
The intro video gives you the full bowling alley dream sequence from the film, which sets the stage perfectly for what's about to unfold. Once you get into the main area you will love the background with The Dude and Walter that looks like it could have been an original promotional photo for the movie. There are also tons of images of El Duderino with the one in the regular mode being the bowling alley that they love so dearly.
Thankfully, we got a few video clips from the movie like the "goodnight sweet prince" scene at the cliffs where Walter shakes out the coffee can of ashes, as well as the Jesus taunting his bowling opponents. Also, there are some great animations on the character symbols like when Walter pulls out his gun and points it, it actually leaves its square to extend over the reels.
Lastly, there's some great comedy throughout via the messages that crawl along the bottom of the screen like, "See what happens when Wild expands the reels", in an obvious reference to the "Larry scene" from the movie. There are other comedic nuggets hidden throughout but we'll let you find them for yourself.
Audio & Soundtrack
This soundtrack has tons of songs so there's never a dull moment when you're playing. The jam that pumps out during the intro video is fantastic – it's a '60s rock-infused Country and Western hip-shaker, with a deliberate guitar that sounds like it's straight out of Nashville. This is backed up by a fantastic electric organ that battles the axeman for control of the song, making it one of the better tunes that you'll find.
The mood then changes with a swanky horn-driven blues song once it loads up and is waiting for you to start. It's a longer audio clip and the loop is flawless – another decisive victory for the person at 888 who chose the tracks.
Next we have a swinging Honky Tonk number that chugs along as you enjoy the regular mode. Finally, during Goodnight Sweet Prince there is a beautiful Mexican number played with a climbing Spanish guitar and focused maracas that will have your hips swaying in the breeze.
Unfortunately, the main game audios are pretty loud and jarring, with the sound of bowling balls crashing into pins used as one of the winning payline sounds. There is also a loud trumpet blast effect for larger wins which most of you will probably find totally unnecessary.
The software developers were sure to add many real quotes from the movie like that's laughable man and mark it zero! which add to the rollicking fun time. This title also has the distinction of being the first online slot that has the "F-Word" in it. Yes, you read that correctly: The Dude belts out, What the f*@k are you talking about? whenever he lands on the reels and it's both totally unexpected and extremely funny.
All of the audio clips from the movie keep things moving and they'll certainly have you entertained but if you find that they're starting to annoy you simply click the Turbo button and that will turn off all of the video and audio so you can play in peace.
Conclusion
Whoever decided on what was to be included in this release certainly was a fan of the original film and did a great job of importing the unique comedy and injecting it throughout. As you can tell by this glowing review, fans of the film will definitely enjoy The Big Lebowski Slots because it delivers in pretty much every major category.
The only concern is that since there are so many inside jokes, it will probably only be for those who have both seen and enjoyed the film. Although, if you really like to go bowling perhaps you're the exception to this rule so why not give it a roll.
Ultimately, most players will probably be shocked that this machine was even released in the first place and will easily be able to look past its few shortcomings like the lack of an intricate bonus round and dedicated free spins mode. These are indeed sad omissions but who really dropped the ball? Is this your homework, Larry? Do you see what happens? Do you see what happens, Larry? This is what happens when you find a stranger in the Alps!
The final verdict is that with tons of imagery and videos of the original characters, lots of funny lines from the movie, and an explosion of colorful bowling balls across the reels, this title is definitely worth checking out. Not to mention that the progressive jackpot can grow to be a massive seven figures so there's lots of incentive to roll…even on Shabbas.
Come on, Dude. F*@k it, man. Let's go bowling.
Random Video of The Big Lebowski
Here is a must-watch video on the making of The Big Lebowski with behind the scenes interviews and little known facts. It's for any fan of his Dudeness, Dudeism, or clean and sanitary rugs….they really pull a room together…