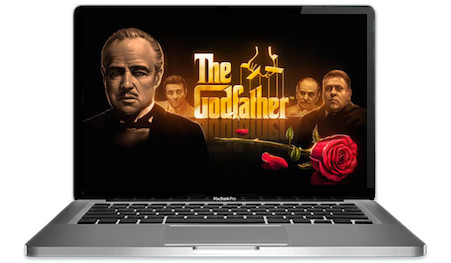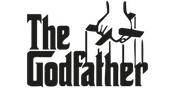 This is business. Not personal. And with that, Michael Corleone set the tone for a generation of gangsters around the world. Now the greatest film ever made about Italian mobsters has been adapted into an online slot game and it might have an offer that you cannot refuse.
Original Cast Members
Interesting Soundtrack
Achievement Awards
---
---
Review of The Godfather Slots
The world had never seen anything like The Godfather before when Francis Ford Coppola released his epic gangster film in 1972. The movie shattered most of the box office records at the time and became an international smash hit earning hundreds of millions of dollars around the globe.
Like everyone else back then I was blown away by the amazing performances of Marlon Brando, Al Pacino, James Caan and Robert Duval, in what was the quintessential story of the Italian American crime family. Even real life gangsters of the day were quoted as saying that the film was excellent and it was an honest portrayal of their lives in the underworld.
Even if you're a huge fan of the gangster film genre and love the Godfather Trilogy you might find yourself getting annoyed with certain aspects of this game. It has some glaring faults and it honestly could have been much better if a few mistakes would have been avoided.
This expert review of The Godfather Slots will leave no stone unturned to bring you the honest truth about "what could have been" and why this machine desperately needs a reboot to improve its rating. It's time to give this legacy the glory it deserves.
Screenshots
As you can see from the screenshots below, this game is starting to look a little old. Well maybe it's starting to look a lot old. However, it's the only online slot game based on the movie Godfather so you're just going to have to accept what you've been given. In fairness, the character symbols and background are extremely detailed so those things still look fresh – it's mostly the player controls that haven't aged well. Click the images to enlarge them.
Storyline
The United States was relieved that World War II was finally over: troops were coming back, families were being reunited, and life was starting to return to normal. Vito Corleone's family was just like the rest but with one major difference – theirs was the most powerful crime family in New York City.
There are lots of interesting exploits when it comes to the Corleone family like blackmail, extortion, racketeering, murder, and many other criminal activities, all of which are revealed during the film. The various in-depth plots serve to humanize the characters and viewers end up sympathizing with them as they would with everyday people. As the "Five Families" wage war on one another we find ourselves cheering for some more than others and getting immersed into the glamorous blood-soaked drama.
Now Gamesys has attempted to retell the stories of The Corleones, The Tattaglias, The Barzinis, The Cuneos, and The Straccis, in this online slot game that heavily features wedding cake, (more on that later). Although the symbols and music do a great job of conjuring up memories from the original film and all things Italian, this game is missing a proper bonus round which would have better delivered a strong plot.
Sadly, one of the major weaknesses of this release is the storyline and there are no exciting surprises as you play. What a pity.
Unique Symbols
Fans of the original films will cite numerous omissions when it comes to the unique symbols and here's a quick list of which ones are probably the most disappointing: Al Pacino as Michael Corleone, James Caan as Sonny Corleone, Robert Duvall as Tom Hagen, and Abe Vigoda as Salvatore Tessio. I mean…would you have preferred Sonny Corleone or a bowl of oranges? To be fair, Gamesys probably tried to secure the rights to the likenesses of these actors but just weren't successful. What else could it have been?
So instead of an abundance of characters from the movie this game uses every stereotypical Italian object you can think of – including a plate of spaghetti… that was undoubtedly made by a sweaty Sicilian grandmother. Mama Mia!
Here are the symbols they graced us with:
Bowl of Oranges
Jug of Red Wine
Spaghetti and Meatballs
Golden Telephone
Thompson Submachine Gun (Tommy Gun)
Black 1941 Lincoln Continental Coupe
Luca Brassi (Lenny Montana)
Philip Tattaglia (Victor Rendina)
Don Vito Corleone (Marlon Brando)
Rose (Wild)
Wedding Cake (Bonus)
You're not going to be making much money when you get into bed with this crime family because the highest paying symbol is a pathetic 1,000 coins and it's only Don Corleone himself who will give you that for 5 of a Kind. Next is Philip Tattaglia giving you 750 coins for 5 in a spin, followed by Luca Brassi with 500 and the Black Lincoln with 250 for the same.
Once you've triggered the Wedding Free Spins you get reels with totally different symbols, filled with such relevant items as a piece of cake, a wedding invitation, wedding bells, and an old-timey camera. Sarcasm aside, we do have to give Gamesys bonus points for including a special horse head symbol when you're unlocking certain features and it's easily the best image in the game.
Jackpots
There aren't any Godfather Slots Jackpots that can be won in this game so just stop looking now. Gamesys sent every big cash payday to sleep with the fishes, never to return again.
Bonus Rounds
Unfortunately for players who love unique bonus areas, there aren't any proper special features in this game – and considering the original movie on which this slot is based, you know that they could have come up with some great ones if they'd had wanted to. In fairness, software development wasn't that great when this game was originally released.
However, there are three different reel features in The Godfather that you can unlock to give you a little more cash to stuff into your mattress. First is the Family Feature that has Don Corleone summon Brassi and Tattaglia for a "Family Business" symbol that will boost your bankroll with higher payline winnings every time it's used.
Then we have the Respect Feature which will give you anywhere from 1 to 5 extra Wild symbols that will remain on the reels for the duration of the round. Finally, there is the Money Feature which will have Don Corleone trying to bribe you with a cash amount to lure you away from a mystery multiplier of 2x to 10x on your next winning spin. You can choose the cash or the multiplier, but you can't have both.
This machine also claims that once you have unlocked these 3 reel features you will receive another three and that these will somehow allow you to play the next version of Godfather Slots once it's released, "The Godfather Part II". Well, we have a few questions about this. First, what does this even mean? Once a game is "released" can't anyone play it?
Also, to the best of our knowledge, there hasn't been a sequel to this game so what the heck are they talking about? Anyone with information about this can feel free to email us so we can explain it to our readers since we have no idea what's going on with this.
Free Spins
Break out your best outfit because you'll want to look good when you enter The Wedding Free Spins Bonus where you'll gorge on Wedding Cake Stacked Wilds on reels #2, #3, and #4. This cake must have been baked for the Godfather himself because those Wilds usually result in you stacking up a lot of free cash during the round.
There is no limit to your free games and they will continue until the "Cut the Cake" feature is triggered by the bottom tier of the wedding cake landing on the reels during a losing spin. From there the cake is cut up and dished out as 10 random Cake Wilds across the board.
Three Wedding Cake Wild symbols triggers the free games and it will only appear on reels #1, #3, and #5.
Don't worry: if this sounds confusing you're not alone and it actually all makes sense when you're in their playing.
Graphics
A major crime that this game commits is that there's no introduction video as the game is loading up. It would have been amazing if they would have included one since that classic Godfather theme music accompanying some still images from the movie would have set the mood perfectly. This was a huge miss on the part of the game's creators and would have been a relatively easy thing to do.
In regards to the design of the symbols and the background, they were actually quite well done and even though this game is looking a little "long in the tooth", they still hold up today. This is due to the fact they were extremely detailed when the machine was first released and it's clear that the game's designers put a lot of time into creating them.
There's not very much to talk about when it comes to animations in this slot, especially on the game's symbols. There's a small graphic of a rose pedal falling off of the Wild Rose symbol when it's used in certain payline wins but it's very basic and it insists upon itself. Other than that, the wedding cake has a snow effect on it and the other symbols simply throb bigger when used in a payline win.
It's pretty hard to imagine what kind of visual effects they could have put on a bowl of oranges or a plate of spaghetti so they basically handcuffed themselves from the moment that they decided to use these symbols.
Audio & Soundtrack
As has already been mentioned throughout this review, Godfather Slots is dripping with all things Italian and the soundtrack in the regular game is no different. It's a lilting Mediterranean-style song with violins, mandolins, and a sad accordion that conjures up images of eating an outdoor spaghetti dinner in the streets of Sicily. The game audios are strange when compared to newer releases because the song only plays when the reels are spinning and the tune changes slightly with each spin so you don't really get sick of it.
When the Respect Feature is triggered the soundtrack gets kicked up a notch and starts swinging to a sped up beat that has duelling accordions fighting for the title of lead instrument. Sadly, the song repeats itself after only 10 seconds so we don't get to enjoy the battle and find out which musician wins.
The third song of the soundtrack plays during the Wedding Bonus round and it's the fastest song that you hear in the game. It has a polka style beat and of course features traditional Italian mandolins and accordions, which are now accompanied by sassy maracas and a triangle. This tune will definitely have you bobbing your head to the beat and searching for a glass of cheap champagne.
Other game audios include a wedding bell ringing every time a Bonus Cake symbol falls on the reels, with the gongs being quite loud and pronounced. Also, as you cycle through bet types it sounds like a gun being cocked – there really aren't any other sounds of note besides these two.
Conclusion
This game is going to be too old for most players looking for the latest and greatest gangster-themed slot games but many people will probably enjoy playing The Godfather Slots for at least a little while. It's hard to get immersed in it because there were just too many features that revolve around cake and everything "fun" is related to cake in some way. At worst it feels like fetishism on the part of the game's creators and at best it shows a horrific lack of imagination.
Also, this game will challenge the good will of even the most devoted Godfather fans because of its shocking user controls: it doesn't have a freakin' Auto Spin button! It's ridiculously tedious in this day and age to have to click your mouse every single time you want to spin the reels. When you add this blunder to the lack of a proper bonus round and the stereotypical Italian symbols, most players will want to go into this game with lowered expectations.
That said, there's certainly enough to keep you occupied for short gambling sessions when you want to mix things up with interesting characters and have a little taste of Italian mafia life. Due to the popularity of the film, anyone over 50 years old will want to check this slot out at least once – it's just that this release could have been so much better if they would have worked on it a little bit longer – it honestly feels like it's 85% complete…and a cinematic masterpiece deserves better than that.
So if revenge is a dish that's best served cold, this slot is a game that is best played cautiously. Most of you will probably feel like it's actually making you an offer that you can refuse. Che palle!
Bonus Video of The Godfather
Here is an amazing interview with Marlon Brando on the Dick Cavett Show after he refused to accept his Oscar for Best Actor in The Godfather. This was very big news at the time and was one of the first occasions that a major Hollywood celebrity stood up for what they believed in and thumbed their nose at the industry.
Here's part 1 of the interesting conversation. Enjoy!