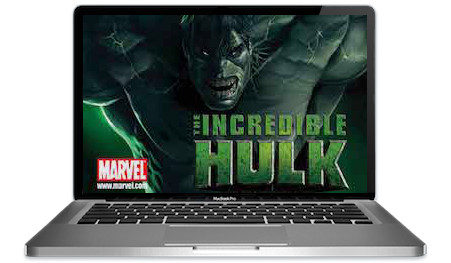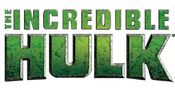 The Incredible Hulk Slots
"Hulk, smash." No other superhero can be summed up in such a brief and perfect way. It tells you everything you need to know about what he's going to do to his enemies and now you can play Hulk Slots and try to channel his anger to help you break stuff and win cash prizes as you go.
Fun Bonus Round
Crazy Expanding Wilds
Marvel Mystery Jackpot
---
---
Review of The Incredible Hulk Slots
When it comes to the Hulk, I mainly remember the live action tv show from the 1970s starring the wonderful Bill Bixby. Between that time and the newer movies I haven't read that many of his comics. Therefore, this review is not going to contain too much nostalgia and it will be as unbiased as they come.
To be honest, the Hulk was never one of my favorite characters in the Marvel universe because he just didn't seem that deep – he gets mad, transforms into a beast, and then breaks stuff and hurts the people around him. And to top it all off, when he sobers up in the morning he doesn't even remember any of it. Is this a superhero or an ex-husband?!
Anyway, aside from his anger management issues, watching him transform from Bruce Banner to Hulk is always fun and he certainly isn't the worst superhero in the Marvel Universe so this definitely deserves an open mind. In fact, this exclusive review of The Incredible Hulk Slots is happy to report that it will actually be a heck of a lot of fun to play for fans new and old.
Screenshots
A quick glance will easily tell you that this machine is totally covered in his trademark green so you'd better be a big fan of that color if you're planning on playing for long stretches. Overall, the imagery and symbols are sharp and even though it's a few years old now it still looks pretty modern.
Storyline
Most of us will agree that one of the best lines ever uttered in the Marvel Universe is, "Don't make me angry…you wouldn't like me when I'm angry." The line is especially creepy since it is always said by the mild-mannered scientist Bruce Banner…usually right before he transforms into The Hulk and starts smashing up the place.
Hulk's story starts in a military laboratory with a botched experiment by General Thunderbolt Ross that was an attempt to find a way to render mankind immune to gamma radiation. Unfortunately, the only result of the experiment was that Bruce Banner would now become a green beast with a bad temper anytime his heart rate went above 200 beats per minute. The Incredible Hulk was born.
This release from Playtech is very loosely based on the 2008 movie starring Ed Norton and not on the original graphic novels or much else. It doesn't feature any of the storyline from the film and sadly it therefore doesn't have much of a plot whatsoever. You simply Hulk-out and smash stuff for cash prizes but that will be more than enough of a story for most of his longtime fans.
Unique Symbols
It's hard not to be disappointed with the unique symbol choices for this machine: most of you will already know exactly how we feel when software developers choose to use a "9". (Spoiler alert: we hate it). A 9 is usually a sign of lazy design work and a lack of imagination from its creators but this isn't necessarily the case this time because there is a ton of action going on at all times.
Playtech made the strange decision not to include any of the characters from the movie such as General Thaddeus E. "Thunderbolt" Ross, who is also known as the "Red Hulk" and was played by William Hurt. There are also a ton of other omissions like Ty Burrell as Leonard Samson, Tim Roth as Abomination, or Liv Tyler as Betty Ross. So instead of any of those cool characters we got a police car…
9
10
J (Jack)
Q (Queen)
K (King)
A (Ace)
Nuclear Waste Symbol
Army Helicopter
Police Car
Green Gamma Juice
Smash Bonus
The Incredible Hulk Logo (Scatter)
Hulk (Wild)
You'll want to be on the hunt for dangerous sludge because the Nuclear Waste symbol awards the most with 4,000 coins for 5 across the board. The payouts then drop off significantly with the Gamma Juice only giving 500 coins for 5 of a Kind, and the Army Helicopter and Police Car dishing out 200 coins each for the same.
Jackpots
Since he's one of the most beloved characters in the Marvel Universe, you could have guaranteed that Incredible Hulk Slots was going to be linked to the Marvel Mystery Jackpot. This is their main network prize that is shared over all of their newer releases and it can go off at any time without warning.
If you are one of the few players lucky enough to trigger it you will be taken into a prize area with a grid of squares in a 4×5 section. You then flip over squares until you've matched 3 of the same symbols of either "Power", "Super Power", "Extra Power", or "Ultimate Power". Each one has a different pool of money that builds up slowly as people play across the network of officially licensed online casinos and each of them can grow to be quite large, (just like you-know-who).
Bonus Rounds
When you receive Smash Bonus images on reels #1 and #5 they will trigger a special feature where you get to direct Hulk as he throws fire hydrants at police cars and helicopters. As they explode they will reveal the profitable goodies that were hidden inside of them.
In the first round you choose 3 out of 7 police cars to smash which will give you random cash amounts and then you smash 1 out of 3 helicopters which will give you a multiplier of either 2x, 3x, or 5x. All of the possibilities are revealed once you have made your selection so you can kick yourself if you chose poorly. Your extra money is then multiplied by the number revealed and the total is added to your balance.
Sometimes during the action you will experience "Hulk Rage" while smashing the police cars which will lead to Hulk punching the ground and causing all 7 of the police cars to explode, thus giving you every penny of the loot that was hidden in them. Hulk Rage will come at random and cannot be predicted, (just like his actual rage). This will definitely be most people's favorite part of the game, especially if they've been lucky enough to select the 5x multiplier right after it. Cha-ching!
Also, there's a cool feature that gives you re-spins and extra ways to win when The Hulk Wild lands in the center of reel #3 because it will expand to cover the entire thing and make it Wild. It will also give you 2 free spins and lock in place to increase your chances of getting some big wins.
Lastly, the Expanding Hulk dropping anywhere on reels #2, #3, or #4 will grow to cover all 3 of them and create a wall of 9 Wilds, but you only get one shot to try to cash in so you'd better make it count.
Free Spins
Three or more Scatters on the board will get you into the free spins mode and give you a straight 10 each time. The best thing about this feature is that all of your winnings will be tripled, which can obviously lead to tons of extra money. In addition, wins in the regular mode that involve the Expanding Hulk are also tripled.
The Hulk might be filled with rage but he's also filled with generosity because he allows you to keep triggering more spins while freerolling, with no maximum limit.
Graphics
The intro video of this machine consists of clips that were inspired by the actual movie and it will encourage even the most timid of Hulk fans to start smashing things. It's action-packed with lots of damage and destruction and it's of a true HD quality.
The animations for the symbols are pretty good, with visuals like the Expanding Wild growing and glowing when used in line wins. The bonus round is always a nice break from the regular mode and runs smoothly as you throw your fire hydrants through the air at unsuspecting police cars.
An interesting side note regarding user experience: the controls have a very quick Stop button. We thought it was worth mentioning.
Audio & Soundtrack
The spinning reels give off the same "horse galloping" noises as old DC Slots from Cryptologic, which is an interesting choice to say the least. It's not that it's particularly annoying, it's just that it's strange that it's so similar.
In addition, with certain payline wins you will hear the traditional refrain of the Las Vegas one-armed bandits in real casinos: "doo doo doo daa doo". During normal mode you will also hear Greenie growling softly in the background, which is actually kind of creepy if you're playing late at night.
As a final note, the song in the information area is pretty terrible. Have your finger on the mute button if you're going in there to read up on the payouts and special features.
Conclusion
This has to be considered one of the better Marvel Slots out there due to its fun bonus round and cool graphics. However, it's small number of unique symbols and lack of a storyline really hold it back from being a truly excellent release.
Whether you saw the 2008 movie or not is irrelevant when it comes to enjoying the action because you either like The Hulk or you don't. If he's never really been your cup of tea he's not going to start now so you will probably want to look for another comic-book themed slot to play. However, if your feelings for him range from "like" to "love" there's more than enough going on here to keep you interested for long stretches of time.
Most comic book fans will want to give this game at least 10 minutes of their time to see if they like it and many will probably find that they enjoy it for longer stretches than that. Even if they only "moderately" like this big green meanie.
Hulk will smash. Hulk will throw fire hydrants. And Hulk's gambling game will always be strangely entertaining for some reason.
Random Video of The Incredible Hulk
Ok – we were trying to find you guys a nice Hulk video to close this review off with and as we went through the old '70s television clips on Youtube we started to get very nostalgic and had to take a moment. Here is the beautiful song that ended the show each week…"The Lonely Man Theme"…have a tissue ready…