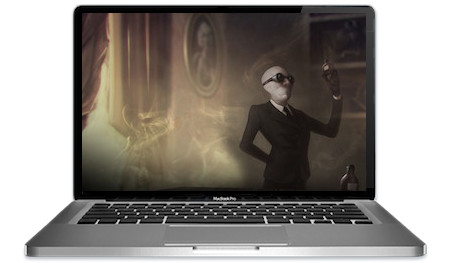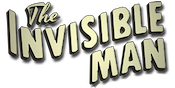 An invisible man can rule the world. Nobody will see him come, nobody will see him go. Grab your bandages and trench coat because the classic tale of a madman's thirst for world domination has been made into a fun online slot.
Numerous Bonus Features
Tons of Free Spins
Outstanding Graphics
---
---
Review of The Invisible Man Slots
I had all but forgotten about The Invisible Man before I stumbled across this machine at an online casino recently. I vaguely remember a failed American TV show about an invisible man in the 1970s but hadn't seen the original movie in years, with the latter being the version that it's thankfully based on.
The original story of The Invisible Man was written by H.G. Wells in 1897 and was then made into a movie in 1933 by Universal Pictures, so when I saw this one in a list it obviously seemed like an odd choice to base a new release on. However, after playing it for only a few minutes I was absolutely blown away due to its cool features and non-stop action.
There is tons of praise to be heaped on this title because it truly is unique and interesting due to its extremely dark mood. There's always something going on and it's thoroughly entertaining, so this is one of those rare movie-themed gambling games where it doesn't matter if you're not really familiar with the subject matter: every player will want to check it out just to see the cool visuals.
This expert review of The Invisible Man Slots will go into the finer details of it to explain why it truly is one of a kind.
Screenshots
There is a definite paranormal vibe going on in this machine as you can see from the screenshots below. Glowing symbols and creepy swirling payline indicators float their way through the action and there are some great subtle graphics in the backgrounds. The designers over at NetEnt did a great job of giving it its own unique flavor that many people will find refreshing.
Storyline
Dr. Jack Griffin was a normal chemist studying the effects of the drug "monocane" when he decided to inject it into himself to see what would happen. Unfortunately, that wasn't the wisest decision because the chemical made him invisible and drove him insane. Everything that he had ever known had been changed forever.
After becoming invisible he wraps himself in bandages and puts on black goggles and a trench coat to check into The Lion's Head Inn in the rural village of Iping, England. The inn is run by a fellow named Mr. Hall who allows Griffin to spend the night and assures him that he won't be disturbed during his stay.
Unfortunately for Mr. Hall, his wife nags him to throw out the bandaged man after he trashes his room, but in a tragic twist of fate he ends up being the one who is thrown…down a flight of stairs. The police and random villagers arrive to apprehend Griffin but he strips naked and easily gets away.
After evading his fiancee, Flora Cranley, Griffin then goes to his assistant Dr. Kemp and makes him partner up with him to control the world through fear, committing random murders and terrorizing citizens. The plot then twists and turns as Kemp tries to free himself from the clutches of the invisible madman but also secretly hopes to return Griffin to his former self one day.
This release from NetEnt captures the spooky energy and strange storyline of the original movie through it's images, video clips, and crazy special features. It's a wild tale that's retold nicely as you play along.
Unique Symbols
It's not entirely clear what the software designers were trying to do with the unique character symbols that were included but they're probably best described as "life-like cartoon interpretations" of the original cast of the 1933 film. It appears as if the designers deliberately tried to make the images look like the actors but uglier, stranger, animated variations of them.
Sometimes companies will create "cartoon versions" of real actors instead of using their exact likenesses so they kind of look like the original character but they're different enough that you can tell that something's off. This can be done for many reasons, such as not wanting to pay the actor to use their likeness or the actors themselves declining to participate in online gambling.
Anyway, here's what you will find here:
10
J (Jack)
Q (Queen)
K (King)
A (Ace)
Mrs. Jenny Hall (Una O'Connor)
Mr. Herbert Hall (Forrester Harvey)
Dr. Cranley (Henry Travers)
Dr. Arthur Kemp (William Harrigan)
Flora Cranley (Gloria Stuart)
Police Wild (Dudley Digges)
Griffin Wild (Claude Rains)
Due to the fact that there are so many extras stuffed into the reels, the payouts in the regular mode are a lot less than what most of you will probably be expecting. The highest is Flora Cranley who only gives out 500 coins for 5 of a Kind. This is then followed by Dr. Arthur Kemp, Dr. Cranley, and Mr. Herbert Hall who award 400, 300, and 200 coins respectively for five in a result.
Jackpots
NetEnt must have injected this machine's jackpot meter with monocane because it's nowhere to be found. So either the jackpot prize amount is invisible or this game just doesn't offer one – let's assume it's the latter.
Bonus Rounds
There are two different bonus rounds in The Invisible Man Slots which can only be triggered when freerolling, and that's clearly explained in the section below. One of them is technically a unique freeroll area called Police Spins that will give you 3 spins with 5 Burning Wilds thrown onto the reels each time. The 5 Wilds will rearrange themselves on the board after every result giving you the chance of winning a maximum of 90,000 coins, which is an insane 270,000 coins for the round.
The best one on offer is the Griffin's Rage Bonus Game which has 3 unique locations and tons of prizes available. In each level you will have 5 options to pick from which will always be a mix of 1 Red Police Badge (Collect), 1 Multiplier, and then 3 different coin amounts. For all 3 locations you will keep picking until you run into the Police Badge which will end things and move you along to the next part.
Once you've hit the Police Badge in all 3 levels the action is over and your total coin amount will be multiplied by your total multiplier amount, (which always has a maximum of 4x). Then the final prize is added to your balance and you're returned back to regular mode.
In addition, there are 2 Wild features that are basically mini bonuses. First we have Walking Wilds which can either be Police Wilds or Griffin Wilds. The Police ones will fall on reel #1 and then move across all of them as they slowly make their way off the board, stopping on each to trigger a re-spin.
Then the Griffin Wilds will only fall on reel #5 and then move across the board to the left, and just like Police Wilds they'll stop on each reel to trigger a re-spin. So technically you have the opportunity to hit one of two Sticky, Roaming Wilds in this special feature which will surely boost your bankroll.
Finally, if a Police Wild and a Griffin Wild crash into each other on the board something special will happen…
Free Spins
A game that offers Sticky, Roaming Wilds is already rare, but this release takes it a step further and if the two Wilds collide on the board as they're making their ways across it will trigger the Invisible Man Free Spins. You will get an initial 10 and if the 2 Wilds collide again while freerolling you will receive an additional 4.
It's actually possible for a total of 6 Walking Wilds to collide at the same time, (2 on each row), which will give you a whopping 30 free spins. Once the Wilds have met and triggered the action they will disappear into the night but they can randomly return anywhere on the board as you roll.
During all of this, two power meters are at the top of the screen titled "Bonus Game" and "Police Spins", with 1 of the 8 sections in the meter getting filled by each Police Wild or Griffin Wild that lands on the reels. If either one of the meters has all 8 of its sections filled during the mode it will trigger the corresponding area once the freeroll is over. As expected, you can only trigger one of these each time.
To be crystal clear, the unique locations, graphics, and soundtrack all add up to make this one of the most intricate and fun free spins features ever and the software developers get a 10 out of 10 for their efforts here.
Graphics
There's a very intense intro video in the beginning that explains the back story of the Invisible Man and what led up to his transformation. The bright green vile of monocane glows menacingly as Dr. Griffin snatches it up to inject it and the fright and excitement in his eyes as he turns invisible is haunting. It's a fantastic intro and it definitely sets the bar for the opening credits of all future movie-themed releases.
There are many subtle animations that are just stupendous, like the bubbling beakers in the background and the smoking vials of chemicals. There is a "glowing laser worm" effect that ripples through the symbols that are involved in payline wins and it's one of the best effects ever. It clearly highlights what's going on and it looks cool as it does its thing, with everything being enhanced by the throbbing and glowing as they're highlighted.
It's hard to describe the graphics that you will find in the Griffin's Rage area because they honestly look like nothing ever seen in an online slot machine before. It's like you're watching ugly, creepy cartoon characters in a beautiful High-Definition movie. Their faces and expressions are so exaggerated and distinct that it's impossible to know how much time the designers at NetEnt spent creating them.
If all of that wasn't enough, things really get turned up a notch in the Police Wilds feature. The Flaming Wilds look fantastic and the quality of the visuals are absolutely stunning. This is not an exaggeration: one quick look will convince you of the same.
They even found a clever way of incorporating the old Universal Pictures logo so keep an eye out for it.
Audio & Soundtrack
The dialogue that's in the intro video sounds like it's straight from the original movie and it strikes a balance of both "classic" and "creepy". The soundbites continue throughout with clips like, "You brought it on yourselves!" and "You're crazy to know who I am, aren't you?"
The main soundtrack is an eerily whimsical song that sounds as if it's from a mystery movie or a fairy tale. It's a slower, mischievous tune being played by a small orchestra. The volume and intensity of the music increases when you receive a Roaming Wild that begins to make it's way across the board and they also will give you a short blast of strings when you hit larger wins. Don't worry: unlike some of the other movie-themed NetEnt releases, the quick shots of music in Invisible Man aren't offensive and don't blast you out of your seat.
There are actually many different changes in the soundtrack's tempo, tune, and ferocity as you journey through this strange world. So in terms of the number of melodies and the quality of the actual music, this title gets a solid 9 out of 10. The mix of all the different songs is great and the transitions are seamless so the soundtrack really makes you feel like you're sitting in a classic movie theater.
Conclusion
Most of you have probably never seen The Invisible Man before but it isn't going to matter whatsoever when it comes to this game. It's just too creepy, weird, and fun not to try out so give it at least a few minutes of your time and check out the insane level of quality that's on offer here.
For the three people reading this review who are big fans of the original Invisible Man movie, you'll be happy to know that the machine respects the legacy, the story, and the general theme. They set a distinct tone and run with it, and you will have zero complaints about NetEnt's interpretation of the film.
And what would The Invisible Man himself say about this groundbreaking release if he were here today? Well probably, This will give them a bit of a shock, something to write home about. A nice bedtime story for the kids, too, if they want it.
We agree Griffin: this game simply can't be praised enough.
Random Video of The Invisible Man
The Invisible Man eventually met his match in 1951 when he ran into the comedic duo of Abbott and Costello. Here's the original trailer for the classic comedic mash-up that was considered a blockbuster in its day. Enjoy!