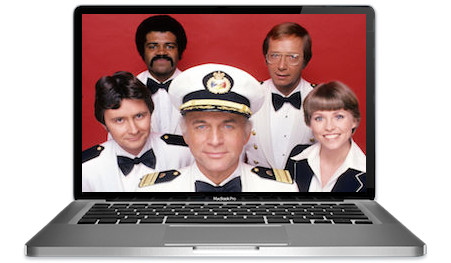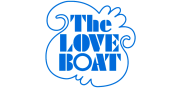 "Love. Exciting and new." That's what Aaron Spelling promised in his hit TV show and the crew of the Pacific Princess delivered. Now you can once again enjoy romance on the high seas with The Love Boat Slots and win cash too.
All of Your Favorite Characters
Fun Bonus Round
Fantastic Graphics
---
---
Review of The Love Boat Slots
What fan of The Love Boat could write a totally unbiased review of a slot game that had the same name? It's basically impossible because that show was just too darn good. In those days you were happy to stay home with your family on a Saturday night and watch ABC as they broadcasted two of their biggest hits back-to-back with "The Love Boat" followed by "Fantasy Island". It was the original "can't miss TV night" that had viewers showing up in droves.
This release from Playtech does a fantastic job of capturing the magic and fun of the show and most fans will be quite happy with the end result. So even though I've been a fan of the show for over 40 years, we don't have to worry about my opinions being tainted. This exclusive review of The Love Boat Slots will ensure that the game floats on its own and doesn't benefit from misplaced nostalgia.
Wait…has it really been 40 years?!? Let's just move on…
Screenshots
This release is absolutely beautiful and the following screenshots show you just how nice it looks when you're spinning. It's basically like taking a romantic cruise from the comfort of your own home. Well…maybe it's not exactly like that but it's still a fantastic design nevertheless: you just gotta love those pastel colors.
Storyline
Perhaps the key to the success of The Love Boat was that it immediately told you what was on offer: love…on a boat. And so the Pacific Princess went on an amazingly successful nine year run of sailing the high seas and matching up lonely individuals who were looking for deep and meaningful companionship.
Fans all over the world fell in love with Captain Stubing and his whimsical crew as they helped passengers hungry for romance find their soul mates. The story arcs for each show would usually focus on one of the crew members, as well as a crew member interacting with a guest, and then a plot involving a couple in trouble who came aboard the boat to repair their relationship.
Every show was jam-packed with all of the hottest celebrities of the day making guest appearances and it would be irresponsible of us not to give a quick recap of some of the more popular guest stars to grace the decks of the Pacific Princess. Pretty much every big name of the late '70s and early '80s was on the show, including Bill Bixby, Loretta Switt, Scott Baio, Jimmie Walker, Loni Anderson, Gary Burghoff, Dick Sargent, Pat Morita, Dick Van Patten, Priscilla Barnes, Scatman Crothers, Shelly Long, Patty Duke, Leslie Nielsen, Jamie Farr, Robert Ulrich, and Harry Morgan…and that was only the first season of the show!
Oh – not to mention that acting legend John Ritter came aboard on the second episode posing as a woman, which was clearly in preparation for his amazing role of Jack Tripper in "Three's Company". And if we had unlimited space in this review you would see the long, amazing list of guest stars from the other 8 seasons. Simply put, The Love Boat was the crown jewel of network television and will go down in history as being one of the best shows ever.
This release tells the story of The Love Boat through symbols of the main cast members and nautical imagery. There are also bonus features that will have you acting as a member of the crew, helping cruise guests to find love during their adventure. Although there aren't any specific plot lines from the original show, there's more than enough on offer here to rekindle your memories.
Unique Symbols
All of the symbols will instantly transport you back to those romantic and wacky adventures on the water, and there's a great mix of different images. Every major character appears in the game and Playtech thankfully stayed true to the likenesses of the real actors when they created their symbols. Everyone made it onboard:
Life Preserver (2 stripes)
Life Preserver (4 stripes)
Clipboard with a Heart
Heart
Wine Glasses
Burl "Gopher" Smith (Fred Grandy)
Isaac Washington (Ted Lange)
Vicki Stubing (Jill Whelan)
Dr. Adam "Doc" Bricker (Bernie Kopell)
Captain Merrill Stubing (Gavin MacLeod)
Pacific Princess (Wild)
Boat Throttle (Bonus)
The Love Boat Logo (Scatter)
Dream Cruise (Jackpot)
In somewhat of a surprising plot twist, The Pacific Princess Wild symbol pays out the most for five of a kind with a massive 3,000 coins. This is followed by the symbol that most fans would have guessed as the best, Captain Stubing, who pays 1,000 coins.
The rest of the crew was ordered to fall into line so when it comes to hitting 5 in a spin going from highest to lowest values we have Doc giving you 400x, Vicki paying 300x, Issac mixing up 200x, and Gopher cleaning things up with 150x.
Jackpots
If there's one thing that The Love Boat taught us it's that there is always excitement around the corner – even when things look their bleakest. So you know that the machine's creators just had to include a jackpot prize to keep things exciting (and new).
The "Dream Cruise Ticket" symbol that can appear on reel #5 is your chance to find financial happiness as it will give you an opportunity to win a $/£/€ 10,000 jackpot. Each time you hit a Dream Cruise symbol you will win a ticket to the next draw, which is held on a recurring basis once a week with the details posted on the right side of the game board. Any player who has a ticket will be eligible regardless of which participating online casino they're playing at.
The number of tickets that you win each time you get the Dream Cruise symbol is random but the game claims that the higher your wager, the more tickets you will win if you hit it. They do not elaborate further on how this works.
At any time you can check your tickets to see the date and time of the next jackpot draw, and you will be reminded of when it is close at hand by a clock that pops up on the screen and begins to count down. Then all of your tickets will appear on a special screen and the winning ticket number will appear number by number, automatically eliminating any of your tickets that do not have a chance of winning.
Eventually one player will be left holding the golden ticket and will win the $/£/€ 10,000 prize. You are always able to check your Dream Cruise tickets and jackpot history in the main dashboard of the game. And don't worry, if you have the winning ticket you'll still win the jackpot even if you're not logged in or playing at the time and you'll see that the prize has been added to your bankroll the next time you log in.
Bonus Rounds
This is The Love Boat so you can guarantee that there's going to be tons of romantic action throughout so it's no surprise that the bonus round focuses on making love connections. Once you get a Boat Throttle Bonus symbol on reels #1, #3, and #5 in the same spin you will be whisked below deck to the cocktail bar for the "Matchup Bonus": this is where you will try your hand at being the cruise's "Chief Matchmaker".
You'll have to quickly scan the bar and pick one of the beautiful ladies and match her with an eligible bachelor. Then each of the singles will reveal a cash prize and you will win at least the total amount that was hidden behind them. However, once matched the new couple will take a walk over to the love meter to test their compatibility and you'd better keep your fingers crossed that they like each other because their happiness in life directly effects your happiness with the bonus multiplier.
After analyzing the new couple's compatibility the love meter results will be one of three possible outcomes:
Let's Just Be Friends = 1x multiplier
You're Smoking Hot = 3x multiplier
It's My One True Love = 5x multiplier
Once their match has been evaluated your cash prize will be multiplied by the amount that corresponds with the love meter's decision so you'd better hope that you're as good as Chuck Woolery when it comes to helping couples find true love.
Free Spins
There's only one physician who can preside over the "Love Doctor Free Games" and of course that's the Pacific Princess' resident physician, Doc Bricker. He even appears beside the game board to personally preside over your freeroll – what elegant bedside manner!
The key to winning big in the free games mode once again depends on a love meter, just like the Matchup Bonus previously described. However, this time it's Doc himself who boosts the results of the love meter, with every symbol of his that falls on the board pumping the love meter up one level.
The higher you pump the meter, the more cash and prizes you will win. There are no restrictions on when you can increase the meter, so if you're extremely lucky and hit 5 Doctor Love symbols in one spin you'll immediately win the 3 bonus features that are offered in the first 5 levels of the meter.
The love meter has 10 positions in all, with 5 of them having the ability to boost your bankroll. Two of the positions give you a Freezing Wild, another two award more free spins, and the top spot on the meter will dish out a multiplier plus more free games – what a buffet of treats!
Graphics
Many players won't be expecting this release to have such amazing graphics because the show is old and dated. However, Playtech did not disappoint fans and they updated the crew to make them look like super duper HD versions of themselves. Sometimes cartoon interpretations of original characters can look cheesy and fake but all of these look like they were painted in oil on canvas by a skilled artist. Seriously, the symbol design is fantastic and all of the crew look as fresh as the day they took their first cruise in 1977.
There are also some video clips from the original show, including classics like Issac making his "Issac Eye-Opener" in the Love Meter bonus feature. Although we do get a few flashbacks of original footage, many fans will probably be a little disappointed that we weren't given more, but this is a minor criticism overall.
Lastly, all of the symbol animations and graphics during payline wins are the perfect amounts of flamboyance and glamor, and they will have you rolling your eyes as you smile.
Audio & Soundtrack
One of the only large issues that people will have with this machine is the soundtrack that plays during the regular game. It's great that they play a version of the original Love Boat theme song but it stops at the end of every spin and then restarts with the next one.
It totally breaks up the flow of the game and unfortunately it can get quite annoying if you're not in the mood. It's strange because when it restarts it actually picks up from the same spot in the song that it stopped on, so it kind of takes you on a disjointed musical journey. Thankfully, we finally get to hear the full uninterrupted theme song when we enter the Love Doctor Free Games.
The strange audio choices continue when you hit a big payline win and a new, unknown song starts blaring as the cash is added to your balance. It's way too fast, way to modern, and way too intrusive. Again the soundtrack actually distracts you from your romantic adventure instead of adding to it. It seems like they were going for a "festive party feel" but that was just a silly decision to make.
Thankfully, both of these soundtrack problems are easily fixed by pressing the "Turbo Mode" button in the player controls. This causes the reels to spin so fast that there's no time for music, so many will opt for this solution every time. If you want a taste of the theme song you can always go back to regular speed for a while and groove out.
All of the audios in the regular game such as the reels spinning and stopping are pleasant enough and don't distract from the relaxation.
Conclusion
Everyone who's ever watched The Love Boat will want to take a long cruise with this game since it's an instant classic that players are going to love as soon as they leave the pier. There are tons of beautiful images, lots of ways to win, and everyone from the original show dropped by to say hello.
The low return to player (RTP) is balanced out by the number of special features that it has, but a payout percentage of around 94% is admittedly lower than most of the other games out there today. However, the low payouts are totally understandable when you consider that you have a chance of winning an exclusive jackpot prize, which is a rarity.
Whether you enjoyed this show in its prime or you became a fan watching it in syndication over recent years, you're definitely going to smile while you spin. The colors, soundtrack, and images do a great job of relaxing you and taking you away to a tropical island…oh, the power of pastel!
So if you're looking for something exciting and new (and potentially profitable), check out The Love Boat Slots and put your happiness in the hands of the experts.
All aboard!
Bonus Video of The Love Boat
Those of you who used to watch the original run of The Love Boat in the early 1980s will remember what a huge television event it was each week. You simply couldn't miss it because you never knew who was going to guest star and walk onboard.
Of course ABC was more than happy to fan the flames of popularity and in 1983 aired their special fall preview show from the decks of the Pacific Princess. The preview shows detailed all of the network's best programs for that year and was basically an hour long promotional video for their network.
So for those of you who are interested in reliving the glory days of The Love Boat, here is the full "1983 ABC Fall Preview" show, complete with all of the stars from the network, (including Joan Collins, Henry Winkler, and John Ritter), as well as all of the original commercials. This truly is the perfect television time capsule. Enjoy!