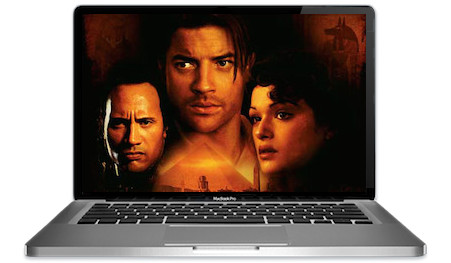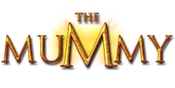 The Mummy returns with an action-packed online slot game that will have you hunting the undead while you search for cash and prizes. Make sure you bring along the Book of the Living because ancient Egypt can be a very dangerous place…
Original Cast Members
Tons of Extra Reel Features
Collapsing Reels
---
---
Review of The Mummy Slots
First of all, you should know right off the bat that this game is actually based on the second installment of the movie franchise, "The Mummy Returns", which is obvious due to the presence of Dwayne "The Rock" Johnson as The Scorpion King. Also, in the game's instructions it confirms that the movie clips are from the sequel to "The Mummy" and not the original film, so if you are a Mummy Traditionalist who's only looking to play a slot based on the first film in the series, you are sadly out of luck.
Many years ago I watched the first two Mummy films back to back one Sunday afternoon, and I must say that I was pretty confused by them. Were they supposed to be horror or slapstick comedy? I guess that they were technically a mixture of the two, which I find odd, but I enjoyed them nevertheless. And since the studio execs decided to make tons of these movies in the following years, I'm going to assume that lots of other people liked them too. Sure, I prefer the original films from the 1940s – Brendan Fraser is no Boris Karloff, but he does do a good job of making the role his own.
Anyway, I'm not bringing any sentimental feelings into this review with me, so this game will have to stand on its own two feet if it wants to get a good recommendation. With that said, I think that fans of the movies will be quite happy because Playtech did a really good job on this slot, and a lot of you might be surprised at just how well it turned out.
Screenshots
There's just no denying that this game is starting to look a little dated, which is to be expected since it was released many years ago. Movie-themed slots haven't really been designed like this for a while, but somehow the look and feel of this game seems to have held up. I think that the classic-looking backgrounds and user controls add to the whole "ancient Egypt" vibe.
Storyline
There were simply too many unanswered questions at the end of 1999's "The Mummy", and so another installment of the franchise had to be released. The first movie set the foundation of the ancient Egyptian relationship between high priest Imhotep and Anck-Su-Namun, and the black magic they practice to resurrect the dead to achieve ultimate immortality.
The year is 1926 and we find the brother and sister duo of Evelyn and Jonathan Carnahan enlisting the services of Rick O'Connell to help them get to Hamunaptra, otherwise known as "The City of the Dead". When they get there they discover that there is another team of Americans there, combing the pyramids for ancient treasure. After many run-ins with evil spirits and humans doing the bidding of the undead, an ultimate battle at the River of Death transpires and Rick, Evelyn, and Johnathan eventually return the spirit world to normal. They also get some treasure, and then ride happily off into the desert. Roll credits.
Seven years later we return to Rick and Evelyn who are now married with a son named Alex, once again digging for artefacts in Egypt, apparently having learned nothing from their previous near-death experiences with the supernatural. They find a bracelet that promptly locks itself onto Alex and gives him directions to the desert of Ahm Shere, which he must find within 7 days or the bracelet will kill him – talk about a fashion faux pas!
This is all a result of the Scorpion King offering his soul to Anubis, the God of Mummification, a few thousand years prior. The God gave him a jackal army to defeat his enemies in exchange for eternal ownership of this soul. After many twists and turns, a return appearance by Imhotep, more passages from the Book of the Dead, and bloody battles with pygmy mummies, the O'Connells are again victorious against the ghouls and victoriously ride into the sunset. Roll credits.
This slot from Playtech takes us on the adventure all over again with the original cast, Egyptian artifacts, and terrifying mummies. The storyline in this game is stronger than that of many movie-themed slots, and you should find yourself having flashbacks of slapstick comedy intertwined with gruesome images of the dead rising from the gave.
Unique Symbols
This game gets high marks for its unique symbols because it was able to strike the perfect balance between character symbols and object symbols, which is surprisingly rare in the world of online slots. The reels seem perfectly balanced with nothing overbearing, and you never get bored of the symbols.
Oh – and sorry John Hannah, I see that you didn't make it into the game as Jonathan Carnahan…although, I guess it's not that surprising. Here's what we do get:
Two Pistols
Scarab
Egyptian Canopic Jars
Book of the Dead
Bracelet of Anubis
Imhotep (Arnold Vosloo)
Anck-Su-Namun (Patricia Velásquez)
Mathayus The Scorpion King (Dwayne "The Rock" Johnson)
Evelyn Carnahan O'Connell (Rachel Weisz)
Rick O'Connell (Brendan Fraser)
The Mummy (Wild)
The Mummy Logo (Scatter)
Scorpion Scatter (Once Unlocked)
Rick O'Connell is the head archeologist in charge here, giving you 10,000 coins for five across the reels. The payouts then drop dramatically with Evelyn Carnahan O'Connell paying 2,000 coins for 5 of a kind, and then Imhotep and Anck-Su-Namun weigh in with 500 coins each for the same. The Scorpion King is an insulting 250 coins for five in a row, and if that doesn't make him rise from the Underworld and wage unholy war, I don't know what will.
Don't rub your eyes, you aren't under a magical spell – the Wild symbol does only appear on reels #2, #3, and #4. And remember, you must always play a minimum of 25 lines each spin, so set your line bet amounts accordingly.
Jackpots
You can dig in the bottom of this pyramid all day and you still won't find a Mummy Slots Jackpot of any kind. There's only so much action they can cram into a game, and frankly, you're greedy for even considering that they might have one. (Full disclosure: I thought there might be one too.)
Bonus Rounds
The Lost City Adventure Bonus takes you to a tomb that has 6 ancient crates stuffed with cash that will give you anywhere from 1x to 4x your wager, and it will unlock an extra game feature if you still have any left to achieve. You will keep picking crates until you choose the one with "Collect", and that will end your feature, take you back to the regular game, and add all of your bonus winnings onto your balance. The extra features will be unlocked in the specific order listed below.
Scorpion Scatter: A new Scatter that pays when 2 or more fall in a spin.
Expanding Mummy: The Wild becomes Expanding and covers the entire reel.
Scarab Attack: Wild symbols on reel #3 will trigger 2 more Wilds on reel #2 and #4.
Free Games: Free Spins symbols are added to reels #1, #3, and #5.
Collapsing Reels: Winning symbols in a spin explode and the symbols above them fall down to form new combinations. This continues until the winning paylines have dried up.
Mummy Power: Wilds in payline wins will give the payout a 3x multiplier.
Mummy Hunt Bonus: A secret bonus area where you hunt and kill mummies.
Mummy Respin: Reels with Wilds on them will lock while the other reels spin until a payline win is achieved.
By far the coolest of the above features is the Mummy Hunt Bonus, which I have a lot of fun playing every time. You are sent to the bottom of a pyramid where you can kill anywhere between 2 and 10 mummies, all of which will be hiding cash amounts of 1x, 2x, or 3x your wager. This is a "choose your own adventure" where you can decide which way you go when you come to a fork in the road. Your choice will either lead to a solo mummy that you execute and then continue on, or to a group of mummies that will swarm and kill you, obviously ending your bonus round. Yikes!
You will be able to track your bonus cash and where you've been thanks to the map that appears in the top right of the frame. If you successfully kill the maximum amount of 10 mummies during the bonus round you will be treated to a video from the movie that will absolutely knock your socks off.
The features that you unlock will be listed on the left side of the screen so you can easily keep track of what you've accomplished. And don't worry – whatever you unlock will be saved and available the next time you enter the game.
Free Spins
If fighting mummies wasn't bad enough, you'll also have to fight for free spins in this game because you won't get any until you've won the special symbols during the Lost City Adventure Bonus. Thankfully, as I just mentioned, they will always be available on reels #1, #3, and #5 once you've unlocked them, and they'll give you 5 free spins and 1 "Super Spin" every time you get one on each of those reels.
While you're freerolling, all of the Wilds that fall are tallied up on the lefthand side of the screen as "Collected Wilds", and are then redistributed for the one Super Spin. They will be randomly placed on reels #2, #3, and #4 and locked in for the spin, with an obvious maximum of 9 Wilds being able to be frozen.
Sadly, you are unable to re-trigger more free games during your freeroll.
Graphics
There are tons of cool movie clips and lots of still images of the character symbols when they're used in winning paylines, and the non-character symbols pulsate when they're part of a victorious combination. These graphics will definitely not be considered as "groundbreaking" these days, and you might find yourself shaking your head more often then you find yourself impressed with them, but I personally think that they're part of the game's charm.
The backgrounds of the regular game and bonus areas were all well-designed and will immediately transport you to ancient Egypt, and the one they chose for the Free Spins Mode is a beautiful view of Egypt from the top of a mountain. Another great visual is when The Mummy logo is used in a payline win and gives you fireballs burning through the sky to decimate a desert village. The effect is quite profound, and it is of course accompanied by a blast from a sad Arabian clarinet.
One of the scariest visuals in the game is when you've unlocked the Expanding Mummy Wild and then he drops onto the game board. He's quite gruesome with his flesh half rotted away, creepy faces throbbing out of his torso, and screaming at you as it zooms in on his face. And if this all sounds disturbing, please trust me when I tell you that it is.
Each bonus feature that's unlocked brings on another cool graphic, with my favourite being the Scarab Attack. When the Mummy Wild lands on reel #3 and unleashes two hordes of scarabs on the reels beside it, it's quite the crazy sight – they're hungry little buggers.
Audio & Soundtrack
The song that plays as the game is loading is great – it's a techno inspired, slow rising song that you would expect to hear at a European beach party as the sun is setting, (at least I think that's where I heard something like this before). I can't remember if this particular tune is from the Mummy Returns or not, but it sure seems out of place given the subject matter.
The game plays ancient Egyptian style clarinets each spin, (I think the instrument might actually be called an "Arghul", but I'm not sure), and there are different Arabic melodies that play with each payline win so sometimes it gets a little much. Also, occasionally the game will play the old school whirling sound when wins are being added to your balance.
Whenever you hit 5 of a Kind the game blasts you in the face with that "fire alarm sound" that Playtech loves, but could potentially give someone a heart attack. I found that all of these sounds mixed together got very annoying after a while so I usually like to play this game with the effects turned down.
Also, when you trigger a bonus feature you get spooky Arabic music that builds the suspense of whatever adventure you are about to go on, as well as any features that you win. There is then a creepy voice that announces the bonus round, followed by an intense beat that will get your blood pumping.
All of the other noises in the game like the reels stopping and user control buttons are all fine so there's nothing to report there.
Conclusion
Even though The Mummy Slots is getting up there in years, there's still lots on offer here for those who like complicated games with the ability to level up and unlock extra features. The bonus rounds seem to come fairly often, which might be expected considering that there are a whopping 8 different features to unlock. That's definitely part of the fun though because there's always something to shoot for when you first start playing, and I speak from experience when I say that it is very satisfying to start filling up that list of features on the left side of the screen.
Fans of the first couple of Mummy movies will be extremely happy with Playtech's interpretation of them since they gave us all of the original characters, tons of images from ancient Egypt, and stills and videos from the original films. Not to mention that all of the bonus features are directly inspired from the movie and dig deep into the storyline, which will have diehard fans giddy with morbid delight. Although this game does have quite the serious tone with the mysterious symbols and a raging, half-rotten zombie clambering for you, it's balanced out by the chill lounge soundtrack and wacky audios when you win.
I'd say that there's definitely enough going on in this game for non-fans of the Mummy to have lots of fun as well. I mean, I only watched the movies once and I regularly enjoy breaking off some of my bankroll and depositing it into this slot.
So if you want to fight your way through pyramids, or simply relive the days when Brendan Fraser was Box Office Gold, check out The Mummy today…or you shall be banished to The City of the Dead for all of eternity!!
Just kidding, that place doesn't really exist…does it?
Bonus Video of The Mummy
I couldn't find a good video from around the time the original films were being promoted, so here's a great interview with Brendan Fraser a few years after The Mummy was released, with the always funny Craig Ferguson. Enjoy!