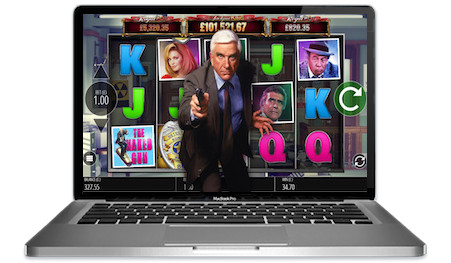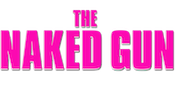 One of the silliest movies of the 1980s is back with an even sillier game for the 2010s. Frank Drebin stars in the punny extravaganza, The Naked Gun Slots, that will have you giggling and rolling your eyes as you chase big wins.
Original Characters
Tons of Free Spins Modes
Great Design
---
---
Review of Naked Gun Slots
Movie makers must have sensed in the late 1980s that the trends of the wacky, colorful decade would not continue too far into the '90s and the viewing audience's appetite for silly slapstick would soon come to an end. Thankfully, the decade squeezed one more campy comedy into the video store in 1988 called The Naked Gun: From the Files of Police Squad! It was based on the failed ABC sitcom, Police Squad! that had bombed a few years before so it was definitely a risky venture on the part of the producers.
At the time, people either loved this movie or hated it and this will probably be the same situation for the game that bears its name. If you didn't like the comedy then, there's no way that this title will appeal to you now since it's filled with jokes and imagery straight from the film. And make no mistake – the comedy is just like the original source material: very punny.
However, if immature jokes and toilet humor are your cup of tea, continue on with this exclusive review of Naked Gun Slots and find out what's in store. As my loyal readers are surely aware, I love puns, especially bad ones, so you already know for sure that I owned this on VHS back in the day. Let's start the investigation!
Screenshots
Just because this release is based on a gritty cop movie doesn't mean that it can't be splashed with bight, vibrant colors. At least that's what the designers must have thought because they poured pink all over this bad boy. Click on the images below to enlarge them and see what's going on here.
Storyline
If you've never seen the original Naked Gun films this plot summary is going to sound pretty outrageous, which is exactly what the writers were going for. The film centers around Los Angeles police lieutenant Frank Drebin as he seeks to clear his partner's name after he is falsely accused of narcotics possession when breaking up a drug ring down at the dock. The criminal activities are being lead by Vincent Ludwig, who after questioning by Drebin tasks his beautiful assistant, Jane, to help him continue his investigation and get some answers.
As Drebin and Jane start to fall in love, Ludwig makes a deal with international evildoer, Pahpshmir, to have Queen Elizabeth assassinated during her visit to L.A. for $20 million. Pahpshmir was seen earlier in the film as one of the participants in the meeting of evil world leaders who hate the United States that was stumbled upon by Drebin in Beirut.
The story crescendos at a California Angels baseball game as Drebin tries to save the Queen from a hypnotized Reggie Jackson who is attempting to carry out the heinous deed. Slapstick comedy ensues.
This release from Blueprint Gaming unfortunately doesn't dive too deep into the original plot of the film and instead relies on character symbols and images to conjure up distant memories of a movie that most people probably haven't seen in decades. The storyline is definitely the weakest part here but that doesn't mean that all hope is lost and perhaps Lt. Drebin can still save the day.
Unique Symbols
Most of the original cast made it in as unique symbols and the only two main omissions of note are "Weird Al" Yankovic and Reggie Jackson. Thankfully they didn't try to sneak in O.J. Simpson as Nordberg.
J (Jack)
Q (Queen)
K (King)
A (Ace)
Vincent Ludwig (Ricardo Montalbán)
Captain Ed Hocken (George Kennedy)
Jane Spencer (Priscilla Presley)
Sergeant Frank Drebin (Leslie Nielsen)
The Naked Gun Logo
Police Car Light (Wild)
Detective Badge (Bonus)
For once you'll actually want to see flashing lights in your mirror because the Police Car Light is the highest-paying, giving you 500 coins for five together. Next is The Naked Gun logo with 400 coins, and Drebin and Jane follow that with 200 coins a piece for the same. Finally, Captain Ed and Vincent will hand over 100 coins each for 5 of a Kind.
Jackpots
Those on the hunt for big cash prizes will be happy to know that there is a Naked Gun Slots jackpot available courtesy of the popular "Jackpot King" network. First you will have to trigger access to the special area and from there you will play a totally different machine to try to win the grand prize, which can easily be in the high 6 figures when it goes off.
As soon as you see those Jackpot King symbols start to fall on the reels your heart skips a beat in excitement. If you see 5 of them across the board make sure you stay conscious so you can select crowns in hopes of levelling up and getting to spin the "Wheel King". Your life-changing progressive prize could then finally arrive, (as long as you live to claim it!).
Bonus Rounds
Now it's time to call out the biggest problem with this game – there isn't a real bonus round. Sure there are tons of free spins modes with unique goodies and backgrounds but there aren't any dedicated special features. This means that it's basically a constant bombardment of whirling reels and police lights flashing, without a break to catch your breath. Obviously anyone who doesn't like bonus rounds is going to be delighted to hear this but the vast majority of players would have probably liked to mix things up with some fun diversions.
That said, the Roaming Wilds that can be triggered will have you nodding along to their sassy song as they dance around the reels and fall into random positions. It's triggered by 3 Wilds landing together and they send the machine into a frenzy with flashing lights and police sirens. As they patrol the board they can even call on additional Wilds for backup and every time one shows up on the scene you are awarded with a re-spin, with the do-overs only stopping once no more new ones arrive.
An additional perk sees random Bonus symbols added to the board to increase your chances of winning and they can arrive at any time.
Free Spins
Since there are no unique areas to visit it's a darn good thing that there are 4 different free spins modes in Naked Gun Slots, with all of them being based on some variation of Roaming and/or Expanding Wilds. Of course, all of these are actually paid for with the low Return to Player (RTP) of 93.75%, which many gambling veterans will find extremely small.
You're going to have to be on your toes in order to access all of the modes though, because once you've triggered a freeroll you're presented with a gamble option that allows you to accept the base prize or take a chance on improving it with extra Wilds and features.
You are given 4 Case Files to select from and if you choose correctly you'll "level up" to the next area that will give you more Multiplying and Roaming Wilds, then Expanding Roaming Wilds, then on the 3rd pick it's Multiplying Expanding Wilds. If at any step of the way you choose wrong you're given a random cash amount and sent back to the regular mode without any gratis games.
All of the 4 options give you a fixed 10 spins along with the roaming Wilds and in order they are:
Home Run: Roaming Baseball & Glove Wilds
On the Edge: Roaming Statue Wilds
Stake Out: Fish with Pen Wilds
Crime Scene: Chalk Outline Wilds
The escalating features are a little confusing at first glance but you'll quickly learn what each offers. The 1st level gives you Roaming and Sticky Wilds, the 2nd level gives you Roaming and Sticky Wilds that expand if 2 collide, the 3rd level gives you Sticky Wilds that will give you a 2x to 5x multiplier if 2 collide, and the 4th level will give you Sticky and Roaming Wilds that expand when 2 collide and give you a 2x to 5x multiplier on your winnings. Simple, right?
Everything is triggered by 3 or more Detective Badges falling together at once.
Graphics
The graphics in this release were very well done, which experienced players will immediately expect from anything that's made by Blueprint Gaming. Clean user controls, sharp imagery, and smooth animations is how this software company has begun to separate itself from the rest.
Some of you will probably be surprised at the neon colors that were chosen for the playing card symbols and the bright pink that is all over pretty much every part of the machine. The colors actually do a great job of cheering up the drab police office backgrounds that rarely change throughout the action, so their decision is appreciated.
As mentioned above, the Roaming Wilds are the real star of this title since they're available in all 4 of the free spins modes and when these babies go for a walk across the reels they do it very smoothly. The animation team gets an A+ for their efforts on this one, as well as the other moving pieces throughout.
Audio & Soundtrack
There's a huge problem with the regular mode soundtrack that no one would have ever expected from a company like Blueprint Gaming. The main song is on a terrible loop that stops every time the reels do so this game simply cannot be played with audios on while auto-spinning. It's ridiculously annoying.
It actually sounds like many of the audios are broken because they jump, skip, stop unexpectedly, and then restart with little rhyme or reason. The ultimate problem is that you cannot choose to mute only the music but keep the rest of the sound effects on, so if you go without music you'll go without all of the one-liners from the film, which are one of the main reasons that most of you will be playing it in the first place.
A rare high point of the soundtrack is a delicious saxophone-dominated funk jam that pumps up when you trigger the Roaming Wild area and it sounds like it was inspired by the theme from Night Court. So if you're rolling on mute make sure to turn the volume back on when you trigger this feature so you can hear the awesomeness. Oh – and this one isn't on a 3 second loop like the main song, which makes their other terrible audio choices even more confusing.
The song in "Home Run" sounds like a cheesy medieval piece that would be heard as knights gallop across the countryside to rescue a princess. Most of you will probably agree that this was yet another strange choice by Blueprint. The rest of the game mostly has the same official sounding song that's dominated by a classical horn section and strings.
The good news is that they included tons of audio clips from the movie and they're only heard in specific areas so you're usually caught off guard with a giggle when a rare soundbite drops. Classic lines like, Aren't you afraid that it might go off accidentally? and Isn't that right, Mr. Poopy Pants? intermingle with the high-energy songs that blast as you go along.
However, sensitive players should be warned that quotes from the film get even more risqué than that with the likes of, Sexual assault with a concrete dildo!?! Although if you're making a game about The Naked Gun you probably have to include the craziest parts, right? Still, this one did seem a little over the top.
Conclusion
This is a "must play" for any fan of the original movies and most of you will enjoy it for long sessions. However, with the extremely bad soundtrack and frantic free spins modes that are hard to keep track of, some of you will find it a little frustrating after a while.
To be honest, it kind of feels like this was released without being given a final test by someone who is an expert in the field. If this would have happened the annoying songs and their sloppy loops would have been immediately flagged and it would have been deemed as, "unplayable for long stretches of time" and therefore the problems would have been fixed before launching. The same person would have hopefully pointed out that having 4 free spins modes and no bonus round is a total waste of energy.
This all said, Naked Gun Slots is a fun little blast from the past in small doses – Leslie Nielsen's comedic genius alone demands that you give it at least one chance. Also, there are some out there who prefer the simplicity of only having freerolls available, so if that describes you, you will probably find yourself enjoying this machine a lot, (most likely on mute).
It's sad that Detective Frank Drebin ultimately goes down in a repetitive and annoying slot because we all know how he would have preferred things to be: A parachute not opening, now that's a way to die.
Well, that probably would have been a lot less painful than this game's soundtrack. Let's hope that Naked Gun 2½ gets released soon…with different audio technicians assigned to the project. Now where's that concrete dildo?
Random Video of Naked Gun
There really aren't any interesting videos about the original film so here's a ridiculous one on the making of Naked Gun 2½. It's not too long and it's a must-watch for any true fans of the franchise. Enjoy!