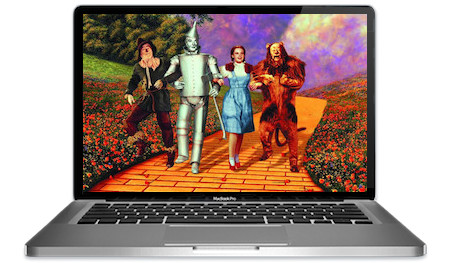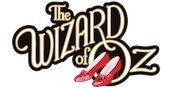 We're off to see The Wizard, The Wonderful Wizard of Oz! It's time to skip down the ol' yellow brick road to search for cash prizes and evade evil flying monkeys. Just remember to never look behind the curtain…
Fantastic Free Spins Mode
Excellent Bonus Round
Full Original Soundtrack
---
---
Review of Wizard of Oz Slots
Most people reading this review will have a soft spot in their hearts for the film that taught us all that there's no place like home. Everyone saw this movie for the first time when they were a child and it really stays with you for the rest of your life.
As you get older you see it again at different points in your journey, usually learning a new lesson each time. It's one of the first true classics that's universally adored by the young and old alike.
So yes, like most people over 50 I absolutely love this film and you'd better expect some bias in this review because I'm just not the type of person who can be tough on a little girl and her dog. Thankfully, this turned out to be totally amazing and every fan is going to love it.
This honest review of The Wizard of Oz Slots will break down every reason why it's an instant classic.
Screenshots
Even though the film is closing in on being a century old and this machine was released many years ago, the images and characters still invoke feelings of love and wonder. The design looks great and it holds its own against any new slot games that have come out over the last few years.
Click on the images below to take a closer look and marvel at the beauty.
Storyline
Everyone will probably already be very familiar with this story but just in case there's someone stopping by who's never seen the movie, here's a quick recap.
Young farm girl Dorothy bumps her head while running for shelter from a tornado in her Kansas home and wakes up to her house spinning in the eye of the natural disaster. The house is eventually set down in the magical Land of Oz, killing the Wicked Witch of the East, much to the delight of the inhabitants of Munchkinland. However, her sister, the Wicked Witch of the West, isn't too pleased with the events and promises to have her revenge on Dorothy for the dastardly deed.
Dorothy and her little dog Toto then go on an epic journey to find the Wizard of Oz in the hopes that he can help her get back home to Kansas. As she follows the yellow brick road to the Emerald City she meets the Tin Man, Cowardly Lion, and Scarecrow, who also want to see the Wizard in hopes that he can help them with their problems. The ultimate irony being that they have possessed the traits that they seek within themselves the entire time.
This release from WMS did a great job with the storyline and selected two of the best parts of the plot: the terrifying flying monkeys and the amazing trip to see the Wizard in the Emerald City. There's tons of original video clips and sound bites from the film which trigger your memory and take you right back to Oz. Unfortunately, this machine doesn't give us any answers regarding where reality ends and dreams begin.
Unique Symbols
Now we wouldn't want to make any unnecessary complaints about a gambling game that's based on one of our favorite movies of all time, but where in the heck is The Lollipop Guild?! Why didn't they include even one munchkin? This just seems strange.
Anyway, pretty much every other character from Oz that you'd want to see made it in so let's not dwell on the omissions…especially since they included so many of those scary flying monkeys. Here's what we got:
Hot Air Balloon
Family Home
Tornado
Ruby Slippers
Wicked Witch of the West (Margaret Hamilton)
Toto in a Basket (Terry Spitz)
Tin Man, Scarecrow & Cowardly Lion
Dorothy Gale (Judy Garland)
The Wizard of Oz Logo (Wild)
Emerald City (Feature)
Jackpot
Winged Monkey Wild (Pat Walshe)
Winged Monkey Retrigger
Winged Monkey Feature (Wild)
Besides hitting the jackpot, the best one is the Wizard of Oz Logo which gives you 1,000 coins for 5 of a Kind. Next is of course Dorothy who hands you 750 coins for five in a result, and then the Tin Man, Scarecrow & Lion give you 500 coins for the same.
Jackpots
This machine already has tons of action thanks to its many bonus rounds so it was surprising to find a Wizard of Oz Slots Jackpot was included as well. It's an in-game jackpot like other WMS titles online that will give you a cash prize based on how many of the symbols you hit on a payline.
The amounts are quite decent with 3 Jackpots giving you 100 coins, 4 giving you 1,000, and 5 together dishing out a big payday of 10,000 coins. Of course this means that you have the potential to win $50,000 if you're playing on a max wager, but only high rollers will be able to afford the $150 bet each time at this top level. Pay no attention to the man behind the curtain.
Bonus Rounds
The yellow brick road holds many magical surprises, with one of the best being the Wizard of Oz bonus round that will absolutely sweep you off of your feet. It's triggered by hitting the Winged Monkey on reels #1, #3, and #5, and once the "Oz Pick Feature" has been initiated you will be asked to select one of the symbols to reveal your prize. It will either be an instant cash win, or entrance to the "Road to Emerald City Feature", or access to the free spins mode.
In the Road to Emerald City you will be presented with 30 different emeralds to choose from that are hiding prize amounts, character areas, and "Collect" symbols that will end the round. There are a few different characters available and if you reveal them you will go to their unique area and be given 2 Oz coins to choose from. If you pick correctly the character will join you on your visit to see the Wizard and if not you will be sent back to the emerald patch with a small prize of 2 times your total triggering wager.
The four special areas in the Land of Oz that you can visit are:
Cowardly Lion Dark Forest
Tin Man Apple Orchard
Scarecrow Corn Field
Wicked Witch Castle
Once you're in front of the Wiz he will take each character and surround them with 4 dollar amounts that have a rotating "selector" cycling through them which will finally stop to award you one at random. All of the amounts are of course dependent on the size of the triggering wager, with larger bets pushing the prizes higher, up to a maximum of 25x.
Don't worry if you hit a Collect before revealing a character because this machine is so generous it will take you to the gates of the city and present you with 5 gold Oz coins to choose from anyway. Four will be hiding extra money to give you before you go back to the regular mode, but one will be hiding a character that will get you in to see the Wizard even though you did a poor job of selecting in the previous area.
The awards here are really volatile and range from 30x your line wager for the smallest amount in the emerald patch, to a whopping 1,500x your line wager if you hit the biggest of the 4 prizes when you take Dorothy to see the Wiz. So make sure to heed the Wizard's stern advice at the end of the round: cherish your possessions!
As if all of that wasn't enough, there's a nice little bonus in the form of the "Glinda the Good Witch Feature" which has her arrive at random during the regular mode and magically transform anywhere from 1 to 5 reels into Expanding Wilds. This can obviously lead to a nice little bump in your balance so it's always nice to see her float in.
Free Spins
You'd better be ready for heart-pounding action because the free spins mode in The Wizard of Oz Slots is absolutely terrifying for anyone who is scared of those evil flying monkeys. There's just something about their wings, vests, and little caps that gives some people the willies.
Anyway, the "Winged Monkey Feature" dishes out a straight 8 spins every time and it's always a welcome break from the regular mode because you're sent to a totally unique area. It's set in the nighttime so it's just like the movie. Yikes!
There's even a "feature within a feature" thanks to the "Winged Monkey Wild" that will trigger a swarm of flying monkeys onto the board that will grab random symbols and fly off with them to reveal Wilds if it lands on reel #3 during the action. The payouts are the same as the Wild wins in the regular mode but they're still going to boost your bankroll.
Also, you can win more spins if the special "Winged Monkey Free Spins Retrigger" lands on reels #1, #3, and #5, and it will give you another 8 each time it's activated.
Just try to make sure that those monkeys don't treat you like the Scarecrow and knock the stuffings out of you. Creepy!
Graphics
The graphics in this machine are absolutely fantastic, especially in the special areas, which is even more astounding when you consider that it's starting to get a little long in the tooth. When you go to see the Wizard he floats in front of your face and transports you straight to the Emerald City, and when Glinda appears in a floating bubble she's as beautiful and graceful as ever. All of the animations are fluid with nothing being choppy or annoying.
The Winged Monkey area has amazing visuals with hordes of monkeys flying across the screen and in your face, (or would it technically be a "murder" of monkeys?). You even get a totally unique background and some changes to the individual symbols, which all blend together to create another crazy corner of this fantastic virtual universe.
The images themselves are starting to look a little boxy and they could have been more detailed with the image of Dorothy, but there's nothing too offensive here. Not to mention, it's easy not to focus on the symbols when 5 of a Kinds will trigger nostalgic video clips from the movie, like Toto barking wildly – there's a lot here to be grateful for.
The only other animation that would have been nice to see at some point in the action is the Wicked Witch of the West melting, which is one of the more disturbing parts of the film for many. I'm melting! Oh, what a world! What a world!
Audio & Soundtrack
You absolutely won't believe how good the soundtrack is in this machine because it gives you everything you would ever expect and then some. In the Road to Emerald City you get to hear an instrumental version of "We're Off to See the Wizard", which is a fantastic payoff for being patient with the lack of music in regular mode. If you hit a really big win here you'll also get a beautiful instrumental clip of Herbert Stothart's, "Somewhere Over the Rainbow", which sounds better than ever here for some reason.
As if all that wasn't enough, in the freeroll WMS decided to throw in the horrific "marching anthem" that the flying monkeys assemble to. So that's a whopping three of the most recognizable songs from the film all packed into the game. Simply magical!
The win audios are fairly soft and unobtrusive, and there's a nice whirling sound every time the reels start to spin. However, without a main song or soundtrack, the audios do get a little repetitive after a while when you're auto-spinning.
There's a few sound bites from the movie which were great to discover but the fake Good Witch of the North in the Emerald City area gets annoying with her terrible impression of Billie Burke. There's another bad character impression but we'll let you find that one on your own.
If they only had a brain…
Conclusion
Free spins, and bonuses, and features, oh my! With tons of action, great graphics, and all of your favorite songs from the film, Wizard of Oz Slots is going to be a game that you will go back to again and again for fun and excitement. You're simply going to adore it…and your little dog will too.
As mentioned earlier, the only disappointing thing about this title is that there's not a munchkin to be found anywhere but this will only be a small complaint from fans, if at all. Those who value winnings over fun will probably paraphrase a quote from the Wiz and say, "A slot is not judged by how much you love it, but by how much it loves you." And this one certainly loves you a lot with a higher than average Return to Player (RTP) of 96%.
This was a great effort by WMS and it's one of their best releases of all time and it's obvious that we're not in Kansas anymore. It's always a pleasure to go back and get swept up in the magic of this machine.
Now put on your ruby slippers and click your heels three times and say, There's no place like home.
Random Video of Wizard of Oz
Here's an interesting little video about the failed Wizard of Oz theme park in Beech Mountain, North Carolina. It looks really creepy today but many will still wish that they would have visited it when it was open. Oh well! Ding-dong the witch is dead!