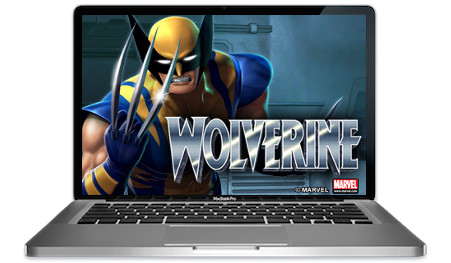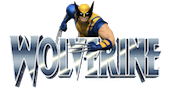 The wildest character in the Marvel Universe is back in Wolverine Slots, bringing ferocious action and bonus features. Just make sure that you don't try to tame the beast while you're chasing cash prizes.
Marvel Jackpot Network
Coolest Comic Character Ever
Fun Bonus Round
---
---
Review of Wolverine Slots
Many years ago I used to steal my older brothers' comic books and read them in the backyard and Marvel became my favorite. I didn't care whatsoever when I would get teased by the neighborhood kids for reading them or that my brothers would get angry when they caught me. For some reason I always liked the superheroes that had a mean-streak to them, which is how I became a fan of Wolverine in the first place.
Playing this game takes me back to those fun days so I have to warn you that this review is going to be a little bit biased. Although I tried to be objective with the graphics, soundtrack, and bonus round, I just couldn't be too hard on it. Please note that there is an even older version of this machine that was launched many years ago and that this review is about the newer one.
If you ask any 10 comic book fans who the coolest character ever is, at least 8 of them will say "Logan", and rightfully so. This expert review of Wolverine Slots will clearly explain how this release totally honors his legacy and the things that people love about him.
Screenshots
The following screenshots tell you everything you need to know about the look and feel of this game. Any Wolverine comic book fans will agree that Playtech did a good job of staying true to the appearance of the characters and objects from the graphic novels.
Storyline
Born at the end of the 19th century in Cold Lake, Alberta, Canada, James Howlett subsequently became known by the name of "Logan" and eventually "Wolverine". Although there has been much debate over the years as to whether Wolverine was more man or more animal, there is zero debate among experts that he is by far one of the coolest Marvel characters ever.
He eventually became a member of the crime-fighting X-Men along with fellow mutants Nightcrawler, Storm, Magneto, and numerous others. His main weapon consists of foot long razor blades which protrude from his hands due to his hardened skeleton, which resulted from an injection of Adamantium and he can also heal extremely quickly if wounded.
This release stays true to both the comic and the blockbuster movie starring Hugh Jackman, and references him in both human and animal form. However, this is where the similarities end. For some reason Playtech opted not to include any of Wolverine's main rivals such as Sabertooth, Lady Deathstrike, Gorgon, Silver Samurai or Cyclops and therefore it only follows James Hollet's physical and emotional transformation into Wolverine.
Unique Symbols
As a rule, any online slot machines that uses symbols for the Ace all the way through 9 raises flags because is shows that the software developers lacked imagination and in this case it's no different. It would have been quite easy to add one of Wolverine's enemies that were just outlined above, or one of his mutant X-Men partners or even an ally that he occasionally teams up with like Captain America or The Hulk.
However, we've seen this type of stingy character usage before with other Marvel releases from Playtech, like Daredevil, which also uses the dreaded "9", so we shouldn't be totally surprised at the lack of creativity here.
9
10
J (Jack)
Q (Queen)
K (King)
A (Ace)
Claw Punching Through a Wall
Syringe with Adamantium
DNA Helix
Berserker Rage
James Howlett Flexing and Admiring His Body
Wolverine Logo
Wolverine Slash (scatter)
Wolverine Himself (Wild Symbol)
Wolverine Dog Tags
The Wolverine Wild appears as a single, double, or triple symbol depending on if you get stacked wilds. There are 3 different images of the superhero in 3 different poses so maybe next time they can try a little harder.
Jackpots
This game is of course part of the "Marvel Mystery Jackpot" and is linked to all other participating machines in their network. However, this progressive prize is won at random with no warning and no requirements. It is worth noting that in the rules it clearly states that "the higher the bet, the bigger the chances of triggering it." It's currently unknown how the math on this works.
The round consists of a 4×5 grid of cards that you can choose from until you match 3 of the same prize. The four different jackpots that you can win going from lowest to highest are "Power", "Extra Power", "Super Power", and "Ultimate Power". The smallest amount is usually around a few thousand dollars and the largest is hundreds of thousands.
Bonus Rounds
There is no true bonus round in Wolverine which is a damn shame considering the character that's being featured. Yes – we were pretty disappointed to.
However, there is also a "Berzerker Rage Feature" which is triggered when it falls on the 5th reel. However what happens depends on which row that the Berzerker Rage falls on the next time. There is a re-spin and if the Berzerker Rage was on the top row, Wolverine will dish out 2, 3, or 4 Wilds along that row.
If the Rage landed on the middle row, Wolverine will give you 3, 4, or 5 Wilds along that row, and finally if the Rage hits on the bottom row, Wolverine will change the symbols on 2 of the reels and reward you instead with Stacked Wilds.
Free Games
Three or more Adamantium syringes triggers the free games mode. Please ensure that you don't confuse Adamantium for something that singer Adam Ant invented: writer Roy Thomas actually invented this fictitious metal in 1969, a decade before Adam Ant launched his singing career.
Side Note: Wikipedia claims that after his discharge from a mental hospital the singer renamed himself Adam Ant because, "Adam" was the first man and "Ant" because "they are resilient little buggers". So there you go – the similarity is purely a coincidence.
Anyway, when you hit the Adamantium anywhere on the reels they glow and tell you that you've won free spins and then the large metal door in the background opens and Wolverine hungrily runs into the exposed darkness. During the action you are on the hunt for more Adamantium because it will freeze all of the Wolverine Wilds to help you to win huge amounts of bonus money.
The Frozen Wilds will stay on the reels until they are matched with other Wilds, which obviously result in big wins. It's actually not that uncommon to hit 5 of a Kind multiple times while in this feature as our testing definitively proved.
Graphics
The graphics in this title are a massive improvement from the original version that was released many years ago. The symbols are all well done and the visual effects on the Wilds and Scatters are straight out of a movie.
That said, it still kind of feels like one of those old Sega Genesis or X Box video games that many other Playtech machines will remind you of. Many will actually like that aspect of it though, since nowadays many comic and science fiction productions go way over the top in their graphics and videos.
Audio & Soundtrack
The soundtrack is pretty good if you like up-tempo, techno-style music. It will remind you of the dance music from many years ago like the Chemical Brothers or Prodigy. Anyway, you do find yourself head-bobbing along to the beat, especially the intense rhythm of the free spins mode.
In regards to the other audios, after a large win Wolverine eyes up the coins as they fly at the screen and when they are done being tabulated he lets out a deep laugh before the action continues. Also, the sound effects get really intense when 2 Adamantium syringes hit the reels as the anticipation builds to see if a 3rd one lands, which will of course take you to the special rounds.
Conclusion
Casual fans of Wolverine will be very happy with this release and diehard fans of the comic book will absolutely love it. This is due to the fun features, progressive jackpot, and the overall look and feel of the design. Because Playtech ignored the movie version of Wolverine and stuck to the comic version of the character, the end product ended up being much better.
For those who have only a passing fancy for this hero, there's still enough going on to keep you entertained. Heck, the Marvel Progressive Jackpot alone is enough reason to give it a try. Anyone who likes playing comic book themed slot games will definitely want to give it at least a few minutes of their time – the nostalgia alone is worth it.
Random Video of Wolverine
So it is true that the wolverine is one of the most deadly creatures out there, however they can also be quite sociable and loving. Here is an interesting documentary about wolverines that I watched on PBS a little while ago. We're adding it here for you to watch because it's insane that someone would willfully get that close to them. Enjoy!