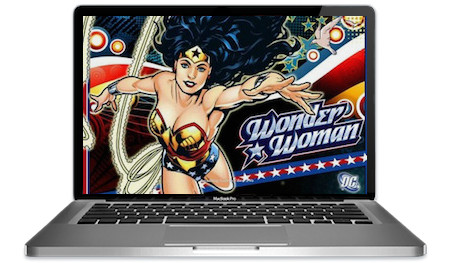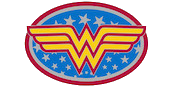 The greatest female superhero of all time has flown to earth in Wonder Woman Slots and it'll knock you off of your feet. Stack up cash prizes as she travels through the cosmos fighting villains with her Lasso of Truth and devastating hand to hand combat techniques.
Outstanding Game Design
Multiple Backgrounds
Awesome Bonus Round
---
---
Review of Wonder Woman Slots
I don't pretend to hide my love of comic books or my love of strong, positive, female role models, so there was a very good chance that this review was going to be biased from the get-go. The good news is that this one is genuinely a lot of fun to play and fans of "The Amazon Queen" will not be disappointed.
Most girls who grew up in the 1970s will always have a soft spot for Wonder Woman because she was the pioneer of female-driven superhero television shows. Linda Carter lassoed her way onto the small screen and busted criminals of all shapes and sizes, and proved that a woman truly could do anything that a man could do. Wonder Woman is widely accepted as being a role model for feminism and the Women's Rights Movement and without her trailblazing efforts there simply wouldn't have been strong female characters to follow like Xena Princess Warrior. Thanks, Linda!
This expert review of Wonder Woman Slots will touch on everything you need to know before playing for yourself and we promise that we won't go on anymore gender-based rants. And not to worry fellas, there's tons of fun stuff in this game that will appeal to you guys too.
Screenshots
There are tons of beautiful backgrounds and imagery in this machine and the screenshots below are worth a 1,000 words. They are so intricate and wonderful it's clear that a lot of time was spent designing them.
Each of the three different universes that you will visit are shown below, with the last one being the background if you activate the Bonus Bet. You'll also notice how great the board and symbol designs are, and who isn't impressed by that amazing array of colors? Sure this game is starting to show its age a bit but the original design was done so well that it still looks sharp today.
Storyline
Since 1941, Wonder Woman has been fighting for justice and equality for all. Throughout the years both she and her alter ego, Diana Prince, have battled sexist villains who doubted a woman's abilities and ultimately kept the world safe from harm. Not many people know that as an agent at the Department of Metahuman Affairs she was actually a key factor in the Allies of the Marvel Universe winning World War II.
Originally it was said that Wonder Woman was sculpted from clay, however, in recent years it was revealed that she was in fact the daughter of Greek God, Zeus. It is unknown at this time if Zeus accepts that he's the father or if he will have to go on the Maury Povich Show to find out the truth.
The storyline in the game basically takes you on Wonder Woman's journey across the universe from Themyscira to her epic battle with Ares, giving you the ability to win tons of cash along the way.
Unique Symbols
The software developers at nyx did a great job of incorporating different items of Wonder Woman's outfit onto the reels. Most fans will expect the unique symbols of her tiara and the Lasso of Truth but many will be surprised when they see her special earrings that allow her to breathe both underwater and in space.
Sadly the designers at nyx chose to pair the items from her outfit with playing cards like 9s, 10s, and Jacks instead of popular characters from the comic books like Circe, Giganta or Doctor Psycho. If they would have been slightly more creative with the imagery it would have taken this release to the next level of greatness.
9 with Indestructible Bracelets of Submission
10 with Special Earrings
J with a Shield (Jack)
Q with a Sword (Queen)
K with a Golden Tiara (King)
A with a Lasso (Ace)
Ares the God of War
Zara, Priestess of the Crimson Flame
The Invisible Airplane
Themyscira (Wonder Woman's Home)
Wonder Woman (Wild)
Wonder Woman Symbol (Scatter)
Normally you would want nothing to do with Ares the God of War but since he is the highest-paying you'll want to see him as often as possible. He will give you 5,000 coins for 5 of a Kind, while Zara dishes out 2,000 for the same. Wonder Woman's Invisible Airplane and home city of Themyscira each award 500 coins for hitting five of them in one spin.
It should be noted that the Wonder Woman Wild will only appear on reels #2, #3, #4 and #5, but the Scatter can appear anywhere on the board.
Jackpots
Unfortunately, Wonder Woman Slots does not have a progressive jackpot and is not part of a network. However, if you consider that you can win up to 100 times your wager in the bonus round, that should almost make up for it.
There actually was another version released a short time after this one was launched called, "Wonder Woman Jackpot", which of course caters to anyone chasing huge paydays. However, there are a few other differences between the two and most players will probably prefer this one.
Bonus Rounds
The special feature in this machine is only accessible once you have activated the Bonus Bet by pushing the button in the bottom righthand corner of the screen. This means that you are betting more coins each spin, but all of the prizes are now doubled. Also, activating it gets you a 50x multiplier on all scatter wins, so these increased payouts are definitely worth the investment.
The most important reason to activate the Bonus Bet is because it allows you to enter the "Ares Showdown Feature" and if you defeat him you get 100 times your wager. Unfortunately the bonus round cannot be triggered during the Wonder Wilds freeroll. The increased gamble amount is actually a great deal because your wager only increases by 20%, yet all of the prizes are doubled, so it doesn't make much sense to play without turning it on.
When you hit three Scatters and reach the Ares Showdown the graphics are very intense – you are running head-on into a horde of zombie skeletons, with the game sternly commanding you to "attack". The hordes come at you three different times and each time you can backhand them and beat cash rewards from their rotten skulls. Fun times!
You'll grab your 100x on your triggering wager if you are lucky enough to backhand Ares three times and be declared the victor of the battle.
Free Spins
Three or more Wonder Woman Wilds anywhere on the board will give you 8 free spins. While you're freerolling she'll occasionally drop from the sky and whip the reels with her Lasso of Truth in a firm but fair way in order to lock the Wilds into position and give you a better chance of winning large prize amounts. When Wonder Woman whips the Wilds (whew) she also increases the number of turns that they'll stay locked into position for, (up to a maximum of five), with the number appearing in the corner of each symbol.
The best part about this is that all of the extra money you receive while freerolling is doubled and then added to your normal scatter and payline wins. It almost feels like this machine dishes out more free spins than the average game but maybe everyone here who tested it just got lucky.
Graphics
Even though this title was released in the late 2000s it still looks very cool today. Perhaps it's the fonts that they chose, the sharp images on the reels, or the psychedelic backgrounds, but everything is extremely pleasing to the eye.
The graphics when Wonder Woman drops from above to whip the Wilds with her lasso is fantastic. Not to mention the times when she appears and simply punches them into oblivion. Such a violent game!
The graphics reach a high point during the special feature as you run through the skeletons, bashing them in the face as they scurry by. Your final fight with Ares will have you on the edge of your seat as the punches fly and the battle rages.
Audio & Soundtrack
The Wonder Woman theme song from the original television series is an absolute classic so everyone will be very happy to discover that three Wilds not only trigger the free spins mode, but also the funky piano of the original song. This particular version has a fantastic extended bridge in the middle of it that will have your head bobbing as you go and it's some of the best music you'll ever find in a gambling game of this nature.
All of the other audios are what you would expect and are not obtrusive in any way. Since this is a NextGen DC slot it has the "horse galloping" sound effect every time you press the play button: it's strange that every machine they put out contains this audio.
There is another strange sound effect that happens when you've activated the Bonus Bet – every time a Wonder Woman Logo lands on the board there is a piano slide that sounds like the beginning of Abba's "Dancing Queen". This isn't necessarily a bad thing but many will need to listen to it afterwards to get it out of their head.
Conclusion
Wonder Woman is thought to be the greatest thing to ever come out of the Amazons and now she has a betting machine that matches her reputation. Anyone who enjoys reading comic books and gambling online will immediately fall in love because it's a ton of fun to play and there's never a dull moment.
This is hands-down one of the most colorful releases out there today so if you enjoy great game design you'll definitely want to check it out. This demigoddess brings both the action and the fun and you will be able to play for long stretches without getting bored…and let's not forget about the fantastic soundtrack and sound effects.
The Warrior Princess is as feisty as ever and looks fantastic considering she's around 5,000 years old. I wish I knew her secret.
Perhaps it's because she's such a patriot…
In your satin tights
Fighting for your rights
And the old Red, White, and Blue
Random Video of Wonder Woman
Does anyone else remember just how great the Wonder Woman television series staring Linda Carter was in the 1970s? She handed out firm justice weekly to anyone who dared to commit crimes or challenge freedom. And yes, I used to make myself dizzy imitating her trademark twirl in my living room.
Here is a little flashback video for both those who used to watch the show, and those who have no idea what I'm talking about. The beginning introductions from every season of The New Adventures of Wonder Woman. Enjoy!