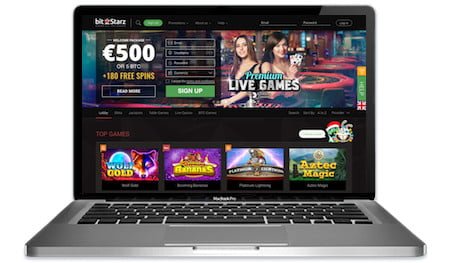 Special Offer:

100% up to €100 +180 Spins

Your Bonus Code: QOOS

GET BONUS ➜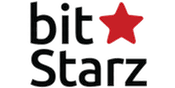 Cryptocurrencies are taking over the world and their influence on society is enormous. Now the BitStarz Casino takes you on a fantastic gambling voyage based on the virtual money – buckle up, this is going to be one crazy ride.
Cryptocurrency Accepted
Tons of Slots
Great for Australians
---
---
Review of BitStarz Casino
It was only a matter of time before there was a barrage of online casinos that were based on Bitcoin and aligned themselves with the "cryptocurrency craze" that's been taking the world by storm. However, there's only been one who's passed the tests of government regulators and players alike, and that's the Bitstarz Casino – one of the best places for Canadians and Australians to play today.
Like everyone else out there in cyberspace I was pretty skeptical of the longevity of Bitcoin and the huge list of cryptocurrencies that came after it…and boy was I wrong. It turns out that people actually love making financial transactions that the government can't trace – who would have thunk it? In addition, many love the fact that crypto payments are basically instant and the fees you incur are minimal, so there is a lot to like.
Now compare those characteristics to any credit card of your choosing and the answer will be obvious. VISA and MasterCard have gotten fat over the past few decades by charging customers through the nose for every little thing that they can think of. It's time they were slaughtered like the pigs that they are…Viva La Revolucion de Bitcoin! Too much? Ok fine. But you still have to agree with me that credit card companies have had it too good for too long – it's time that they sweat a little.
Things get really fun when you think about what you're actually doing when you bet online with cryptocurrency: you're technically gambling on your gambling because the price of Bitcoin could go way up or way down in the time that it takes you to try out a few slot machines in the course of an afternoon. You could "lose" on the machines but "win" in conversion rates! Isn't crypto great?!
This all comes back to the main slogan for the Bitstarz Casino: "Dream Big. Win Bigger." I believe that this tagline must be referring to the fact that you can win 4 Bitcoins on their games and then cash them out for more than you actually bought them for, (because the price of BTC is guaranteed to never go down, right?).
Anyway, this exclusive, honest, and quite frankly, groundbreaking review will tell you everything you need to know about BitStarz before you decide to dive into the dizzying world of crypto, and explain exactly what you will find there once you're ready to hop on the "Crypto Train". All aboard!
Screenshots
You'll see in the screenshots below that BitStarz looks like pretty much every other casino on the internet and there are no real differentiators or shocking design choices. They instead opted for a clean-cut and no-nonsense layout to display all of their games, which ensures that players can easily find what they're looking for. This actually gives them a slight edge on some of their competitors who still have jumbled pages that are hard to navigate.
Tap the images below to check out their traditional layout and user-friendly games list.
BitStarz Slots
You could be excused for thinking that there might not be a lot of slots at BitStarz because they're so new to the scene, but as soon as you land on their website and start scrolling down the page you'll be blown away by the never-ending list of machines that loads as you go. You'll see zombies, leprechauns, exotic animals, and tons and tons of Santa Claus. They cover every subject imaginable and they even have 6 titles based on food alone!
They then gain instant legitimacy thanks to their many branded games which include smash hits like Lara Croft Tomb Raider: Secret of the Sword Slots and the amazing 1990s teen soap opera Beverly Hills 90210 Slots starring Luke Perry, as well as darker ones based on disturbing horror films like Paranormal Activity Slots from iSoftBet. You'll find oodles of different releases based on television shows, music, and movies, featuring many familiar faces from the past that are always a treat to see. Ya, we're talking about you, Jenny Garth!
Jackpots
Professional Big Prize Hunters will recognize many of the names of the Bitstarz Jackpot slots since they're mostly the same ones that are offered at every other Canadian online casino out there, so you'll immediately feel at home. There are almost 20 unique machines available and as per usual, the most popular ones linked to the network are Good Girl, Bad Girl, At The Copa, Mr. Vegas, and The Slotfather.
If you're unfamiliar with Bitcoin and/or not used to making currency exchanges in your head, you might want to have a calculator handy because all of the prize amounts are always listed in BTC. For example, at the time of writing, Greedy Goblins has an 83 Bitcoin jackpot attached to it so given the current price of BTC being $8,200 USD, the pot is $680,600 USD. Simple, right?
This is something you just have to get used to, and ultimately, does it even matter? All you need to know is that if you trigger any of these jackpots your life has just significantly changed for the better. Don't forget to tip your favourite casino review site before moving to the Caribbean!
BitStarz Casino Bonuses
Get ready for action right from the beginning because the BitStarz Casino Welcome Bonus is pretty darn crazy. Why's that you ask? Well it's a 100% match up to $/€100 or 1 Bitcoin…which can have a value of anywhere between $0 and $30,000 depending on when you deposit it. That's a pretty big swing! If the excitement of being bonused on BTC isn't enough, they'll even throw in 180 free spins on Fruit Zen, Boomanji, or Wolf Gold to get you started. Please note that the spins are dished out in increments of 20 a day for 9 continuous days, so clear your calendar and get comfortable.
Then on your 2nd deposit you will receive a 50% bonus up to $/€100 or 1 BTC, and on your all-important 3rd deposit you'll get a 50% match up to $/€200 or 2 BTC. Finally, on your 4th cash transaction they'll give you another 100% match up to $/€100 or 1 BTC – they literally drown you in freebies before you can even come up for air. It definitely can't be said that they don't take care of their new players.
Also, there's finally a reason to be happy on Mondays because BitStarz will give you a 50% Reload Bonus up to $/€50 on your 1st deposit of the day. But be careful because they reserve the right to lower the percentage of the Monday Reload bonus to a 25% bonus for players who we deem have received an un-proportionate level of bonuses based on their bonus release to deposit ratio. Whatever the heck that means.
Cautious and/or frugal players will enjoy the BitStarz No Deposit Bonus which will give you 20 free spins just for signing up an account. You can only win a maximum of $100 and will have to verify yourself though official documents before you can withdraw the winnings, but freerolling is always fun so we won't dare complain the terms.
Please note that all bonuses come with a sizeable 40x rollover requirement to clear before you can request a payout.
Promotions
In a Star Wars-themed promotion complete with trademarked font and glowing lightsabers that would cause George Lucas' lawyers to go into immediate cardiac arrest, BitStars offers "Slot Wars" which awards €1,000 and 250 free spins every week. The top 50 spinners will get a piece of the pot and all of the prizes are "real money" with no rollover requirements. All you need to do to enter is play slots…and deposit four times, which is kind of a lot but whatever.
Occasionally they'll get even more aggressive with this promotion and run a side tournament called "Extra Wars" with extra cash added to the prize pool and an accelerated time limit to play. You'll have 3 days to spin yourself into a frenzy to hopefully become one of the top 20 players who share the booty, with #1 taking €500 in cold hard cash. It runs concurrently with Slot Wars so every time you spin the reels you're contributing towards both.
There are also numerous other seasonal promotions that they run throughout the year based on events like Christmas, Easter, and Thanksgiving so there's always something fun to get into.
VIP Program & Comps
Do you like secrets? I hope you do because the Bitstarz VIP Program is kept under tight wraps and they refuse to release any information about it. The only thing you can do is sign up with them, deposit, play, and then see if you receive an email from them with an invitation to their program. That's the only information that's available.
Of course, I'm in the program but they swear you to secrecy when they bring you in so I can't tell you anything. It's basically like a Fight Club but for online casinos – and we all know what the first rule of Fight Club is. You'll understand if you ever get in.
I'm Jack's Inflamed Sense Of Rejection.
Casino Software
It's very clear that these guys wanted to make a statement to the industry right out of the gate because they've teamed up with a long list of software providers that really beef up their offering. They guaranteed themselves a ton of branded slots by partnering up with Microsoft, NetEnt, and Play 'n Go, and then went niche with a few smaller companies like Amatic and Thunderkick to round things out.
They're constantly on the hunt to add more software companies so we expect this number to grow in the coming years – if you think it takes a long time for their slots parlour to load now, just you wait.
Mobile Casino
There isn't a download Bitstarz Casino App that you can put onto your smart phone, but that certainly doesn't mean that you won't be able to gamble on the go with them. They currently only offer the Bitstarz Mobile Casino, which is simply a smaller version of their regular website that will automatically load up to fit the size of the screen of the device that you're playing on.
This is actually very good news because we've been seeing a lot of operators who have a full download casino but within it they only offer a handful of slot games, which obviously isn't going to cut it in this day and age. What's the point of taking the time to visit the App Store and searching around if you're only going to find "mini-casinos" that don't offer a full suite of games? So yes, Bitstarz gets bonus points for having their entire website available on all mobile devices.
Bitstarz Banking Methods
If you can't guess what their preferred deposit method is here, you haven't won too many boardgames in your lifetime, have you? Yes – the Bitstarz Casino loves it when people deposit with cryptocurrency – they drink it up. They can't get enough. They are absolutely crypto-crazy. And let's be honest – most people who play here do so for the ease of moving funds in and out, and keeping the transactions away from the prying eyes of the government or loved ones.
To be clear, it's not just Bitcoin that's welcome here because you can deposit at Bitstarz with all of the most popular cryptos. Whether it be Litecoin, Ethereum, Dogecoin, or everyone's favourite rollercoaster currency Bitcoin Cash (BCH), you can use it all to get your account funded and start playing.
In addition to virtual money you can also opt to use eWallets like Skrill and NETeller, or wire transfer services like InstaDebit or iDebit. They even accept those old payment methods your grandparents used to use: VISA and MasterCard, (whatever the hell they are).
When it comes to withdrawing your winnings you can use all of the above deposit methods to return funds to you, and you can even do a straight-up bank transfer right into your personal account. Talk about convenient.
Some places literally take days to "process" your withdrawal before it's even sent on to their accounting team but here at Bitstarz it's done in less than an hour. Boom. However, you'll want to note their transaction limits because their minimum for withdrawals is a little higher than the industry average at €500 for bank wires, and their maximum withdrawal amount is lower than the average at €7,500. Although, they do state in their terms that if you're a member of their secret VIP club they might be able to change the limits, so if you're lucky enough to be invited past the velvet ropes there could be some wiggle room.
As always, when making a financial transaction with a cryptocurrency, double-check that you are sending the funds to the correct address because if you send them to the wrong one it's impossible to get them back. Also, you can only send BTC to a BTC account, BCH to a BCH account, etc. so make sure that you don't switch up the types of cryptos you're using and send the wrong one accidentally.
Customer Service
The customer service team at the Bitstarz Casino can be a little "rough around the edges" and sometimes they don't seem like they're very interested in answering your questions. They can appear to be curt if you're not used to their direct communication style. For example, their Live Chat representatives are usually quick and to the point, and don't want any unnecessary pleasantries – just get in and get out.
Also, once you've signed up for an account with them you'd better be ready to receive a lot of emails every week because they're constantly sending out bonus offers and free spins promos. If you don't want to be bombarded by these I suggest that you provide them with a secondary email address when signing up with them so they don't take over your main inbox.
Finally, old-school players like me will want to know that there is not a Bitstarz Customer Service phone number that you can call if you want to talk to a living, breathing human. Don't act surprised – this place is built on virtual currency, of course they have a virtual CS Team too! They definitely lose points for this because sometimes you just want someone to listen to all of your problems and tell you that everything is going to be ok.
I'm Jack's Broken Heart.
Other Gambling Products
The website's owners clearly didn't want to complicate things so they decided not to include a sportsbook or racebook in their virtual casino. They're very light on the gambling products and don't even offer poker but maybe that's a good thing – slots players tend to like to focus on the tasks at hand – spinning and chasing big jackpots. Who needs distractions?
That said, it is pretty surprising that they don't offer scratch cards or bingo games because these are both popular with casino players and standard issue for most other operators.
Conclusion
Everyone under 35 already knows that Bitcoin is the wave of the future, if not the wave of the present. It's lightning-fast, has very small fees, and is absolutely untraceable, making it the go-to currency for millions of people around the world. You'll immediately know as soon as you send your first BTC transaction that it's the best option out there – it's like waking up from a long, deep sleep.
So what do we have at the Bitstarz Casino? Is it all just a gimmick? Well…kind of, but who cares? They still have tons of great slots, numerous table games, and great bonuses to cash in on. Not to mention that they happily accept players from Canada and Australia, and those folks are always looking for a good place to play online.
Some people will find their customer service agents too gruff and their VIP Program too vague, and no one will fault them for feeling that way, especially me. I'm a firm believer in excellent service so if you can't get that right, I'm not going to hang around for long. Luckily for Bitstarz they're far from the worst I've ever seen and it's something that's easily fixable.
And don't worry: they only have a 7 for "Reputation" because they're new to the scene and here at QueenOfOnlineSlots.com we only increase Reputation Points by .5 for every 2 years that a casino is in existence. Come back in a while and I'm sure you'll see that their score in that category has gone way up.
However, if you live Down Under or in the Great White North and you're looking for an operator that has hundreds of machines, fun tournaments, cool promotions, and big slot bonuses, you'll want to go visit Bitstarz today and begin to get familiar with them. There's just never a bad time to start playing with an online casino that pays you out immediately after you win.
So go take a look around and see what you think. If you like them, open an account. If not, come back here and read this review again…maybe a second time will help you understand that they're an operator that you want to do business with.
Don't let those newfangled Bitcoins scare you…you'll get used to them in no time…
I'm Jack's Raging Bile Duct.

Game Selection:

8

Reputation:

7

Bonuses:

8

Customer Service:

6.5

Banking:

8.5