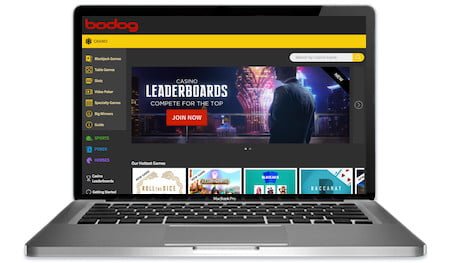 Special Offer:

150% Welcome Bonus

Your Bonus Code: QOOS

GET BONUS ➜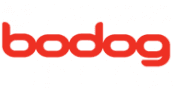 One of the first online casinos to accept Canadian players is still one of the best in the country over twenty years later. The storied Bodog brand is alive and kicking, and ready to take your wagers from coast to coast.
In Business since 1994
Full Casino & Sportsbook
Canadian Owned & Operated
---
---
Review of Bodog Casino
Since 1994 Bodog has been taking wagers online from players across Canada, the United States, and most other countries in the world. For the mathematically-challenged among you, that's over 25 years of experience providing discerning gamblers a top-notch destination. However, a few years ago they left the U.S. and everywhere else to focus solely on the Great White North because…Canadians are special, eh!
They are fully licensed and regulated out of Antigua, which is the Caribbean country that took the USA to trial in the World Trade Organization court system over access to online gambling and won. Twice. So you know that these guys will only align themselves with the best. It's no wonder that Bodog founder Calvin Ayre's Twitter account is full of images of him hanging out with underprivileged Antiguans and regularly supporting community initiatives there: he's a Champion of the People.
"Trust" is the name of their game and after starting and growing the business in Vancouver, British Columbia and then moving it to Montréal, Québec, this operation can hardly be viewed as "offshore" because they're literally 100% homegrown. Heck, Calvin Ayre is the son of pig farmers in Saskatchewan and it just doesn't get more "Maple" than that.
To be clear, Bodog accepts every player from Snag Junction, Yukon to Indian Tickle, Newfoundland, but if you live in the beautiful, poutine-loving province of Québec you'll be left out in the cold because they don't accept Quebeckers. One assumes that this is because all of their operations are there and they don't want to cross the streams in a Ghostbustersesque type of fiasco. So if you live anywhere between Gatineau and Rivière-du-Loup or beyond, you'll want to go read our Betonline Casino Review because you'll be welcomed there with open arms – just bring your own Pepsi and hot dogs all-dressed.
For every other Canadian who is not imprisoned in the socialist paradise that is Québec, please enjoy this stellar review of the Bodog Casino and the gambling experience that you can expect there. We shall leave no maple tree untapped nor any beaver unexamined – we shall bring you all of the facts with a Timmy's double double on the side. Grab your plaid jacket and let us begin…
Screenshots
The originators of the classic red on black colour scheme, the Bodog style is one that is often imitated, never duplicated. It seems like every online casino that launched after 1999 chose these colours, presumably trying to cash in on the brand that they created.
The design team there has ensured that this is one snazzy-looking website so tap the screenshots below to enlarge them and enjoy their visual achievements.
Bodog Slots
If you're looking for somewhere that has tons of different machines on offer, Bodog is the only place you'll want to go. Their list of slot games is longer than the list of taxes that Justin Trudeau would like to implement on the hard-working men and women of Canada, and that certainly is a lot.
As you make your way down their webpage you'll realize that they have games covering any subject imaginable. Stereotypical Frenchmen? Red, White & Bleu. Stereotypical Native Americans? Rain Dance. Scantily clad teen girls covered in blood? Zombies VS. Cheerleaders.  They really do have it all here.
As is the case with many Canadian online casinos, there's an unfortunate lack of branded slots due to the smothering governmental regulations that are coming out of Ottawa. However, Bodog has come through with a few machines that will be juuust close enough to pass the test. So if you're looking for games like NetEnt's Guns N' Roses Slots you'll have to settle for RTG's Pistol's & Roses. No big deal, right?
They've recently starting offering slots tournaments so players can finally go head-to-head with others in a battle for reel supremacy. They run all day, every day, with the two main games involved being A Night with Cleo and Fast & Sexy, which are both "sexually-charged" titles so make sure that you have a cold shower before playing, eh.
The layout of their slots parlour is very player-friendly because all of the titles are easily searchable. There are categories for 3 reel games, 5 reels games, 3D slots, and video slots. They even have a full section of "iSlots" which are interactive machines released by Rival Gaming to cater to those who want to have more influence on the direction of the storyline of the game.
Apple enthusiasts should note that there is no Bodog Download Casino for Mac available so you will only be able to play in your web browser. This isn't a big deal at all, though, and many prefer playing this way anyway.
Jackpots
With the prices at Tim Hortons steadily going up these days, (while the quality goes down), every Canadian could do with a few more Loonies in their pockets, but a metric tonne of extra money would be even better. This is where the Bodog Progressive Jackpot machines could step in and change your life forever with a huge cash prize. There are over 50 jackpot slots there, spanning many different themes and genres. Sadly, you cannot see the booty amounts without logging in, so you'll want to open a free account with them first before you go hunting for Aztec's treasure.
Once you're a member you will have access to all of the most popular North American games like Derby Dollars, Cleopatra's Gold, and Bulletproof Babes, but in addition you'll also get Bodog-exclusive titles like Dirty Martini and Food Fight. Just think: if you were lucky enough to hit one of these jackpots you could actually afford to buy a house in downtown Toronto! Well…maybe not.
Bodog Casino Bonuses
If you're one of the few Canadians who doesn't have an account there yet, you'll be able to cash-in on the Bodog Casino Welcome Bonus that is a 100% match up to $600, which comes with a very reasonable 25x rollover requirement. Just make sure that you put QOOS in the "how did you hear about us" section and you'll be issued an automatic bonus code and be eligible for special offers in the future.
However, if you choose to deposit with Bitcoin instead of Visa or MasterCard you can boost your bankroll even more. If you use the popular cryptocurrency there you'll receive the Bodog Bitcoin Bonus which consists of a 150% match up to $900 that you can use on any of their slot machines and most of their table games. This offer also comes with a common sense 25x rollover that you'll have to meet before you can withdraw any winnings, which is one of the lower numbers you can find these days.
Promotions
Canadians from Cape Breton to Prince Rupert are known around the world for not being showy, and in fact, being quite reserved and humble, (with the obvious exception of Drake). The Bodog Casino has chosen to honour this tradition of quiet reservation by not having any slots promotions of note, regardless of the time of year. They offer you nothing and know that you'll like it: everyone knows that you don't want to be fussy and bother anyone.
The expert marketing team at "The Dog" did decide to throw poker players a small bone with their Royal Flush Bonus promo of 50x the big blind if you end up with the best hand available, as well as a Bad Beat Bonus of 100x the big blind if you trigger it. Besides that, buttons.
VIP Program & Comps
The Bodog Rewards Program allows you to level up as you place more and more casino and sports wagers, helping you climb through their elaborate stages of accomplishments. There are 6 levels to work through, with 4 of them having 3 sub-levels, making 14 "stops" in total that each offer better rewards as you go.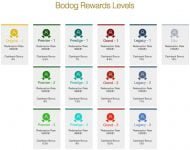 You'll definitely want to put in the necessary work to ascend this virtual "ladder of luxury" because starting off you'll only get a small 5% cashback bonus on all casino losses with a points to cash conversion rate of 2500/$1. However, once you get halfway up the ladder to Prestige 2 you'll get 7.5% cashback and the conversion rate will fall to 1666/$1. Then after you've scaled their entire mountain and reach Elite status you'll get a whopping 15% cashback bonus and the conversion rate will be a minuscule 1000/$1, ensuring that you receive free cash hand-over-fist as a reward for your patronage.
Remember that you will only receive cashback once your account balance dips below $10 and it will come with a 1x rollover requirement. Also, Rewards Points that are converted to bonus money always come with a 2x play-through. Click the Bodog Rewards Levels image to enlarge it and see all of the details.
If you like your VIP Program to come with a little mystery you'll love the Bodog 94 Club, which is of course a reference to them being in business since 1994. So just what will this exclusive club give you once you become a member? Well for starters you'll get double the amount of rewards and tons more exclusive promotions, which will of course have bigger and better prizes than the ones that are offered to the unlucky slobs standing in the rain outside of the club looking in. Then, depending on the status level that you achieve, you could even be invited to swanky parties and posh live events anywhere from Tokyo to Tatamagouche – you'll never know just what's in store!
The best thing about all of this? Just like every other casino in the Bodog network, you will NEVER lose your VIP level once you've attained it. You can go up to Nunavet, get lost at sea on an iceberg for 8 years, and then return to your home in Calgary and keep going on as if nothing happened. What a beaut!
Casino Software
There are two main casino software providers at Bodog, both of which have been in business for many years: Realtime Gaming (RTG) and Rival. Although they mostly focus on the U.S. market they've been servicing Canadians for many years with their long list of games. Both are regularly tested for fairness and randomness by 3rd party auditing firms and are 100% trusted in the industry.
Also, many Bodog Slots are now powered by relative newcomer Pragmatic Play, who have been steadily impressing players with their titles. We're keeping our fingers crossed that they will add even more great software companies and beef up their list, so we shall see what the future holds.
Mobile Casino
Some of you may be too young to remember, but it was actually Bodog who was at the forefront of mobile casino technology way back in 2008. They embraced new-fangled machines like the Blackberry and iPhone and began to sink beaucoup cash into developing an amazing mobile product that would look good on any gadget.
Obviously their diligence and foresight has paid off since more than 50% of all gambling wagers online are now made from portable devices. You'll be able to play all of their Vegas-style table games like blackjack and roulette in addition to over 100 slots, and you can even bet on sports 24/7, to boot.
In addition to a great product, the good folks over at Bodog even give you a sample list of the perfect times to play on their mobile casino:
When you feel hungry and/or thirsty
Walking to a fridge, vending machine, or corner store
Sitting in traffic
Lining up for the next iPhone
Waiting for your name to be called at the doctor's office
Wow – those are some great suggestions! Just imagine playing a little mobile video poker while stretched out face-down on a hospital gurney waiting for a spinal exam, "Ya, that's bad news about the scoliosis Doc, but check out the 5 of a Kind I just hit on Loose Deuces!". The places where you can play with them are literally endless, limited only by your Wifi connection, battery power, and imagination. What a time to be alive…
Bodog Banking Options
As the Bodog Casino only accepts players from Canada, you'll find a bunch of easy deposit options there that will allow you to move funds around quickly. People from Abbotsford to Charlottetown seem to be addicted to their credit cards these days so both MasterCard and VISA are accepted as standard methods. These of course come with fees…fees that might be a little more hefty than you'd assume.
Straight off the bat, a credit card deposit is viewed as a "cash advance" by the issuing bank and is therefore hit with immediate interest on the entire amount. Then there's the possibility that they run the charge through an international merchant which could have your bank slapping you with a penalty of 3%, which is not necessarily a lot, but it's the principle of the matter at this point. The final insult from your bank could come in the form of a 5 to 10% conversion fee if the original transaction isn't processed in CAD. Oh, the humanity.
After reading that last paragraph it's easy to see why Bitcoin is the currency of the future, if not the present. It's lightning fast, doesn't have high fees, and is untraceable so no one will ever be snooping around in your business. It's definitely scary when you first start using it, but those fears quickly turn into joy when you see how fast it is and how low the fees are.
Of course you can easily withdraw your winnings by Bitcoin as well, but if you decided to pretend that it's 2002 and deposited with a credit card, you'll have to choose another payout method. Most players will opt for a check by mail but you should keep in mind that this can take up to 30 business days to reach you, (which for a Millennial would seem like forever). Your other option is a bank transfer, which will be quicker, but have more fees attached to it. It's easy to see why crypto currencies are the only way to go these days.
Interesting fact: Bodog has never missed a player payout. Ever. Not in over 25 years of business. Crazy, right? No other online casino can claim the same thing. When you win there, you get paid. Period.
Customer Service
These days most Canadians are sadly used to offshore customer service when they phone companies with questions or complaints. The customer service department for Air Canada? They're located in Florida. The customer service department for Bell? They're located in the Philippines. The customer service department for Bodog? They're located in beautiful Kahnawake, Québec, which is mostly known for its amazing burger shack and never-ending cheap cigarette stores. Four cartons of Native Express Lights, please!
So yes, when you phone Bodog you're phoning a fellow Canadian who's going to treat you with respect and address your issue, no matter how trivial or misplaced. Just give them a ring anytime day or night at 1-877-263-6422, even if it's just to say "hello". They're seriously that friendly and due to the quality of their product they're seldom dealing with player problems, so just go ahead and see how they're doing. Trust me – they have the time.
However, if you're like most people these days and shun direct human contact and prefer electronic communication, you can initiate a live chat with them 24/7 and get all of your questions answered.
Those living in 2007 are free to send them a simple email and wait for a response, which should arrive back in under 10 minutes regardless of the season. We have it on good authority that they're trained to proactively answer questions in all of their written correspondence, so assume that any query you have will be answered quickly, even the ones you didn't even know you had.
Other Gambling Products
Here's where Bodog really takes things up a notch because you will find every single gambling product imaginable there, including a world class sportsbook that offers all of the most popular leagues and divisions. Not to mention, they're widely known for having some of the weakest lines in the business so you can beat up on their NFL player props every Sunday and laugh your way to the bank. (Or so we've been told.)
In addition, they have a massive Racebook that offers almost every track in North America, as well as the more popular ones from around the world. Whether it's the Triple Crown, The Royal Ascot, or the Australian Cup, you'll be able to get your money down on exactas, trifectas, and exotics until the cow's (or horses) come home.
If you thought that Bodog stopped there, you'd better email their CS Team and apologize because you were dead wrong – they're also taking care of every Canadian who's stuck playing poker with incompetent provincial lottery corporations too. That's right – you no longer have to put up with the terrible customer service, weak bonuses, and tiny tournaments that unprofessional organizations like the ALC and OLG provide. Bodog is here to rescue you with tons of guaranteed poker tournaments and beefy cash games with head-to-head action. It's literally the only place you'll want to play poker…besides Playground Poker in Khanawake, of course!
Conclusion
If you've made it to the end of this review without opening up a new account at Bodog, I have to ask you: what the heck are you waiting for? Rock solid reputation, bank level security, every product imaginable – it's simply impossible to find a better Canadian online casino to trust with your bankroll.
With a maple syrupy-sweet welcome bonus and fantastic VIP Program that never takes away your tier status, they're a "must have" account for anyone from the Rockies to the Maritimes. Sure they're not going to try to dazzle you with fancy promotions or a bunch of silly nonsense, but if you're just there to gamble from the comfort of your own home, why would you even be looking for that stuff? They're already giving you much more than you need – just sit back and be thankful.
With decades of experience, a sterling reputation, and hundreds of fun slot games that are playable on devices of any kind, the Bodog Casino is clearly one of the best out there today.
It's time to give this old dog your bone…

Game Selection:

9

Reputation:

9

Bonuses:

8

Customer Service:

9

Banking:

8