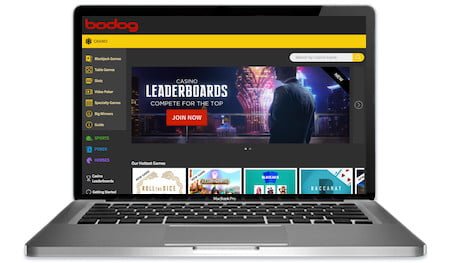 Special Offer:

150% Welcome Bonus

Your Bonus Code: QOOS

GET BONUS ➜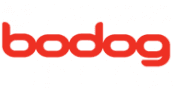 One of the first online casinos to accept Canadian players is still one of the best over twenty years later. The storied Bodog brand is alive and kicking, ready to take wagers from coast to coast.
In Business since 1994
Full Casino & Sportsbook
Canadian Owned & Operated
---
---
Bodog Casino Review
Since 1994, Bodog has been taking wagers from visitors across Canada and the globe. That's over 25 years of furnishing discerning clientele with excellent experiences.
Fully licensed and regulated in Antigua, the Caribbean country that took the United States to court in the World Trade Organization adjudication system regarding providing Americans online gambling and won. Twice. Sadly, the company still decided to leave the market shortly after, leaving only fond memories in their wake. Although to this day, founder Calvin Ayre's Twitter profile is filled with images documenting encounters with underprivileged folks and routinely supporting community initiatives.
Established and grown in Vancouver, British Columbia then eventually moving to Montréal, Québec, this operation can hardly be viewed as "offshore" considering it's 100% homegrown. Heck, Mr. Ayre is the son of Saskatchewan pig farmers so it doesn't get more "Maple" than that.
To be clear, everyone from Snag Junction, Yukon to Indian Tickle, Newfoundland are accepted, excluding the poutine-loving province of Québec. Consequently, if located between Gatineau and Rivière-du-Loup or beyond, read this BetOnline Review since all are embraced regardless of geography, bestowing large monetary gifts as well.
For those not imprisoned in a socialist paradise, this in-depth Bodog Casino review explains what to expect. No maple tree shall remain untapped nor any beaver unexamined in order to recite vital facts and information. Grab a plaid jacket and let's begin.
Screenshots
Originators of the classic red on black color scheme, their style is often imitated, never duplicated. It seems like every site launched after 1999 copied the colors, presumably trying to steal the famous brand's thunder.
Designers ensured this is one snazzy-looking website, so tap screenshots below to enlarge and enjoy the visual achievements.
Bodog Slots
Those searching for tons of machines are mesmerized by Bodog slots, a massive selection clearly displayed, categorized by 3 and 5 reel, plus 3D and video. Furthermore, a robust grouping of interactive releases by Rival Gaming called iSlots caters to users demanding influence on the action's storyline directions.
Every conceivable subject is covered. Stereotypical Frenchmen? Red, White & Bleu Slots. Stereotypical Native Americans? Rain Dance Slots. Scantily clad teen girls splattered with blood? Zombies VS. Cheerleaders Slots. It's all here.
Mirroring numerous competitors, branded titles are regrettably missing due to companies restricting certain geographical regions. Nevertheless, they came through with concoctions that are close enough to originals to help players forget the omissions. Ergo if hankering for something like NetEnt's Guns N' Roses Slots it's necessary to settle for RTG's Pistol's & Roses Slots, which generally isn't a huge deal for most individuals.
Anyone craving combat may join various daily slots tournaments facilitating tilts between contestants attempting to win prizes. Events run constantly, usually spotlighting A Night with Cleo Slots or Fast & Sexy Slots, both "sexually-charged" affairs so take a cold shower beforehand, eh.
Jackpots
Given Tim Hortons prices steadily rise these days, (while quality goes down), Canadians could use extra Loonies in their pockets, but a metric tonne of moolah would be better. This is where Bodog Progressive Jackpots might change lives forever with a monumental windfall.
Over 50 jackpot machines span multiple genres, but unfortunately purses aren't viewable without logging in, necessitating signing up first. Upon registering, access is granted to popular ones such as Derby Dollars, Cleopatra's Gold Slots, and Bulletproof Babes Slots, besides exclusive creations Dirty Martini Slots and Food Fight Slots.
Bodog Casino Bonuses
New customers collect a Bodog Casino welcome bonus of 100% to $600 carrying a very reasonable 25x rollover requirement. Just make sure to put QOOS in the how did you hear about us box to automatically receive a code confirming eligibility for future specials.
Those depositing cryptocurrency fatten bankrolls further, earning a Bitcoin bonus of 150% to $900, spendable on any one-armed bandits or tables. Profits hold a common sense 25x obligation before cleared for withdrawal.
Promotions
Folks from Cape Breton to Prince Rupert are acknowledged for modesty, genuinely being quite humble and reserved. This tradition is honored here by refusing to host notable promotions despite time of year. Absolutely nothing exciting is ever announced, internal managers apparently not wanting to bother anybody with distractions.
Their expert marketing squad did decide to throw Texas Hold 'Em patrons two tiny bones however, a Royal Flush promo endowing 50x big blind if it ends up being the best hand, plus a Bad Beat Bonus gifting 100x big blind when triggered. Besides that, buttons.
VIP Program & Comps
The Bodog Rewards Program consists of six distinct levels, four incorporating three "sub-tiers", each extending increasingly excessive benefits. Advancing throughout the system depends on activity in the casino, sportsbook, and racebook, as inflated volumes push participants higher.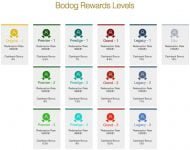 Putting in the mandatory work to ascend this virtual "ladder of luxury" is certainly worth it since starting off, merely a small 5% cashback is returned on losses, featuring a points to currency exchange rate of 2500/$1. Then once halfway up the mountain in Prestige 2, 7.5% rebates commence utilizing an improved rate of 1666/$1, while Elite gushes 15% based on a minuscule 1000/$1, ensuring proper compensation for patronage.
Remember that cashback is solely procured upon balances dipping below $10 and possess 1x obligations, whereas points converted to money always hold 2x.
Readers appreciating mystery should adore The Bodog 94 Club, a moniker referencing their birth in 1994. Members of this glamorous group earn double rewards alongside loads of extra promotions, naturally dangling juicier prizes than ones for unlucky slobs not important enough to gain entry. Then, depending on status level, secret invitations to swanky parties or posh live events anywhere from Tokyo to Tatamagouche could be received.
Irrelevant of ultimate VIP designation, shockingly it's never lost once attained, undeniably cementing this program's overall greatness. Someone may go up to Nunavut, get trapped on an iceberg for 8 years, return home to Calgary, and continue playing as if nothing happened. What a beaut!
Casino Software
Two main outfits supply software, Realtime Gaming (RTG) and Rival, both in business for decades. Servicing long lists of games, fairness and randomness is regularly tested by 3rd party auditing firms to verify trustworthiness. Also, some products are built by Pragmatic Play, who've recently released impressive creations.
Mobile Casino
This enterprise was at the forefront of mobile casino technology back in 2008, embracing new-fangled contraptions like Blackberry and iPhone, investing vast resources to develop cutting edge functionality. Obviously diligence and foresight bore fruit as the majority of iGaming stakes are now made from portable devices.
All Vegas-style tables including blackjack and roulette are obtainable besides more than 100 one-armed bandits, amid a complete sportsbook open 24/7. Helpful employees even provide a sample list of perfect times to play:
When you feel hungry and/or thirsty
Walking to a fridge, vending machine, or corner store
Sitting in traffic
Lining up for the next iPhone
Waiting for your name to be called at the doctor's office
Wow, these are great suggestions! Imagine enjoying a little mobile video poker whilst stretched out face-down on a hospital gurney waiting for a spinal exam, "Ya, that's bad news about the scoliosis Doc, but check out the 5 of a Kind I just hit on Loose Deuces!"
The possibilities are truly endless, limited only by Wifi connection, battery power, and imagination.
What a time to be alive…
Bodog Banking Options
Exclusively accepting The Great White North, Bodog deposit options are wide ranging. Regulars from Abbotsford to Charlottetown surprisingly still yearn to wield credit cards, accordingly MasterCard and VISA are approved without question. Although, associated fees are enormous, perhaps deterring people as purchases are considered cash advances by issuing banks, thus incurring immediate interest.
Then it's possible transactions go through international merchants, maybe resulting in an additional 3% tax. The final insult might be a 5 to 10% conversion fee if original payments weren't processed in Canadian Dollars (CAD).
Therefore, it's understandable why Bitcoin is favored, not to mention speed and privacy. There's a slight learning curve when beginning, albeit the savings and anonymity are definitely worth the effort
Gains are claimable via crypto as well, though if originally sending funds via credit card, another method must be chosen. Many opt for check by mail, although keep in mind it could take up to 30 business days to appear. An alternative is bank transfer, which is quicker yet more expensive.
Regardless of what's ultimately employed, remember that this place has never missed a payout. Not once in over 30 years. Tragically, no other destination can declare the same.
Customer Service
Currently, Canadians consistently encounter offshore customer service representatives when contacting major entities, for example Air Canada is based in Florida whereas Bell contracts out to the Philippines. However, these head offices are nestled in gorgeous Kahnawake, Québec, primarily known for its spectacular burger shack amidst rows of stores selling cheap cigarettes. Four cartons of Native Express Lights, please!
When calling this dog, fellow Canucks answer the phone, treating clients with respect and swiftly addressing issues no matter how trivial or misplaced. Give them a ring anytime at 1-877-263-6422, even just to say "hello", since they love partaking in a good chinwag with players. Quality technology ensure problems seldom arise, so go ahead and see how their day is going.
Anybody shunning human contact and preferring electronic communication can initiate live chats 24/7 for answers. Conversely, send an email and wait for a response, which ought to arrive in under 10 minutes, quite possibly answering questions you didn't even know you had.
Other Products
Here's where things are really taken up a notch because any feasible iGaming product is presented, including a gargantuan book listing leagues around the world. Amazingly, ridiculously weak lines are habitually posted, resulting in countless individuals feasting on NFL props during football season, laughing their way to the bank.
In addition, a gigantic Racebook features almost every track in North America, plus revered international ones. Get down on Triple Crown, The Royal Ascot, or Australian Cup in seconds, staking exactas, trifectas, exotics, or any supplementary wager found in person.
If thinking they stopped there, you'd better email their CS Team and apologize because you're dead wrong. Canadians frustrated by poker at incompetent provincial lottery corporations find safe haven too, meaning it's no longer compulsory to put up with horrible agents, microscopic economic enticements, and laughable competitions at unprofessional sites like ALC and OLG. Guaranteed tournaments and beefy cash games run nonstop, making it the best place to play online poker, nowhere else coming close.
Conclusion
Rock solid reputation, iron-tight security, and plethora of diversions cement Bodog's standing as a trusted and beloved operator. Serving up maple syrupy-sweet financial incentives alongside a fantastic VIP Program that doesn't revoke status, anyone from the Rockies to the Maritimes will be impressed.
Sure members aren't showered with fancy campaigns or a bunch of silly nonsense, but if merely seeking to gamble from home, it shouldn't matter. Much more than needed is already offered, so just sit back and be grateful.
Possessing decades of experience, several banking tools, and hundreds of phenomenal pokies accessible from anywhere, this venue is unquestionably the tops.
It's time to give this old dog your bone…

Game Selection:

9

Reputation:

9

Bonuses:

8

Customer Service:

9

Banking:

8