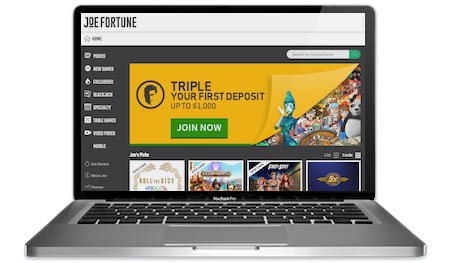 Special Offer:

100% Welcome Bonus

Your Bonus Code: QOOS

GET BONUS ➜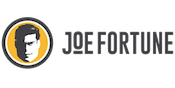 Australia's best iGaming website is wowing folks from Perth to Sydney and everywhere in between. Get ready for fun because Joe Fortune has rocked up with a pocket full of goodies and he's sharing with all his mates.
Phenomenal Rewards Program
Big Bonuses
Tons of Pokies
---
---
Joe Fortune Casino Review
Don't let Joe Fortune's stern image fool you since he's actually a fun-loving bloke, even without a joyful expression on his face. Sure he resembles a weird hybrid of Bruce Wayne and Joker, but let's look past this peculiarity and concentrate on the product he's extending.
His bio recants romps through dark corners of the unknown universe, yet it's really not clear what this means. Is he a superhero? Super villain? Renegade astronaut? Perhaps we'll never know.
In any event, this is a rare enterprise providing Australians safe gambling online, so we can't be too hard on them. Primarily, folks can 100% trust them as a member of the Bodog Network, each brand regularly audited by 3rd parties for fairness. In business for over 30 years, integrity has been proven at every juncture, cementing them as a real beauty.
This exclusive Joe Fortune Casino review pulls no punches and dishes pure facts, although once completely evaluated, they're undisputedly a top destination for people across Australia, surprisingly accepting those nutters down in Tasmania. Jokes, Tassie!
Screenshots
The site's pages don't exactly scream "excitement", though perhaps they don't want to stand out as a "tall poppy" amongst competitors. Conversely, their design can be described as "down to earth", precisely what numerous individuals want in an iGaming operator.
A light charcoal background is punctuated by yellow with green trim, undoubtedly an homage to football's Socceroos. Tap screenshots below to enlarge for a closer examination.
Joe Fortune Pokies
When seeing pokies instead of slots in their lobby, it becomes irrefutable this destination truly caters to Aussies. It's chock-a-block with hundreds of great titles covering a wide range of topics, ensuring pleasurable games are easily discovered regardless of mood.
Tons of knock-off machines ripoff pay tribute to popular culture like Pistols & Roses Slots, undeniably a nod to Guns N' Roses Slots, alongside World of Oz mirroring The Wizard of Oz, besides Gangster Slots being a watered-down Sopranos. Of course not playing originals diminishes overall enjoyment, nonetheless the Australian Government's at fault by blocking authentic ones. Luckily, these generics become normal after a while.
Unfortunately, technology is strictly presented in web browsers, currently unable to be downloaded onto devices. This disappointing situation will presumably be rectified shortly.
Jackpots
A solid list of Joe Fortune jackpots present various opportunities for gigantic cash prizes. Adored creations include Fruit Frenzy Slots, Derby Dollars Slots, and Strike Gold Slots, incorporating killer graphics plus elaborate storylines, assuring consistently entertained users.
The largest progressive windfall is usually on Absolute Super Reels which can effortlessly hold booties north of $300,000. Keep an eye on Mona Lisa Jewels, Super Fast Hot Hot Slots, Super Lucky Reels, and Neon Reels, all habitually featuring meaty kitties eclipsing $250,000.
Joe Fortune Casino Bonuses
Aussies like meat pies big and online casino bonuses even bigger, so Joe Fortune stepped out of his kitchen clutching a steamy welcome offer that'll get mouths watering. First off, a 100% match to $1,000 triples original deposit totals, leaving swollen bankrolls in its wake. Thankfully, in September 2018, a hefty 40x rollover was reduced to 30x, making profits much easier to square for withdrawal.
Afterwards, 100% reloads apply to the next eight (8) transactions ($500 max), guaranteeing balances are stuffed with complimentary funds. Albeit, that maximum is solely for credit cards as cryptocurrency ceilings rise to $750.
That bulge in Joe's pocket tells us he's smuggling one more juicy nugget, predictably a Beefy Bitcoin Bonus, gagging players with wads of cash when using crypto. It begins with a 300% welcome enticement to $1,500 on initial transfers, yet again gifts flow unimpeded, Joe also matching the subsequent eight top-ups, evidently his favorite number taking precedence over prudence.
Don't worry, once these eight are claimed, "Generous Joe" returns dangling more tasty offers, however, this time he's not removing the lid from the silver serving tray until folks have sat down. That's right, "Mystery Match Bonuses" materialize every Thursday, claimable upon logging into accounts and checking "My Rewards". Refreshed codes are reusable infinite times during the 24 hour period, confirming it's a virtual "all you can eat buffet" of handouts.
Joe's cool and he ain't no fool, thus slapping a 40x duty on those bad boys, impeding winnings until it's met. Visitors are always invited to his dinner table, but never try to take advantage of his generosity.
Promotions
Joe doesn't appreciate anything too fancy and this isn't an 18th birthday celebration at a Bondi Beach nightclub, it's a straightforward gaming brand that's not showy. Consequently, promotions, tournaments, and contests are shunned, infrequently hosting interesting events.
VIP Program & Comps
Mr. Fortune craves pulse-pounding escapades in exotic locations and now guests are being brought along for the ride. Joe's Rewards VIP Program recognizes efforts on pokies, video poker, tables, plus specialty items such as bingo or scratchies, although details become murky regarding percentages. Basically, risking larger amounts of capital generates better rewards.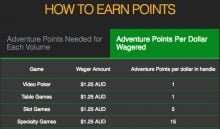 Two categories of points are dispensed, Adventures exchangeable for real money bonuses, while Tiers move members between eight unique levels. Rush to climb their benefits ladder because each rung brings substantially improved perks.
For example, Tier #1 charges 2,500 Adventures for $1.25 AUD, yet #4 only requires 1,750 for the same. However, upon ultimately reaching the summit of Tier #8, merely 1,000 are needed for $1.25 AUD, unequivocally a magnificent premium.
Additionally, cashback percentages steadily increase, Tier #1 releasing a meager 5%, while #4 splashes out 9%. Charmed participants in Tier #8 receive an insane 15% on losses, probably the biggest amount found. A minuscule 1x rollover is put on cashbacks ensuring obligations are quickly met to access rebates.
Moreover, VIP status is never lost once achieved, which is just as crazy as it sounds. It doesn't matter if someone goes on a 10 year trek to Ayers Rock because whenever they return to civilization, the last level reached will be waiting. This is an enormous benefit rarely seen elsewhere, its value impossible to overstate, it alone enough reason to register.
Notwithstanding, Adventure Points expire after 12 months so exchange them before going on any soul-searching journeys. A reasonable 10x duty is attached to supplementary chips, again settled in no time.
Software
Two veteran software companies were invited along, iSoftBet and Rival. The latter is well known in North America as a scarce supplier distributing games there. A pristine reputation was forged from launching imaginative creations routinely tested for randomness by 3rd party watch dogs.
Variety is then bolstered via competent iSoftBet engineers, delivering wonderful concoctions specializing in 3D and progressive machines. Acquiring multiple awards for results, innumerable operators and patrons commonly shower them with praise.
Mobile Casino
Joe's an international man of mystery who's always on the go and respects clientele living life in the same brash manner. Therefore, several diversions are accessible from anywhere possessing a decent internet connection.
Some releases are older and weren't originally built as mobile compatible, thus creating a few omissions when wielding Apple or Samsung devices. Still, most technology is newer and designed to function on portable gadgets, including blackjack, roulette, and more.
Joe Fortune Banking Options
All expected Joe Fortune deposit methods are listed, namely credit cards and Bitcoin, dividends issued via bank wire, check by courier, or other cryptocurrencies. Alt coins are definitely favored due to speed, anonymity, and negligible fees.
Regrettably, it's common knowledge this place slowly pays clients, lengthy delays for earnings tarnishing an otherwise stellar reputation. A stated processing time for payments is 48 hours, nevertheless it's not uncommon to wait 10 business days for approval.
For transparency and clarity, let's underline this point: when playing at Joe Fortune you cannot be in a hurry to get paid. This fact must be clearly understood by everyone, since if not utilizing Bitcoin, it's a very sluggish and difficult task moving assets around and Joe doesn't hustle for anyone but Mrs. Fortune, so sit quietly and be patient.
Yes, it's absolutely customary to request identification when validating profiles, in order to shield people from impersonation. The whole undertaking is obviously painful, but considering only a handful of sites accept Australians, beggars can't be choosers. Stop whingeing, payouts unfailingly arrive eventually, it just takes time.
Also, Joe didn't open up as a charity shop so leave some extra loot in accounts to cover withdrawal costs. Furthermore, it enrages him if sums smaller than $20 are requested, so don't do it.
Customer Service
Starting a venture in the friendliest country in the world and not giving excellent customer service would be silly. Accordingly, swiftly contact representatives through email or launch live chat by clicking dialogue bubbles at the tops of pages. Although, don't be too late because communications shut down nightly at midnight.
Traditionalists can even pick up telephones and call 1800-989-024 directly for a good chinwag. If issues ever require escalation, simply contact their Dispute Resolution Office to follow a proper, official process to resolve complaints.
Other Products
Sadly, a sportsbook, racebook, or poker capability wasn't included in this operation, despite a massive Live Dealer Casino being incorporated boasting tables hosted by actual human beings on webcams. Standards Let 'Em Ride and baccarat mix amidst niche attractions permitting chats, direct messages, or emojis whenever desired.
Bingo enthusiasts feast on a huge selection with 30-Ball, 80-Ball, Amazonia, European, and American, all tremendously loved variations. Anybody suffering "itches" can find relief through virtual scratchies that don't entail cleanup. Just scratch off symbols with a single click to reveal hidden treasures underneath, saving time and effort versus paper ones.
Conclusion
Playing favorite games no longer necessitates getting dressed up and visiting Crown Casino in Melbourne, smartphones and tablets certainly a smarter alternative. Forget about manky brick and mortar establishments in Adelaide, Darwin, Perth, or someplace worse, (probably located in Geelong).
The Joe Fortune betting website provides amazing products anywhere, incurring no travel, parking fares, nor dress codes. Have confidence knowing parent company Bodog has been around since 1994, forging trust with the masses long ago.
Sure banking options are sparse and withdrawals are slower than snails, though with fantastic pokies, monstrous incentives, and permanent VIP status, it's a small price to pay. Some will be annoyed that a sportsbook and poker weren't added, but simply focus on what is there like bingo and scratchies.
Put down the tinny and register today to see why so many customers are loyal, unquestionably the lone place Australians punters should consider joining.
As they say, Fortune favors the bold…
Bloody oath.

Game Selection:

8.5

Reputation:

8

Bonuses:

8

Customer Service:

8

Banking:

7