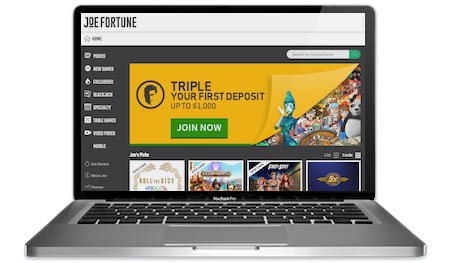 Special Offer:

100% Welcome Bonus

Your Bonus Code: QOOS

GET BONUS ➜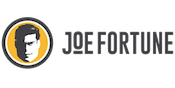 Australia's best casino is wowing players from Perth to Sydney and everywhere in between. Get ready for fun because Joe Fortune has rocked up with a pocket full of goodies and he's going to share with all of his mates.
Best Casino for Australians
Big Bonuses
Tons of Pokies
---
---
Review of Joe Fortune Casino
Don't let the stern image of Joe Fortune fool you – he's really a fun-loving bloke, even if you can't see a joyful expression on his face. Sure he looks like a weird hybrid of Bruce Wayne and The Joker, but lets look past this peculiarity for now and concentrate on what matters: the product he's providing.
The website claims that Joe has gone on adventures through "dark corners of the unknown universe," and we're not exactly sure what that's supposed to mean. Is he a superhero? A super villain? A renegade astronaut? Perhaps ASIS should take a closer look at this guy.
In any event, this is one of the only places where Australians can safely gamble online so we shouldn't be too hard on ol' Joe, right? All that matters is that they're 100% trustworthy and a member of the Bodog network of betting websites, all of whom are regularly tested by 3rd parties for fairness. They've been around for over 25 years so you'd better believe that they know what they're doing and can be trusted with your bankroll: they're a real beauty.
This exclusive review of the Joe Fortune Casino will pull no punches and dish out all of the facts, and once the dust has settled it will be easy to see why they're the top destination for players across Australia – even those nutters down in Tasmania. Jokes, Tassie!
Screenshots
The pages of the Joe Fortune Casino don't exactly scream "excitement" but maybe that's because they don't want to be a "tall poppy" amongst their competitors. Instead, their website design can be described as "down to earth" which is exactly what most players will be looking for in an operator. A light charcoal background is punctuated by yellow with green trim, which is clearly a nod to the Australian football team, The Socceroos.
Tap the screenshots below to make them bigger and take a good look at their site.
Joe Fortune Slots
You'll immediately know that you've come to the right place when you see "pokies" instead of "slots" on the Joe Fortune homepage and it's clear that this website truly caters to Aussies. This place is choc-a-block with hundreds of great titles that cover every subject imaginable so you'll easily find a fun game no matter what mood you're in.
There are tons of knock-off games that are a ripoff tribute to popular culture like Pistols & Roses which is of course a nod to Guns N' Roses Slots, as well as World of Oz inspired by The Wizard of Oz, and Gangster which is simply a watered-down version of the amazing Sopranos Slots. Does the fact that you're not playing the real thing diminish your overall experience? Of course it does! But that's the Australian Government's fault for not allowing the real games to be played in the country, not Joe's – at least you can access them from the comfort of your own home. And to be honest, you do get used to the generic titles rather quickly once you've started.
Unfortunately, at this time you can only play their games in your web browser since there's not a Joe Fortune download casino, however we hope that they get one sorted in the near future. Come on guys, chop chop!
Jackpots
There is a solid list of jackpot slots at Joe Fortune so if you like to chase big cash prizes you'll definitely have your hands full there. Some of the more exciting machines are Fruit Frenzy, Derby Dollars, and Strike Gold which all offer killer graphics as well as a shot at a life-changing prize.
The biggest progressive jackpot you'll find in Joe's house is usually Absolute Super Reels which can easily have a booty north of $300,000. Two other ones to keep an eye on are Mona Lisa Jewels which can be around $250,000 and Neon Reels which is usually about the same.
The other two that are also worth a spin and often have prizes in the hundreds of thousands of dollars are Super Fast Hot Hot and Super Lucky Reels. They have awesome graphics, cool storylines, and are lots of fun to play.
Joe Fortune Casino Bonuses
Aussies like their meat pies big and their online casino bonuses even bigger, so Joe Fortune has stepped out of his kitchen with a steamy welcome offer that's sure to get your mouth watering. It's a 100% match up to $1,000 which triples your original deposit amount, giving you a swollen bankroll to gamble with. In September of 2018 Joe reduced his hefty 40x rollover on the bonus money to only 30x, so it's now a lot easier to withdraw any winnings.
From there Joe will break you off a 100% Reload Bonus up to $500 on your next eight (8) deposits, ensuring that your account is stuffed to the brim with free cash. However, that maximum is just for credit card transactions and if you opt to use cryptocurrency the max goes up to $750. And if you're looking for a Joe Fortune bonus code, look no further: type in "QOOS" when you sign up for an account and you'll always be eligible for the best offers available.
That bulge in Joe's pocket tells us that he has one more nugget for us, and if you guessed that it was a "Beefy Bitcoin Bonus", you were absolutely correct. It arrives in the form of a 300% Welcome Offer up to $1,500 on your first deposit using the cryptocurrency, but the free cash keeps flowing thanks to Joe giving you a bonus on your next eight Bitcoin deposits. That's right, Joe's favourite number is honoured again with a 150% Bitcoin Match Bonus up to $750 on your next 8 transactions using the virtual money, which is absolutely one of the best deals you'll find out there.
Don't worry, once you've gone through the first 8 bonuses "Generous Joe" returns with more tasty offers, however, this time he's not taking the lid off of the silver serving tray until after you've sat down at the table. That's right, it's a "Mystery Match Bonus" that will be available to you every Thursday when you log in to your account and go to the "My Rewards" section. You'll be able to use the bonus code as many times as you like during the 24 hour period making this a virtual "all you can eat buffet" of goodies.
Joe's cool but he ain't no fool, so you can bet your last piece of Vegemite on toast that he's slapped a 40x rollover on those bad boys, so you won't be seeing any winnings until you churn over the bonus amount forty times. You're an invited guest at his dinner table but always remember: never try to take advantage of Joe's generosity.
Promotions
Joe doesn't like anything too fancy – this isn't an 18th birthday party at a Bondi Beach nightclub, it's a straightforward gambling website that's not trying to be too showy. As a result, there aren't any player promotions, no sexy slot tournaments, or any other type of extravagant contests for you enter.
What you see is what you get: a solid product with no sparklers or fireworks, so just sit down and get to it.
VIP Program & Comps
It seems like our buddy Joe likes to go on adventures, occasionally to dingy places, and now he'd like to bring you along with him for the ride. So welcome to Joe's Rewards, the VIP Program that will recognize you for your gambling efforts on slots, video poker, table games, and specialty products like bingo and scratchies. Things get a little complicated with the numbers and percentages and such so the boiled-down explanation is: the more you play, the more you get.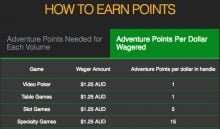 There are two different types of points that you'll earn, with Adventure Points counting towards real money cash bonuses that you can exchange for, and Tier Points which are what will move you through the 8 reward levels, (remember that Joe's favourite number is eight). You'll want to race up their ladder of benefits quickly because each level brings much better rewards.
Just look at the differences: in Tier 1 it will cost you 2,500 Adventure Points to cash in for $1.25 AUD, but in Tier 4 it costs 1,750 Points to get the same amount of money. However, if you keep rocking up the mountain and eventually get to Tier 8 it will only cost you 1,000 Points to get the $1.25 AUD, which is clearly a fantastic reward.
Not to mention that your Cashback Bonuses will steadily increase as you go as well. Tier 1 has you languishing at a meagre 5% cashback but that will increase to 9% once you're sitting pretty in Tier 4. And if you get to the aforementioned top tier of #8 you'll get an insane 15% cashback as a reward, which is probably the highest percentage you can find online. Oh, there is a minuscule 1x rollover on all cashback funds so it's super easy to meet the wagering requirements and get access to the rebates.
Also, just like every other skin in the Bodog network of casinos, you will never lose your VIP status once you've gained it, which is just as crazy as it sounds. It doesn't matter if you go on a 10 year trek to Ayres Rock to find yourself because whenever you smarten up and get back to civilization you'll still have your original VIP level at Joe Fortune. This is a massive benefit that's rarely found at other operators and its value simply cannot be overstated: this alone is reason enough to open an account with them.
That said, your Adventure Points will expire after 12 months so make sure that you exchange them for bonus cash before going on your soul-searching journey. There will be a reasonable 10x rollover on any free money that you receive for the exchange, which can be cleared in no time.
Casino Software
Once in Joe's house you'll see that he's invited two veteran casino software companies to the party as well: iSoftBet and Rival. Players in the United States are already well-versed in the ways of Rival Gaming because they're one of the only suppliers releasing games in that region. They have a solid reputation and have tons of unique slots that are regularly tested for randomness by 3rd party organizations.
The offering at Mr. Fortune is then bolstered by the competent software engineers over at iSoftBet who make wonderful casino games, and have tons of various 3D and jackpot slots. They have a stellar reputation in the online gambling industry and have won numerous awards for their efforts.
These two software providers have brought hundreds of different machines between them which ensures that the party at Joe's house never stops.
Mobile Casino
Never forget that Joe's an international man of mystery who's always on the go, so he respects others who live their lives in the same brash manner. Therefore, you can play most of his casino games from any mobile device that has a decent internet connection.
Remember that some of the releases at Joe Fortune are a little "long in the tooth" and weren't originally built to be mobile compatible so there are going to be a few games that aren't playable on an iPad, Samsung smart phone, or similar gadgets. However, 99% of the table and speciality games are newer and were designed to function on any device imaginable so you'll be able to enjoy things like mobile blackjack and roulette from anywhere.
Joe Fortune Banking Options
They state on the website that you can request a payout by Bank Wire, Bitcoin, Check by Courier, or Credit Card, but it's not unusual to be told that you can only get a payout via Bitcoin unless the amount is over $2,500. Then you can tell them to send a wire directly into your bank account.
However, around the time that you start licking your chops to get your money you'll realize that Joe Fortune likes to slow pay his clients and you're going to be waiting a while to receive your funds. Their stated processing time for cash outs is 48 hours but it's not uncommon to wait up to 10 business days for them to finish "processing" it, and then you still have to wait for the check or wire to arrive.
So to be 100% transparent and clear, let's underline this: when you decide to deposit and play at the Joe Fortune Casino you cannot be in a hurry to be paid out when you win. Does everyone understand? No? Ok, let me explain. If you're not using Bitcoin it's a very slow and difficult process to move money around and Joe doesn't hustle for anyone but Mrs. Fortune so you're just going to have to sit there and be patient.
And yes, it's absolutely normal for Joe to request identification from you to validate your account to ensure that you are in fact you and not someone else. Is this whole process a pain in the rear? Absolutely! But where else are you going to gamble online in Australia? Exactly – no where, so stop your whingeing. All you need to remember is that you will get paid, it just takes time.
Also, Joe didn't open this up as a charity shop so make sure that you leave some extra loot in your account to cover the withdrawal fees. Not to mention, he's really going to be ticked off if you request a payout smaller than $20, so just don't do it…but really, what kind of a wanker requests a payout for $19 or less anyway?
Customer Service
You can't open up an online casino in the friendliest country in the world and not provide excellent customer service because you'd immediately get the boot and have to close your doors. Thankfully, you can contact Joe's Customer Service Team in any way that's best for you: shoot them an email and wait for them to get back to you, or simply launch a Live Chat with them by clicking on the dialogue bubble in the top right corner of every page. Just make sure that you're not too late because they shut it all down every night at midnight.
Old school fools can even use something called a "telephone" to speak to them in person. Call them directly at 1800-989-024 and let them know what's on your mind – they always love a good chinwag. And if at any time you have an issue that you want escalated, you can easily do so by contacting their Dispute Resolution Office, which one can only assume is nestled somewhere on a Tasmanian island…Cape Barren, maybe? In any event, just know that you have a proper, official process that you can initiate if you want to complain to someone.
Other Gambling Products
Those who like to spread their bankrolls around to other gambling products will be sad to learn that Mr. Fortune didn't include a sportsbook, racebook, or poker tables in his operation, but maybe that's a good thing – why confuse matters? However, JoJo did slap on a massive Live Dealer Casino that offers all of your favourite games being dealt by actual human beings via webcams. Isn't technology marvellous? You get blackjack, roulette, and baccarat just to name a few, and you can chat with them, message them, send them emojis or whatever else floats your boat.
You Bingo-Bandits will be in heaven thanks to Joe's huge selection of Bingo games with 30-Ball, 80-Ball, Amazonia, European, and American being just a few of the variations that are available. Joe is always adding to the list too since playing online bingo in Australia has become quite popular in recent years.
In addition to all that, players with an "itch" can get their hands on tons of different virtual Scratchies that won't require a clean up afterwards. Just scratch them off with one click to reveal the prizes hidden underneath and get on with your day.
Conclusion
Why get dressed and go down to the Crown Casino in Melbourne to play your favourite diversions when you can just hop on your computer or iPhone and get right down to it? There's no longer any reason to frequent the manky brick and mortar casinos in Adelaide, Darwin, or Perth, or god forbid someplace even worse (probably located in Geelong).
The Joe Fortune betting website offers you an amazing product from the comfort of your own home with no travel time, parking fees, or dress code. You can play with confidence there knowing that the main Bodog brand has been around since 1994 so you can immediately trust them right from the get-go. They offer tons of fantastic games, massive bonuses, and you never lose your VIP status, which is pretty much unheard of in the online gambling industry.
Sure they don't have tons of banking options and it will take a while to receive your funds after you win, but you will receive them eventually. Some players will be bent out of shape by the lack of a sportsbook and poker tables, but you need to focus on the tons of great stuff that is there like bingo and scratchies.
So don't just sit there with a tinny in your hand – go sign up for a free account with them today and start getting in on the action. You'll quickly see why Joe Fortune is now the go-to place for Australians who want to punt from home.
As Joe always says, Fortune favours the bold…
Bloody oath.

Game Selection:

8.5

Reputation:

8

Bonuses:

8

Customer Service:

8

Banking:

7