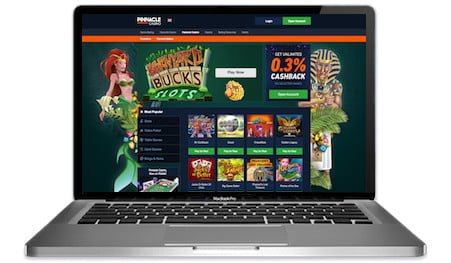 Your Bonus Code: QOOS

GET BONUS ➜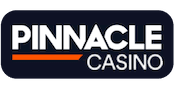 One of the strictest gambling websites in existence might let you play with them, but only if they feel like it. Welcome to the Pinnacle Casino where everything is on their terms and there are no bonuses to be had. Seriously.
NO Bonuses
NO Promotions
NO VIP Program
---
---
Review of Pinnacle Casino
Welcome to one of the most confusing online casino reviews you'll ever read in your life. You see, Pinnacle has made an excellent name for themselves among the hardcore sports gambling community and are universally known for their fair lines. Many sports players shun bonuses because they feel that they're simply a way to "cheat" the gambling gods, (yes those people are weird), and therefore Pinnacle fits right into their belief system.
However, we all know that bonuses are the lifeblood of most casino players and 99% of them want to be rewarded for their patronage. So since there are ZERO bonuses offered at Pinnacle, if you're one of the many people who enjoys getting free cash, stop reading this review now and go choose a different one from the list.
It's a strange review to write because "Pinny" does have a solid reputation for their sports product and they've been around for over 20 years, building trust with the gambling community one day at a time. Many people are truly happy there, and they're definitely one of the best choices for anyone living in South Africa, but again this will only be if you also place sports wagers.
This no-holds-barred review will peel back the layers of their proverbial onion to figure out what's at the core of their operation. Let's try and make sense of exactly what's going on over at Pinnacle, and for the record, this is one of the only betting websites out there that doesn't offer bonuses.
Screenshots
There are tons of unique titles on offer as you can see from the screenshots below, with row after row of games listed from many different providers. Their site has a clean and crisp layout and you can easily find whatever you're looking for.
Tap on an image to enlarge it and see some of the machines that you'll be able to enjoy…without the complications of bonuses, of course.
Pinnacle Slots
With almost 1,000 unique slot titles on tap you should be able to find a machine to play no matter what kind of mood you're in. Thanks to the tons of various software companies that they've teamed up with, the Pinnacle slots list is one of the biggest that Canadians or South Africans will find online, so it deserves a serious look.
Once you're digging around you'll find tons of branded games like The Warriors Slots, as well as blockbuster titles like The Invisible Man Slots from NetEnt, which is still impressing players with it's amazing graphics years after it was released. From there, Pinny has pretty much every non-branded machine that you could possibly looking for like Immortal Romance, Starburst, and Down the Pub.
Some visitors may be put-off by the fact that they'll only find instant play slots at Pinnacle and they don't offer a download version for your desktop computer, but they're still easily accessible if you bookmark them in your web browser.
Jackpots
Here is another category where the Pinnacle Casino frustrates people rather than making them happy. Pretty much every other casino on the internet does the respectable thing and tells you the current amounts of every jackpot game in their lobby, but not Pinny! They just give you a list of the titles and expect you to go look at each individual one for yourself, which is obviously a time-consuming and frustrating endeavour.
They have slightly more than 20 unique jackpot slot machines on offer and you'll find the usual titles of Mega Moolah, At the Copa, and Glam Life waiting to be spun. Thankfully they threw a few other lesser-known ones in there for good measure like Holmes and the Stolen Stones and Universal Cup with JP, which are both very popular with nerdier players who like fantastical storylines.
Pinnacle Casino Bonuses
As already tipped above, the Pinnacle Welcome bonus is one of the craziest you'll ever find in your life…because it is ZERO. Most of you would have probably thought that this statement was a joke if it hadn't already been mentioned at the beginning of the review. It's pretty darn shocking when you think about it: up until now the worst sign up bonus we had seen was a 25% match, but now that record has officially been broken.
Why doesn't the Pinnacle Casino offer a sign up bonus? Stated simply, they don't feel that they need to. They are standing firm on their convictions that they have the best online gambling product available and therefore there is no need whatsoever to entice people to play with them. You can't make this stuff up, right? You almost have to go sign up with them out of principle just to see if they're actually telling the truth. And no, they don't have any reload bonuses either.
They are a rare bird, but there are some players out there who don't like bonuses because they don't want to worry about meeting the rollover requirements, and therefore losing any associated winnings. So for those 5 people out there, you may have found the perfect place to play.
Promotions
You just read a huge section explaining why they don't have any bonuses – do you honestly think they're going to have promotions? NOPE! There is not one single promotion at the Pinnacle Casino and there probably will never be one. So if you like entering fun contests, this ain't the place for you.
Maybe this is for the best, though – who wants a bunch of free vacations and cars to distract them from the gambling at hand? Thanks, Pinny!
VIP Program & Comps
Now we get to the most surprising section of this review because there actually is a Pinnacle comp system that offers rewards. They give players a fairly standard 0.3% rebate on all of their featured casino games, with the credits being immediately applied to your bonus account after every single bet. This is obviously one of the fastest-paying comp systems out there and the funds are instantly able to be withdrawn. Finally…something that's customer-friendly!
Now don't get too excited because they still don't have a proper VIP Program with exclusive benefits and prizes, so you'll have to look elsewhere if you want special treatment based on your volume of play. They're not here to pamper you.
Casino Software
As already mentioned, Pinnacle has always been a sportsbook first and a casino second, however, they do have a very wide selection of software providers, which is the only way that they could get their game count close to 1,000 unique titles. For a while they only worked with Playtech which of course was quite limiting, but now they've totally expanded their products thanks to companies like Endorphina, Magnet, and Spinomenal.
The rest of their offering for table games and Live Dealer is filled in by Evolution Gaming, NetEnt, Ezugi, Extreme Live Gaming and BetGames TV. With that much firepower behind them it's like killing a fly with a sledgehammer.
Mobile Casino
You can enjoy the Pinnacle Mobile Casino on any portable device like iPhone or Samsung by simply downloading Pinnacle Lite at either the App Store or Google Play and you'll be ready to rock in just a few minutes. Some of you will be very disappointed with the number of games on offer, and with only a random mix of 25 slots, table, and video poker games, a feeling of disappointment is absolutely understandable.
Unless you live in South Africa or Canada and want to place sports bets on the go, there's really no need to install the Pinnacle App on your phone since most other places give you much more than 25 items in their mobile product. That said, it is a very nice download and their mobile sportsbook looks great.
Pinnacle Banking Options
With close to 30 different options available it's pretty easy to deposit at Pinnacle using a method that's appealing to you. The standard fare of VISA and MasterCard are offered in addition to newer eWallets like ecoPayz, entropay, and WebMoney.
If you want to cut out the middleman and deposit directly from your bank account, Pinnacle accepts Trustly, Instant Banking, and eCheque which all facilitate fast and easy financial transactions. Depending on your country of residence and currency selected, you might be able to use all of the aforementioned methods to withdraw your winnings as well.
Speaking of winnings, make sure that you don't forget about the Pinnacle rollover before you request a withdrawal. Now I know you're saying, "Rollover? You just said numerous times that they don't give out bonuses – what the heck are you talking about?" This is a totally fair thing to be thinking, but I'm actually referring to the rollover for their withdrawal fees that you will incur if you haven't wagered the deposit amount 3 times before asking for a payout.
If you haven't met the "requirements" they will slap you with a 3% processing fee and any other applicable fees that they can find. Or, they might just decide to cancel your withdrawal all together if they feel like it. Sounds great, eh? This is hands-down one of the worst terms we've ever come across at a gambling website and it's very disrespectful to the player. Hopefully they remove it soon.
Customer Service
The Customer Service at Pinnacle is not the greatest, and would you have really expected it to be after reading everything above? They don't offer player bonuses, do you think they're going to feel the need to provide their clients with "white glove service"? Forget about it!
If you click on their customer service link you'll get an automatic pop up to email their support team. However, for anyone who prefers old school communication you can phone Pinnacle Customer Service at their international number of +599 9433-8725 and speak to them directly.
Also, they don't currently offer live chat so it's impossible to get an immediate answer to any questions.
Other Gambling Products
Unlike most online casinos, the "other" gambling product at Pinnacle is also their "main" one. This is of course their world-famous sportsbook which offers matches, leagues, and events from pretty much everywhere around the world. Their lines are usually fair and balanced, with the option to do live in-game betting as well. Their selection has been boosted recently as they've fully embraced the eSports craze and offer action on League of Legends, Starcraft 2, DOTA 2, SC:GO, and many more.
Looking for someplace to drop a few bucks on the ponies? You'd better keep on looking because the Pinnacle Racebook closed many years ago and there is no indication that it'll be reopening any time soon. There are many operators out there who do offer a full suite of products so anyone who likes to bet on horses has plenty of options available to them.
That said, you will find all of the usual table games like blackjack, roulette, and baccarat, as well as a bunch of different Video Poker machines there, so it's not all bad.
Conclusion
This is clearly one of the most confusing online casinos in existence, but you definitely have to admire the size of their stones. Their terms and conditions read like a legal Brexit document and each article is stated with the gravitas of Liam Neeson seething into a phone receiver to threaten the man who just kidnapped his daughter. It's obvious that both Pinny and Liam mean business so don't piss them off.
However, I have to admit that their aloofness worked on me – I just had to find out what was so special about them. And what did I find? A carefully-constructed website with many slot games and no bonuses or VIP Program – just what I knew I was getting! Sadly, this is why most of you will want to pass on this place: to not get rewarded for your loyal play in this day and age is an absolute deal-breaker. There are just too many other options out there that will pad your wallets.
It's a shame because they clearly have the potential to do better so it's strange that they haven't taken the initiative sometime during the last two decades to improve themselves.
So what's the final verdict? Pinnacle is a fantastic sportsbook but a lacklustre casino, and they are 100% ok with that. They have their priorities set for the time being but who knows what the future holds.
However, if you live in Canada or South Africa and want to gamble on sports between spins and don't care about bonuses, Pinnacle could definitely be the place for you. There's only one way to find out…

Game Selection:

8

Reputation:

8

Bonuses:

1

Customer Service:

7

Banking:

7