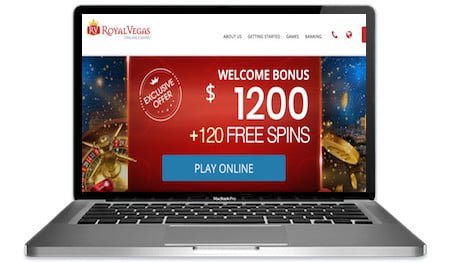 Special Offer:

100% up to $250

Your Bonus Code: QOOS

GET BONUS ➜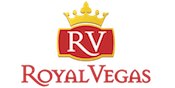 Get out your monocle and best fancy dress if you want to join the upper crust at this snooty online casino. You have an invitation to hobnob at Royal Vegas, but should you accept or throw it in the trash? Lets find out.
Microgaming Slots Only
Long Wait for Payouts
Big Welcome Bonus
---
---
Review of Royal Vegas Casino
When you hear the name "Royal Vegas" you are immediately transported into a fantasy of being massaged with soft white gloves whilst being carried along a red carpet, preparing to enter a glamorous casino for the best time of your life. However, once you've entered Royal Vegas your dream quickly becomes a nightmare with the white gloves slapping you in the face and the red carpet rolling up around you to squeeze out every dime in your pocket as you scream for mercy. Then you wake up thrashing around in your bed with a twisted version of Stockholm Syndrome thinking, "Was it all really that bad?"
This is the general experience that you can expect at the Royal Vegas Casino and depending on what's most important to you, you will rate them anywhere between a 1/10 or a 6/10 because it's impossible to give them a grade any higher than that. They either do something decently or they do it terribly, which is the paradox of choosing to play with them.
So you're very lucky to have found this honest review that will guide you through the possible torture that you can experience at the hands of the twisted royalty there. We shall recount in full what those poor souls before you have witnessed. We will give you the full truth about their bonuses, VIP Program, and "legendary" payout process. Get comfortable and read this review…with the lights on.
Screenshots
There's not a lot of unique and beautiful designs to flash in front of you so you'll just have to accept these game lists as the best screenshots that we could find. On the plus side, it's very easy to find and launch what you're searching for thanks to their clean layout.
That said, many of you will surely label their site as "boring" and/or "unimpressive", and not many would disagree with you.
Royal Vegas Slots
If you like Microgaming slots, Royal Vegas is the place for you because that's all that they offer. As a member of the Fortune Lounge Group they have a few other sister casinos that only serve up Microgaming titles as well, with each simply being a re-skin of the last. Thankfully, this particular software company has more games than anyone else in the market so there are over 350 unique machines to choose from, including some of the coolest branded ones out there like Bridesmaids Slots and Terminator 2 Slots, making it clear to see why they're considered one of the leaders in the industry.
However, if you're hankering for specific branded slots that happen to be released by competitors like NetEnt or Blueprint Gaming, you're going to have to mount your steed and continue on to the next palace down the road to find satisfaction. And believe us when we tell you that there are many places out there who offer a wide variety of providers – it's only these Fortune Lounge Casinos who foolishly stick to one software company. (Although maybe it's obvious that they're just owned by Microgaming.)
The one bright spot is that their entire list of titles can be put directly onto your personal computer via the Royal Vegas Download Casino, or you can launch their instant play product with one click of the mouse. Even though you won't find every hot new release there's still plenty of machines to choose from with genres catering to all tastes.
If you want to see their full list of games before deciding to open an account with them that's too damn bad because they only show you their entire suite after you've signed up and given them your personal information. Plenty of betting websites don't allow you to play slots for free until you've given them your name and email address, but it's definitely rare to find a spot that won't even let you see their game list without first becoming a member.
It's clear that this royal family views us all as peasants who are just lucky to kiss their rings. Off with their heads!
Jackpots
There are exactly 16 Progressive Jackpot slots at Royal Vegas, with pots ranging from "small" to "enormous". You can just as easily launch Lots A Loot and chase a $3,500 prize or boot up Mega Moolah and take a stab at over $6,000,000 depending on the mood you're in.
The rest of the usual Microgaming Progressive titles are here with Fruit Fiesta, King Cashalot, and Tunzamunni being the most interesting ones of the bunch. You should always check the current prize amount of each before deciding which one to play since the jackpot could have recently gone off and changed some lucky gambler's life forever.
And if you are the lucky one to hit a jackpot, be warned that there is a $5,000 maximum per week for payouts so it might take you a while to get the full amount. Depending on the size of the prize, you could be in an old folk's home before receiving your whole balance. Yikes.
Royal Vegas Casino Bonuses
If an online casino is only going to offer one software company and cap their jackpot payouts at $5,000 a week, they'd better have something decent going for them, right? Well, big bonus hunters will be happy to learn that the Royal Vegas Welcome Package is in fact quite huge, offering a total of $1,200 in free cash. They used to also give you 120 free spins for good measure but sadly they stopped doing this in April of 2018.
Make sure you read the fine print in their terms and conditions because the bonus cash is spread out over your first 4 real money deposits with a match bonus of 100% up to $300 each time. Don't forget that it's a "drip bonus" and go deposit $1,200 and expect your balance to immediately go up to $2,400 because you only get to that total after the 4th transaction.
Their old offer gave you free spins for each of your first 3 deposits and you'd receive 30 on Dragon Dance, 40 on Wild Orient, and 50 on Suntide so you could enjoy some extra freerolling. It's hard to understand why would they take this offer away. Is anyone else getting in the mood for regicide? It's possible that the emperor has no clothes.
Promotions
Oftentimes royalty can be quite out of touch with the masses, with the most famous relevant quote being, "Let them eat cake". Channeling their inner Marie Antoinette, Royal Vegas is one of the few online casinos that does not like having unique promotions for their players and you will therefore not be able to find anything but their welcome package on the promo page.
It's genuinely sad that they think offering reload bonuses constitutes "promotions" that players should be clamouring for. The squires in the RV towers have spoken: Let them have reload bonuses! A peasant uprising is coming…
VIP Program & Comps
So do you ever get treated like royalty at this place? You betcha you do, courtesy of their open and honest comp point system. All players can qualify for the Royal Vegas Loyalty Rewards program that automatically credits your account with player points as you wager with them. Every 1,000 points equals €1 and the minimum amount that you need to exchange is 5,000. (If exchanging from Euros to another currency make sure you check out their current conversion rates before initiating the transaction to ensure you don't get a nasty surprise.)
There are 4 tiers of Silver, Gold, Platinum, and Diamond, with all of them offering increased bonuses and benefits as you climb their status ladder. You can look forward to such things as larger point gifts on your birthday, the ability to earn points quicker, and bigger loyalty bonuses each month.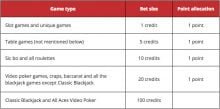 The best part of this reward program is that there isn't a rollover attached to the free money that you receive so you can do whatever you want with it, including withdraw it immediately. However, you'd better act fast because Loyalty Points disappear after 60 days if they're not cashed in. Then in keeping with the "feast or famine" qualities of this place, they allow you to combine your player points from all of your Fortune Lounge accounts, which is actually a pretty nice thing for them to do.
However, you'll only receive a loyalty bonus if you're at a minimum of Gold Status for 3 or more months, while also having deposited a minimum of 1 time per month over that time period. The amount of your reward will be determined by the lowest level you maintained during the 3 months, as each rewards level has minimum qualifications for remaining in it.
As you start to accumulate more and more points during the month you will be steadily climbing towards the ultimate VIP level, with the aforementioned Diamond being the top status that you can attain. Once at the head of the table you'll enjoy 100,000 bonus points on your birthday and earn rewards 15% quicker than you did when you were wallowing in the basic level of Silver. As always, it pays to elevate yourself to a higher class.
Casino Software
After reading the sections above you already knew that Royal Vegas was going to get low grades for casino software since they only offer one provider, but at least the one they have has been around for years. Yes, this place is a simple Microgaming skin and nothing more, but there is a decent selection to go through.
Those who are fans of Steve Jobs and his company's products will want to note that this particular operation brags on their website that they are "constantly upgrading" to remain fully compatible with the newest versions of Apple OS and products. We've tested this out on a MacBook Pro and although there weren't any specific issues, we can report that nothing jumped out one way or the other.
The weird thing about this software is that it's very wonky if you try to play their games in Firefox, and they even go so far as to suggest that you should switch to Chrome! Talk about making your customers bend over backwards to please YOU. How dare you tell people which browser to use, especially when it looks like your games don't load properly and your graphics are slow no matter which one is used. Ridiculous.
Mobile Casino
Just because they have a basic web design doesn't mean that the Royal Vegas Mobile Casino isn't nice to play at. It actually looks and performs quite well and most of you will be surprised the first time you load it up on your iPhone or Android device.
In addition to being able to play most of their slots and table games, you can also make deposits and request withdrawals on the go. Mobile cashiers are slowly becoming commonplace but they're not available everywhere yet so RV do get a few bonus points for offering this.
They also go an extra step by offering their Live Casino on smart phones and tablets, although your satisfaction with this product will definitely depend on the strength of your WiFi connection and the age of your mobile device.
Royal Vegas Banking Options
When you want to deposit at the Royal Vegas Casino there are no shortage of options, with a whopping 40 different ways to choose from. Granted many of these are region-specific and are only available to residents of certain countries, (Sofort, Multibanco, Przelewy24, Baloto, etc.), but that list is still very impressive. Things go downhill from here.
You can request a withdrawal from Royal Vegas via bank transfer, credit card, or various eWallets such as EntroPay,WebMoney, NETELLER, or Moneybookers. However, you are going to wait a while to receive your funds because their stated timeframe is currently 8 business days to process withdrawals, which is basically "forever" in this day and age. This is definitely one of the longest wait times in the industry so if receiving your winnings quickly is important to you, this isn't where you want to play.
If that's not frustrating enough, they'll often ask you to verify your identity before processing the withdrawal so be ready to send them your driver's license, a utility bill, and photos of the actual credit card that you used to make the deposit. The good news is that you currently do not have to send them a DNA sample with the aforementioned documents.
Lastly, you should note that your payouts will be "subject to processing fees at the discretion of the casino", so maybe you'll pay $1 to receive your funds or maybe you'll pay $100. Who knows!? We've seen fees at around 5% of the total amount of the payout but this fluctuates wildly depending on the processor that Royal Vegas happens to be using that day. This is pretty unprofessional because the fees should be fixed and clearly displayed on their website at all times.
Customer Service
If a betting website has extremely strict payout rules the chances are high that they'll also have extremely strict customer service agents, so it's unsurprising that the ones at RV really have no time to play around with you. Or even pretend like they're interested in talking to you in the first place. They want you to get to the point quickly and if you don't, your chat might be ended very abruptly…and this might be after you waited for them for over 30 minutes!
We wanted to be fair and check back with them to test the quality of their customer service before publishing this review and we found something astonishing. It looks like they've removed their toll-free phone number so you can no longer call and speak to a real person if you have an issue. In the Age of Communication it's strange to see a company trying to have less contact with their customers. This royal family is clearly out of touch with the common man.
Other Gambling Products
Unlike the real Las Vegas, this operator does not offer anything besides table games and slots machines so you cannot play poker or place a sports wager with them. Of course you'll be able to find Video Poker, Live Dealer tables, Keno, and a wide variety of Scratch Cards, so there are a few other diversions to keep you busy if you want to take a break from spinning the reels.
Conclusion
Sure you're going to have to submit numerous documents and wait a long time for your payout, but at least Royal Vegas tells you this right on their website before you've even opened up an account. If they were a scam casino that steals money they wouldn't mention anything at all. You can be mad at them for their security processes but you have to respect them for their honesty upfront, right?
Ultimately you're not going to find anything too interesting in this kingdom and you'll quickly learn that there's nothing "royal" about Vegas – it's nickname is Sin City after all, for goodness sakes! Trying to combine the two concepts in an unholy matrimony that ended up in complete and total failure – it's time to put a merciful end to this monster in the dungeon.
However, if you're someone who only likes Microgaming slots and never needs to contact customer service, this could be the place for you. Everyone else should revolt against the monarchy and find their gambling freedom in another land.

Game Selection:

2

Reputation:

3

Bonuses:

7

Customer Service:

2

Banking:

8