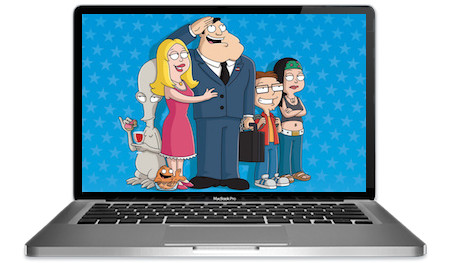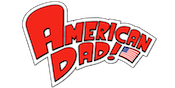 The most conservative father in America has finally been given his own online slot and he's brought the whole family along for the ride. Get ready to chase cash with the help of an alien, a goldfish, and a whale-loving hippy.
Five Unique Free Spins Modes
All of the Main Characters
A Schmooblydong Wheel
---
---
Review of American Dad! Slots
Some fans of Family Guy consider American Dad! to be nothing more than a silly spinoff that isn't as funny but many viewers certainly don't agree with that sentiment. This show has done a fantastic job of carving out its own niche and pumping out season after season of quality episodes and storylines and I'm certainly a fan. Therefore, I was extremely excited to try this one out, especially after seeing the great job that casino software company IGT had done with Family Guy Slots, since that one is filled with awesome, non-stop action.
Unfortunately, shortly after this machine loaded I got a sinking feeling that this release wouldn't be nearly as much fun and I was quickly proven right. That's not to say that it lacks excitement, it's just that Family Guy is much better. Perhaps Fuzzy Door Productions was left wondering if they should have gone back to IGT to see if they could replicate their previous success?
You can bet that my love of the show is going to make me go lighter on this title than I should and that preexisting bias will stop me from really dropping the hammer on Playtech for screwing up what should have been an easy slam dunk. Hardcore fans are probably going to be ecstatic with what they find in American Dad! Slots but casual viewers might be a little disappointed. This exclusive review will breakdown why.
Screenshots
The machines's design is beautiful and clear, with all of the illustrations of the characters looking like they were taken directly from the HD television show. There are a lot of different times when members of the Smith family wander around the reels or throw something at them so there's definitely a lot to look at while you spin.
These are just a few random screenshots to wet your whistle for what's in store.
Storyline
There is no American patriot greater than Stan Smith: he embodies the strict morals of Ronald Regan, George W. Bush, and every other staunch conservative of past generations. He is a straight-laced Republican who works for the CIA and is constantly annoyed by his wimpy son Steve and liberal daughter Hayley, but mostly seems to love his wife, Francine. The family lives in fictional Langley Falls, Virginia, along with rescued alien Roger and goldfish Klaus, who is actually a German man trapped in the body of a fish.
The show follows the group as they stumble upon the most ridiculous of situations, usually culminating in hilarious and outrageous results, with the ability to wrap things up in 22 minutes each time. The group has participated in such terrible things as murders, drug trafficking, and global espionage without punishment or consequence, and seem to be untouchable in this cartoon universe.
In their day to day lives Steve can often be found hanging out with his friends Toshi Yoshida, Schmuley "Snot" Lonstein, and Barry Robinson at Pearl Bailey High School or other haunts around Langley Falls, while Hayley usually has her hands full with her immature husband Jeff Fischer, who does not make an appearance in this game. Roger is a paranoid schizophrenic who opened a bar in the family's attic to get hammered in and mingle with strangers, and there's no way to sum up his existence in only a few sentences.
Although Playtech had over 13 seasons worth of fantastic storylines at their disposal, they chose not to use any of them in favor of simply having the main characters star in their own free spins modes. Most fans of the show are going to be looking for a little more meat on the plot-bone than that and are therefore going to be left feeling hungry for more stories to chew on.
Unique Symbols
Well the good news with the unique symbols is that we got every main character from the show, (as would be expected), however, there weren't any secondary characters included. Not even Patrick Stewart's character of Deputy Director Avery Bullock showed up to make an appearance. From a practical standpoint this is actually ok though because the reels look full just the way they are and any more characters would probably have been too much. Of course, there's always room for a few more characters in the special features.
Oddly, this has the fewest number of symbols of any television-themed slot released in years, sporting a minuscule 10. It feels like they could have added another 1 or 2, even if it was just random junk from the show.
White Q (Queen)
Blue K (King)
Red A (Ace)
Klaus Heissler
Steve Smith
Hayley Smith
Francine Smith
Stan Smith
Roger "Wogir" (Wild)
American Dad Logo (Bonus)
The Roger Wild is the highest-paying with 750 coins for five in a result. This is followed by Stan, Francine, Hayley, and Steve who give 250, 150, 100, and 75 coins respectively for 5 of a Kind. Klaus then swims in with an embarrassing 50 coins for five of him across the board.
Jackpots
Sadly, there aren't any huge cash prizes to be won here because there isn't an American Dad! Slots Jackpot available. This really is a shame since it wouldn't have taken them too long to add a nice network prize pool or whatnot. Roger really is a "douche with a capital bag" – it's 67 degrees outside and I hate you!
Bonus Rounds
Now we get to the biggest problem with this machine: it doesn't have a proper bonus round. This omission really hurts since you know that Playtech could have done some fun and exciting things based on the source material at hand. However, it's hard to complain when there are a whopping five different free spins modes available but most fans of the show would have gladly traded one of them for a real special feature that didn't involve whirling reels and provided a nice break from the regular mode.
At the very least, the minds at Playtech could have come up with a great Pick Em' style area or a "levelling-up" type of round that would have made things more interactive and given people the feeling that they had a bit more control over their wins and loses. It's a shame that with all of those hilarious characters and stories they didn't pull something out of the bag to raise this release to the level it should be at.
Free Spins
The free spins in American Dad! are triggered by the "Schmooblydong Wheel", which of course is the word that Roger uses to describe Barbara Streisand singing the music of Celine Dion. If a wheel falls on reels #1 and #3 you will get a re-spin with whatever character feature the first wheel stops on, but if the wheel falls on reels #1, #3, and #5 in the same result it will trigger the proper mode with more spins and action.
The wheel on reel #1 will show you which character's feature will be triggered, the one on #3 will give the level of payout potential, and #5 awards the number of games, which will be somewhere between 3 and 25.
First we have the "Stacking Stan" that gives you Stacked Stans that are added underneath his normal symbol onto the board. The "Power Up" Schmooblydong Wheel will activate on reel #3 to reveal exactly how many Stans will be in the stack.
Next we have "Roger's Random Wilds" which occur when he arrives back home after a big night out on the town getting hammered. We all know that this alien can't handle his booze so it's no surprise when he vomits all over the place leaving green puke mixed with random Wilds, which mix all over the board. The Schmooblydong Wheel on reel #3 decides your fate again as it will give you the number of Wilds you'll get each time.
There's also"Francine's Holy Grail" which will transport you to the Smith household for some wholesome fun. Once triggered, Klaus will appear on random spots on the board as a little button and if Francine lands in that spot she'll become an Expanding Wild that does a little curtsy while Klaus looks on in admiration. The Schmooblydong Wheel on reel #3 will decide how many Klaus buttons you get across the board and needless to say, it's quite interesting that they have a special feature that involves a goldfish peeping up a lady's skirt to stare at her "Holy Grail".
In addition there's "Hayley's Progressive Multiplier" which will keep jacking up your multiplier for the entire duration. Hayley is trying to save the whales so she's gathering signatures on a petition and every one she gets will increase your win multiplier by a random amount. Hopefully The Schmooblydong Wheel on reel #3 is good to you because that's what will establish your starting multiplier amount. The action ends when a competing activists confronts Hayley on the street and they begin to brawl.
Finally, we have the "Wheels and the Legman" freeroll area that has Roger wheeling Steve around the screen, with both of them wearing terrible costumes and dropping Wilds in their wake. The good ol' Schmooblydong will of course give you the number of Wilds that they'll be dropping each time.
Graphics
Due to its red and white striped theme and few number of symbols, this machine is deceptively plain during regular mode until something is triggered. Once in a unique area you'll find that every one of the free spins modes is totally unique with different animations, backgrounds, and effects, so the graphics really come out to shine.
For example, "Wheels and the Legman" has them lumbering across the board smoothly with HD cartoon quality. Not to mention that the disguises that Roger's Wilds come up with are fully detailed and ridiculous. Stan's dance moves in "Stacking Stan" are beautifully fluid and you will be delighted to find that he's dressed in only his socks and underwear.
We should warn you that when Roger stumbles onto the board drinking a martini and vomiting all over the place it looks surprisingly realistic, so those of you who have a weak stomach will probably want to look away until he's done binge drinking. Also, the light that shines down on Klaus from Francine's "Schmootzplatschen" is absolutely heavenly and Klaus' reaction to the event is priceless. It's small animations like these that will keep you chuckling and interested in playing until you've seen everything that it has to offer.
Finally, there's a nice graphic display that shows you exactly how much you win for each result and on which line. If you trigger more than one line it will continue to rotate between each one showing you the totals until you hit the button again.
Audio & Soundtrack
One of the biggest criticisms of this machine is that the main soundtrack is extremely annoying and sounds like it was created by a demented circus of misfits. Not to mention that it stops at the conclusion of each spin so there's no flow to the action. It's so erratic and hurried that it's impossible to play with the audios on, especially when auto-spinning on Turbo. The terrible jingle starts and stops haphazardly until you think that you're going crazy and it's easily one of the worst gambling game soundtracks released in years.
The bizarre songs continue when Francine's feature brings in a new track that is like an awkward polka melody that is more "comical" than "cool". Then we're treated to the whimsical tune in "Hayley's Progressive Multiplier" which is frantic and rushed, sounding like a sped-up version of a twisted carnival organ.
The soundtrack finally delivers something decent in "Wheels and the Legman" with a funky jam that's led by a Flea-esque bass line and wah wah guitar, with horn blasts coming over the top of it all to punctuate the beat. This area is also notable because it's the only time where we hear voices from the characters. It's just a super small snippet of Roger and Steve saying the name of the bonus round and it's quite bizarre that this was the only audio clip that Playtech included.
Lastly, this release holds the title for "grossest audio ever heard in a game", which is Roger barfing during his feature. We absolutely have to warn you about it and this isn't a joke – it's so realistic and detailed that is sounds like it could be happening right next to you. Even if you have a very strong stomach it could still make you gag, so don't say that we didn't warn you. It's sad because it ruins the best song that was included, the funky jam that's in the background with a ridiculously sassy bongo beat laid over it.
Conclusion
Unfortunately, American Dad! Slots might fall into the category of games that "you're just happy to see they made" and will therefore play for a little while, regardless of the amount of fun you're having. It's pretty much only going to be for diehard viewers of the television show and those who are curious enough to check out the crazy action.
It's frustrating because there are tons of bonus features, but there isn't a true bonus round. It feels greedy suggesting that there should have been more things included but most fans would have probably given up one of the free spins modes for any kind of unique area. Of course, if you're someone who doesn't like unique areas, American Dad is definitely going to be right in your wheelhouse.
The "cringe comedy" in the television show is appealing to many but sadly this title is all cringe and no comedy. Since Playtech only included one line of dialogue it's safe to say that they left a ton of humor on the table. For example, there should have been more Klaus since he usually has the funniest lines, (mostly at the expense of ze Germans, of course).
Ultimately, how much you like this is going to directly correlate with how much you enjoy the original show. If you've never missed an episode you're going to be in for a treat, but if you only watch it semi-regularly you'll probably only want to stick around until you've seen all of the different special areas.
All of that said, players should want to give it at least a few minutes of their time since it's the only online slot machine that has a drunken alien power-puking on the reels. Thanks, Roger!
Remember: you've already been warned about the noises he makes…enjoy responsibly.
Random Video of American Dad!
Here's an interesting video with all of the voice talents from the show at the Paley Center for Media a few years ago. It really is strange hearing the voices coming out of humans instead of the cartoon characters…