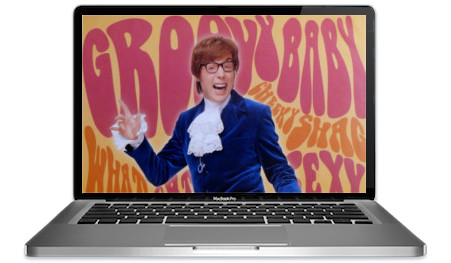 It's time to hop into the Shagwar and help everyone's favorite unfrozen spy find love in Austin Powers Slots, just watch out for his swinging hips. Tons of bonus features allow you to stack up cash while you save the world from evil.
The Greatest Spy Who Ever Lived
Amazing Special Areas
Sharks with Lasers
---
---
Review of Austin Powers Slots
What's not to love about a round-faced, swinging spy like Austin Powers? When Mike Myers brought the James Bond inspired character to the big screen in 1997, people immediately starting imitating him and reciting his many catch phrases like "Do I make you horny?" and "Condoms are for sailors, baby!".
Like everyone else who saw the original films I was immensely entertained and couldn't get enough of the bizarre character who had seemingly taken over pop culture across the globe. Although most fans would agree that the film franchise lost a little bit of steam by the time Goldmember was released in 2002, there will always be a special place in our hearts for Austin Powers…and the spies who have shagged him.
This title by Blueprint Gaming serves to remind us of just how much we miss him and how we still hope that a fourth movie is on the way someday. This expert review of Austin Powers Slots will obviously be slightly tainted by nostalgic feelings but don't worry – it totally gives us what we're looking for so there's no need to give fake praise. YA, baby!
Screenshots
Please look at the screenshots below to confirm that we're not exaggerating when we say that this release has one of the greatest images of all time in it: a shark with a frickin' laser beam attached to its head! What else could you possibly be looking for?
Those who are not impressed by sharks with laser beams on their heads will be happy to know that this is only one of the many reasons that Austin Powers is one of the best movie-themed gambling games of all time. Check out these screenshots and you'll appreciate the effort that Blueprint Gaming must have put into its creation.
Storyline
In 1997, one of the greatest international spies of the era was unfrozen from his cryogenic sleep and brought into a new world. A world that had changed dramatically from when he had seen it last. Although the movie at its core is a comedy, Austin Powers also cleverly deals with the frustration that many older people feel when they look around at the world today: the confusion, the discomfort, the anger.
If you're over 40, chances are you've shaken your head at someone young doing something foolish or at a ridiculous fad that has taken over the nation. Thankfully, this release focuses on the fun aspects of the character and not the dark isolation he felt after observing the cruel, modern world and how heartbroken he was that things had become so much different than the swinging 60's from which he came.
Unfortunately for Austin, the super-villain Dr. Evil was also unfrozen at the same time as him and has returned to continue his conquest for power and wealth. Now he is joined by his laboratory-created sidekick Mini-Me to finish the job and rid the world of the super spy so nothing stands in the way of their world domination.
This release is based on of the second instalment of the film franchise, Austin Powers: The Spy Who Shagged Me, starring Heather Graham as "Felicity Shagwell". Both the film and the game center on Dr. Evil and his cronies trying to steal Austin's mojo, which is the source of his animal magnetism and sex appeal. Watch out, Baby!
Unique Symbols
After playing this machine many times we can't help but feel that Blueprint Gaming could have added a few more unique symbols. Having Mini-Me in one of the bonus rounds is a necessity, however, he definitely deserves his own spot on the reels as well.
They also could have had the "Shaguar", the 1961 Jaguar E Type with the Union Jack that Austin drove. Other characters that should have been included were Rob Lowe as Young Number 2, Robert Wagner as Number 2, Seth Green as Scott Evil, and most importantly, Will Ferrel as Mustafa.
They do make up for the above omissions by having tons of different Wilds with Colossal Wilds, Sticky Wilds, and Mojo Wilds. All are quite inventive and add to the overall action and payout possibilities.
10
J (Jack)
Q (Queen)
K (King)
A (Ace)
Felicity Shagwell
Dr. Evil
Austin Powers
Austin Powers Logo
Diamond Encrusted Mars Medallion (Wild)
Time Machine Door (Bonus)
The Wild of Austin's Mars Medallion pays the most for a 5 of a Kind with 500 coins. The next-profitable is the Austin Powers Logo at 400 coins, followed by Austin himself at 300 coins. Felicity Shagwell and Dr. Evil round out the top-paying ones with 200 coins each for five in a row.
Jackpots
The Spy Who Shagged Me has an in-game jackpot called the "Submarine Lair Trail" which is a simple pick em' area where you select boxes in hopes of finding golden keys. Each key will then start a tractor beam that enlarges the dollar amounts of the prizes.
If you eventually discover a large amount of keys during the round you might be able to unlock the "ultimate box" and shag snag the jackpot prize. It won't be a massive six figure payday but it will certainly be a nice amount of free cash to add to your bank balance.
Bonus Rounds
When you get 3 or more Bonus symbols you are taken to the time machine where you push a big red button that will determine where you go next. There are six unique areas that you could enter, all of which offer different prizes. Technically a few of these areas only give you free spins so those will be explained in the following section.
1998: Virtucon Test Site
1968: Volcano Lair
1969: Moon Base
2003 Submarine Lair
2002: Asahi Sumo Arena
1997: Cryo Lab
The Volcano Lair Bonus is basically a pick em' round where you click on either Austin or Felicity to check their bags for spy items. Once you select a bag that has an explosive as the next item you are returned to the regular mode.
In addition, there are three random reel features in Austin Powers Slots that are almost like "mini bonus rounds". The best one is when a shark with a frickin' laser on its head randomly pops out of a pool at the bottom of the screen and shoots the board. This is hugely beneficial to you because it turns the entire reel into Wilds. Furthermore, it might shoot more than one row and could even shoot all five if it is feeling particularly randy.
Another mini round is when you get a vile of mojo smashed onto your reels which spills "mojo juice" everywhere and turns various symbols Wild. Lastly, you might get the "Dr. Evil Big Win" nudge where he appears at random after a losing spin to bump all of the reels up to switch the loss into a big cash win.
Please note that 3 Bonus symbols appearing at once will transport you into the special area, however, 4 or 5 of them will give you an extra multiplier during your feature which can increase your winnings up to 10 times your original wager so the payoff can be huge.
Free Spins
As explained above, when you enter the special area you will push a button that determines your prize, with some of them simply giving you free spins. For example, if you enter the Virtucon Test Site you will be issued five with the possibility of anywhere between one and five Fembots showing up on the board as Stacked Wilds.
The Fat Bastard gives you an extra freebie for a total of six. The Bastard himself is also an Expanding Wild that can cover multiple rows and reels, which is why the game refers to this situation as "Colossal".
The Mini-Me feature is mathematically twice as good as the Fembot one because you are given ten instead of five. Of course Mini-Me is the Stacked Wild instead of a Fembot and his presence alone makes the round a little better. He will also stay stuck on the reels for the duration of the freeroll so technically Mini-Me is a Sticky Stacked Wild. Thanks, Vern!
Graphics
They included tons of great clips from The Spy Who Shagged Me and all of them are funny with none of them going on for too long or getting in the way. They're a perfect length to remind you of the scene being referred to and they should always bring a smile to your face.
Whether it's the Stacked Wilds or the reel features, everything seems to have some bit of animation or extra pizazz added to it. This machine really does a fantastic job of keeping you entertained and engaged no matter how long you play for.
Audio & Soundtrack
The audio engineers at Blueprint Gaming made the excellent decision to pay for the rights to what most people would consider "Austin Power's theme song", Quincy Jones' "Soul Bossa Nova". This is probably the only song in the history of mankind that someone can listen to over and over again for hours and not get sick of. At least that's how we feel about it. You can play this game for over two hours with the sound on and still find yourself bobbing along to the music.
There are way too many character lines and audios from the original movie to list here so just believe us when we say that this machine is packed with them. It's easily one of the most complete movie-themed slots out there today. If feels like they used every audio and video clip at their disposal and the final product certainly reflects that.
Conclusion
If you loved Austin Powers the first time around you're definitely going to want to try this title out. It's non-stop shagadelic action, dripping with direct references to the movie that will be giving you flashbacks by the bucket load. Most of you will immediately fall in love with this amazing release due to the tons of different Wild possibilities delivered by all of the best characters from the film.
There's constant entertainment, big win potential, and of course, Austin will make you horny. Groovy, Baby!!
Random Video of Austin Powers
With all this talk about the movie, we just had to go back and re-watch the original trailer for 1999's "The Spy Who Shagged Me" on Youtube, so here it is, in all of its mojo-soaked glory. This film is definitely going to be remembered as a comedic classic and it's amazing how young Mike Myers looks in this clip…