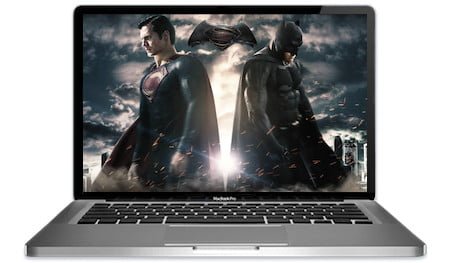 Batman v Superman: Dawn of Justice Slots
Finally the two strongest forces in the DC Universe collide in Batman v Superman Slots from Playtech. Unfortunately, there's nothing "super" about this game and you'll be running for the exits after five minutes.
Lots of Free Spins
DC Jackpot
Original Characters
---
---
Review of Batman v Superman: Dawn of Justice Slots
Like most other red-blooded American boys, I love comic books and was very excited when I heard that this movie was in the works. Sure I wasn't that excited about the actor chosen to play Batman, but neither were the vast majority of DC Comics readers. We all know now that Batman v Superman: Dawn of Justice disappointed a lot of diehard fans when it was released in the theaters, even though it grossed millions and made a "decent" profit – it just should have been a lot better than it was.
And speaking of things that should have been a lot better than what they were, now is probably the time to tell you that Batman v Superman Slots is just as disappointing as the original film and you probably don't want to waste a minute of your time on it. This entire machine is basically just a skin of Superman: Man of Steel Slots that Playtech released a few months before this one, and that game wasn't so hot either. All they did was put different images on the board and kept all of the functionality and features, like the smashing Wilds and the free spins modes. They didn't even try to give it a unique look and feel!
This review will be 100% honest and give you the straight facts as to why Dawn of Justice Slots is one of the biggest clunkers ever released. There's simply no making lemonade from this rancid lemon. Pucker up and let's begin…
Screenshots
The screenshots below show how beautiful the imagery is, however, they also reflect the lack of action that you'll find while you're spinning. Yes there are beautiful colors and effects but they're not enough to keep the average player interested after a while. Click on the images to enlarge them so you can take a good look.
Storyline
It's been about a year and a half since Superman defeated General Zod and saved Metropolis from evil and Batman doesn't like what the Man of Steel stands for: "Alienism". The feeling is more than mutual with Clark Kent believing that Batman is nothing more than a bloodthirsty bandit dishing out rogue justice. While the two superheroes are plotting against each other, super villain Lex Luthor is on the hunt for kryptonite to protect the planet from future "alien" invasions and therefore increase his influence over the world.
The film has many twists and turns as Batman and Superman's distrust for one another blinds them to Lex's growing arsenal of weapons, which includes a zombie Zod and monster DNA, (you just can't make this stuff up…well, apparently you can). Will Diana Prince, Lois Lane, and Martha Kent be the sobering female voices to bring the two superheroes together to save the day? Probably.
This slot from Playtech doesn't reference the storyline from the film in anyway, except for the few images of the characters and noteworthy items that will remind you of a couple of scenes. This game only has boom/crash action and there's zero references to the original story to convey a plot – they clearly could have done so much more in this department. What a shame.
Unique Symbols
Like all newer releases based on graphic novels, the film was packed with stars in roles of various sizes so there were many different options on who to include in this game. Could we interest you in some Laurence Fishburne as Perry White? How about Kevin Costner as Jonathan Kent? Jason Momoa as Aquaman, Jeffrey Dean Morgan as Thomas Wayne, or Amy Adams as Lois Lane would all have been excellent additions that are sorely missed. The list seems never-ending.
However, we can't be too greedy because Playtech did give us the bare minimum…with a few little additions sprinkled on. Jesse Eisenberg as Lex Luthor was a nice surprise, but nowhere near as shocking as seeing Shakespearian-trained thespian Jeremy Irons as Alfred Pennyworth – it's absolutely amazing that he agreed to it!
Every symbol is original and they didn't have to rely on the traditional playing card symbols of 10, Jack, Queen, King, or Ace. Here's what they decided to go with:
Daily Planet Newspaper
Camera
Grant's Peach Tea
Wonder Woman's Sword and Shield
Batmobile
Kryptonite Tipped Spear
Martha Kent (Diane Lane)
Alfred Pennyworth (Jeremy Irons)
Lex Luthor (Jesse Eisenberg)
Batman v Superman Logo
Smashed Hole in Wall Wild
Superman Wild (Henry Cavill)
Batman Wild (Ben Affleck)
Wonder Woman Wild (Gal Gadot)
Doomsday Wild (Robin Atkin Downes)
It doesn't matter which symbol goes "wild" on the reels because any of the 5 Wilds will pay 1250x your total wager if you get five of them across the reels. The payouts then drop off dramatically with Lex, Alfred, and Martha Kent paying 400x, 300x, and 200x your total bet respectively for 5 of a Kind.
Please note that this is a fixed 25 payline game so you must wager a minimum of $0.50 each spin and you can't manually adjust how many lines you play.
Jackpots
We finally get to a rare bright spot of this machine thanks to the Batman v Superman Slots Jackpot, which is part of the network that most comic book fans will probably already be familiar with. The DC Super Heroes Jackpot extends to every game they've released over the last few years, with every spin on every title adding to the overall prize pools.
The four jackpots on tap are Mini, Minor, Major, and Grand offering anywhere between €100 and €500,000. Once triggered you'll go to a Pick Em' style game where you choose which tiles to flip over and if you're lucky enough to reveal 5 red energy balls, congratulations – you just won a life-changing sum of money.
Bonus Rounds
Prepare to be disappointed by yet another Playtech DC slot because just like their last few releases there isn't a Batman V Superman bonus round that gives you a break from the spinning reels. This is both shocking and offensive considering the source material, and it's unbelievable that the game's developers couldn't think of a fun feature involving some of the world's greatest superheroes.
The only thing to highlight in this section is the reel feature of "Shifting Wild Symbols" that has the Superman and Batman Wilds hanging around on the board a little longer to give you extra wins. Each spin they will move 1 reel over to hopefully boost your balance before continuing to move along the board. They will do this in both the regular game and free spins mode, with Batman always going right and Superman always going left.
Like other newer DC Slot games that we've seen in the last few years, there are "Battling Wilds" that involves two character symbols fighting for supremacy on the reels. This time the clash occurs when the Batman Wild and the Superman Wild both land on the same row during the regular game, with Batman on the left. They smash together to commence a free spins mode that provides some of the only true action in the game.
Free Spins
As just mentioned, when the two main characters smash together on the reels of the regular game they ignite the Batman v Superman Free Games which will give you an opportunity to stack up some gratis cash prizes. Each time they both land on the same reel they'll fight until one of them is victorious, sending the loser off of the board to lick his wounds and leaving a trail of normal Wild symbols behind them.
This feature actually allows you to gamble on who you think is going to win the fight and you'll want to give your selection a bit of consideration because if you were correct in choosing the victor you'll add 4 more free spins to your total.
The other feature you can trigger arrives when the Doomsday Stacked Wild covers all three sections of reel #3 and brings the Dawn of Justice Free Games, which gives you a fixed 5 free spins each time. During the round he'll stay stacked and move across the reels to the left each spin, and when he finally hits reel #1 your freeroll is over. However, on the last spin he'll morph into a double-stacked Wild that entirely covers reels #1 and #2 so he'll leave you with a few extra bucks before he disappears into the night.
Now this doesn't necessarily mean that you'll only get 5 free spins out of the round because the superheroes can save you by landing to the left of Doomsday during a spin and smashing him back to the previous reel. And yes – if more than 1 hero lands in a spin they'll each whack him back a reel, (obviously to a maximum of 3), so keep your fingers crossed for Batman, Superman, and Wonder Woman to swoop in and save the day.
Graphics
The symbols are ridiculously detailed with the glowing neon behind certain ones looking amazing, however, nobody walking into this game would expect anything less. The bar has already been set high by other newer releases but Playtech decided to limbo under it, letting it slightly graze their swollen bellies as they sashayed below.
Those of you who've played other DC slots from Playtech will notice that the game controls and overall graphics are exactly the same in this machine. For example, the "Big Win" text and the coins that shoot out after bonus features are identical, as well as the buttons and controls. It appears as if the game's designers just did a "select all", "copy", and "paste" for the software of this machine, and you'll understand if we think that players might have deserved a little better than that.
And don't bother searching for any cool clips from the movie because they didn't bother to include even one. This omission is simply another slap in the face for us comic book fans who like a bit of action while we gamble. Insert sad Ben Affleck meme here ______ .
Audio & Soundtrack
The "song" in the main game is a menacing and foreboding score with a tortured choir belting out eerie random notes. I understand what the audio engineers at Playtech were going for with this soundtrack, but since it plays constantly it doesn't really "set a mood". It just gets more annoying each and every time it loops.
The sound effects are atrocious, with the win audios being a high-pitched "beep beep beep beep beep!". They are then capped off with a cute cash register "cha-ching", which in no way fits into the theme of the rest of the game. All of these audios come together to form an obnoxious potpourri that will have you quickly clambering for the mute button.
When a free games mode is triggered the music becomes intense and frantic, with Doomsday and others growling, zapping, and crunching along the reels. It really is just a bunch of noise that tries to distract you from the fact that it's a tired and boring slot that never should have seen the light of day.
The final error by the audio department was that they didn't include one line of dialogue from the film, ensuring that the few super-fans who hang around for a bit will quickly lose interest in this underwhelming release. It's just a bunch of dings, bings, and tings…what the heck were they were thinking?
Conclusion
Much like the film from which it was spawned, there's a certain arrogance that surrounds this game every time you load it up on your computer. It's like they thought to themselves, "We're Playtech. This is a DC blockbuster. Players will enjoy it no matter how much effort we put in." Well guys, we're here to tell you that you were dead wrong. Batman v Superman: Dawn of Justice Slots is a massive disappointment, and this time we couldn't even get lost in Ben Affleck's rugged good looks to ease our pain.
Sure there are two unique free spins modes you can trigger but they were too lazy to include a fun bonus round…even though they had two of the greatest superheroes of all time at their disposal, (3 if you want to count Wonder Woman). The free games do have some neat reel features like sliding and smashing Wilds, but this gets old pretty quickly.
There is zero dialogue from the film, zero video clips, and zero storyline – it's just spinning for the sake of spinning. And if I wanted to do that, there are hundreds of games before this one that I'd want to spend my money on. Batman v Superman somehow walks the perfect line between "boring" and "annoying", and after my original session I haven't been able to play it for longer than five minutes without getting enraged.
Don't waste your time – this was a spectacular fail. Everyone involved should be embarrassed.
Bonus Video of Batman v Superman: Dawn of Justice
Here's the official red carpet premiere of Dawn of Justice, back when everyone involved in the project was still happy and hopeful. This was only a few short days before their spirits were crushed by the following weekend's gate receipts…