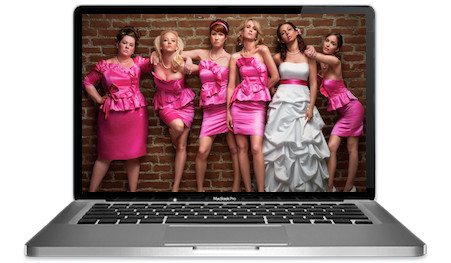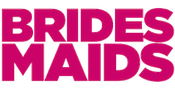 Have you ever wanted to communicate telepathically with dolphins? What about join a female Fight Club? Perhaps go to an all-you-can eat Brazilian meat house? Well now you can join the girls in Bridesmaids Slots and enjoy all of your wildest fantasies, including winning stacks of cash.
Hilarious Features
Awesome Bonus Rounds
Beautiful Design
---
---
Review of Bridesmaids Slots
Words can't express how happy I am that an online slot game for the movie "Bridesmaids" was released, or how delighted I am that it actually turned out to be excellent. This was of course one of the funniest movies made in years and anyone who has seen it is probably nodding in firm agreement. It's rare that a film has me laughing out loud for its duration but Kristen Wiig and the girls had me in absolute stitches throughout. In my opinion, this is definitely one of the best films ever put out starring all female leads.
So yes, it would be pretty hard to make something based on this film that I didn't like but thankfully we don't need to speculate on that. If I was trying to put my feelings into words I would have to say that this title is more beautiful than Cinderella, smells like pine needles, and has a face like sunshine! Uh oh…maybe I've had too much wine…let's get on with this exclusive review of Bridesmaids Slots which details why it's an absolute "must-play".
Screenshots
Bridesmaids usually love pink and hopefully you do too because this machine is covered in it. As the screenshots below show, this release has a simple but elegant design and everything is clearly laid out. Also, the symbols and bonus areas are have great visual effects, so when added to the HD images and crisp graphics it all comes together to look absolutely fantastic.
Storyline
Weddings: we've all been to great ones and we've all been to terrible ones. However, the wedding itself is actually the culmination of tons of hard work done by numerous friends, family members, and hired consultants. Usually the real comedy and (or drama) is in the weeks and months leading up to the big day and we finally get a glimpse into the bride's side of things with the hilarious movie, Bridesmaids.
The film follows recently engaged Lillian and her best friends as they set out to plan and execute all of the normal duties associated with having a proper wedding: a bridal shower, picking dresses, buying presents, etc. Unfortunately Lillian's childhood friend, Annie, is on a major losing streak in life both professionally and personally but Lillian's new friend, Helen, is seemingly perfect in every way. She appears to have the entire bridal process under complete control and can do no wrong.
The friends and family joining Lillian on her journey are Megan, Rita, and Ellie, who cover the wide range of "types" of friends that most women have: the surly mother, the idealistic newlywed, and the crazy wildcard who's unpredictable in every way. This diverse group gets into one whacky misadventure after another and hilarity ensues.
This release strictly follows the side-splitting plot of the film through images, video clips, and special features, so you will be constantly laughing while you spin. It's very hard to create a gambling game that's based on a funny movie and have the comedy properly transfer over, but this one is the exception and Microgaming was 100% successful in getting the job done.
Unique Symbols
Fans will be happy since we got tons of unique symbols, with all six main characters being included on the reels. However, it doesn't end there because Bridesmaids actually has three different images of all six characters so technically there are 18 totally unique ones from the movie, which might be a new record.
Some fans may argue that Chris O'Dowd playing Officer Nathan Rhodes should have gotten a symbol but he's featured in the bonus round so we can let it slide. Sadly, only Air Marshall Jon's back made it in – sorry, Ben Falcone! And no, Jon Hamm's character of Ted didn't slime his way in, thank goodness. Who are we kidding? We can't deny that jawline.
Blue Club
Green Diamond
Orange Heart
Red Spade
Becca (Ellie Kemper)
Rita (Wendi McLendon-Covey)
Megan Price (Melissa McCarthy)
Helen Harris III (Rose Byrne)
Annie Walker (Kristen Wiig)
Lillian Donovan (Maya Rudolph)
Bridesmaids Logo (Wild)
Flower Cupcake (Scatter)
The Bridesmaid Logo pays the most, followed by Lillian, Annie, Helen, Megan, Rita, and Becca, in that order.
Jackpots
Don't get too excited – this Bridesmaids Slots Jackpot is probably not going to live up to your high expectations, (just like my ex-husband!), so get ready for a little disappointment. This is because it's an in-game jackpot that is usually quite small in size, (just like…).
The prize amounts on the wheel is determined by the number of Scatters that you hit to access it as well as the size of your bet so the total never gets too high. Also, as soon as you hit it you're immediately sent back to the regular mode and the round is over so make it count.
Bonus Rounds
Hitting 3, 4, or 5 Cupcake Scatters gets you into the Wheel Bonus where there's a ton of fun and cash to be won. In addition to triggering it, 5 Scatters will give you 100x your bet regardless of their locations on the board. As per normal, Scatter wins will be added to any other payline wins that you hit.
Once in front of the wheel you will have the opportunity to access either one of the four different features, get a multiplier amount, or hit the in-game jackpot.
The unique areas on offer are:
Friendship Free Spins
Flying High Free Spins
Boutique Bonus
Magic Moments Bonus
The Boutique Bonus is a match game where you select gift boxes in an attempt to match up prizes. Every bridesmaid you pair will give you the corresponding dollar amount that she had hidden in addition to any multipliers that you received, so the more matches you make, the more cash you'll get. Watch out for Lillian in her white wedding dress though because if you flip 2 of her symbol your round is over. Also, keep an eye out for the two random multipliers that will accompany lucky bridesmaids because these are what you will need to really jack up your bank balance.
The Magic Moments Bonus is another variation of a Pick Em' style area where you select photos. All of the amounts you reveal will be added to your total until you hit the carrot cake that Annie made for Officer Rhodes that says "I'm sorry". This sad cake will not only attract racoons to your doorstep, it will also stop the round in its tracks. Which is a shame because each magic moment is a video clip from the movie that will have you giggling.
In addition to these great features you'll also receive a "Cupcake Booster" that will either increase all of the pink or all of the blue prizes by 2x or 3x, or a multiplier that will increase all of them regardless of color by 2x or 3x. You can even get 2 extra wheel pointers that will help you snag more extra cash. Once you select one of the four cupcakes on the right of the screen, all of them will be revealed to let you know what you could have had.
With such a wide range of options and prizes, these really make you feel like you're sneaking into first class.
Free Spins
There are two different free spins modes available in Bridesmaids Slots: "Friendship Free Spins" and "Flying High Free Spins". Both are excellent for different reasons and each has a distinct flavor that will have you throwing your bouquet in the air with delight.
With Friendship you will receive 10 gratis games that have wins paying in both directions. During this round you can hit an Annie Walker Stacked Wild on reels #1 or #2, a Lillian Donovan Stacked Wild on #3, or a Helen Harris III Stacked Wild on #4 or #5. Frerolls can be re-triggered by hitting 3 or more Cupcakes which will add another 10 to your total.
The Flying High one also consists of 10 freebies but it has Rolling Reels and Expanding Wilds as well, which are definitely going to boost your bankroll big time. Rolling Reels is one of the best things you can find in a machine and it's actually reminiscent of that Candy Crush thingy that everyone was addicted to a few years ago.
It can give you numerous wins at a time because once a winning payline is added to your balance the symbols explode and the ones above them drop down into their place. If the new ones also create a winning line, that amount is added to your balance and then the symbols explode again, and the ones above them fall down to see if they'll trigger a payout, etc. This process continues until the line is a dud: Rolling Reels is basically like getting re-spins but they're a heck of a lot more fun.
The Expanding or "Growing Wilds" will drop a Wild on the board each time up to a maximum of 13 because you start with 4 in the beginning. The Wilds will continue to fall each time giving you more and more combinations but unfortunately it cannot be re-triggered.
Graphics
The graphics are crystal clear and the colors and images set the mood of everything perfectly. The diamonds surrounding the Bonus Wheel sparkle and shine and the Cupcakes look absolutely delicious.
There are tons of video clips throughout the action so excitement is always in the air. As you would imagine, these videos immediately bring you back to the original film and will have you cracking up. They are all a perfect length and quality and there's just the right amount without going overboard.
Players who have a keen eye will notice that the user controls are pretty much identical to Microgaming's other movie-themed games such as Terminator 2 Slots, which was released a short while ago. The lower paying symbols are even the same as Arnold's release with the Spades, Clubs, Hearts, and Diamonds, although Bridesmaids does spice things up a bit by adding new vibrant colors to them.
Audio & Soundtrack
There are random audio clips from the movie sprinkled throughout and each time the character who said them pops out from the side of the screen and in front of the reels to add to the effect. You just can't get tired of hearing compliments like, "You're so pretty!", "You're so cute!", and "You're so sweet!".
The audios for payline wins aren't too bad and none of them are overly annoying. However, the song in the Friendship Free Spins is very distracting – it sounds like the theme song to a bad '80s talk show and it's very loud. When it's triggered you might find yourself spending more time thinking about the song than how much extra cash you're stacking up. It's actually quite strange.
Sensitive players will want to note that there are mild curse words so perhaps you won't want to indulge around young children. However, if you're ok with the original movie, the dialogue here will seem tame to you.
As is customary with most titles from Microgaming, there is a constant murmuring noise of a real life crowd throughout the game that's designed to make you feel like you're in an actual brick and mortar casino. However, why would anyone want to feel that way when gambling at home: isn't the joy of playing online slots that you aren't at an actual casino? Perhaps they should include "Smell-O-Vision" and have casino odors such as cigarette smoke and cheap cologne to complete the effect. All of that to say, it might be time for Microgaming to remove the murmur effect from their releases.
In regards to the soundtrack, there is a rocking piano-heavy jam when you're in the Magic Moments Bonus that will really get your toes tapping. This song might not be from the film but whatever it is, it's great. If you want to hear a taste of it, play the promotional video embedded in this review.
Finally, many will be sad to learn that AC/DC's "Dirty Deeds" is not featured anywhere in the action. Done dirt cheap!
Conclusion
Let's speak now or forever hold our peace…
Fans are going to be ecstatic with Microgaming's interpretation of the original motion picture thanks to the tons of images and audio clips from the movie, not to mention the large amount of different symbols of the original characters and the fun special features. Add all of this to the beautiful design and Bridesmaids Slots is a machine that you'll want to get hitched to – don't bother signing a prenup because you won't need one.
All of the original cast is here and it truly feels like an extension of the film. These girls were hilarious then and they've only gotten better with age.
This is hand-down one of the best movie-themed gambling games ever released and the fact that it's based on a comedy makes it even more impressive. So stop cracking your household blankets in half and walk this beauty down the aisle.
Random Video of Bridesmaids
Those who have seen Bridesmaids will know that there's only one way to end this review – with the official music video for Wilson Phillips' fantastic song, "Hold On". Does anyone know why this video jumps back and forth between snow covered mountains and the sunny beaches of California? It feels like they're just showing off! Oh well, the song is amazing so it doesn't really matter.