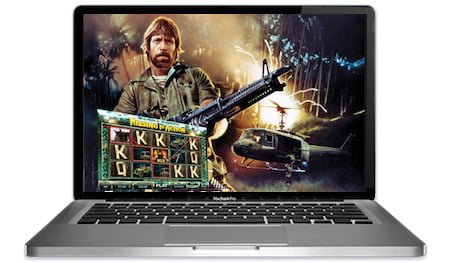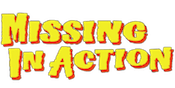 Chuck Norris: Missing in Action Slots
America had no more heroes until now. One of the toughest stars to ever spin-kick their way into Hollywood is back with a vengeance and cash prizes in the ultra-violent, Chuck Norris: Missing in Action Slots from Openbet.
Tons of Violence
Shocking Bonus Round
Chuck Freakin' Norris
---
---
Review of Chuck Norris: Missing in Action Slots
If you were a kid in the 1980s you've seen a minimum of five Chuck Norris movies in your life. They were absolutely unavoidable between basic cable and the movie rental store and for damn good reason: they were amazing! Chuck might not be everyone's cup of tea but for a large group of us over-40 males, the Chuckster was one of the toughest guys in the world.
After gaining respect as a lead actor in Lone Wolf McQuade, Chuck threw a roundhouse into the executive elites of Hollywood and busted into theatres with the wildly popular Missing in Action in 1984. American audiences raved at the violent masterpiece and Chuck's future in action films was secured as he went on to release hit after hit, well into the following decade.
Critics at the time accused the producers of Missing in Action of ripping off a movie that actually spawned a game quite similar to this one, Rambo: First Blood II Slots from iSoftBet. Many felt that Norris was just doing a bad impression of Stallone and the entire plot was lifted from the second Rambo film. Little did everyone know back then, but Missing in Action was in fact a rip off of James Cameron's script for First Blood Part II and the producers even rushed to release the movie first so they wouldn't be sued for plagiarism. Aren't people in Hollywood just the worst?
This expert review of Missing in Action Slots will break down every aspect of it to explain why it's a "can't miss" for anyone who was alive and watching movies in the '80s. This one is absolutely shocking.
When Chuck Norris was born he drove his mom home from the hospital.
Screenshots
This machine looked really old when it was first released in 2013 and it's getting worse by the day. Click on the images below to enlarge them and really enjoy the mid-80s design. Sensitive players should be warned that the middle screenshot shows dead soldiers from the bonus feature, and if you're not down with gruesome scenes like that you'll definitely want to move on to another slot review immediately.
Chuck Norris can strangle you with a cordless phone.
Storyline
Colonel James Braddock has seen some of the worst things that war has to offer thanks to being captured and held in a POW camp for seven long years deep in the Vietnamese jungle. He was fortunate to eventually bust out of his bamboo prison and make his way back to the States to enjoy 10 years of freedom…and that's when they pulled him back in.
Braddock is chosen to accompany an official delegation back to 'Nam to look into accusations that there are American POWs still being held by the North Vietnamese army. Once his BS Meter goes off the charts, Braddock rolls into Thailand and meets up with his old buddy Tuck, convincing him to team up with him to liberate the POWs from the evil General Trau. This is the mission that will define their lives.
This release from Openbet attempts to recreate the violent, war-torn Vietnamese jungle with never-ending machine gun fire, exploding grenades, and a river of fresh blood. Sadly, just like the original movie, the storyline is the weakest part of this production – the plot to Missing in Action was thin but somehow Openbet made it even thinner. Congrats, guys!
Chuck Norris can pick oranges from an apple tree and make the best lemonade you've ever tasted.
Unique Symbols
Some of you on the fence will probably walk the other way due to the lack of fun unique symbols here. Sure Braddock wreaked havoc with his bowie knife but did the knife really deserve its on symbol? Most will agree that Openbet could have figured out something better if they thought about it for longer than five minutes.
And where in the hell are all of the other characters? Everyone's going to be looking for M. Emmet Walsh as Tuck, David Tress as Sen. Porter, and Lenore Kasdorf as Ann, not to mention the amazing James Hong as the evil General Trau. What a disappointment! Anyone who's seen the movie knows that they all should have been included so it's pretty offensive that they weren't. Here's what we did get…
J (Jack)
Q (Queen)
K (King)
A (Ace)
Bowie Knife
Grenade
M60 Machine Gun
Army Jeep
Army Raft
Army Helicopter
Braddock (Wild)
Braddock with Binoculars (Free Spins)
If you thought that any symbol other than the Braddock Wild was going to be the highest-paying, Chuck Norris is going to fly directly to your house and chop you in the neck. He of course is the best by a long stretch, handing out 1,000 coins for 5 in a spin. The payouts then drop significantly with the Helicopter, Raft, and Jeep each giving 300, 200, and 125 coins respectively for Five of a Kind.
There is no theory of evolution, just a list of creatures Chuck Norris allows to live.
Jackpots
You think that you can follow Chuck Norris into the jungle and leave with a big cash prize? Are you crazy?! No. There isn't a Missing in Action Slots jackpot and you're lucky that he didn't hear you asking for one.
Giraffes were created when Chuck Norris uppercutted a horse.
Bonus Rounds
Bonus symbols on reels #1 and #5 will trigger the Missing in Action special feature and it's one of the most violent things ever to be put in an online gambling game. It's called the P.O.W. Camp Bonus and you literally mow down Vietnamese enemies with a massive machine gun to reveal cash prizes as you stomp your way through the jungle. Buckets of blood spill from their chests as they hit the ground and their dead bodies lay lifeless in the grass until you move on from the gruesome scene.
Some people will enjoy the fact that they get to play executioner and choose who lives and dies but for the rest of us, this is just an unpleasant necessity of war. The sound of Braddock cocking the hammer back on the machine gun before each slaying is the cherry on the bloody sundae.
During the round you are presented with seven jungle soldiers and you must decide which ones to execute, and you'd better make your choices wisely because each of these enemies is hiding cash prizes – wow they're sneaky! As you snuff each of them out with your weapon of death the free money is added to your balance and if you kill the right enemy you'll advance to the next level, with each area having a unique battlefield for you to dominate.
However, as we all know, you can't trust the enemy and one of them is booby trapped to end your round and send you back to the regular mode. Keep that in mind as you're filling their torsos with hot lead from your M60.
For those in search of even more pain and misery, Missing in Action allows you to gamble your winnings in their macho Gamble Feature. Here you will stake whatever you've just won on what the next card flipped over from the deck will be. If you select Red or Black and get it correct you will double your winnings and if you guess the exact suit of the next card flipped you'll receive 4x on the amount. However, if you choose incorrectly at any time the feature is immediately over, you lose all your cash, and you return to base with your head hanging low.
Chuck Norris counted to infinity. Twice.
Free Spins
Watch out for Chuck watching you, because 3 Braddock with Binoculars that say "Free Spins" will trigger a freeroll and give you a straight 15 every time. While you're rolling you should be on the hunt for Wilds because they lock into place for multiple spins, with each having a counter displaying the number of times that they'll stick around for.
The number decreases by one every time but usually there are multiple Wilds stuck on the board, all with different totals. These Sticky Wilds seem to fall quite liberally and often times you can win more money in this feature than in the other bonus round.
At the end of it there's a video clip of a bamboo base blowing up to symbolize the dominance that you've just asserted on the reels. Nice.
The quickest way to a man's heart is with Chuck Norris' fist.
Graphics
Visually this machine kind of looks like it was released in tandem with the film in 1984 and not in 2013 when it was actually launched. We can assume that this was intentional and that the designers at Openbet matched the vibe of the game with the vibe of the movie, and they hit the nail square on the head with their efforts.
In terms of animations, the bullets that get shot into playing card symbols involved in payline wins is basically "cartoon violence" since it's more like a video game than reality. Mercifully OpenBet gave us a Skip button so we don't have to sit through it every time, especially considering that this gets boring after about 30 seconds.
There are a few quick clips from the film that can be triggered depending on what's been activated in a winning payline, and the classic shot of Chuck falling out of the bamboo hut should never fail to bring a smile to your face. However, one of the main criticisms that fans of the movie are going to have with this release is that overall, there is a shocking lack of footage from the original film. There are only a few short snippets that play at certain times and they're too fast to build any sort of drama – 3 seconds of Braddock walking through a jungle just doesn't cut it. Although Chuck firing his machine gun above the "Congratulations" at the end of the special feature is always good for a laugh.
The other graphics can be described as "basic" but the visual of the grenade having it's pin pulled and exploding is always hilarious for some reason. Also, the ball of fire that shoots toward the screen is menacing in a totally ridiculous sort of way.
The only other visual of note is the unique background for the free spins mode which is the Vietnamese jungle at night, with explosions bursting throughout the trees and choppers dotting the sky. A swirling body of water takes up the lower half of this image making the scene even more foreboding: darkness will soon arrive to blanket the enemy in shadows. Stay alert.
Once a cobra bit Chuck Norris' leg. After five days of excruciating pain, the cobra died.
Audio & Soundtrack
Sadly, the soundtrack in this release is very annoying due to the audio engineers deciding to commit the cardinal sin of having the song start and stop with every spin, so the flow of the tune is entirely broken up and ruined. There are a few snippets of the original score written by Jay Chattaway in certain areas but they end up tainted by the constant stoppage. The only silver lining is that when you spin the reels there are some cool audios of authoritative drum beats that make you feel like you're marching into an epic battle.
The soundtrack's highlight is the aggressive and menacing song in the POW Camp Bonus Round that's filled with heavy metal guitars and a slow creepy lead solo that will increase your thirst for blood. It's perfectly placed and it will immediately teleport you back to the action films of the 1980s.
As for the rest of the sounds, it's basically machine guns constantly firing because they're used to highlight the different winning paylines for every spin. This is broken up occasionally by a sniper rifle that loudly blasts through the card symbols. Most of you will find that the audio of the knife slicing through the air both funny and ridiculous.
Lastly, the win audios get very annoying because they sound like someone is shaking loose change around in a mason jar. It's a strange, unnecessary audio that will have you firing your M60 at the computer screen in rage. "The misfortunes of war!"
Chuck Norris doesn't worry about high gas prices. His vehicles run on fear.
Conclusion
When you boil it all down, Missing in Action Slots was a solid effort from a smaller casino software company. They worked with what they had for source material but it does feel like they gave up at the end and didn't make it as good as it could have been. It's kind of a shame because the longer you play this game for, the more it starts to become a guilty pleasure. You can only imagine the other ridiculous things that OpenBet could have put into this release that would have kept people happy and spinning for longer stretches of time.
That said, after playing MIA for a while you end up with a headache and feeling like you were just next to a jungle firefight with an unseen enemy: your ears are ringing and you're confused about what's going on. Ultimately there's too much gun action and too many bullets firing – even for something starring Chuck Norris. This title is a 9/10 when you first start playing it but it drops down to a 5/10 soon after, however, you'll always go back for more once you get thirsty for blood again.
That all said, Missing in Action was worth the 30 year wait and it's definitely worth a try if you're a fan of the original film or just of the Chuckster himself. It is effective in transporting you back to your youth and all of the feelings you used to have watching these types of action movies. Just make sure that you pull yourself out of the jungle before you get lost forever.
Some kids piss their name in the snow. Chuck Norris can piss his name into concrete.
Random Video of Chuck Norris
There are tons of videos on the internet with Chuck Norris in them but this is definitely one of the better ones. Here he is with the "King of Late Night", David Letterman in 1988 discussing his new book. What a time that was to be alive…