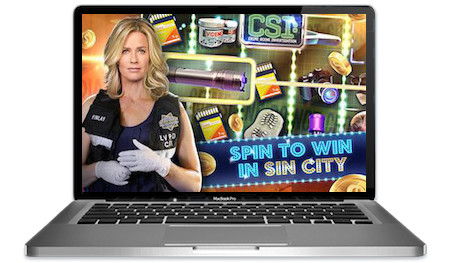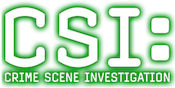 Queue Roger Daltry's trademark scream because CSI Slots just kicked down the door and is here to investigate Las Vegas' worst crimes. With tons of cool features and original characters, this is one episode you won't want to miss.
Fun Bonus Games
Huge Potential Payline Wins
True to the Original TV Show
---
---
Review of CSI Slots
This game might surprise a lot of people who were thinking that it was just going to be a weak attempt to cash in on the show's popularity. However, that couldn't be farther from the truth – a lot of effort was put into this one.
Over the show's 15 seasons many characters came and went but it always remained at the top of the television ratings. Not to mention that since CSI premiered, there has been a massive spike in people looking into training programs to become crime scene investigators, so obviously many viewers have been genuinely inspired by the show. There are even conspiracy theories which state that the show has also influenced the outcome of murder trials because juries expect a large amount of forensic evidence to be provided by prosecutors.
All of that aside, this exclusive review of CSI Slots will stick to the facts and what exactly makes it one of the better television-themed gambling games that's out there today.
Screenshots
As clearly evidenced in the screenshots below, the design and layout of this machine are pretty sharp. The user controls aren't overwhelming and there are tons of unique symbols to keep things interesting. Everything comes together to make you feel like your in a crime lab so they certainly achieved the mood that they were looking for.
Storyline
The television show focuses on the Crime Scene Investigation (CSI) team of the Las Vegas Police Department who routinely have to solve murders through the collection and analyzation of physical evidence. Their track record for solving crime is astronomical, with almost every case researched resulting in the capture of the killer. Good work, guys!
This release takes you through the entire process of investigating a crime scene, from the actual murder discovery to the conducting of tests in the laboratory. Once a body has been found you are recruited to gather four pieces of evidence along the way that will help catch the killer and bring them to justice. It's a macabre plot but one that will be welcomed by any fan of the show.
Unique Symbols
The game's designers did a great job and created every symbol from scratch, with all of them being new and unique. Everything needed for a responsible investigation is here, including the DNA and the Laboratory, not to mention tons of the actual characters from the show are included as well.
Laboratory
DNA
Flashlight
Thumbprint
Captain Jim Brass (Paul Guilfoyle)
Greg Sanders (Eric Szmanda)
Catherine Willows (Marg Helgenberger)
D.B. Russell (Ted Danson)
Nick Stokes (George Eads) (Expanding Wild)
Lock 'n' Re-Spin (Bonus)
Crime Scene Tape (Bonus)
CSI Logo (Scatter)
The game's creators did the right thing and made D.B. Russell the highest paying symbol on the board, having him dish out 5,000x your line wager for five of a kind. Next is Catherine Willows paying 2,500x for five in a row, with Greg Sanders and Capt. Brass paying 1,500x and 500x respectively.
Jackpots
You can go over the evidence with a fine-tooth comb but you still won't find a CSI Slots jackpot on offer. However, as mentioned above, five in a row of D.B. Russell will you pay the huge sum of 5,000x your line wager, so that's certainly a decent-sized prize.
Bonus Rounds
There are a couple of cool reel features here that will keep fans on the edge of their seats. First off we have the Crime Scene area which gives you a cash bonus if you collect all 4 evidence symbols during your investigation. While spinning the reels you will want to get the symbols of Blood, Bullet, Shoe Print, and Fiber.
However, first you will need to land 3 or more Crime Scene Tape symbols on adjacent reels to trigger the feature. You can keep track of how many evidence photos you've stacked up by looking at your "Evidence" meter in the bottom left corner of the screen. Please note that if you change your wager amount, you will lose any evidence that you've collected and start all over again. Harsh!
Another great feature of CSI is the Lock 'n' Re-Spin symbol which locks winning symbols in place while the losing ones re-spin to bring up different symbols that will hopefully create winning paylines.
Free Spins
In the world of crime scene investigation, more is always better. Whether it's samples, witnesses, or in the case of this slot game, CSI Logo symbols. The more you hit, the more spins you will receive in the free games mode:
3 CSI Symbols gives you 5 free spins.
4 CSI Symbols gives you 10 free spins.
5 CSI Symbols gives you 30 free spins.
Please take a moment and look at that last bullet again…30 free spins is an awful lot and definitely one of the higher amounts that you'll find in a game today. Also, if you've started to collect evidence via the Crime Scene symbols, all of your win amounts during free spins will be doubled. Case closed!
Graphics
The graphics in this release are quite impressive and everything looks wonderful. The video clips from the show all play just fine and there are some cool effects on the symbols such as the Lab and the DNA when they are involved in a payline win. There is constant action behind the reels as well, thanks to the game's logo slowly crawling by and the arrows scrolling beside the EKG-style graph.
The only disappointment is that the D.B. Russell symbol springs to life only to have Ted Danson nod his head politely. What the heck? They definitely should have had him do a little bit more than that. At least Capt. Brass waves his badge in your face and Sanders looks at a sample jar lovingly!
Audio & Soundtrack
The audios are quite good and there's nothing too intrusive about the reels spinning, symbols falling, or wins counting up, (although the guitar that blasts out for certain wins is way too loud). Also, the Nick Stokes Expanding Wild and Police Tape symbol trigger a police siren noise which can give you a start if you're not ready for it.
There is a great techno song that plays during the Lock 'n' Re-Spin that really gets you excited to win some free money, while a different hi-energy jam plays during free games mode: they both do an excellent job of pumping you up. The audios in the regular mode are tranquil, so whenever the free games start it's quite the jolt to the auditory system.
The Crime Scene Tape symbols might actually remind you of the audios from the old video game Pong when they fall on the reels. It basically sounds identical.
Unfortunately, none of the amazing musical artists featured in the television show made it into this game. Which is a darn shame because who doesn't want to listen to Electric Light Orchestra, John Mayer, or Radiohead while gambling on crime scene investigations?
Conclusion
Fans of the show will be absolutely delighted that CSI Slots stays true to the plot, characters, and storyline that made it famous. This is exactly the game that anyone who watches the show would want to play and there's even some great bonus features thrown in like the Lock 'n' Re-Spin that really push this game over the top.
This title should even appeal to those who never watched the show but are in search of a fun, engaging machine to play. There are enough bonus rounds and special features to make any player a fan of this release – just make sure you don't taint the crime scene.
Yaaaaaaaaa!!!
Bonus Video of CSI
We all know that there is only one possible video that could end a review of CSI Slots and that's The Who's fantastic anthem, "Who Are You?". This video is very cool because it was shot in Los Angeles in 1989 when the boys still had some kick to them. Enjoy!