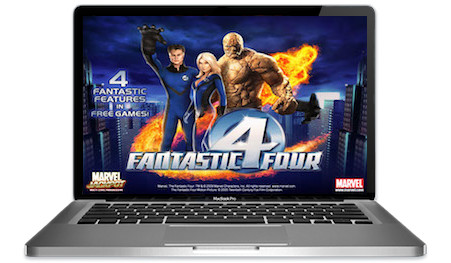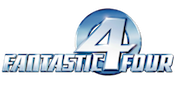 Since the early 1960s we've been protected from super villains striving for intergalactic domination, and now it's time to join this legendary team in Fantastic Four Slots and harness their super powers to save the world and stack up cash prizes as we go.
Cool Free Games Mode
Great Graphics
Marvel Mystery Jackpot
---
---
Review of Fantastic Four Slots
I've always been fascinated with The Thing – he's just so big and ugly, and he always stood out in my brothers' comics growing up. He actually scared me more than he entertained me, which is why I think that I didn't end up reading too many Fantastic 4 comics as a youth. The other 3 members of the group simply didn't have enough going for them at the time to get me interested. Fast forward a few years and I found myself enjoying the 2005 film, so I guess that I finally came around.
I try not to be overly critical in my slot reviews, and only highlight bad things if I feel that they are important. However in the case of Fantastic 4 I think that it falls in a strange middle ground between "boring" and "cool" because there's no real bonus round, but the all of the graphics are quite enjoyable. I think that ultimately whether or not you like this game will depend on how much you like the comic book and/or the movie.
Lets try to make some sense of this game by breaking it down…
Screenshots
As you can see from the screenshots below, the game is pretty standard when compared to some of the flashier comic book-themed slots that have been released over the last few years. During the regular game there aren't many bells, whistles, or surprises, although when it comes to graphics for the Fantastic 4 members themselves, they are impressive whenever activated.
Storyline
What happens when you fly too deep into outer space and get exposed to wacky cosmic rays? Well, you receive crazy special powers such as invisibility, strength, or stretchiness…or you get transformed into a rock-like monster. There's simply no way that these four scientists could have predicted the results from taking a little intergalactic adventure.
So now this team of funky super heroes consists of Johnny Storm the "Human Torch", Susan Storm the "Invisible Woman", Ben Grimm "The Thing", and Reed Richards, who is known by the braggadocios moniker of "Mister Fantastic". Together they form The Fantastic Four and protect New York City, as well as the world at large, from insane villains who are determined to reek havoc on the human race.
This version of Fantastic Four Slots is based primarily on the 2005 motion picture, so fans of the movie will see many similarities in the mood and imagery. Unfortunately, there really isn't a proper storyline in this game and it just focuses on the individual abilities of the 4 superheroes, so you do get a little bored after a while.
Unique Symbols
Like other Marvel Slots games made by Playtech, they have decided to use the worst symbol in online gambling – the "9". So boring. So unnecessary. And oh so frustrating.
Although Fantastic Four Slots has cool Expanding Wilds and Free Games Features, it is definitely lacking in the unique symbol department. Which is quite depressing when you consider the fact that the game's creators were gifted four symbols from the very beginning, simply because this is a story about four superheroes.
Sadly, Playtech chose not to feature any of their traditional enemies such as Doctor Doom, Galactus, or the Puppet Master. These bad dudes definitely would have made for a more exciting set of reels, but what's done is done.
9
10
J (Jack)
Q (Queen)
K (King)
A (Ace)
The Thing (Ben Grimm)
Mister Fantastic (Reed Richards)
Invisible Woman (Susan Storm)
Human Torch (Johnny Storm)
Earth (Scatter)
Fantastic Four Logo (Wild)
The Fantastic 4 Wild is the best symbol in the game and pays out a massive 10,000 coins for 5 of a Kind. The next highest are Mister Fantastic and the Invisible Woman who pay 2,000 and 1,500 coins respectively for five in a spin. Finally, the Human Torch will give you 1,000 for 5 across the board, while The Thing will add 750 coins to your balance for the same.
Jackpots
As with all modern Marvel Comics slot games, Fantastic Four is a member of the Marvel Mystery Jackpot Network. I think that they use the word "mystery" in the title because it is a mystery to everyone when it will come. It arrives without rhyme or reason, although they do claim that the larger your wagers are, the better your chances are of hitting it. (I have no idea how this calculation is done.)
The jackpot consists of a normal Pick Em' style game, and as soon as you match 3 squares for one of the four jackpots on offer, you win the corresponding amount. Prize amounts fluctuate based on game play and the last time they were won, but all are seeded generously so it's always nice to hit it.
Bonus Rounds
In what has to be considered this game's biggest weakness, Fantastic 4 Slots does not have a bonus round. This really is a shame because given the super powers of the starring characters they could have designed a very cool bonus round that involved flames, stretching, and invisibility.
However, during the Free Games Mode there are "Four Fantastic Features", which technically could be viewed as "mini bonus rounds" since the characters do get to show off their abilities a little bit. Regardless, the lack of a proper bonus area is what ultimately pushes this game down to the designation of "average".
Free Spins
Three or more Earth symbols anywhere on the reels wins you 12 free spins, with each of the members of the Fantastic Four using their unique special powers to help you win cash. Which hero helps you depends on who appears on reel 3 and stacks up on all 3 rows.
When activated, the Invisible Woman gives you 4 extra free spins and throws globes that increase your multiplier every time she appears anywhere on the reels. Mister Fantastic gives you 4 extra free spins and becomes an expanding Wild symbol.
The Human Torch will dish out 4 extra free spins and totally take over the game by transforming into an expanding Wild on the 1st reel and locking into place while the other 3 members are removed for the remaining reels. During this time tons of new Torch symbols are added to the reels to boost up the payline payouts. The Thing only awards 3 extra free spins, but every time he lands on the reels he becomes a frozen Wild that stays on the board until the Free Games Mode is over.
A frustrating aspect of the free spins feature that needs to be mentioned is that if you hit 3 Earth symbols again while freerolling you will not receive any additional spins. This really doesn't make any sense to me, especially since you can win extra spins when 3 character symbols stack up on Reel 3. Whatever.
Graphics
The graphics are quite good in this game, with the highlights being when members of the Fantastic 4 are involved in big payline wins. The Human Torch will burst into flames, The Invisible Woman will have lightening bolts roll over her body until she is invisible, The Thing will punch your screen until it cracks, and Mister Fantastic stretches up from the street and into the sky. All of these are quite well done and always fun to see.
Another great graphic is when you hit 3 Earth symbols to access the Free Games Mode, the Silver Surfer flies in and circles the globe in celebration of the opportunity to win big. Also, every member of the group has a special animation that they will preform when they appear during the free spins.
Regarding the appearance of the actual characters, I have to be a little critical of what was finally released. All of their faces seem a little narrow, and slightly reptilian. Except for The Thing who looks exactly how he should. I just think that they could have spent a little more time on the design of each character.
Audio & Soundtrack
Fantastic Four has some of the most relaxed music I've ever heard in a comic book-themed slots game, especially when you're in Info Mode. It can really only be described as "lounge music", which I found to be a strange choice for a game with this type of subject matter. Nevertheless it's quite enjoyable.
Alternatively, if you hit The Human Torch special feature during free spins, the game really cranks it up a notch with a high energy drum beat that will have you bobbing your head before you know it. This game definitely takes you to many different places with its soundtrack.
Then when you come out of Free Games Mode and your winnings are being added to your total, there is a really fast dance track with a robotic voice saying, "Ya! Ya!". The song is decent, and I think that you will find the voice to be quite amusing.
On the flip-side, an annoying audio during the regular game is that it repeats a loud musical jingle for each payline win, so if you get 3 different wins in one spin you have to listen to "daaa-daaa-daaaa-da-da" 3 times in a row. It's really hard to believe that this audio made it past the testing stage. The other bothersome thing is that the audio for the Fantastic Four member who's symbol is involved in a payline win is repeated numerous times, which is quite unnecessary and distracting, in my opinion.
All of the audios associated with the user controls are normal and unobtrusive.
Conclusion
Longtime fans of the Fantastic 4 should be quite happy with this slot since all four members are predominantly featured throughout the game, and all of them have really cool graphics that showcase their individual super powers. The main issue is that there's not enough game areas for the 4 of them to show off in.
It's easy to get confused when playing this game because it's fun for a while, but then you realize that it's missing something, and that "something" is a bonus round. Which is the same criticism that I had for Captain America: First Avenger Slots – another Marvel game created by Playtech. I just can't understand their refusal to add more fun features to these blockbuster titles that will keep players interested.
At the end of the day, Marvel fans will enjoy this game for about an hour or two, while serious Fantastic Four fans will probably be able to stretch their sessions a little longer. Anyone like me who could take or leave this group will probably lose interest quite quickly and cash out to go play a more interesting game – and there's plenty of them out there.
Flame on!
Bonus Video of Fantastic Four
For those of you who are wondering what the criticisms were for the 2005 film The Fantastic Four, here is a Youtube video from CinemaSins that lays everything out clearly. There is mildly strong language so make sure the kids aren't around when you're watching. Enjoy!