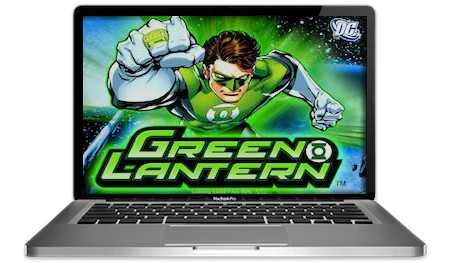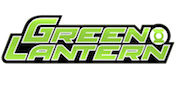 The Green Lanterns have been protecting planet Earth for many years and now you can join them on their quest for intergalactic justice, winning cash prizes along the way. So throw on your spandex, grab your Ring of Power, and let Green Lantern Slots guide your way.
Bonus Bet Feature
Tons of Free Spins
Locked Wilds
---
---
Review of Green Lantern Slots
In the interests of full disclosure, I have to admit that I had never heard of the Green Lantern until seeing him on the cartoon "Super Friends" in the early 1980s. He was actually featured in "The Superman/Aquaman Hour of Adventure" in the 1960s but few out there will remember him in that. Although in fairness, most people don't remember a lot from the '60s.
In all seriousness, I've never been a huge fan but after reading some of his comics from the '80s it's definitely easy to see his appeal. Only true fans know that Green Lantern is not just one person but is in fact a collection of different individuals. The whole story still seems a little odd but it's cool that his all-powerful ring is fuelled by willpower.
Many fans were excited to see the 2011 Green Lantern movie starring heartthrob Ryan Reynolds, which was not a "box office" smash by any means. And most people would say that's being kind to it.
That all said, this expert review of Green Lantern Slots will be 100% fact-based and totally unbiased to bring you the real truth about whether or not it's worth your time.
Screenshots
Those who are keen of eye will immediately notice that the layout of both the controls and the reels in Green Lantern are identical to those in Batman and Flash, which are also from NextGen Gaming. Now don't get it wrong – this isn't a major problem or anything, it's just that it takes a few points away from a release that was already weaker when compared to other DC Comics Slots that have come out over the last few years.
This game does have a cool look and feel with tons of action every spin, which the screenshots below clearly illustrate. Oh, there's also lots and lots of green.
Storyline
The character of Alan Scott was launched in 1940 to much fanfare but was then yanked off of the shelves for many years as people grew tired of the science fiction based stories. Scott and the Green Lantern series was re-launched in 1959 when people once again had returned to enjoying the genre. Over the years many different characters have filled the role of Green Lantern and there's way too many to list here.
The basic premise of the story is that the Green Lanterns battle evildoers across the universe as members of an intergalactic law enforcement group called the "Green Lantern Corps". Each of them wears a special ring that gives them unique powers such as the ability to shrink or grow things, read people's minds, or provide shields from enemy fire.
An interesting footnote to this character is that one time in the 1970s Green Lantern teamed up with Green Arrow and they published one of the most controversial comics of all time, "Snowbirds Don't Fly", which tackles the issue of heroin addiction straight on. This made it clear that there was no battle too big or too small for this superhero to address.
This release follows Green Lantern's travels through space and his clashes with Sinestro and other evil aliens. Its symbols and bonus round do a decent job of touching on many points of the overall story and your mind should easily be transported to this corner of the DC Universe.
Unique Symbols
Those who have read our other reviews know that we're not exactly the biggest fans of machines relying on the 10, Jack, Queen, King, and Ace symbols. And in the rare case of a software company going so far as to use a "9" as a symbol, we are terribly disappointed. There's just no need of it.
This is because there is never a shortage of symbols that branded releases from any genre could use. Whether its movies, comic books, or television – if it was popular enough to deserve its own gambling game it has enough of a story to pull 13 symbols out of it.
Here are the symbols that NextGen has pulled from the Green Lantern Universe:
9
10
J (Jack)
Q (Queen)
K (King)
A (Ace)
Sinestro
Battery (White Fist)
Ganthet
A Green Lantern
Green Lantern with Activated Ring
Green Lantern Himself (Wild)
Power Ring (Scatter or Bonus)
In a strange choice, the game's creators made Sinestro the highest paying symbol, dishing out 10,000 coins for 5 of a Kind. Then with the symbol that most players would have assumed paid the best, The Power Ring comes in next, paying 5,000 coins for 5 across the reels in a spin. Ganthet rounds out the top three symbols by paying 2,000 coins for five in a row.
There's a sweet Wild symbol that doubles your win amounts when hit in the regular mode and quadruples your win amounts during free spins mode when Green Lantern himself is part of a winning payline. It should be noted that the Wild only appears on reels #2 and #4 and does not swap out for the Scatter Symbol, which is of course the industry standard.
Jackpots
Like most other DC titles, Green Lantern does not have a jackpot. However, you could choose to consider 5 Sinestro symbols a "mini-jackpot" since that gives you 10,000x your original bet amount.
Also, you could try to create your own big prize by boosting your bonus round winnings in the Double Up feature but definitely proceed with caution. It's always heartbreaking to lose free cash on the flip of a card.
Bonus Rounds
Green Lantern has an adequate bonus round that is triggered by 3 or more Bonus Ring symbols anywhere on the reels. Here you have the chance of winning up to 100x your original wager by fighting Sinestro with your trusty Power Ring, and yup, you guessed it – this is called the "Ring Feature".
The round goes by very quickly and only consists of the two titans locking rings somewhere in deep space. As the ring lasers get pushed back and forth towards either of them the bonus multiplier changes accordingly. The closer it gets to Green Lantern, the lower the multiplier becomes, and vice versa. If you are successful in completely defeating Sinestro with your Power Ring you will win 50 times your original bet.
Those searching for furious action may find the feature a little boring since you don't need to touch a single button. You simply sit back and watch the battle unfold and the whole thing is over in about 20 seconds.
Also, as is the case with all DC machines created by NextGen, in order to access the bonus round you must activate the "Bonus Bet" button which costs you an extra 10 coins per spin. However, it will also increase the theoretical Return to Player (RTP) percentage from 92.3% to 95.3%, for those of you who like to maximize your odds of winning.
Free Spins
Entering the free games mode isn't as simple as hitting three Scatter symbols anywhere on the reels – you actually have to get Green Lantern on reels #2 and #4, along with the Lantern symbol on reel #3.  You get a nice side win in this situation because the Lantern also quadruples whatever your payline win was, as well.
During the freeroll every Lantern that falls on the board adds an extra symbol to reels #2 and #4 for the rest of the round. This is quite generous and leads to lots of big wins so it's definitely one of the best parts of the whole playing experience. Not to mention that your bankroll can get boosted quite quickly since they start you off with a whopping 24 spins.
Graphics
Activating the Bonus Bet Feature not only enables you to access the bonus round, it also transports you from a grim image of an earth city crumbling to a beautiful image of traveling through space. We get it guys – the world is a far better place if we activate the Bet Button.
In free games mode the Lantern has a cool glowing effect when it lands and Green Lantern has a pretty funny dance routine when the Wild symbol falls. It looks like he's trying to do the New Jack Swing but he can't quite complete the full move.
The machine is of course covered in green and has intergalactic imagery throughout so fans will feel like they're on the planet Oa, home to the headquarters of the Green Lantern Corps.
Audio & Soundtrack
The audios and sound effects are successful in creating a "deep space" feel, with lasers, bleeps, and synthesizers throughout the game. However, the introduction music sounds a lot like the beginning of the 1980s Bananarama hit, "I Heard a Rumour". Maybe it's just our ears playing tricks on us, though. In any event, there are some heavy mid-80s guitar riffs playing over synthesizers in free spins mode so get yourself ready for some MacGyver and Magnum P.I. flashbacks.
Most will find it annoying that in this generation of DC machines you can't separately adjust the audio for the background soundtrack and the sound effects. This was a standard feature for gambling releases in the mid 2000s – why are we losing functionality as technology advances?
Not to be overly picky but the sound effects are much louder than they should be when compared to the background music. As a result, whenever a Bonus Ring symbol lands you are blasted out of your seat with a big "BARMP".
On the flip side, the sound effect when a lot of payline wins are being added to your balance is very good, which is actually rare to find – usually the effects get louder and more annoying the more your win. Here it's like a symphony is playing just for you, with the music getting louder, quicker and more dramatic: it's definitely a highlight.
Conclusion
For all intensive purposes Green Lantern uses the same "skin" as both Batman Slots and Flash Velocity, with the controls being the same and the layout and feel of the games identical. So if you are in the mood to play a DC machine that has the Bonus Bet Feature but with more symbols and cooler graphics, why not just play one of those other ones? Anyone who's tried all three would probably agree that The Dark Knight wears the crown.
So with all due respect to the Green Lantern fans out there, after a while most players will gravitate over to one of the other DC titles simply because those have a bit more action going on. That said, it is beautifully-designed and has a generous free spins mode, as well as a decent bonus round, so diehard fans will probably embrace this release.
It can definitely be fun when you want to change things up a little and try something that looks different, especially if you love green, so casual fans will want to give it a shot. No matter what, it's pretty interesting to see a whole machine devoted to the world of the Green Lanterns and Oa.
So you can start your journeys now…walk towards that green light and repeat…
"Let those who have the daylight spurned,  tread not where this green lamp has burned."
Bonus Video of Green Lantern
Since we first discovered these videos from CinemaSins about everything wrong with a movie they're starting to grow on us – even though we don't agree with everything that they say. A lot of movies have mistakes, and we don't usually like making fun of people, but they're doing it in a fun way. So with that said, here's everything wrong with the Green Lantern movie in 7 minutes. Enjoy!