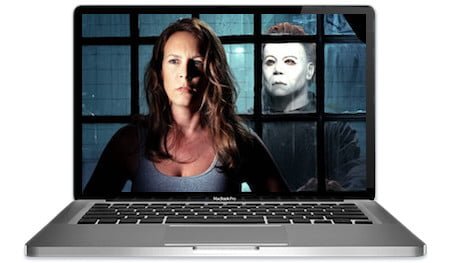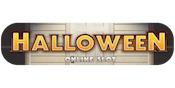 One of the scariest psychos to ever slash their way through teenagers on the big screen has finally been given his own game. Michael Myers has returned to bring terror to the reels in Halloween Slots from Microgaming.
Wandering Reels
Jumbo Block Symbols
Original Characters
---
---
Review of Halloween Slots
Anyone who was born before 1975 can tell you how terrifying the original Halloween movie by John Carpenter was back in the day: there really hadn't been anything like it before. I remember not being allowed to rent it on VHS at the video store for years until I finally went with a friend and his step dad and he let us get it. We were so scared by the end I don't think that either of us slept a wink that night.
It definitely has it's place in history as one of the scariest movies of the 1970s and it's widely considered as one of the first true "slasher" films ever made. It's successful sequels and legions of rabid fans from around the world are a testament to the impact that it had on viewing audiences. It's legacy is even crazier when you consider the fact that it took only 10 days to write and 20 days to make. Talk about a "break-neck" pace!
This title from Microgaming will bring you right back to the fright that you experienced the first time you watched it because it's loaded with visuals and audio clips from the film. It was a great effort but they came up just a little short on the special features so the game doesn't pack in nearly as much action as it should have.
This expert review of Halloween Slots will explain why there might unfortunately be more yawns than screams this time around.
Screenshots
This machine is beautifully-designed with every image, symbol, and color jumping off of the screen and looking sharp. Even the details on the golden autumn leaves are wonderful and adds to the feeling of "Halloween". Click the images below to enlarge them and see for yourself just how scary that image of Michael (and Loomis) is.
Storyline
It's Halloween night in the small town of Haddonfield, Illinois and psychopath Michael Myers has broken out of Warren County Smith's Grove Sanitarium, looking for some fresh victims to receive his rage. He's been incarcerated since he killed his older sister 15 years ago and now he's following Laurie Strode and her high school friends to pick them off one by one.
Michael's old psychiatrist Dr. Sam Loomis comes to town to help join the hunt and teams up with Laurie's father, Sheriff Leigh Brackett. The two scour the town but Michael's already found what he's looking for – young, carefree teenagers. The deranged slasher then hunts down his prey one by one, with each murder being more grotesque than the last. Laurie and her friends slowly realize that they are in a fight for their lives and they'll be lucky to survive through the night.
When it comes to this machine, however, many of you are going to be a little miffed with the lack of storyline and the frustrating thing is that Microgaming could have easily beefed it up. After all, they did have nine movies worth of content to draw from. Oh well, let's just be happy that they finally made something about the franchise.
Unique Symbols
We get some great unique symbols, some of which are pretty darn creepy, like Michael Myers' childhood clown mask that he wore while he murdered his sister. Or the scary old rotary style telephone – it used to take forever to call people using that big dial. Seriously though, including a symbol of the yarn and needles that Laurie was using when Michael shows up was a nice touch.
It's understandable that they didn't want to make the reels too crowded with characters, but how in the heck didn't Microgaming find room in a special feature for a few more members of the cast? Most diehards will be wanting to see Charles Cyphers as Sheriff Leigh Brackett, Brian Andrews as Tommy Doyle, and John Michael Graham as Bob Simms – and how they didn't find a spot to include Arthur Malet as the Graveyard Keeper is shocking. Here's what's on offer:
Balls of Yarn and Needles
Match Book
Beige Rotary Phone
Clown Mask
Knife
Gun
Lynda Van Der Klok (P.J. Soles)
Annie Brackett (Nancy Kyes)
Dr. Sam Loomis (Donald Pleasence)
Laurie Strode (Jamie Lee Curtis)
Halloween Logo (Wild)
Bonus
Laurie is in charge of this house party with 5 of her at a time giving you 500x on your total line wager. Next is Loomis, Annie, and Lynda who award 200x, 150x, and 120x respectively for 5 of a Kind.
Aside from the original characters, this release is very unique thanks to its Wandering Reels with Jumbo Blocks that slide around the board as you spin in the regular mode. They can cover 3 different groupings of reels: 3 in the left, center, or right, and the 3 of them spin together to determine which lines are in play.
The Wandering Reels contain the Jumbo Blocks which are simply large character symbols that are 3 reels wide and 4 rows tall. You'll want to see these fatties falling constantly since they give you a much better chance to hit a 5 of a Kind. In the regular mode they randomly move around but in free spins mode they follow a strict pattern of left to right.
You should note that only the highest win per line will be paid and all wins go from left to right. Also, you must play all 50 paylines each time, so on the smallest wager of $0.01 and only betting 1 of the possible 8 coins per line, your minimum cost each time is $0.50.
Jackpots
You can run through the woods tripping on as many things as you want and you still won't be able to stumble your way into a Halloween Slots Jackpot of any kind. Microgaming aren't known for releasing branded titles with jackpots so this really doesn't come as a big surprise. Not to worry, there is tons of money to be won in the special features, there's just not one big life-changing prize to be had.
Now get up and keep running before Michael catches up to you.
Bonus Rounds
Triggering the Trick or Treat Wheel Bonus with 3 Bonus-branded symbols falling on the board together can lead to you going on a multiplier binge and getting a bunch of coins added to your balance. This is thanks to the many multiplier boosters ranging from 1x to 10x that are liberally covering the Wheel.
These areas are separated by panels for the characters which will trigger their respective features if you land on them, so every spot on the wheel has a prize of some kind on it. The image of Laurie grasping the couch in fright as Michael's shadow is cast in the background gives this area an extra creepy feel.
If the Wheel stops on the image of Michael Myers you'll enter the Boogeyman Bonus, which is a Pick Em' style area that pays out a maximum of 290x your wager if you pick perfectly. Just think about how much Halloween candy that would buy. Select from the 15 beautiful golden leaves to reveal what's underneath, with each one hiding either a cash amount, a knife, or an image of Michael that will slash you and end your round.
The multiplier amount goes up by 1 every time you successfully reveal a prize, (which will confusingly be displayed as a number that has been multiplied by your triggering bet amount, so sometimes it's hard to keep things straight). If luck is on your side and you end up turning over all 10 cash amounts you will also be rewarded with an extra 20x multiplier on your original wager, which in addition kills Michael and ends the feature. Strangely there is an "Auto Pick" option that you can select to have the game randomly pick leaves for you if you're too lazy to do it yourself.
If Laurie taught us anything over the years it's that you have to defend yourself by any means possible. Therefore, if you turn over a leaf and reveal a knife it will protect you from one of Michael's attacks and prevent his symbol from ending the bonus round. Without a knife to protect you, revealing a Michael will give you half your triggering wager amount and immediately end the action.
Free Spins
Just like the Pick Em' area, the Halloween Slots free spins are triggered by hitting a character on the Trick or Treat Wheel, with Laurie, Loomis, Annie, or Lynda starring in it, which is sadly just an extension of the regular mode. There aren't any special backgrounds or imagery for the feature and the only difference is that the other characters are removed for the duration. The Wandering Reel of course continues to slide around the board throughout, determining which positions are in play.
Regardless of what you hit on the wheel you will always get a straight 9 spins, which is a fine number, but machines that give you more or less depending on certain criteria are always more exciting. Also, you cannot re-trigger extra spins while freerolling which is always disappointing to find out.
Graphics
The major strength of Halloween is its graphics and it was definitely one of the best-looking gambling games released that year. The attention to detail on the symbols and the background is amazing, as well as the animations of the leaves falling across the screen as they float down beautifully.
The overall appearance of the board is enhanced by the awesome transparent reels which actually give the symbols a "hovering" effect, which of course adds to the creepy vibe. Speaking of the symbols, each one has their own little animation when they're used in a payline win, with the best one being the stabbing Halloween Logo Wild that plunges a knife downwards when activated.
Other effects include the gun turning and firing bullets, the ball of yarn and needles twisting around, and the rotary phone shaking and twirling. There's also nice visuals of knives slashing through paylines and matches burning through the reels. There are even some mild animations on the characters in winning combinations, which are just the flashing of a few still images of their various scenes from the movie so they're not too distracting when triggered.
The main image in the background is the front of the Myers family home that Strode Realty is trying to sell, which is where Michael murdered his older sister many years ago. The images in the distance change from dusk to night, with both scenes having ominous skies and you'll never guess who quietly drops in from time to time to watch you play. It's quite unsettling because often times you don't notice Michael come out and you only see him as he's leaving – it's just the right touch for a horror themed slot game that's trying to keep you uncomfortable and on your toes.
In a shocking twist, the user controls are pretty disappointing due to Microgaming's bizarre choices with the Auto Spin button. First of all, when you're selecting the number of times that you'd like to autoplay for it makes you toggle up and down to see all 4 of the different options. They definitely should have just designed it to show all 4 of the options in one section with no arrows, (and who the hell autoplays for only 10 spins anyway?).
Then once you've messed around with the button and figured out what's going on, many of you will be horrified to learn that you can't "autoplay until feature", which is really the only setting that most people will be looking for. This is another strange decision in a user control panel that should have been amazing, especially considering the obvious effort that was put into the other elements of the game. Weird!
Those who like to gamble on the go will be happy to learn that this title is fully mobile compatible, which is probably what should be expected for any title released after 2017.
Audio & Soundtrack
The audios are a bit of a mixed bag, with some being excellent decisions and others being a little confusing. Thankfully, Microgaming secured the rights to the full original soundtrack, specifically the main creepy piano and light synth with strings that takes you right back to late 1970's Haddonfield. A little known fact about the classic ditty is that it was actually composed by director John Carpenter – is there anything he can't do?
No matter what frame of mind you're in when you're playing, as soon as that classic piano refrain kicks in for a big win it will get your pulse racing and have you looking over your shoulder. It truly is one of the best melodies ever put into a horror film.
The audio engineers chose to include a decent amount of memorable lines of dialogue from the movie like, "Halloween night is when people play tricks on each other," and "Michael's around someplace," as well as some other more-forgettable lines such as, "See anything ya like?". Unfortunately, after 30 minutes these audio clips do get a little tiring, but it's understandable that Microgaming couldn't put every single word of dialogue in there. That said, they of course could have mixed things up a little and added more lines.
The sound effects on the individual symbols were very well done and the stabbing audio of the Jack O'lantern Wild sounds like it's really plunging into the back of a frightened teenager on the run. The other effects are simple and include telephones ringing, guns shooting, knives slashing, and matches being struck.
The audio highlight is definitely the intensity of the music in the Boogey Man round and it's guaranteed to get your blood pumping. There's a deliberate piano chord and piercing synth pulse that screams out of the speakers and diehard fans will immediately know that it's the bit of music from the scene when Michael is chasing Laurie towards the end of the film. Classic!
Conclusion
People are going to be running in droves to try out Halloween Slots and relive the terror of the original films. Michael Myers has never looked better and Microgaming got many of the original main cast members to come back to Haddonfield for one more grizzly chapter. Sadly, it's a chapter that feels a little too short.
How long you end up playing this game for is going to be directly correlated to how big a fan you were of the original films, but even then, your love might be tested. After a few hours it just felt like this release needed one more special feature to push it over the top and make it a "classic" that properly honored the source material. The free spins modes are basically all the same with the only difference being the character that you trigger on the special reel and we can all agree that Microgaming could have easily packed a bit more excitement into them.
The Wandering Reels are fantastic at first but they do get tiring after a while as you're constantly following them on the board with your eyes. Instead of serving to keep things fresh they actually make things a little awkward because you're always straining to pay attention to which reels are in play for that particular spin.
This title also needed a few more clips from the movie to jog our memories as to why it terrified us so much when we first watched it. They easily could have slid a few in the beginning throughout the action so it's kind of a head-scratching omission.
Sadly, Halloween Slots is just like visiting Las Vegas: the first couple of hours are magical, then the fun tapers off, then it gets boring, then you want to get the hell out of there as fast as possible. It truly becomes horrific. That said, if you only hop in for short blasts at a time, things will probably stay fresh enough for you to come back and check it out regularly without getting bored.
Death has come to your little slot, Microgaming – and you easily could have prevented it! At least we have a great foundation to build on the sequels…
Random Video of Halloween
Here's one of the most awkward interviews of the 1980s: David Letterman and Jamie Lee Curtis on Late Night. Dave can't get over the amount of nudity in Jamie Lee's new film and it really starts to annoy her after a while. There's also an intro segment with Letterman and her father discussing the encounter. Yikes.