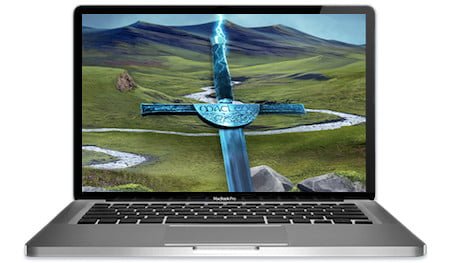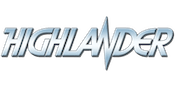 There can only be one and here it is. The battle that's raged for centuries is now here in Highlander Slots to settle old scores and challenge your bankroll.
Original Characters
Aggressive Free Spins
Scottish Setting
---
---
Here we have a very surprising release based on a 1980s cult classic that's earned legions of devoted fans around the world – many of them in Scotland. We're of course referring to The Highlander which had little success in the theaters, only grossing around $12 million worldwide against a production budget of $19 million. However, once in the video store it became a top rental and inspired many sequels and television spin-offs.
The original soundtrack by rock legends Queen helped to give the film some credibility, not to mention Sean Connery coming on board to star as an Egyptian immortal. It's basically "dripping with '80s" at every turn and was begging to be made into an online gambling game.
Review of Highlander Slots
Sadly, this release will break the hearts of many fans as there simply isn't enough action. It sets a great foundation with it's mood and sound effects but there's absolutely no payoff in the end. Also, the graphics will be a huge disappointment for anyone who likes movie-themed online slot games and is expecting to be blown away.
This expert review of Highlander Slots will break down everything you need to know before putting any of your own money at risk and ultimately most will want to run to the hills and get as far away from this one as possible. This one will take your head off before you know it.
Screenshots
You might feel like putting on a thick sweater after looking at the screenshots below due to the foreboding sky and inclement weather. The clouds are enough to send a chill down your spine – click on the images to enlarge them for a clear view of the dew on the rocks.
Storyline
Christopher Lambert is also warrior and swordsman Connor MacLeod – who's also known as The Highlander – just one of a few immortals who can only be killed by decapitation. Trained by the great immortal Ramirez in the Scottish Highlands in 1536 after being exiled by his clan, he is taught of "The Quickening" that occurs when one immortal decapitates another and the power is transferred from the deceased to the killer.
He also learns that all immortals will eventually meet in "The Gathering", where they will battle until there is only one survivor, to receive "The Prize". Ramirez warns that if The Kurgan wins it an eternal dark age will begin shortly before being killed by him, but MacLeod is able to live on for several centuries, eventually settling in New York City.
In 1985, he is found by fellow immortal Iman Fasil who he swiftly decapitates in self defense. The ensuing energy surge leads to explosions and destruction and MacLeod is quickly arrested by swarming NYPD. Although he is eventually set free, forensic scientist Brenda Wyatt is intrigued by what she finds at the crime scene and begins tailing him and discovers his true identity – true to the standard 80's movie plot, they become lovers putting her in personal danger.
MacLeod ultimately defeats The Kurgan to receive the Prize and is now able to reach people's thoughts around the world and he returns to Scotland with Brenda. He makes it his mission, to use his new gifts to encourage cooperation and peace. The End.
This release from Microgaming gives us zero of the above storyline and simply provides us with random images from the film in an effort to rekindle memories. This is definitely one of the weakest parts of the game.
Unique Symbols
There are just enough unique symbols featuring original characters to appease fans of the original film. That said, many will be outraged that Sean Connery as Juan Sánchez Villa-Lobos Ramírez the Egyptian immortal didn't make it into the action but that was to be expected: he's just too big of a star.
The only other omissions that people could take issue with are Alan North as Lt. Frank Moran, Jon Polito as Det. Walter Bedsoe, Sheila Gish as Rachel Ellenstein, or Hugh Quarshie as Sunda Kastagir. Although who wouldn't have loved to see Christopher Malcolm as Kirk Matunas somewhere in the action?
10
J (Jack)
Q (Queen)
K (King)
A (Ace)
Highlander Wild
Amulet (Scatter)
1985 Connor MacLeod (Christopher Lambert)
1536 Connor MacLeod (Christopher Lambert)
The Kurgan (Clancy Brown)
Brenda Wyatt (Roxanne Hart)
Heather MacLeod (Beatie Edney)
Aside from the Wild and Scatter, the two Connor Macleods are the highest-paying, the 1985 version awards 25 coins for five across the board and the 1536 version gives out 20 coins. The Kurgan awards 12.5, while Brenda Wyatt and Heather MacLeod dish out 10 and 7.5, respectively. These amounts are obviously very low but are the norm when dealing with a "many ways" machine.
Jackpots
Most will be happy that they don't lose their souls while going on this adventure so looking for a jackpot is actually quite disrespectful. In all seriousness, 243 ways games never have jackpots so no one should be shocked here.
Bonus Rounds
Most veteran gamblers won't be expecting a special feature in this one since it has 243 paylines and these hunches are absolutely correct. Besides the freeroll there aren't any unique areas to strive for or any real breaks from the constantly whirling reels.
The only thing "special" in this one are the "Quickening Wilds" which happens when lightening strikes the board and changes random symbols into Wilds. Each time this happens an increasing number of them will be converted to Wilds, building up your balance as you go.
The Wild substitutes for all symbols except the Scatter and it will multiply wins by the total bet staked. Some may find it worth noting that two Scatters will turn Wild in the regular mode which can give you a slight balance bump when received.
Free Spins
Now we arrive to the only part of this release that has any spice whatsoever but sadly it serves up the same recipe each time. This is due to the fact that 3 Scatters will give you a flat 10 spins each time and this cannot be increased in any way.
Even though the music and graphics change to blast you out of your seat, it's still disappointing considering that it's the only diversion from the regular mode – and not much of one at that. You basically just get a few extra background images and a change of tempo which simply isn't going to cut it.
In addition, during our testing it seemed to take forever to trigger the freeroll each time, however, others might find it easier. That 3rd Scatter was very elusive for some reason.
Graphics
Microgaming continues their annoying trend of making players go into a separate settings screen to adjust Turbo Mode and Auto Spin, making the process unnecessarily painful. Why they continue to torture people like this remains a mystery.
In regards to the moving pieces of this machine, there aren't that many to discuss. The characters in an activated payline have quick video clips that get triggered and the playing card images simply flash if they're adding to your balance after a result. These effects are exciting for approximately two minutes before you become bored of them.
Many will be frustrated with the fact that winning lines aren't highlighted so it's always kind of confusing what to cheer for and how you're getting paid. Yes – this is an issue with all 243 line releases so we won't get too bent out of shape about it.
Audio & Soundtrack
You'd better like aggressive cock-sure 80's metal guitars if you're giving this title a chance because they're the driving force throughout the soundtrack of the entire game. Think "Final Countdown" mixed with The Scorpions and you'll have an idea of the musical journey you will be taken on.
The regular mode sound effects do deserve a bit of extra praise since the guitar that cranks up to accentuate wins plays for different durations depending on the size of it. Sometimes it's just a few simple notes but larger amounts trigger longer solos from the Microgaming studio guitarist.
In the free spins mode the lead axe gets absolutely loose and blasts heavy metal solos while an aggressive drummer goes haywire on the skins. This is accentuated with exploding Wilds, thunder crashing, and lightning surging, so if you weren't paying attention before you certainly will be now. "Joan Jett mixed with Winger" would be an adequate description of the tune you'll hear throughout the duration.
So as you can probably deduce, there aren't any songs from Queen included in this machine nor any of the original score from Michael Kamen. What a shame.
Conclusion
This release falls squarely into the category of "fans of the original source material will enjoy it" because there is enough imagery and original characters to get the juices flowing. That said, there's just not going to be enough here to keep most people entertained for long stretches: once you've triggered the freeroll you've basically seen everything that it has to offer.
However, if you're someone who idolizes Braveheart and yearns for the highlands of Scotland, the rolling hills and foreboding sky of Highlander Slots might keep you coming back to daydream. Everyone else will quickly make their way back to reality.
I guess Kurgan was right: It's better to burn out, then to fade away.
Don't lose your head on this one.
Random Video of Highlander
Here's a crazy video about the Top 10 Highlander villains of all time – see if you agree with who made it. Some of these dudes are absolutely ridiculous.