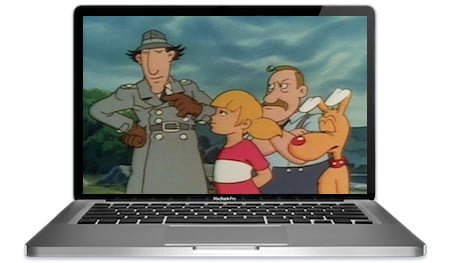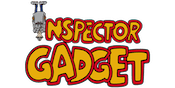 Go Go Gadget Craziness! Now you can battle M.A.D. in Inspector Gadget Slots while you stack up cash and loads of free spins in this release from Blueprint Gaming. One of the best cartoons of the 1980s has truly been immortalized.
Non-Stop Action
Tons of Special Features
Amazing Graphics
---
---
Most fans will be relieved that this is based on the original television show that aired from 1983 to 1986 and not the strangely-animated reboot in 2015. This is Gadget and the crew exactly how you remember them and with new voice actors that are close enough to the originals to keep things authentic.
It's rare to see a title that is guaranteed to appeal to 100% of its fans but this is something truly unique: everyone who watched this cartoon in the 1980s will be very pleased with what they find.
Review of Inspector Gadget Slots
Sometimes online slot machine reviews don't take that long to do because there wasn't a lot of work put into them and there aren't that many moving pieces to report on. Well, that certainly isn't the case with this creation because there is so much craziness going on it will take most people a while to wrap their heads around all of it.
As if all of the special features detailed below weren't enough, this is a 4 row, 5 reel release that gives you a whopping 50 paylines that you can activate throughout the madness. And after 5 minutes of playing, you'll totally agree that "madness" is the right word to describe it.
This expert review of Inspector Gadget Slots will explain in detail why this is an absolute "must play" for every gambler out there and how it will exceed the expectations of even the most skeptical players.
Screenshots
It would be impossible to capture all of the zany action crammed into this machine with just a few screenshots, so please consider the ones below a simple appetizer for what you'll find once you've loaded it up. There's always something swooping in from the sides or moving around the board so you'd better be ready for constant visual stimulation the entire time.
Storyline
Part human and part cyborg, Inspector Gadget uses bionic gadgets connected to his human body to conduct investigations, leading to many humorous situations as he chases down his nemesis, Dr. Claw and his evil agents of M.A.D. who strive for world domination. At his disposal are an umbrella, helicopter blades, a magnifying glass, and a squirting flower, just to name a few. Of course the true heroes who foil the dastardly plots and protect society from M.A.D. are really Gadget's niece Penny and her dog Brain.
Over the years, the popular kids show has been spun off in various forms, with multiple animated television shows, live action films featuring Matthew Broderick as the main character and Rupert Everett as Dr. Claw, as well as countless books and video games. Most recently, the animated series was revived in digital form by Teletoon Canada in a CGI-Animated series for it's 30th anniversary, with Penny being much more prominent as an inspector in training.
Thankfully this release from Blueprint Gaming ignores all of the other versions and simply celebrates the whacky plots of the original cartoon of the '80s through it's many special features and unique areas. You always feel like you're on a real adventure as you battle M.A.D. to save the world from tyranny while trying to add cash to your bank balance. The storyline in this one is quite strong.
Unique Symbols
Usually we dump all over software companies who create titles that use playing cards for unique symbols but in this case we are absolutely ecstatic that they chose to incorporate a Jack to an Ace. There is just way too much action on the reels already thanks to all of the crazy animations and features that get triggered: it's a constant assault on the senses so 4 extra symbols would have been absolute overkill.
J (Jack)
Q (Queen)
K (King)
A (Ace)
Police Car
Top Secret File and Magnifying Glass
Safe
Handcuffs
Inspector Gadget Super Stacked
M.A.D. Bonus (Scatter)
Lit Bomb (Wild)
The Lit Bomb Wild and Inspector Gadget Super Stacked are the best, with 500 coins for Five of a Kind, followed by the Police Car and Top Secret File with 300. Next is the Safe and Handcuffs giving out 200 coins, whereas the Ace and King award 100.
These numbers are a little on the low side simply because there are so many extras to pay for: most will agree that it's totally worth it.
Jackpots
There are way too many special features crammed into this title to even consider a jackpot – how dare you? Go go gadget get outta here with that attitude.
Bonus Rounds
Three or more Bonus images will take you to a unique area where you will activate a giant reel that will rotate between the five various options, and anyone who's played the amazing Top Cat Slots from Blueprint will immediately know what to expect. You can either collect the feature you land on or gamble it to try to get something better, (again, just like Top Cat), with all 5 of them listed in order of average payout.
It's possible to keep gambling until you reach the best one if you don't hit "Collect" and you'll eventually get to the top. Sometimes you'll just get a Mystery Win that will give you a sack of money to go back to the regular mode with and you will entirely bypass a unique round. Those who like their betting to be "all business" should enjoy this result.
The different ones on offer are as follows, with two of them being freerolls:
Safe Heist
Dr. Claw's M.A.D. Agent Bonus
M.A.D. Money
Every Penny Counts Free Spins
M.A.D. Dash Free Spins
The Safe Heist is awesome because you really have to think about this one. You claim a safe as your own and then you go and select other ones to eliminate their prizes. After a few are removed the software will make you an offer that you can either accept or pass on and keep your original choice. It's almost like the fantastic gameshow Let's Make a Deal with Monty Hall.
Then we have Dr. Claw's M.A.D. Agent area that will give you a bunch of logos to choose from that will expose an agent hiding behind it each time, with all of them corresponding to a different multiplier of 6x to 25x. Once you match up three agents you will receive the amount that's been assigned to them, unless you've hit a M.A.D. Cat symbol that will increase the multipliers, with the best prize being the M.A.D. Money bonus.
If you trigger it through either an upgrade or revealing three bomb images, you will be presented with bombs that rotate around Dr. Claw. You then select icons to grab the loot until you hit "Collect", with all amounts correlating to the color of the bomb.
If all of that wasn't enough, the Go Go Gadget Spin! can arrive during any result to trigger more zany surprises. There are five unique reel modifiers that can be activated:
Mission Colossal Symbols: A block of symbols will appear, possibly on expanded reels.
Mission M.A.D. Added: Extra Bonus symbols are added to the reels for one spin.
Mission Penny Stacked Wilds: Stacked Wilds will appear, possibly on expanded reels.
Mission Mystery Brain: Random symbols change to higher-paying ones, possibly on expanded reels.
Mission Gadget Wilds: Extra Wilds are added which can grow 7 high triggering 50 winlines.
Whew! Feel free to take a break before moving onto the next section – you deserve it.
Free Spins
So now that we've run down all of the amazing special features, let's have a look at what you can expect during the freerolls, with two different ones on offer. In the fantastic Every Penny Counts area you'll have to save Penny from Dr. Claw by scaling the M.A.D. Headquarters building, which is covered in 4×5 reel grids with Fixed Wilds on each of them.
Gadget then swoops in with his copter hat to move the reels up the building, stopping at random grid sections to give you a free spin that will boost your balance, (obviously you're hoping that he stops on one that has lots of Frozen Wilds on it to maximize your win potential). This continues until you run out of spins and you are then returned to the regular mode.
Next is the M.A.D. Dash, which on average should pay you out a few more coins each time it's activated. In this one you have to expose police car images to enter into the dash, and then navigate through the areas grabbing power ups to stack up more cash and if you make it to the middle you'll trigger the M.A.D. Money.
The middle of what, you ask? Well, the board that's in the style of Monopoly but instead of a thimble or a top hat you're rolling in Gadget's police car, circling the board trying to get to the center. As you stop along the board you can grab tons of great prizes and boosters so this is definitely one of the better parts of the whole experience.
Finally, at this point, no one should be surprised that you can retrigger more free spins while you roll in either of the above two areas. Amazing.
Graphics
As is the case with every title from the Blueprint Gaming studios, this machine is splashed with fantastic colors and bright, beautiful images. Some may try to argue that the blurred background behind the board could have been spruced up and had more details but as already stated numerous times, there's so much going on in this one, less is truly more.
The numerous gears spinning around the perimeter of the board to drive everything are great and it's definitely one of the most intricate borders ever created for an online gambling game. This is on top of the amazing graphics, like the flames licking the symbols and the wide array of gadgets that fly onto the screen to smash the reels.
Things really get taken up a notch with the crazy expanding reels for Brain and Penny's features – the screen zooms out a little and the gears lift huge rows of Stacked Wilds into view, moving them across the board until finally stopping to randomly cover entire sections of the board. Go go gadget construction site!
When the phone rings and Gadget is given his mission by Chief Quimby, the two characters slide onto the screen fluidly and speak to each other with cartoon clarity: it's literally like watching the original television show.
The final praise to heap on the design team at Blueprint comes in the form of the numerous unique backgrounds and imagery that were created for each feature. Every part of this machine feels different and anyone involved with the animations should be very proud of their efforts.
Audio & Soundtrack
You'd better like synthesizers – lots of them – and played in a very silly manner. That's because the main soundtrack is that "baby elephant walk" style of silly notes that you'll immediately recognize from the M.A.D. universe. Yup, thankfully we get the original theme song written by Haim Saban and Shuki Levy that everyone will remember from their childhood.
We get new actors for both Gadget and Dr. Claw which is obviously fine, but it would have been nice to get the original, "That's not very niiice!" Obviously it's not going to be Don Adams reciting the Inspector Gadget lines since he passed away in 2005 but there is a decent replacement who sounds enough like him that it's not annoying or offensive. That said, if they would have somehow lifted original dialogue directly from the show, fans would have done backflips of joy.
All of the other audios like coins being added to your balance and whirling reels are perfectly fine and done in an over-exaggerated cartoon style.
Conclusion
This one is an absolute blast from start to finish and with so many different areas to explore it feels like the game is endless and you're actually inside an episode of the original television show. There is always something going on and there's never a break in the action, making this a non-stop adventure filled with fun.
The tension builds as you're waiting for that phone to ring and trigger a feature that will boost your bankroll and when it does, you never know what's going to happen. No matter what arrives, it just never gets old.
If you watched this show back in the '80s you'll absolutely love Inspector Gadget Slots and it will immediately be on the top of your list of favorite games. It's honestly great in every way – a decisive home run from the folks at Blueprint.
All we can really say at this point is…
Wowzers!
Bonus Video of Inspector Gadget
Well if this review didn't psyche you up for cyborg action check out this great super cut of the most incredible "Go Gadget" moments of all time.